Nikon X01-series
This series of cameras are innovations on itself. Most cameras are the first in its kind. After supplying the professional and amateur photographer cameras made from sturdy metal alloys Nikon Corporation started in the mid 1980's to produce cameras with plastic parts and/or entire bodies. Nikon even set up a special factory for research in and production of plastics.
All cameras reviewed in this chapter have a plastic body around a metal frame. Some cameras became a legend because of their advantages but - unfortunately - some also because of their disadvantages, like the Nikon 601-´brothers´ (pictured below) with their horribly bad back door lock, that could break after one film only. Nikon had to make metal door locks as parts just after the introduction. Others had weak flash shoes, top covers and lousy battery compartment doors. Why Nikon Corporation didn´t change the design during its production period remains a miracle.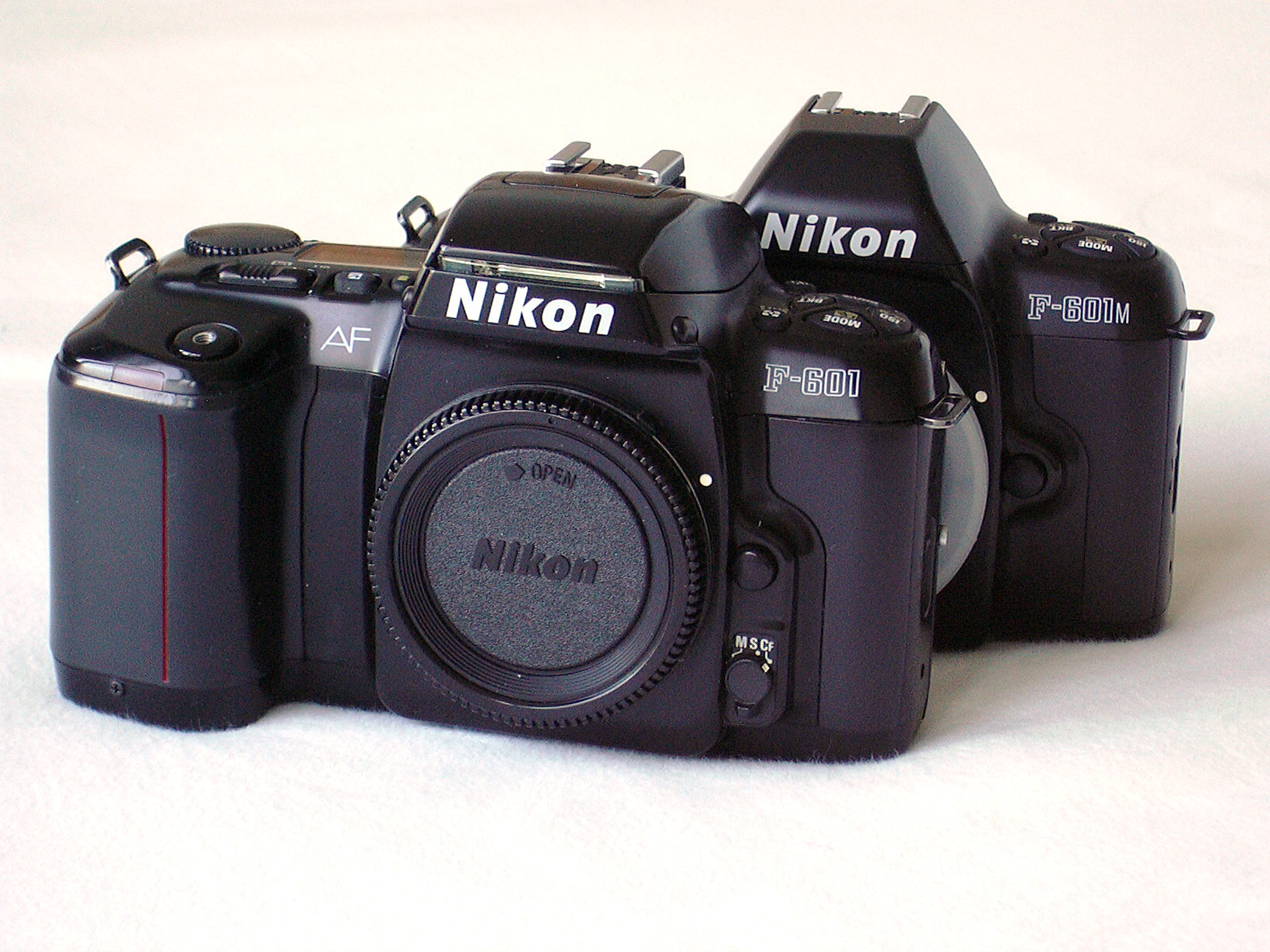 Another miracle is the name or code that was given to these cameras. All over the world the cameras have a 3-digit code ending with ´01´, except those sold in the USA. They have a 4-digit code after the letter ´N´. There is an old patent owned by the French car maker Peugeot, which forbids others to give products a code of 3-digits with an ´0` (zero) in the middle. Could it be (European) Peugeot? Anyway..........the US´ names are given below.
Most of the cameras are fitted with the AM200 autofocus module (except the F-301 & F-601M), all have a built-in motor drive and an electronic shutter running from 1 or 30 seconds up to 1/2000 sec., except the F-801 which has a record breaking 1/8000 sec.
See for the main technical specifications this matrix
Nikon F-301 = N 2000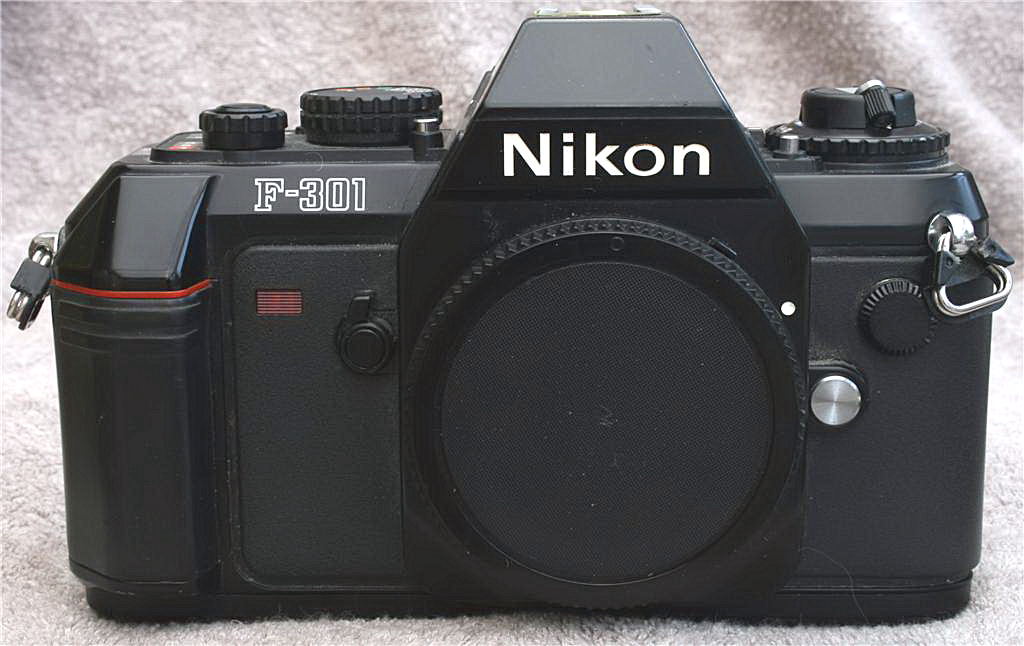 This camera - introduced in September 1985 - was Nikon´s first camera with a built-in motor drive. That motor drive fires off 2.5 fps and has 3 settings (C = continuous; S = single and L = lock).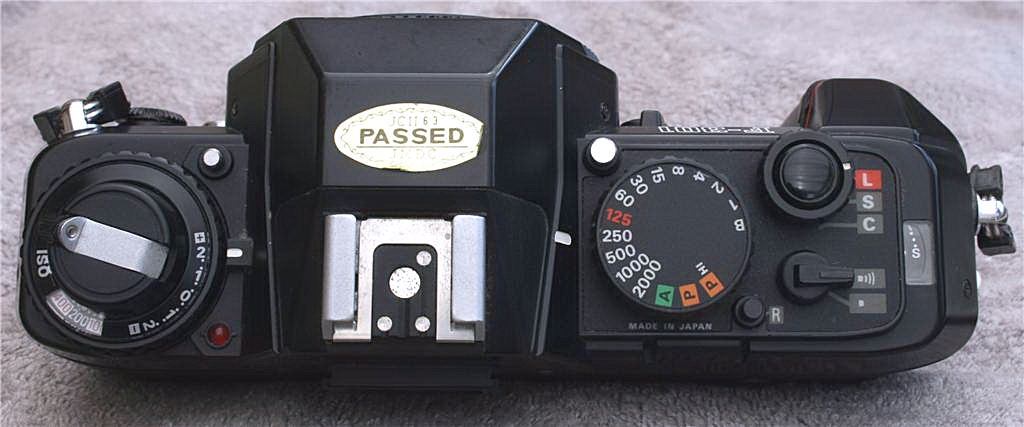 It must be focused manually, but has automatic film loading, DX-decoding, film window and a film advance confirmation indicator on the camera back. The exposure modes are program (P, P Dual and P HI), aperture priority (A) and manual (M) with TTL-flash metering. The camera only takes AI/AIS or later lenses, as the AI-prong can´t be locked up. Using the MB-3 tray normal AA-batteries can be used.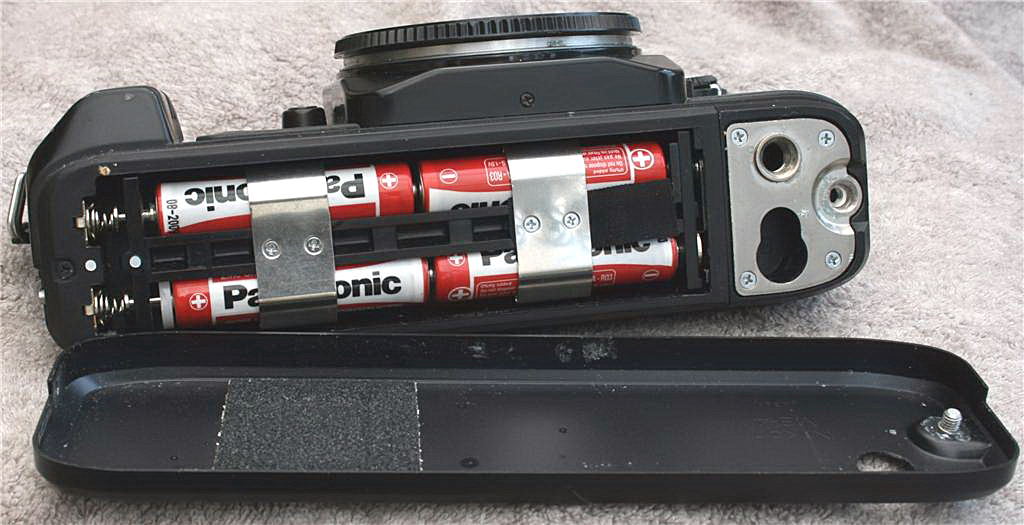 The standard MB-4 is an AAA-battery holder. The tripod socket is off-center, thus a tripod connector AH-3 is necessary. A mis-design?
Nikon F-401/S = N 4004/S & Nikon F-401X = N 5005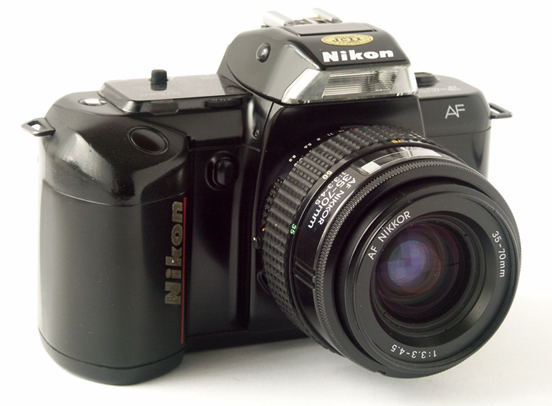 Nikon produced 3 versions of this camera in a period of 6 years, showing clearly the fast developments of modern camera technology. The Nikon F-401 - introduced in June 1987 - is the first autofocus Nikon SLR camera with a built-in flash.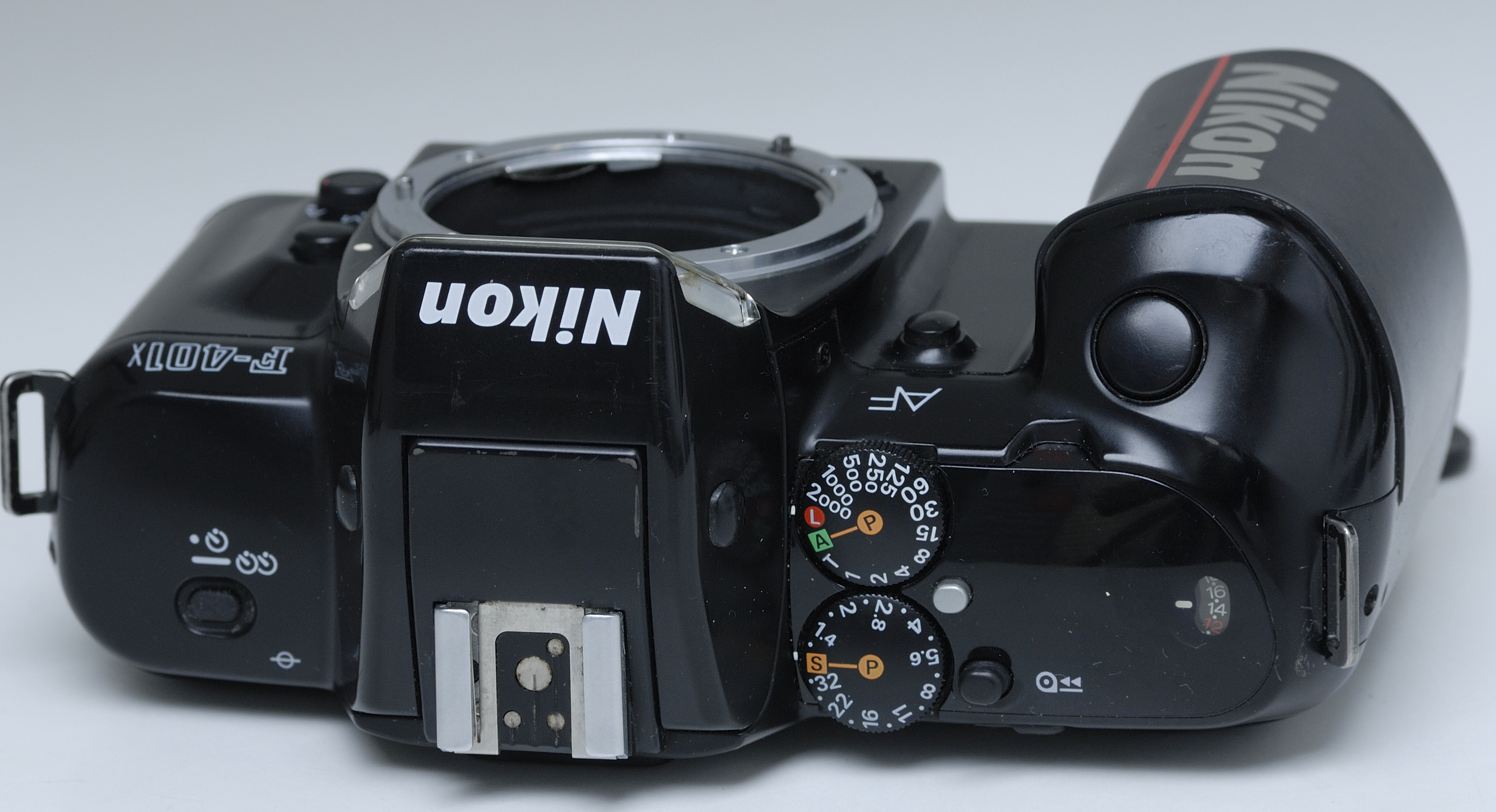 The top of a Nikon F-401X with improved dials and buttons. It's the best version of all.
The S (April 1989) & X (September 1991) models are technically upgrades, like faster autofocus, better lay out of switches and a faster flash sync (from 1/100 sec. up to 1/125 sec.). All models have aperture priority, shutter priority and 3-area exposure metering. In the viewfinder only one AF-indicator, aperture and flash-ready light are visible. DX-decoding only! All models could be ordered with a data back (QD). The camera accepts only AF-lenses. Non-AF-lenses can be fitted, but all metering and program modes will be lost. Finally this camera has a feature of many compact cameras: decision master system, which blocks the shutter if the autofocus and auto exposure modes cannot focus or if the exposure isn´t correct. The camera uses AA-batteries, which is nice, but the entire bottom has to be removed - alike the F-301 - to change batteries. Because of this construction the tripod connector is placed at the far left. To fit the camera on a tripod in central position an AH-3 is needed!
Nikon F-501 = N 2020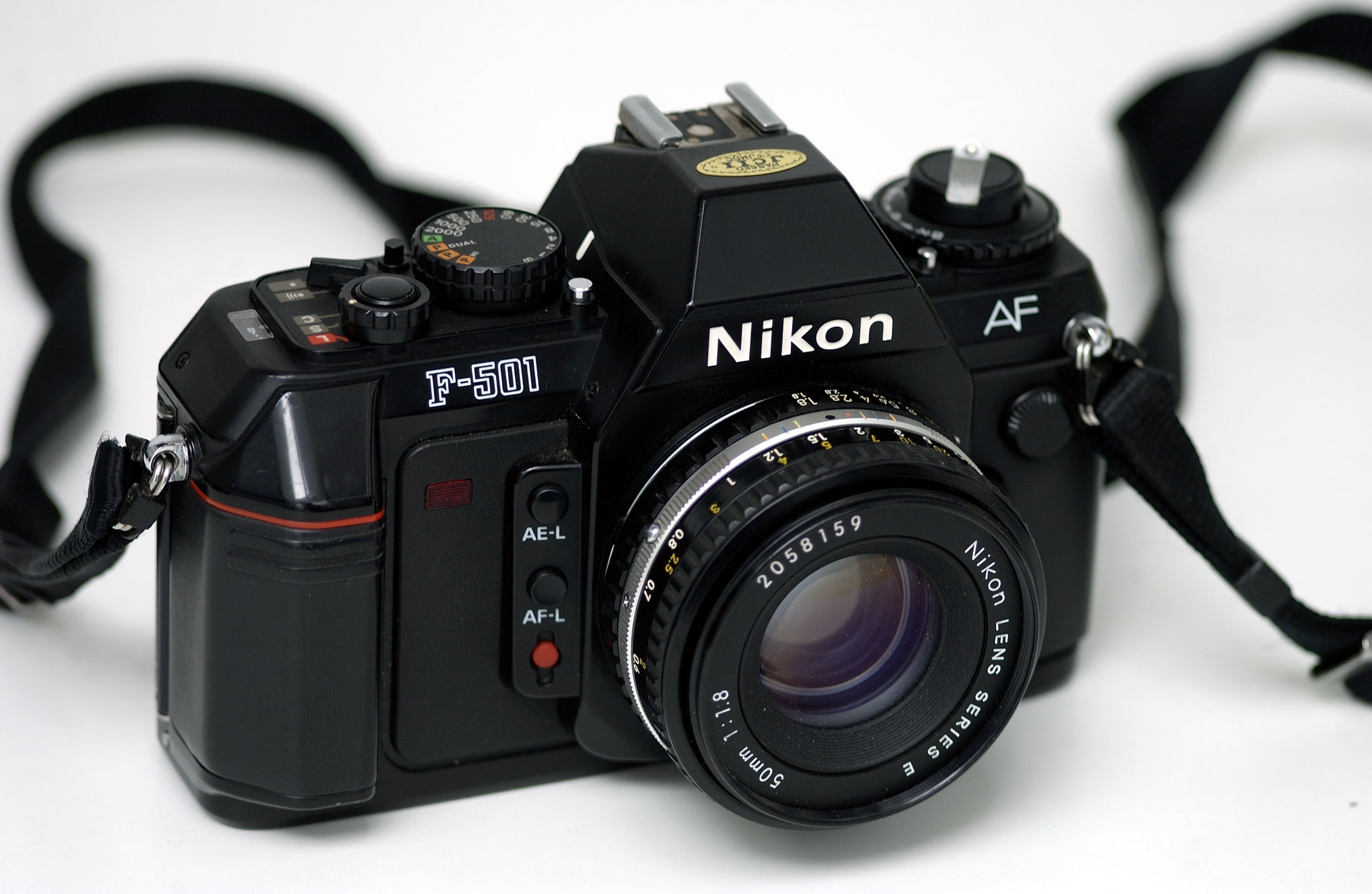 This is Nikon´s first autofocus SLR for amateur photographers. Introduced in April 1986 it came with a new range of AF-lenses. The camera can be used with all AI/AIS lenses and AF-lenses. The AF-sensor is placed under the mirror. There are two AF-modes (aka dual autofocus): S = single servo and C = continuous servo. It also has 3 interchangeable viewfinder screens (which can´t be used in other cameras). There are rumors that the bayonet lens mount may be deformed when using heavy lenses. Similar exposure and flash programs as in the F-301.
Nikon F-601M = N 6000 & Nikon F-601AF = N 6006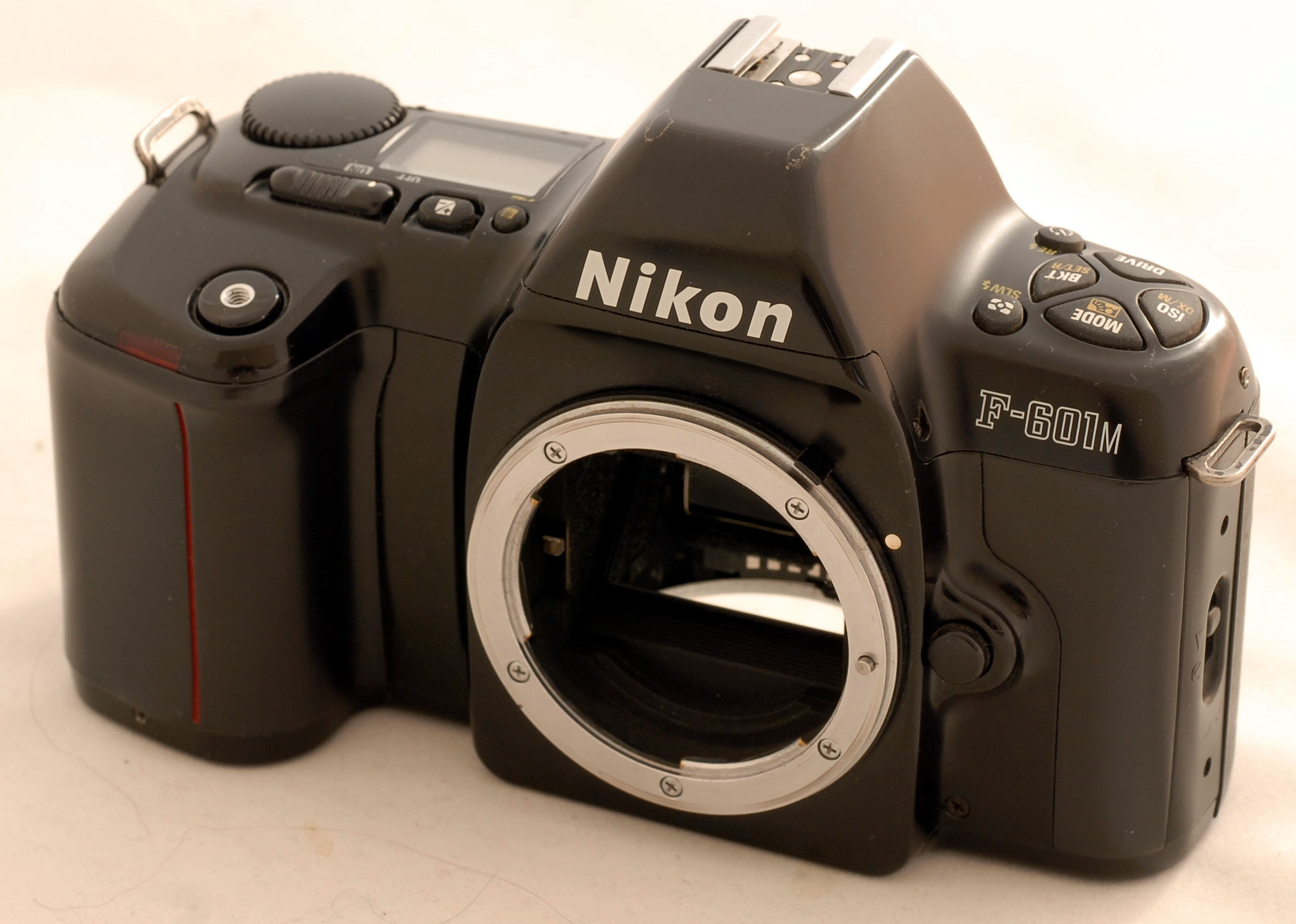 Both the Nikon F-601 M and Nikon F-601AF were introduced in September 1990 as the first twin cameras in the autofocus era. The 601M has manual focus and no flash. This enabled Nikon to built in a larger (HP) viewfinder. The Nikon F-601AF has autofocus, a built-in flash and most technical features are identical. There are three exposure modes to choose from: matrix (5 areas), integral and semi-spot metering (not in the F-601M), together with multi-automatic program, aperture priority, shutter priority and manual setting. The built-in flash is TTL-programmed and can be used with lenses with a focal length down to 28 mm. The camera backs are not interchangeable; a separate Nikon F-601QD with permanent data back could be ordered. The 501 and 601 are ´famous´ because of their extremely fragile back door lock.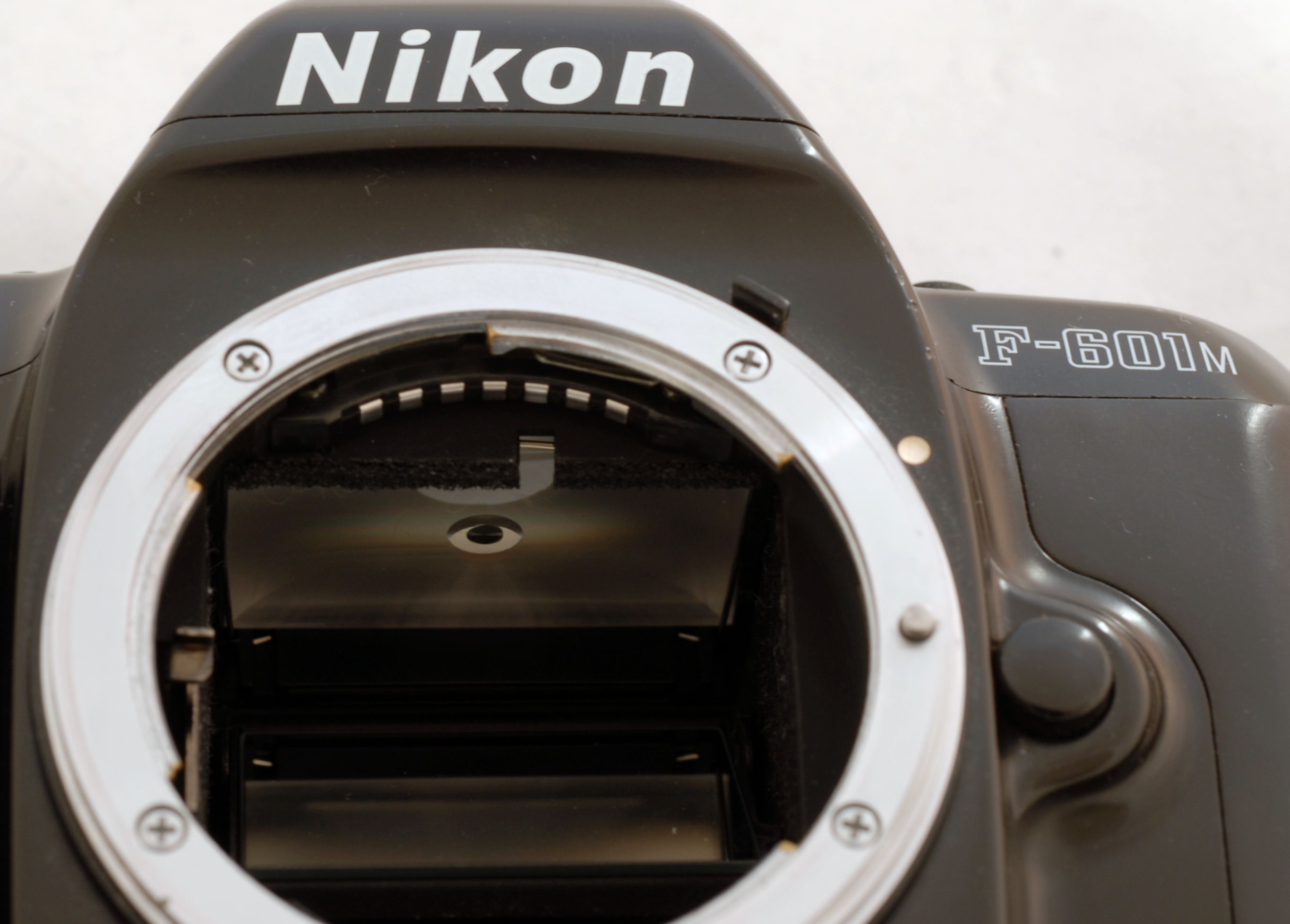 Although the Nikon F-601M is a manual focus camera all electronic contacts to communicatie with AF-lenses are there! VR- and G-mount lenses are not supported, however.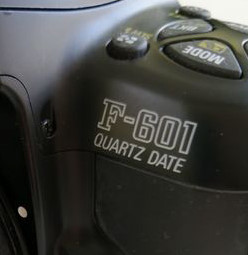 In some countries the Nikon F-601 AF could be ordered with a data-back. That back wasn't sold separately.
F-801/S = N 8008/S
Introduced in June 1988 this camera caused a great shock. It offered - as the first SLR - a very nice matrix metering, a fast built-in motor drive and a stunning top shutter speed of 1/8000 sec.! This camera is packed with modern features, making photography an easy job. Many books have been written on this camera, that quickly earned its reputation.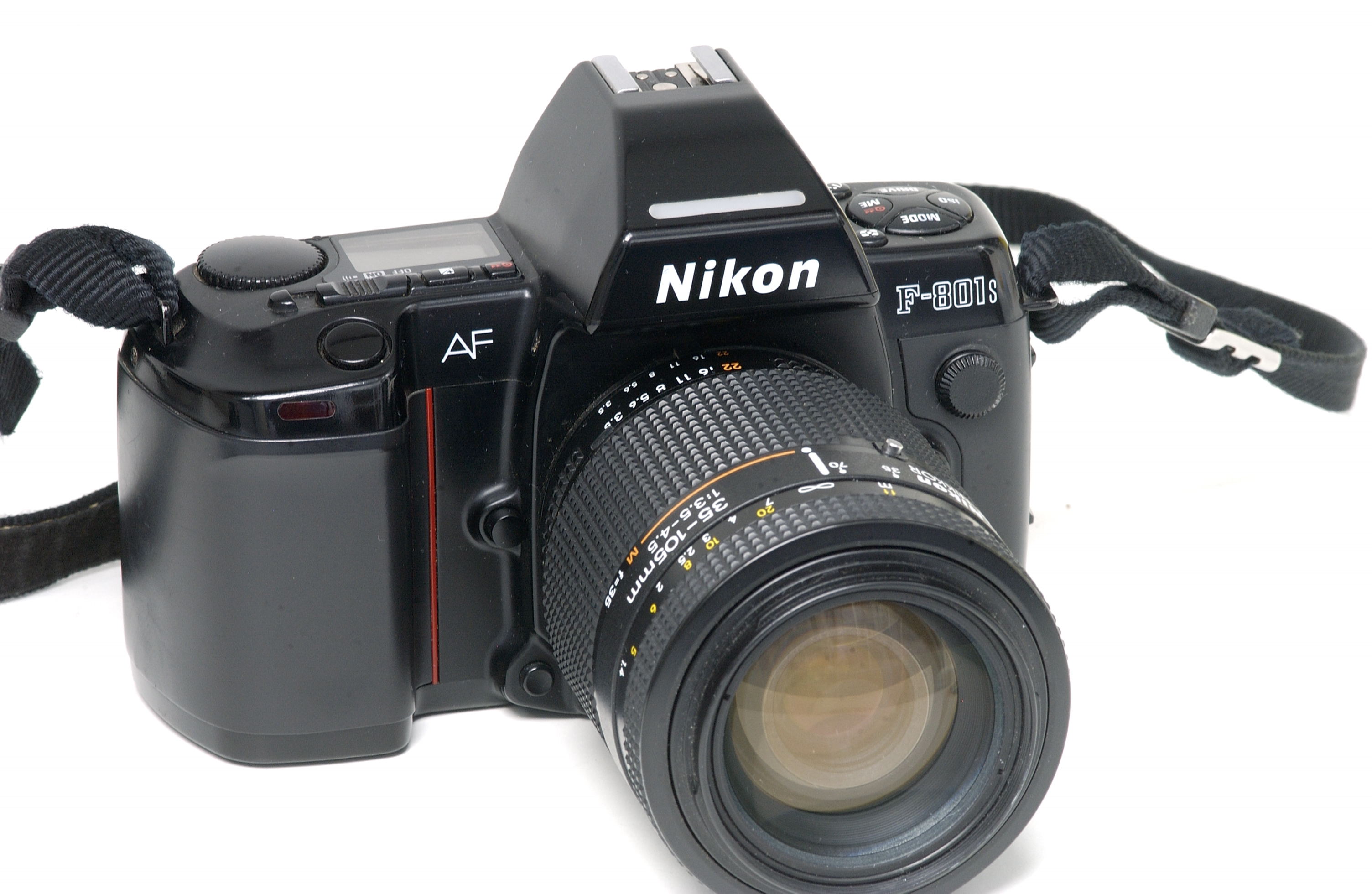 In March 1991 an upgraded S-version with faster autofocus and spot metering (that's why the additional 'S') was introduced. Both versions were very popular, also among professional photographers, who used the camera as a back-up camera. This camera also uses normal AA-batteries, which are placed in the bottom of the grip.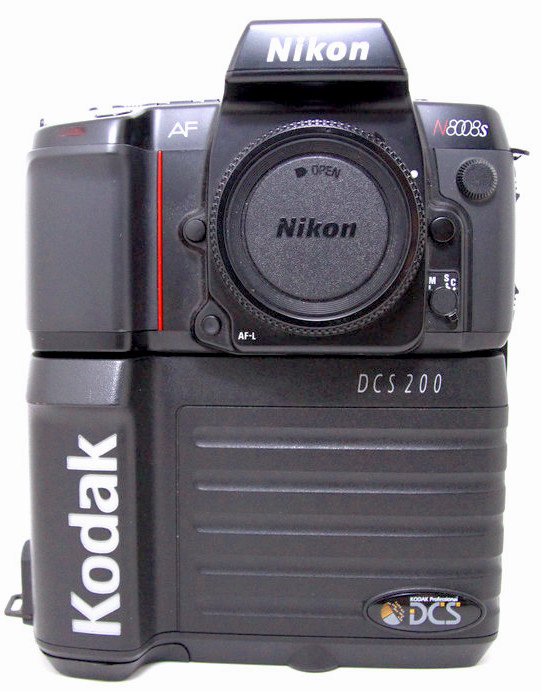 Kodak introduced in late 1992 - on the basis of the Nikon F-801s - a digital camera called the Kodak DCS 200 (see above). This camera has a digital back with a 1.5 Mp. sensor. 5 models were made for colour, monochrome and infrared photography.