Nikon Coolpix AW- and W-series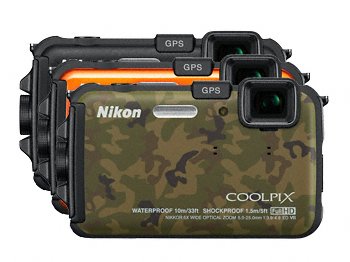 Above the Coolpix AW100/100s in 4 different 'outfits'.
Just after the summer holidays (on the Northern Hemisphere) at the end of August 2011 - exactly ten years after the decease of the last Nikonos camera - Nikon surprised the world with a new series of Coolpix cameras: the Coolpix AW-series! AW stands for 'all weather', referring to the possibility to use these cameras under harsh weather condition, in outdoor situations and even under water! A new digital 'Nikonos' was born!
The Coolpix AW-100 has a 16 Mp. CMOS-sensor with a sensitivity range from 125 - 3200 ISO. The camera has a solid construction which is waterproof up to 10 meters deep; it may drop from 1.5 meter high without damage and the camera can stand temperatures as low as -10°C (= 14°F). White balance is adjusted automatically when the camera goes submarine. It features a Zoom-Nikkor 3.9-4.8/5-25 mm. (equiv. 28-140 mm. in full frame or 35mm.) that can be focused down to just one cm.! Apart from that the lens features a hybrid VR-system. The monitor is a 3 inch TFT-monitor with 460,000 dots. The camera can be used for single and serial photography but also for full HD movies with stereo sound. And on top of that the camera has a built-in GPS system, an electronic compass, world map display (not available on the AW-100s) and the possibility to add geotags to your images.
In January 2013 Nikon introduced the successors of both cameras: Coolpix AW-110 and Coolpix AW-100s. Both cameras have the same sensor and lens as their ancestors, but featuring a larger 3 inch OLED-monitor with 614,000 dots. Both cameras can be used at depths of 18 meters, have Wifi and GPS on board including a world map and can display atmospheric pressure values and imprint data on images. The 110s can be used as a HD video camera with stereo sound.
On the 2014 Olympic Winter Games opening day the successor of the AW-110, the Coolpix AW-120, was introduced. It has the same 16 Mp. CMOS-sensor plus a relatively fast f/2.8 VR-zoomlens (equiv. 24-120 mm.). The outdoor camera is waterproof, has a built-in world map, can be connected to GPS- and GLONASS satellites and shows in its 3 inch 921k OLED screen altitude, water depth & pressure and atmospheric pressure. Finally the camera features Wifi for cordless connections to PC's and printers.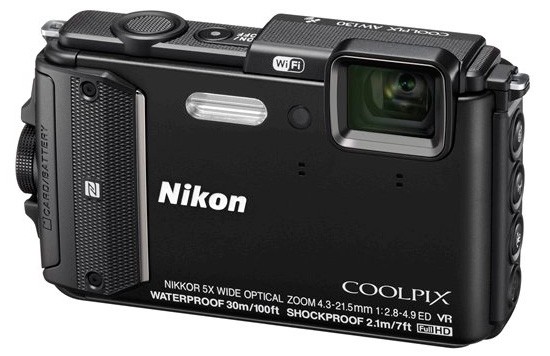 Early February 2015 Nikon announced an upgraded version of the Coolpix AW-series: Coolpix AW130 and its more sophisticated sister Coolpix AW130S. Both cameras are almost identical to the AW120: same sensor, same lens and - of course - waterproof. They have a larger monitor (3 inch OLED 921k-dot screen) and can shoot a movie with stereo sound recording. The AW130 has in addition to that GPS and GLONASS connections and an electronic compass.
Nikon Coolpix W100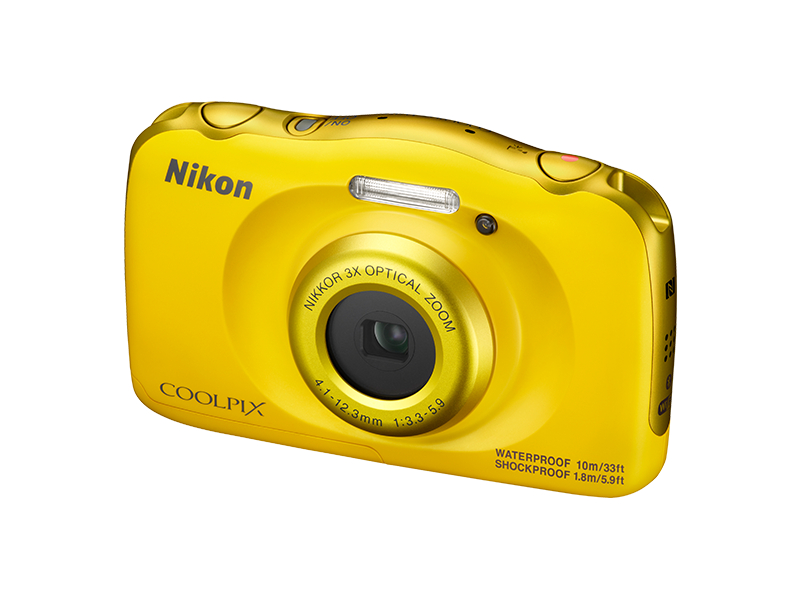 Introduced on August 1, 2016 this little camera has a lot to offer. It has a 13.2 Mp. C-MOS sensor and a 3x zoom lens (3.3-5.9/4.1-12.3 mm - equiv. to 30-90 mm.) with VR and a 2.7' LCD with 230k-dot. On top of that the camera is waterproof down to 10 meters, freezeproof down to minus 10° C., shockproof up to 1.8 meter and dustproof. In addition to these nice feautures the camera - which can be ordered in several colours - offers SnapBridge via Wi-Fi and/or Bluetooth. Apart from taking pictures you can make Full-HD movies, too.
Nikon Coolpix W300 / W300s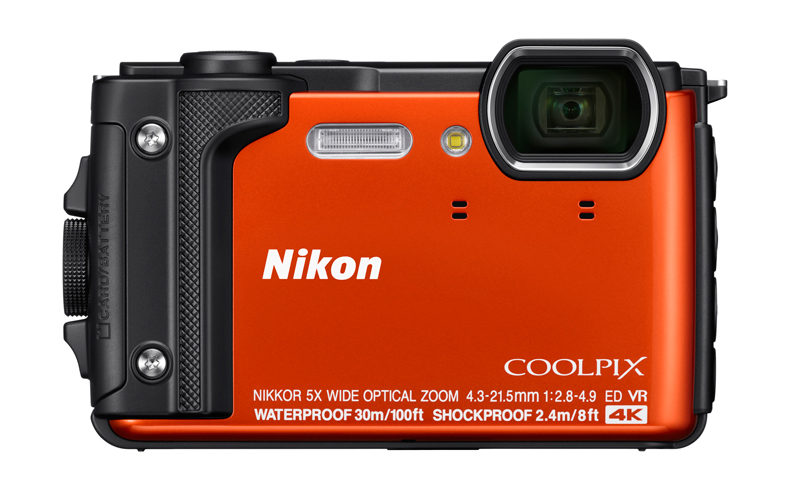 Late May 2017 Nikon introduced this sophisticated successor. It has an 1/2.3 inch CMOS sensor with 16 Mp. with a 125-1600 ISO-range. The VR-lens is a Zoom-Nikkor 4.3-21.5mm/2.8-4.9 VR-Zoom-Nikkor (equiv. 24-120mm in 35mm/135 format) and can be focused down to 50 cm. The camera can dive as deep as 30 meters, can be dropped from 2.4 meter high and will stand -10 C°/14°F. It has a LED flash light, a location data display as well as an altitude/water depth/depth log display. Its internal memory is about 99 Mb. Apart from taking pictures 4K UHD 30p movie recording is possible. Finally the camera is featuring Snapbridge, Bluetooth and Wi-Fi. The Coolpix W300s has an electronic compass as an interesting extra.