Nikon Coolpix A series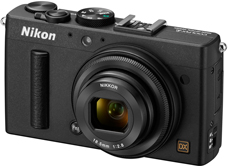 Early March 2013 Nikon Corporation introduced the first Nikon Coolpix A digital compact camera, featuring a DX-format CMOS sensor. In order to keep up with the competitors in this camera segment Nikon had to satisfy the advanced photographer. The first A-model has a fixed focal length lens (Nikkor 2.8/18.5 mm. = 28mm equiv.) and a DX- CMOS sensor with 16.2 Mp. and no optical low-pass filter to increase sharpness. All images can be stored on an SD memory card in 14-bit NEF (RAW) files. It's also possible to shoot HD-movies. Playback is possible at the rear 3-inch screen with 921,000 dots. The ISO-range is from 100 up to 6400 with an Hi1 and Hi2 setting, equaling a (theoretically) ISO 25,600.
The camera can take an additional optical viewfinder (DF-CP-1), an UR-E24 adapter ring and the HN-CP18 hood. All modern flash guns (SB-400 - SB-910), the GPS-1 unit and the mobile adapter WU-1a can be used, too.
Coolpix A10 & A100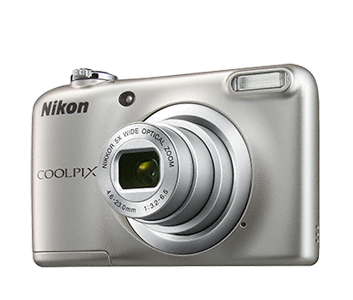 Coolpix A10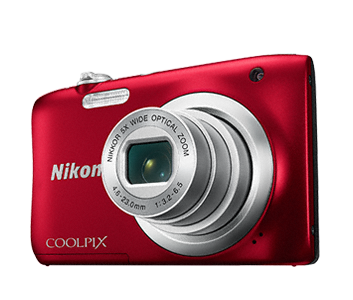 Coolpix A100
Mid January 2016 Nikon introduced two small, light and fool proof cameras as Coolpix A100 and Coolpix A10, probably as a successor of the Coolpix L-series. Both cameras cannot - however - overshadow the above mentioned Coolpix A. The Coolpix A100 has a 20.1 Mp. sensor and a 5 x optical zoom lens (equiv. 26 - 130 mm.) and an additional digital zoom up to an equivalent of 260 mm. The Coolpix A10 has a 16.1 Mp. sensor and has the same lens. It is very easy to shoot pictures as both cameras are featuring a scene selector, target finding AF, subject tracking and a smart portrait mode. The A10 has some in-camera retouch functions, too and uses regular AA-batteries.
Coolpix A300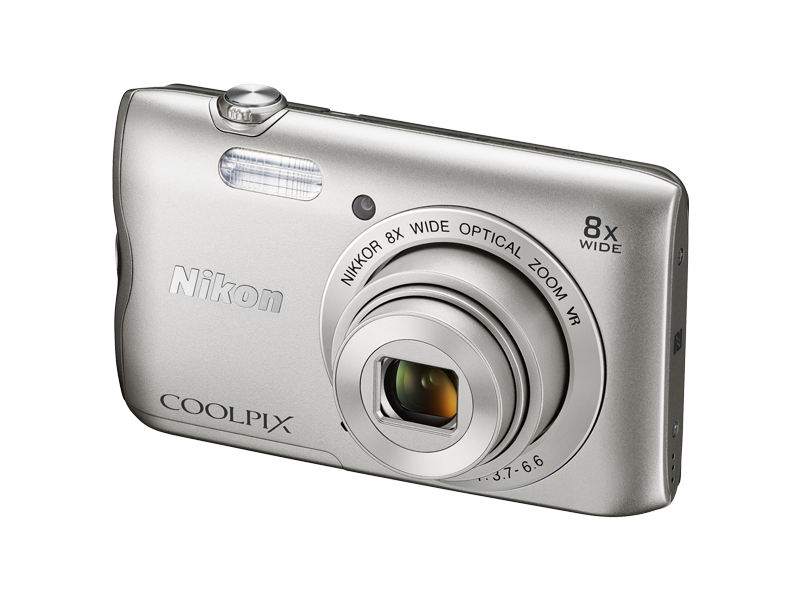 Late February 2016 this member of the new camera range was introduced, featuring a 20.1 Mp. sensor, an 8 x zoom lens (equiv. 25-200 mm.) with Vibration Reduction and a 2.7 inch LCD screen. The camera offers Wi-fi, NFC and bluetooth connectivity to Snapbridge.
Coolpix A900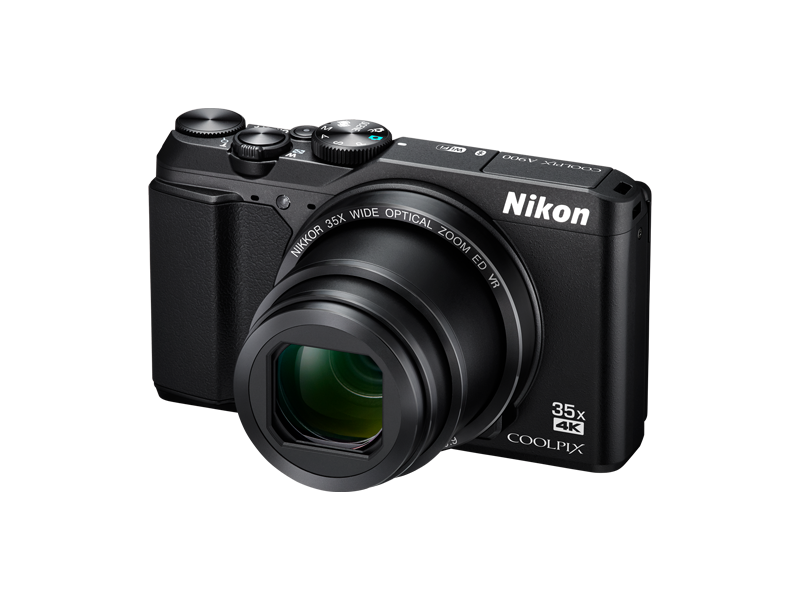 Also this camera was introduced late February 2016, offering a 20.3 Mp. sensor, a staggering 35 x VR zoom lens (equiv. 24-840 mm.!) with the possibility to double this range digitally! In addition to that superlapse 4K movie (full HD) recording is offered as well. Snapbridge connectivity via Wi-fi, NFC and bluetooth is possible.
Coolpix A1000
Mid January 2019 Nikon introduced this camera in a simular body as the A900 with a 16 Mp CMOS sensor and the same lens. Now with a 4x digital zoom magnification. The camera offers many features as the A900, like 4K UHD, ISO 100-6400, RAW format, VR, WiFi, Bluetooth, Pictbridge etc.