Nikon Coolpix B-series
Late February 2016 Nikon Corporation introduced a new series of Coolpix compact cameras - as the successor of the Nikon Coolpix P-series.
Nikon Coolpix B500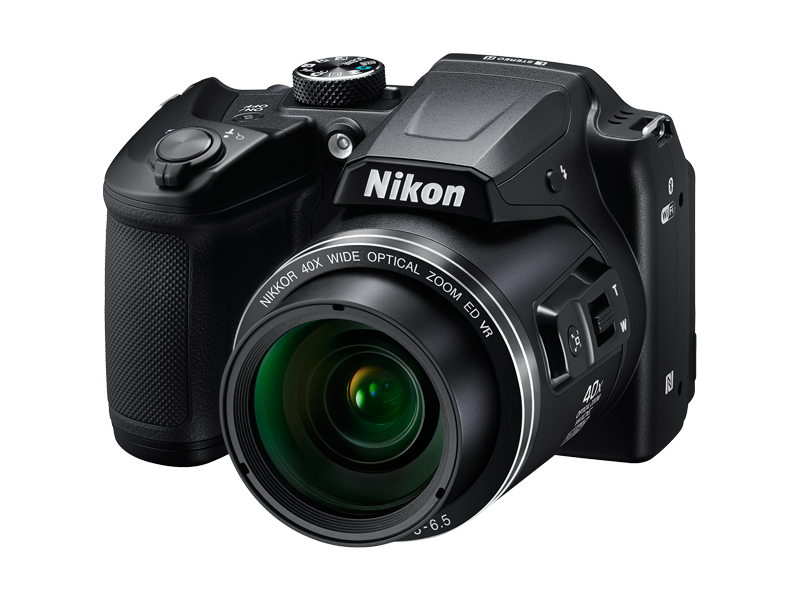 This is one of the very first cameras (February 2016) in the newly introduced B-series Coolpix cameras. It features a 16 Mp. backside-illumination CMOS sensor and a 40 x zoom lens with a gigantic range of 22.5 up to 900 mm!! (35 mm. equiv.) and the latest vibration reduction technology. Furthermore a TFT LCD tilting monitor and a new creative mode to combine presets and effects (tone, brightness and saturation) for up to 36 creative options. Connectivity to other devices is possible via Snapbridge.
Nikon Coolpix B600
Mid January 2019 Nikon introduced the amazing B600, featuring a 16 Mp. CMOS sensor, with a maximum sensivity of ISO 6400, and 60 (!) x zoom lens (equiv. 24-1440 mm in 35mm format!) + 4 x digital zoom magnification, equaling an angle of view of a 5760 mm (!!) lens. In order to produce sharp images a lens shift vibration reduction and electronic VR (movies) is offered. Still images are saved in jpg (not in RAW/NEF), movies (1080/30p, full HD ith stereo sound) in MP4. The camera offers many connectivity options like HDMI, USB, Bluetooth, WiFi and Snapbridge. To ease shooting/imaging 19 scene modes and (in creative mode) 36 effects can be chosen. The camera can easily be carried around all day since its weight is just 500 gram.
Nikon Coolpix B700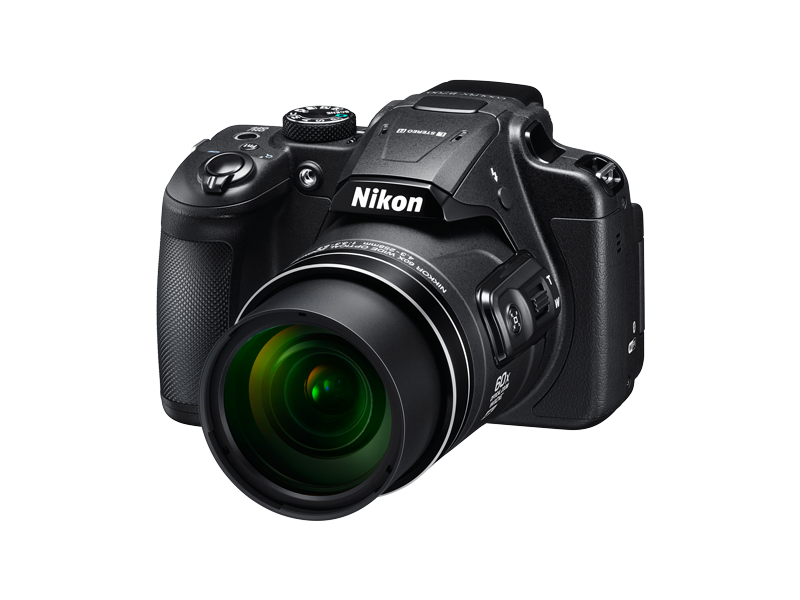 The B700 is at its introduction in February 2016 the most compact ultra-high-power 60 x optical zoom camera in its class (stated by Nikon Corporation in its press release). The camera has a 20.3 Mp. backside-illumination CMOS sensor (ISO 100-1600) and that incredible VR zoom lens with a range from wide-angle 24 mm. to an staggering 1.440 mm. tele (equiv. in 35 mm. format)! Digitally that range can be magnified 4 x up to an unbelievable 5.760 mm!!! It is possible to shoot full-HD movies, including super lapse. The vari-angle TFT LCD monitor offers 921k-dot. Snapbridge connectivity via Wi-fi and bluetooth. Images can be saved in RAW (NEF) files on SD memory cards.