Specials
For special clients special versions of the Nikkor-S 1.2/55 mm. were and can be made.
NASA-Nikkor
The National Aeronautics and Space Administration in the USA, better known as NASA, is a long time customer of Nikon Corporation. Many cameras and lenses were made and/or modified up to the wishes of NASA scientists and astronauts.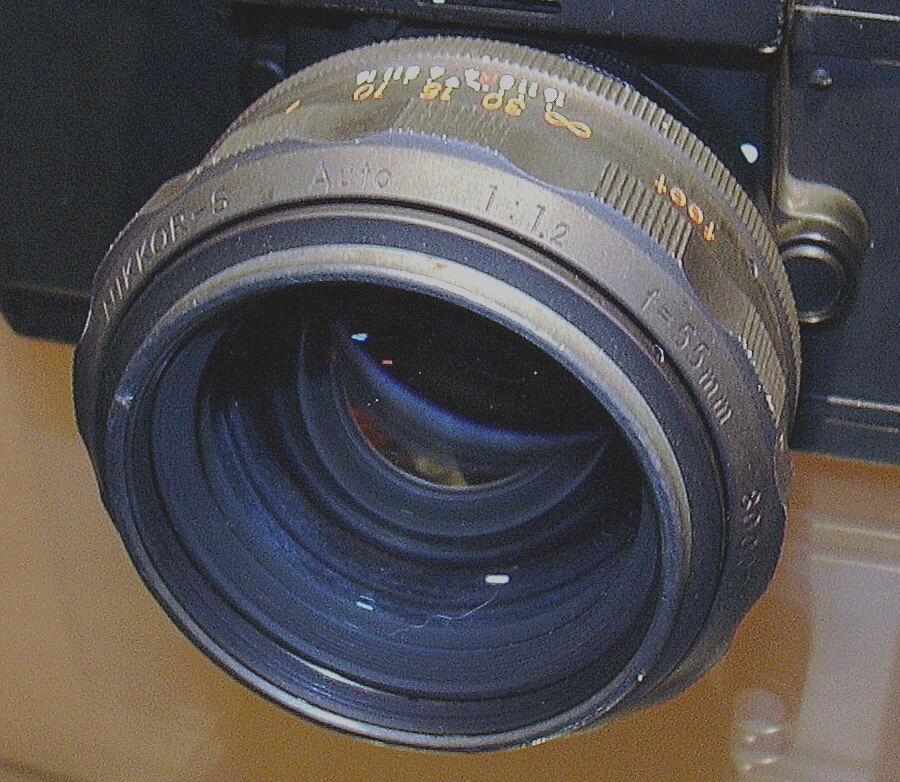 This lens is based on the early version with scalloped barrel. The lens has the regular optical formula. The aperture grip has been made larger. The lens has special NASA inscriptions and a 6-digit serial number starting with an 8. Various sources say that less than 20 lenses were made.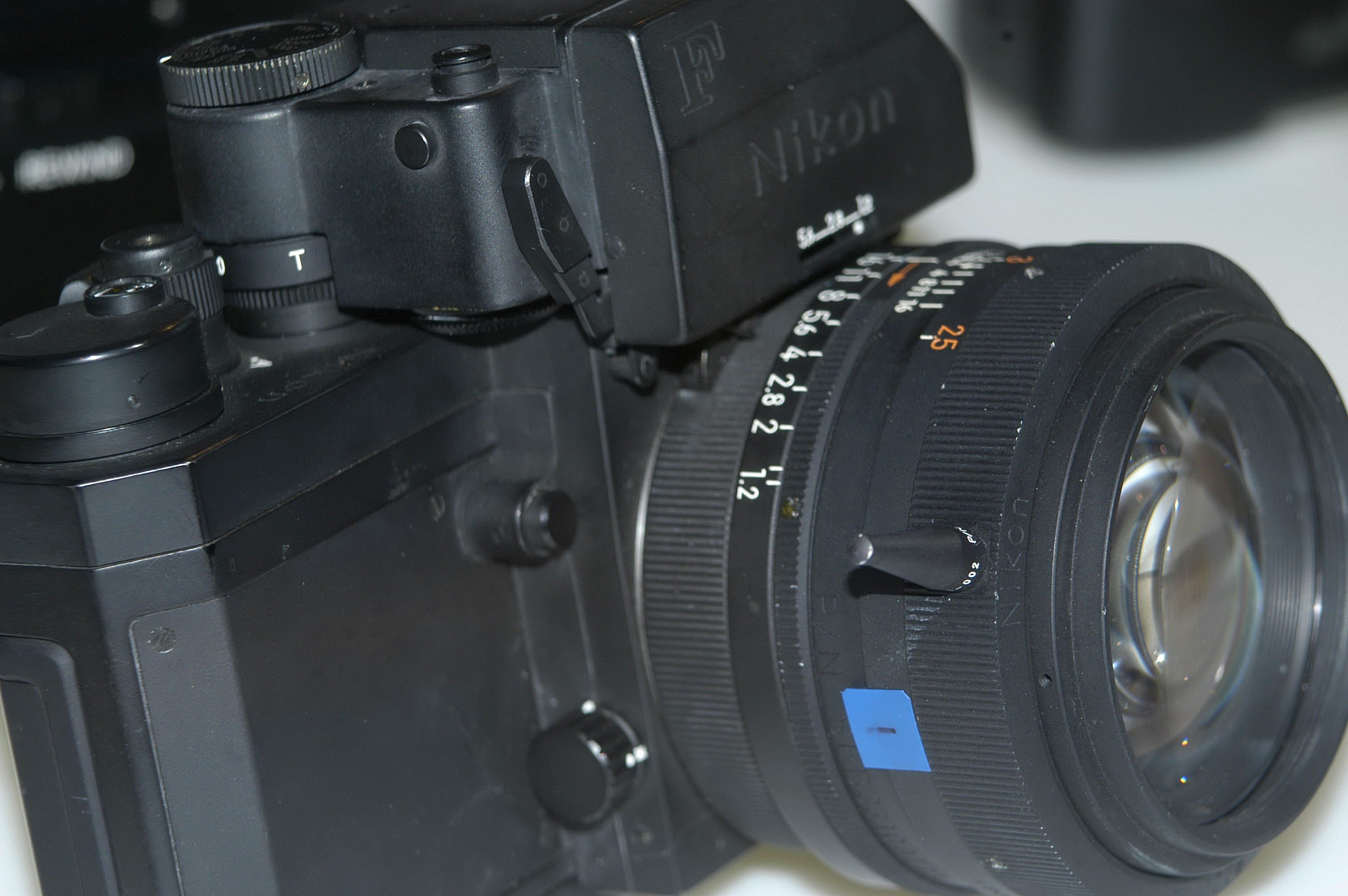 Probably based on the last (AI) version of the Nikkor 1.2/55 mm. this lens was made for NASA, having a different grip and a focusing aid for astronauts wearing gloves. Production numbers are unknown.
---
Nikkor-O 1.2/55 mm.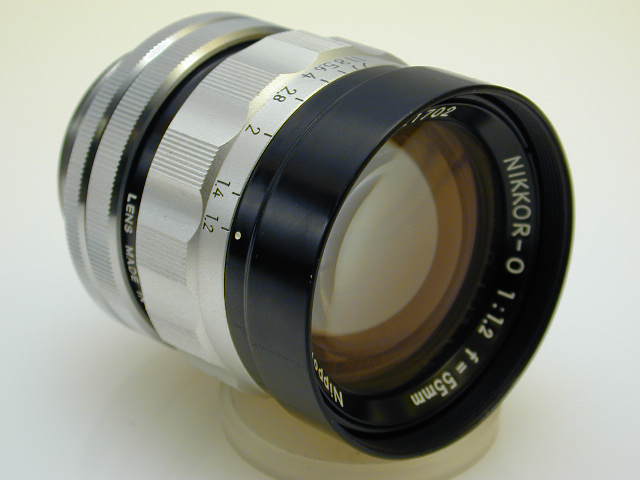 On the basis of the Nikkor-S 1.2/55 mm. standard lens various special designs were made. And not only by Nikon!
A very nice lens with nearly the same specifications as the common 55mm. standard Nikkor lens was produced in the early 1970's by Nikon to make pictures of oscilloscope screens. As - in those days - these screens had a black background and monochrome red colours; some elements in that particular lens were corrected to render those particular colours.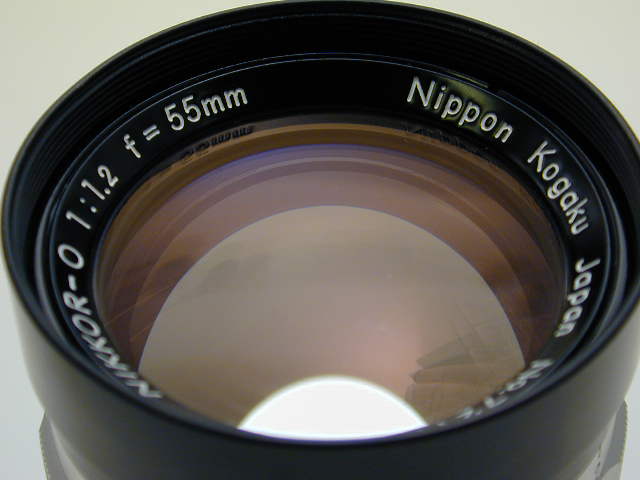 As you can see the engravings in the filter ring are 'Nippon Kogaku Japan' + 'Nikkor-O 1:1.2 f=55mm'. The 'O' is referring to the number of elements in this version, which is 8. Serial numbers have 6 digits starting with a 7 or 8. The lenses with a serial number starting with an 8 have (in red) an additional engraving M = 1/5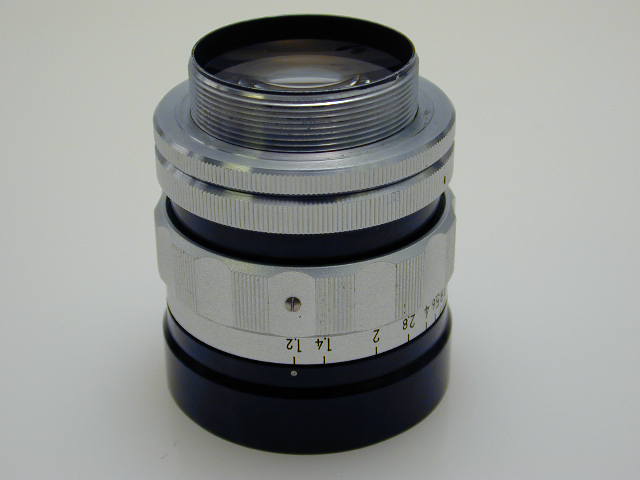 This particular lens has a rather long 39 mm. thread mount. As you can see there is no focusing ring. The lens has a fix-focus. When this lens could be focused at infinity the maximum effective aperture would be f/1.2. Since any lens is loosing light and focal length when focusing at a closer distance the effective aperture of this lens is f/1.4.
Technical specifications of the Nikkor-O 1.2/55 mm.
Optical formula: 8 elements in 6 groups
Effective focal length: 55 mm.
Aperture range: 1.2 - 11 (effective maximum aperture f/1.4)
Aperture blades: 13
Fix focus at a working distance of approx. 110 mm.
Lens body made of aluminium
Weight: 260 Gram
Mount: LTM (Leica Thread Mount) = 39 mm.
Filter ring = 52 mm.
---
Leica Nikkor-S
A very rare version of the Nikkor.S 1.2/55mm is this lens. The original Nikkor lens elements block has been put into a specially made body with a mount to fit Leica M-mount bodies. A very nice compliment for Nikon Corporation!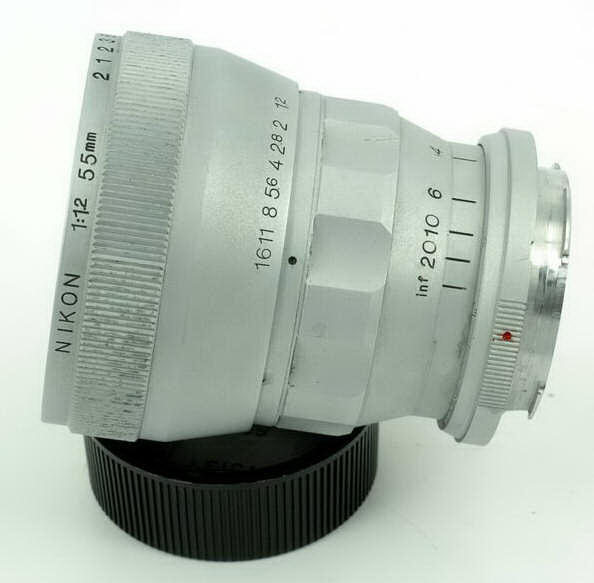 It is not known how many of this versions were made and by the order of whom!
As stated in this web site several times, for special clients special versions were made. One of the most famous clients of Nikon Corporation was and still is the National Aeronautics and Space Administration (NASA) in the USA.