Nikon D4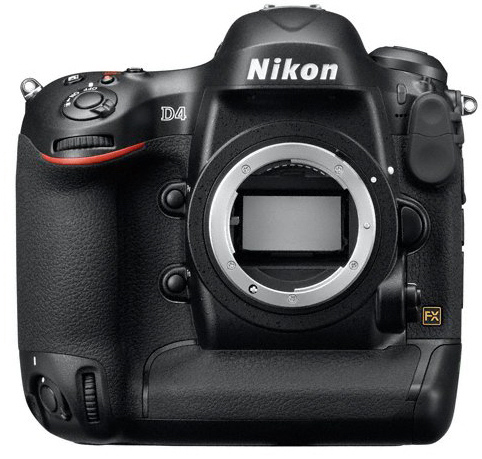 Those who received a Nikon D3-series digital reflex camera as Xmas 2011 present will look foolish as Nikon Corporation introduced just two weeks later (early January 2012) the Nikon D4. The first (?) of the fourth series of Nikon's digital reflexcameras is packed with the latest features for any professional photographer or movie maker. Nikon's new flagship is equipped with a new Nikon FX-format (aka full frame) CMOS image sensor (imaging size of 36.0 x 23.9 mm) and EXPEED 3, the latest image-processing engine specifically optimized for digital-SLR cameras. The sensor has an effective pixel count of 16.2-million pixels, and 'offers superior image quality under a broad range of lighting conditions with its image sensor supporting an incredible range of sensitivities from (a theoratical) ISO 50 to ISO 204800'.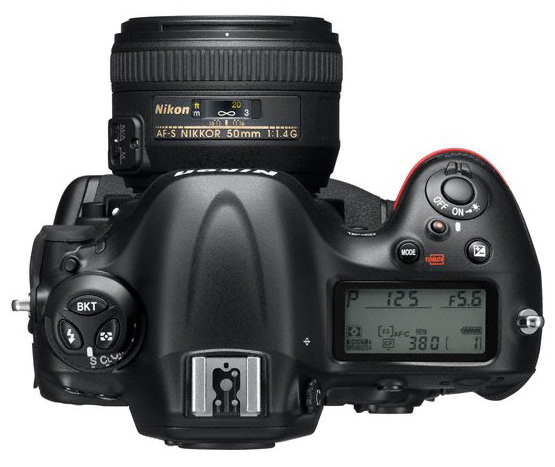 The layout of the camera body comes close to that of the Nikon D3-series.
The new 91K-pixel (approximately 91,000 pixels) RGB sensor supports the Advanced Scene Recognition System, which is able to recognize human faces even when images are framed using the optical viewfinder. In addition, the Advanced Scene Recognition System offers improvements in AF, AE, i-TTL flash control, and auto white balance (AWB) control accuracy. The 51 focus point AF system has been improved with faster initiation of autofocusing and the ability to detect and focus on subjects with less lighting. In addition, 11 focus points are fully functional when lenses with a maximum aperture of f/8 are used. All of this means more precise autofocusing when super-telephoto NIKKOR lenses are used with teleconverters (2.0x). The Multi-area Mode Full HD D-movie movie recording function is capable of recording full-HD movies at 30 fps, and offers three movie recording formats for selection.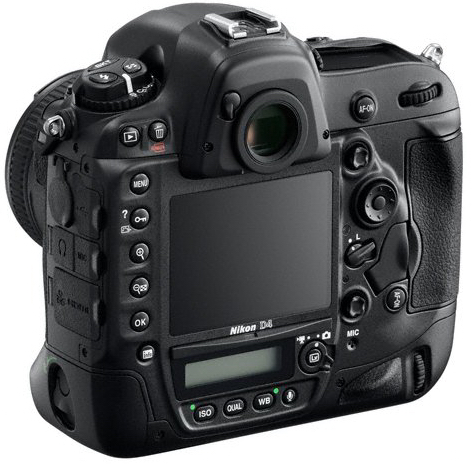 The D4 is also equipped with a number of new functions that support a more efficient workflow for professional photographers, including one that allows users to add IPTC (International Press Telecommunications Council) information to images. In addition to built-in wired LAN features, the D4 also supports high-speed image transfer via wireless LAN when the new, compact, easy-to-use Wireless Transmitter WT-5 (sold separately) is connected.
For more technical information see the matrix.
Nikon Corporation issued a firmware upgrade (1.01) by the end of May 2012. Ask your dealer or local Nikon representation for more details.
Nikon D4S

At the 2014 Consumer Electronic Show (CES) in Las Vegas (USA) early January 2014 Nikon announced the development of a new flagship digital SLR camera. Nikon Corporation's press release stated that "As Nikon's new flagship model, the D4S will offer advances over the Nikon D4 digital SLR camera that include even better image quality enabled with adoption of a new image-processing engine, and more advanced autofocusing performance".
Late February 2014 the new camera was introduced. It has a lot of features copied from the Nikon D4, but Nikon promised that the 'EXPEED 4 software will offer for out-of-the-camera JPEGs an outstanding sharpness, exceptional skin tones, enhanced depth and minimized noise from ISO 100 to 25600'. It also delivers professional-worthy 1080/60p Full HD video with comprehensive operability, rich, noise-free color from ISO 200 to 25600, and an incredibly sharp 1920 x 1080 crop format. HD-movies can be shot with stereo sound, but only when using an external stereo microphone. A new mirror-moving mechanism for smoother visibility through the optical viewfinder, while tracking subjects during high-speed continuous shooting, is one of the main improvements. The camera body weights in at 1350 gram, which is 170 gram heavier than the Nikon D4.
Serial numbers of both cameras start with #2xxxxxx. As per December 2016 of each camera approx. 50,000 bodies were sold.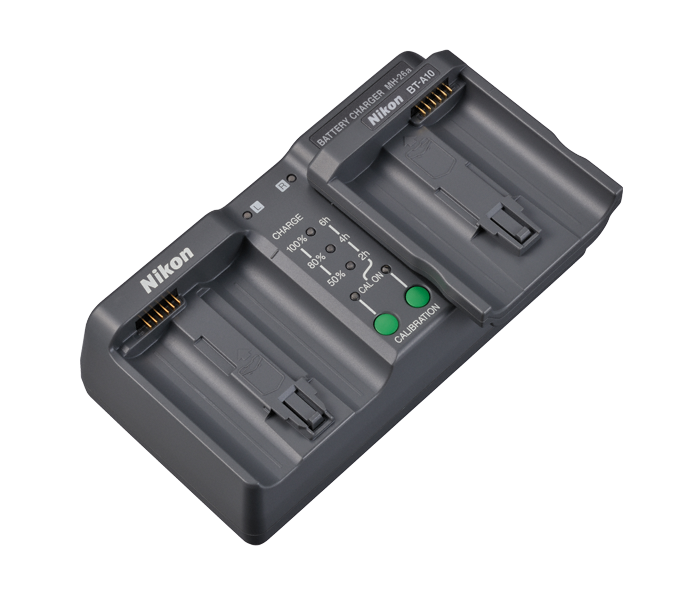 Both cameras use Nikon EN-EL18 and/or EN-EL18a batteries. They can be charged with the Nikon MH-26 charger. The Nikon MH-26a can take 2 batteries, but does NOT charge them simultaneously. One charger comes with a new camera. If you want to buy a separate charger you have to take the (relatively expensive) Nikon MH-26 aAK kit; it has an additional Nikon BT-A10 adapter, which enables you to charge EN-EL4 batteries.