Nikon D810
As the successor of the popular Nikon D800 this even more sophisticated camera was introduced late July 2014. It has the same sensor with 36.3 Mp. But according to the press release of Nikon Corporation the D810 is the "first digital SLR camera in Nikon's history to offer a minimum standard sensitivity of ISO 64 at which superior clarity and image quality with rich tones is achieved"
Additional Features are an electronic front-curtain shutter that prevents blur in images with minimization of vibration resulting from the operation of mechanisms with shooting. Highlight-weighted metering, with which exposure values that reduce loss of detail in highlights (blown highlights) are determined, convenient for capturing theater scenes and the like.
It is also the first Nikon FX-format camera with an OLED viewfinder display; an optical viewfinder with frame coverage of approximately 100% that offers better light transmissivity and colors, and makes it easier to achieve the optimal focus when fast lenses are used. A 1229k-dot LCD monitor with bright RGBW array equipped with the "Monitor color balance" function that allows users to adjust monitor colors.
A "split-screen display zoom" function that displays enlarged views of two separate areas of the frame side-by-side for checking level if the building is aligned with the horizon with live view photography.
Advanced Scene Recognition System, which utilizes a 91K-pixel RGB sensor, for highly precise automatic control over auto exposure (AE), autofocus (AF), and auto white balance (AWB).
Multi-area mode full-HD D-movie that allows users to choose between two movie formats (image areas), FX-based and DX-based. Improved movie sound quality with "Wind noise reduction" and "Frequency response" ("Wide range"/"Vocal range") settings. Effective sealing for superior resistance to dust and water.
More technical details can be found here.
Nikon D810A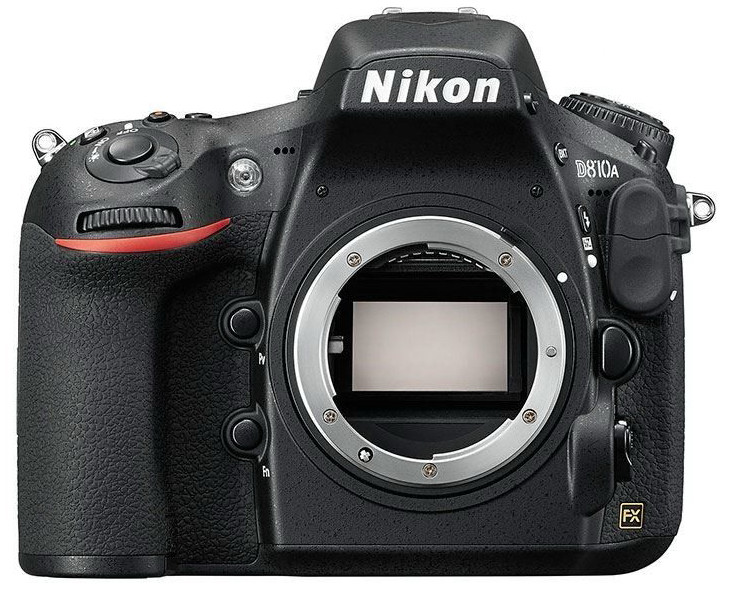 Early February 2015 Nikon introduced a very special version of the D810. The Nikon D810A is 'designed exclusively for astrophotography (..) and not recommended for general photography', as Nikon's press release is stating.
This version has the same features as the 'regular' Nikon D810 but it has no low-pass filter, but an optical filter adopted to enable reproduction (4 times greater than the D810) of vivid red images of nebulae and galaxies that emit H-alpha light. When used in general photogrpahy all images will have a red cast. The camera offers smooth and enjoyable shooting with new functions specialized for astrophotography, like a long-exposure manual (M*) mode that supports shutter speeds as slow/long as 900 s!!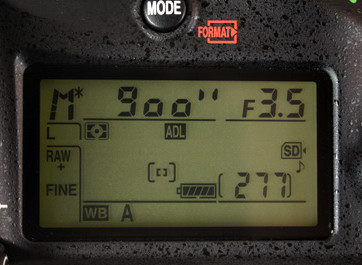 Information necessary during shooting is displayed in the viewfinder so that images can be framed without taking your eye off the subject. In addition to shutter speed and aperture settings, a virtual horizon, which is always illuminated in red when enabled, can be displayed to help keep the camera level. Features like this allow the user to focus on shooting.
When exposure times longer than 30 s common with astrophotography are specified, a preview at a shutter speed of 30 s is shown in the live view display (preview exposure is not the same as that of the actual image). What's more, just as with the D810, the live view display can be enlarged up to 23x, making precise focusing easier.
See for technical details here.