Nikon camera backs
Many film cameras could be ordered with or without a camera back. Most compact film cameras had a 'normal' - and a 'data back' version. See for details the relevant chapter. For single lens reflex film cameras Nikon offered separate, exchangeable camera backs. Most camera backs are featuring data imprint, like date, numbers and texts. Others were made to shoot with films, longer than the regular length of 20, 24 or 36 images. Nikon Corporation has given those backs a product code: MF. Except the back for the Nikon F. Below you will find the backs listed in number order.
For Nikon rangefinder cameras Nikon did not offer any backs, although one extremely rare back has been seen in a collection (see below). As the back of those cameras are integrated in the bottom, separate backs were sold (for the Nikon S2 and later models) with an integrated motor drive. See for details the relevant chapter
Hereafter you will see some film drums that have to be filled with various 35 mm. films with various lengths - up to 30 meters! To ease the filling of these drums Nikonn made a special (and nowadays rare) tool available (see below), which should be used in a dark room only!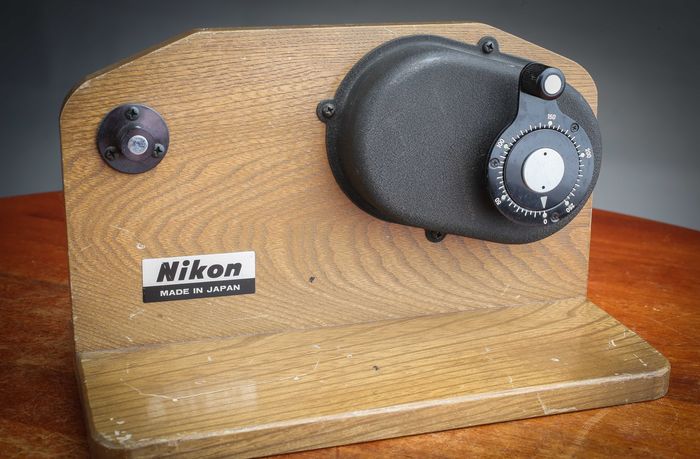 Nikon S-250 Exposure Back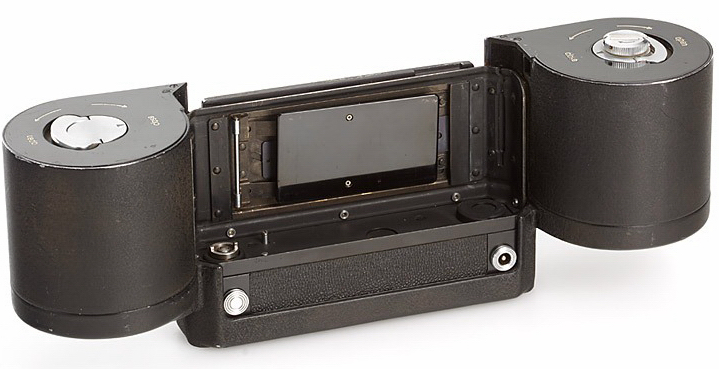 Above one of the only two existing 250 exposure backs for the Nikon S rangefinder camera.
F-250 Exposure Back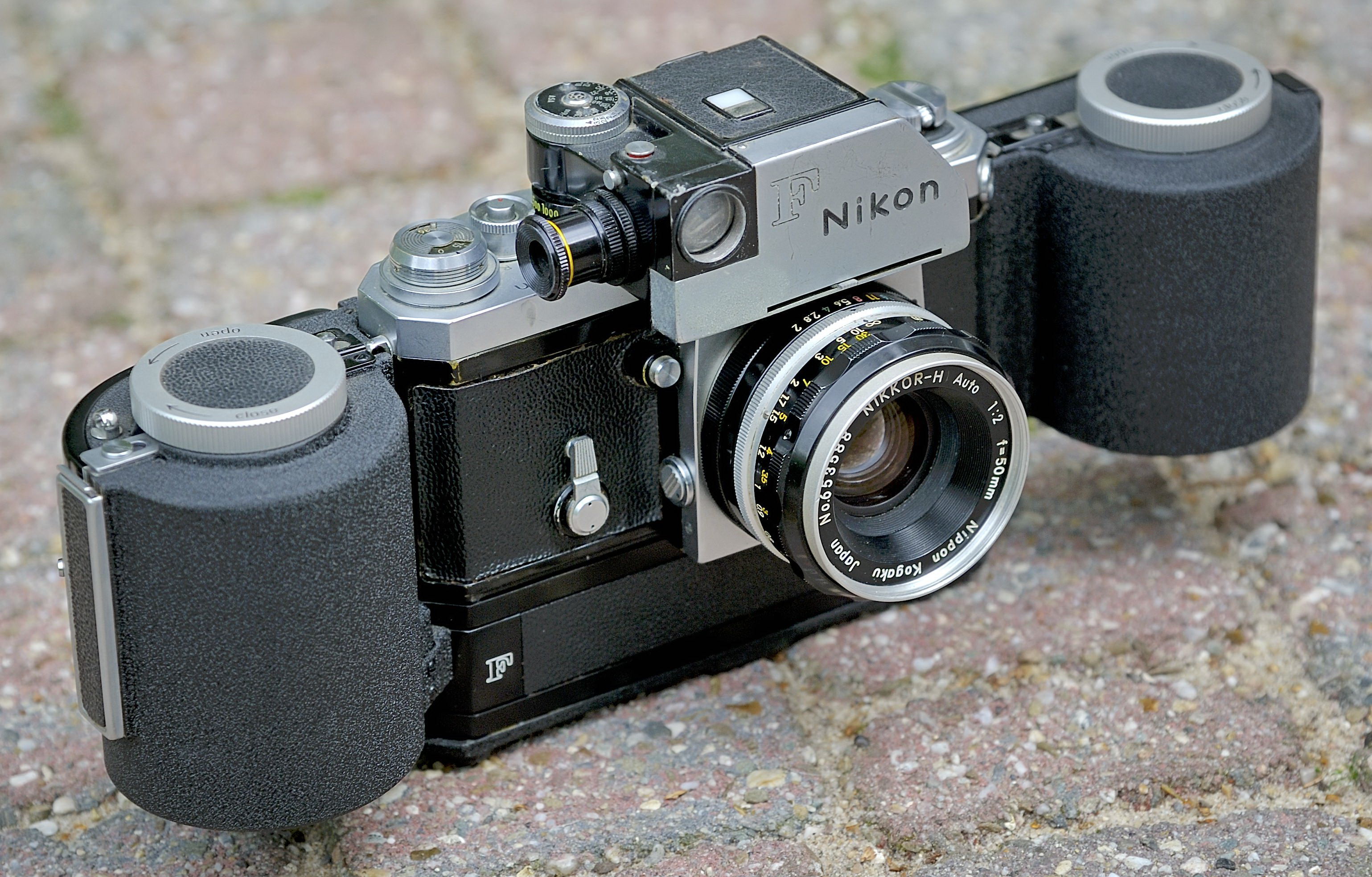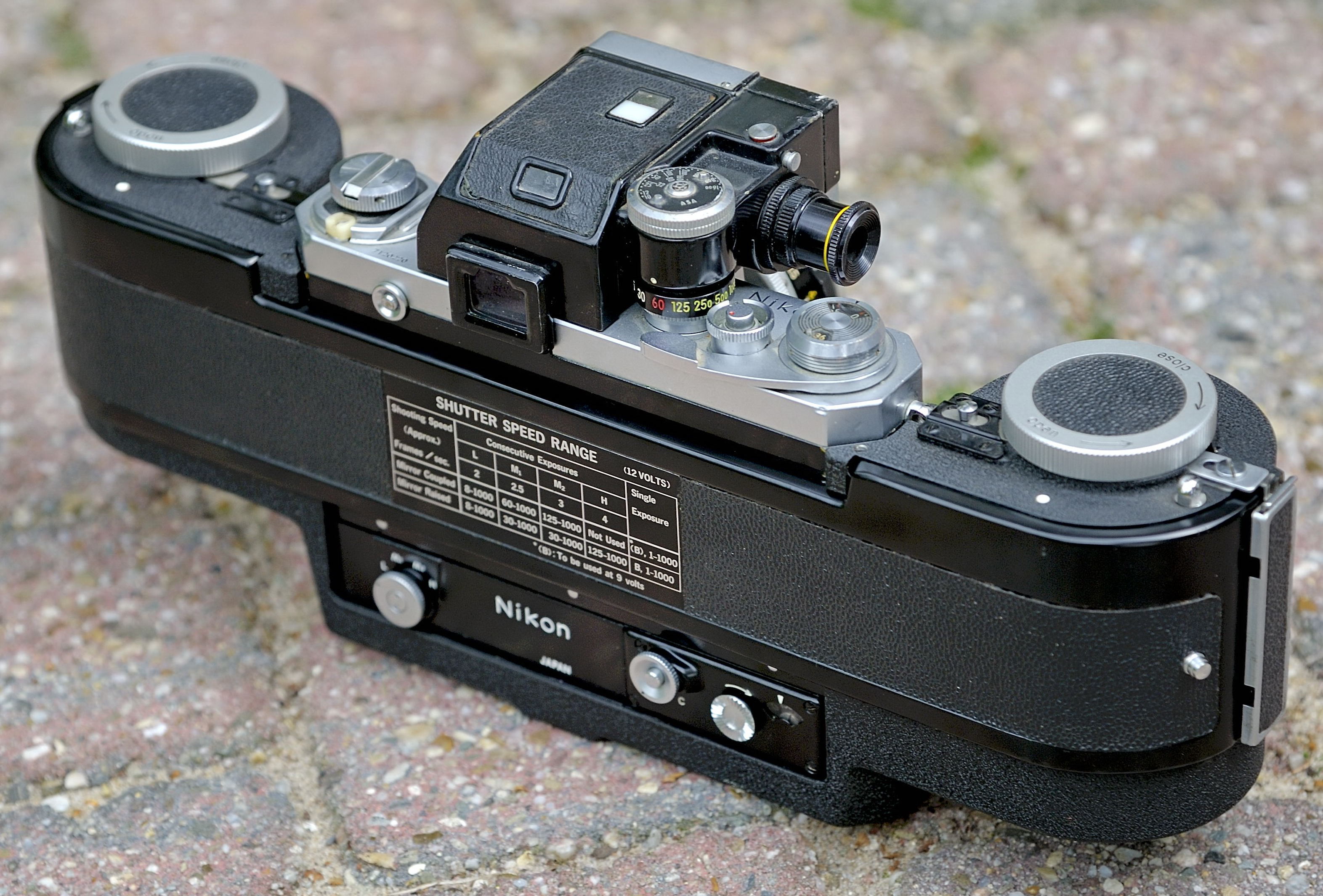 For the Nikon F a special back was produced. This F-250 Exposure Back uses the F-36 motor drive, which is permanently mounted to the base of the F-250 chassis. The Cordless Pack cannot mount on the F-250, so the Standard Battery Case is the only portable power supply. The F-250 requires two MZ-1 250-Exposure Cassettes containing a maximum of 10 meter/33 feet of film. One cassette contains the unexposed film, while the other is the take-up for the exposed film. While loading the F-250 about 30 cm. of film will be lost. A special Bulk Film Loader, which can be used only in a darkroom, makes it possible to load the cassettes.
MF-1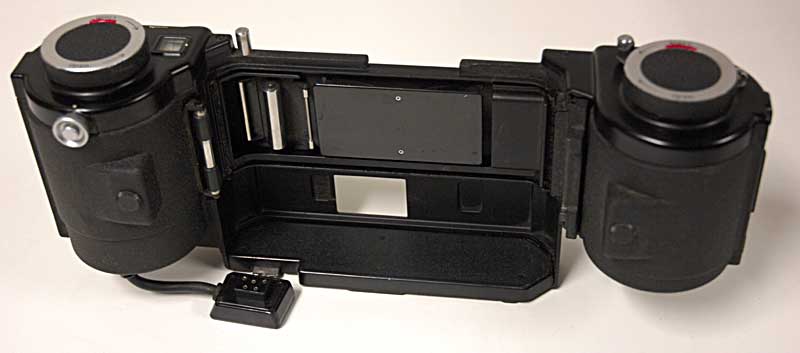 This back is made for any Nikon F2 to shoot 250 images on a 10 meter (33 feet) film roll in a MZ-1 cassette. The MF-1 requires the MD-1 or MD-2 + MB-1 to drive and power it, as the MF-1 does not have its own motor drive. To mount the back the regular back has to be removed. Than the Nikon F2 and the MD-1 or MD-2 has to be fitted and connected into the base of the MF-1. Next the power lead of the MF-1 is plugged into the base of the MD-2 and finally the MB-1 can be mounted. The MF-1 has its own shutter release button.
MF-2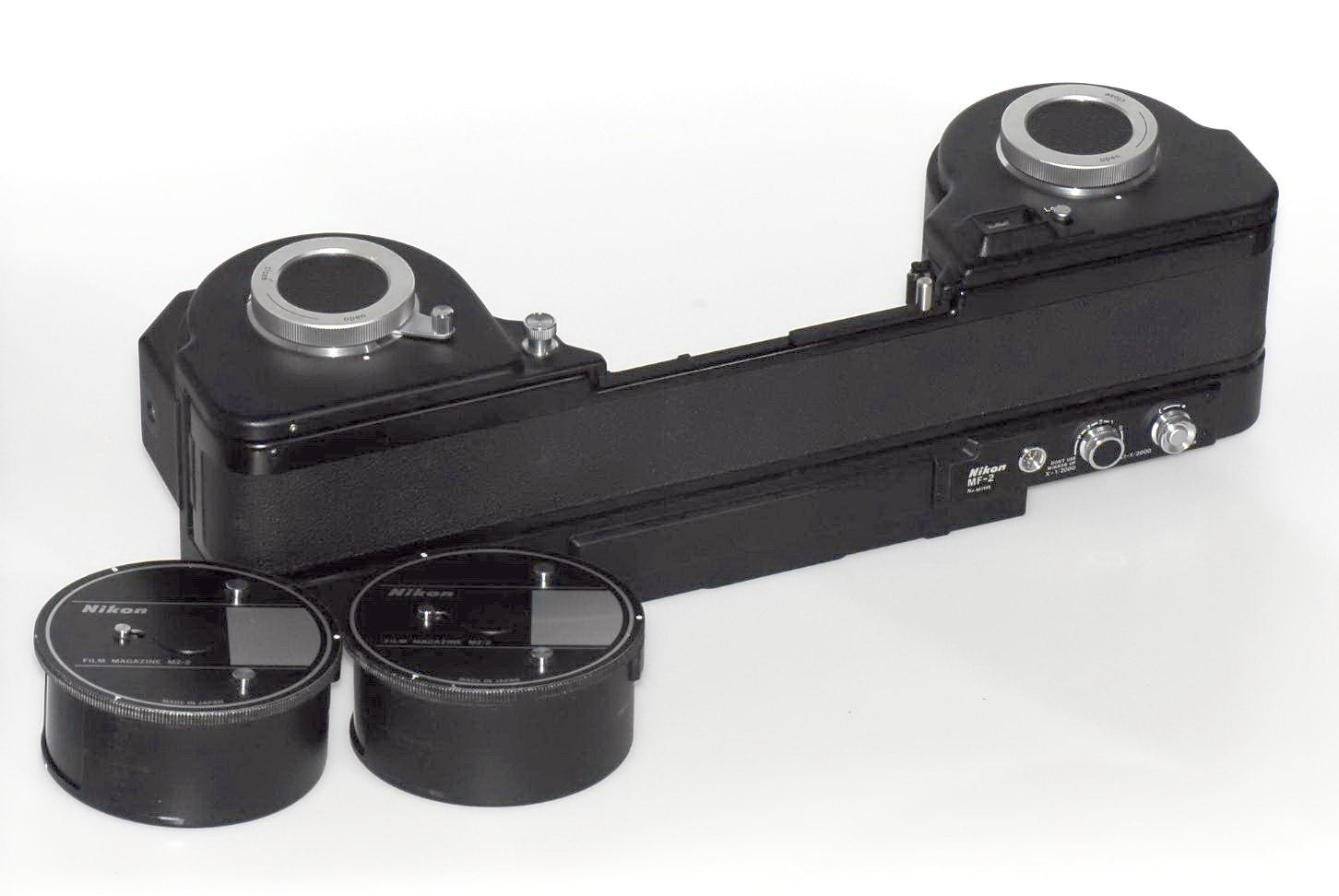 Even bulkier is this back, made to shoot 750 images on a 30 meter (100 feet) film roll, which can be placed directly into the MZ-2 cassette. The MF-2 has a built-in film cutter, which allows smaller amounts of film to be fired and removed from the back. With a speed of approx. 3.7 images per second a 30 meter roll can be exposed in some 3 minutes. The MF-2 is a rather rare accessory, as it wasn't cheap. In 1978 it was listed at an equivalent of 6,000 euro.
MF-3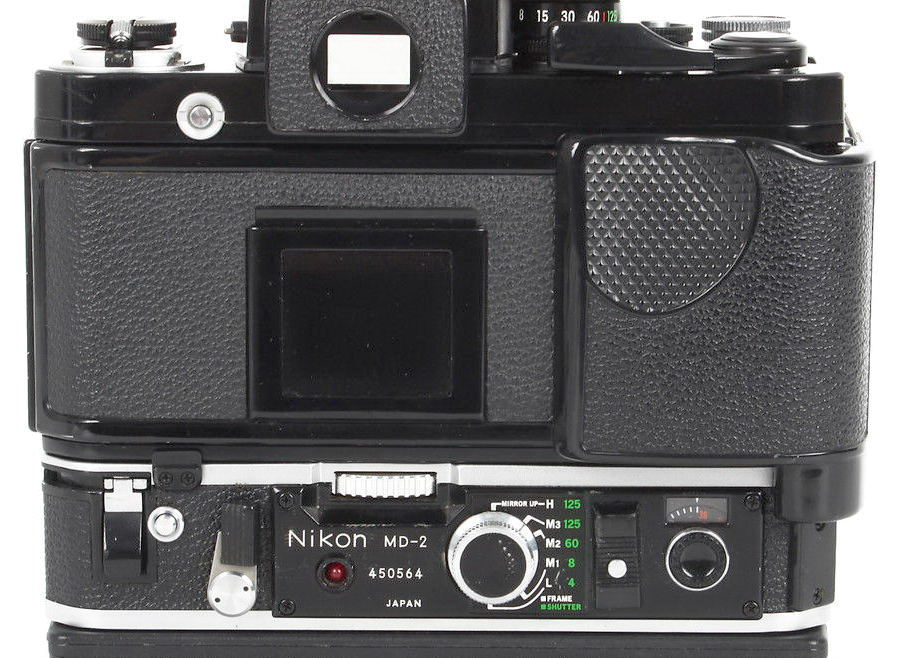 This rewind stop back can be attached to a Nikon F2 combined with a MD-2 only. When rewinding the film it will prevent the film disappearing into the cassette. It has a thumb rest for better grip.
MF-4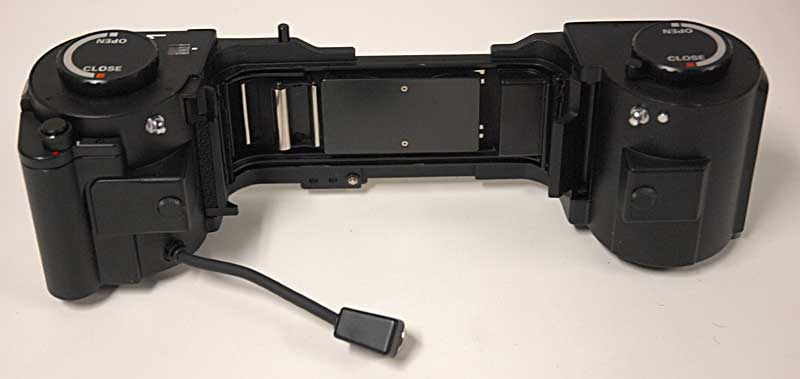 This back is made for any Nikon F3 + MD-4 to shoot 250 images on a 10 meter film roll. Although it has the same features as the MF-1 it is easier to mount.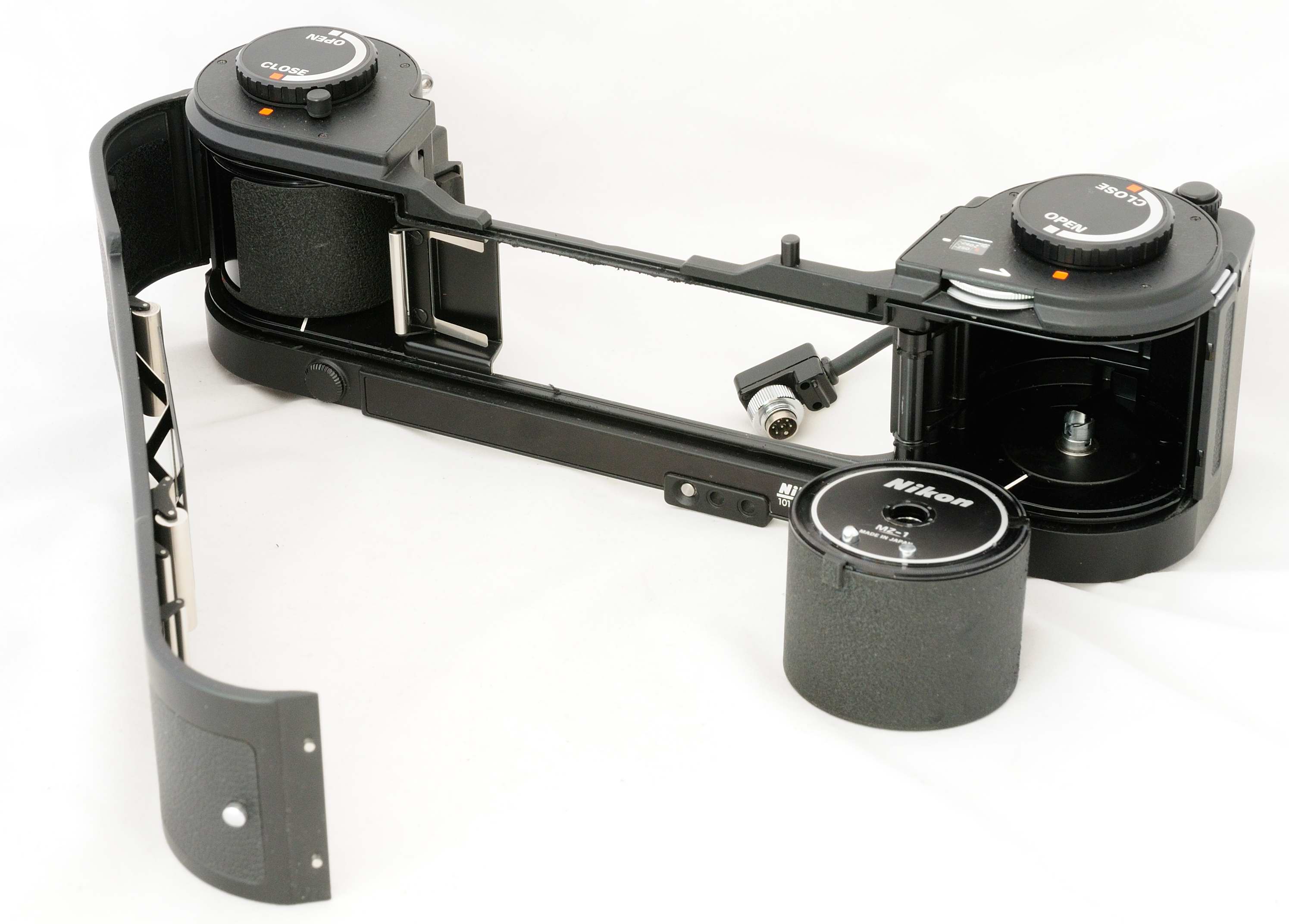 Open MF-4 with two film drums
MF-6/B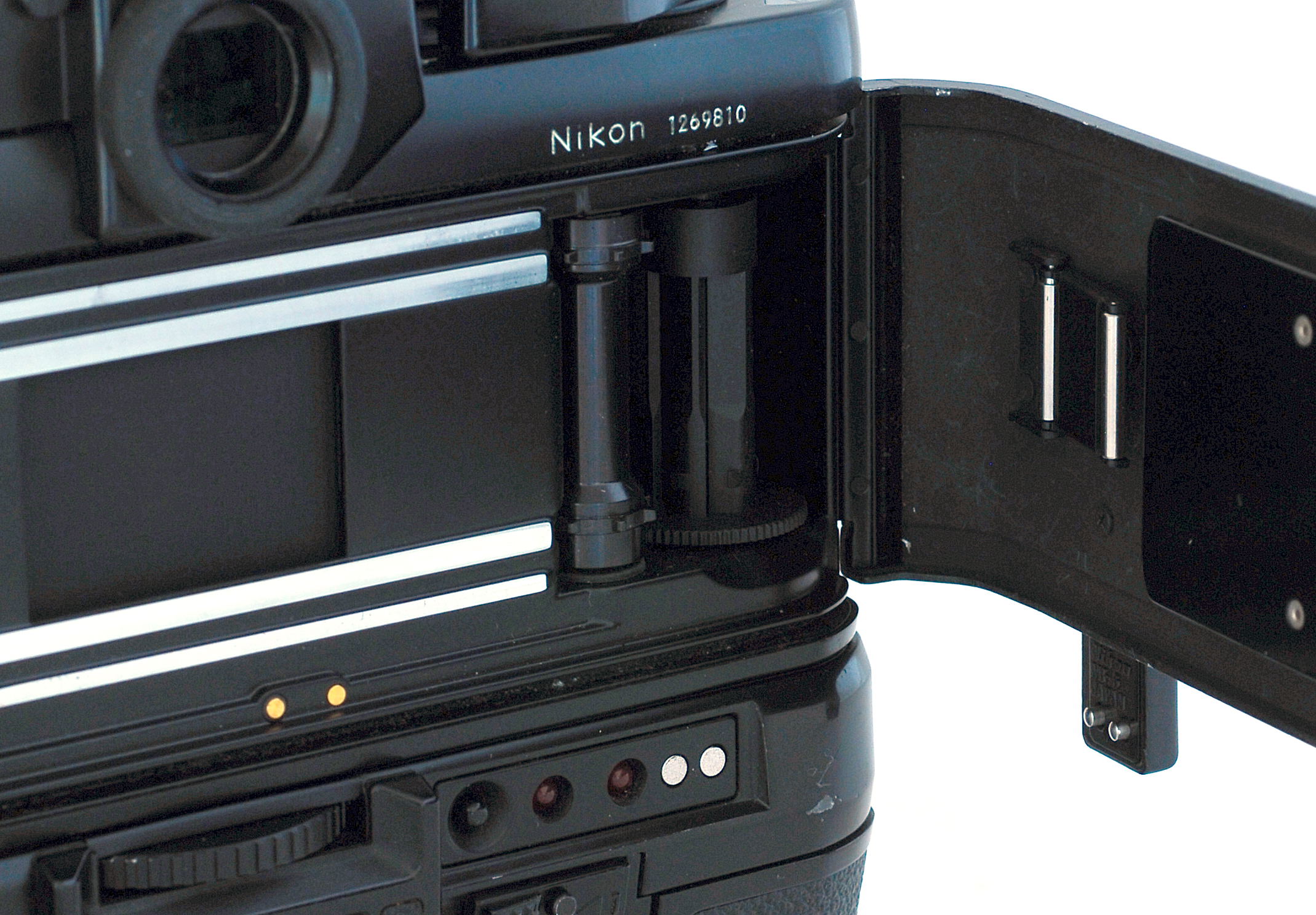 This rewind stop back will fit all models of the Nikon F3. The MF-6B is meant to be fitted on a Nikon F3P. It has an extra film pressure roll. Both the MF-6 and the MF-6B prevent a film to be rewind into the film cassette.
MF-10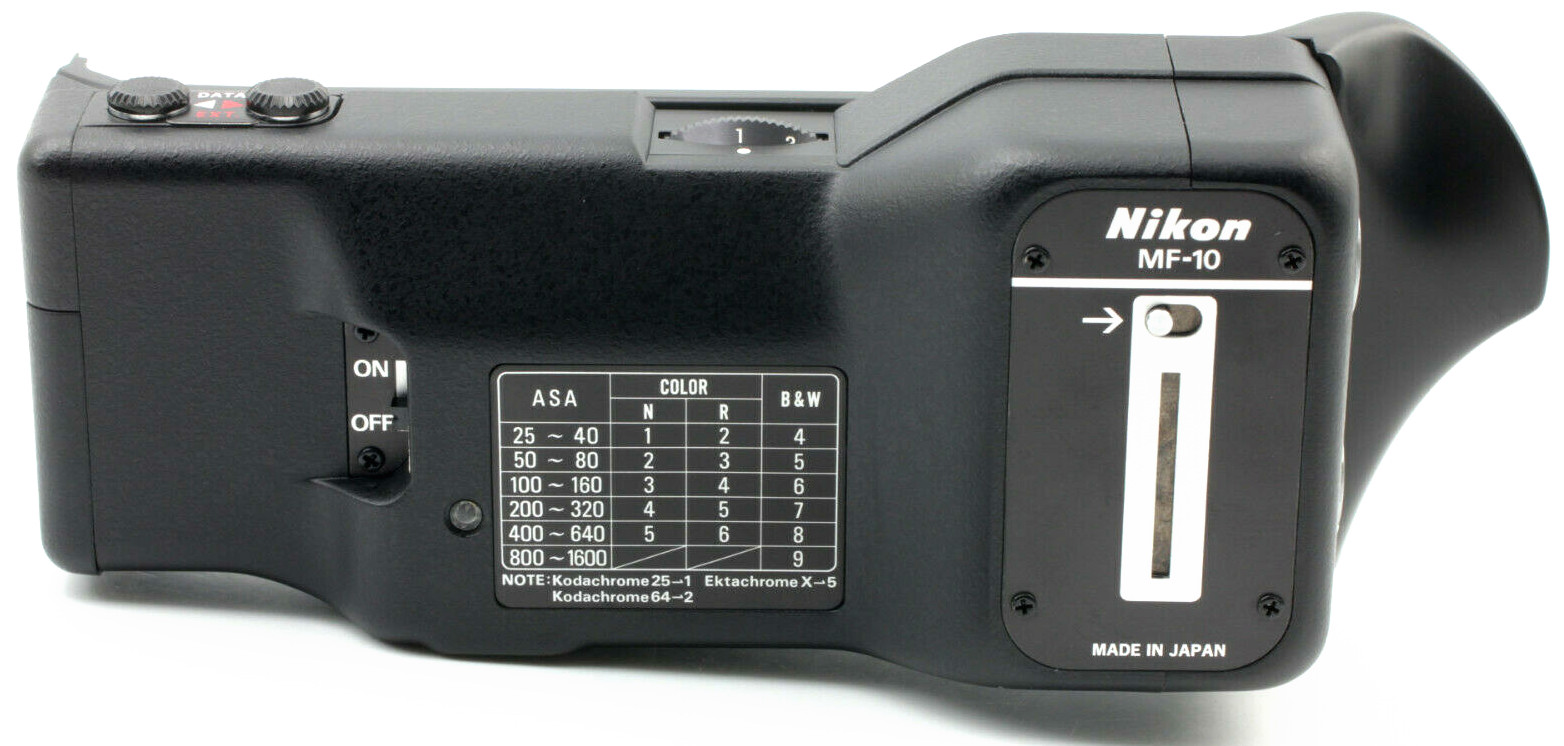 The MF-10 is one of Nikon's first data-backs. It will fit the Nikon F2-DATA only. The MD1 or MD-2 plus the MB-1 should be mounted, as well as a Nikon viewfinder screen type S, which shows where the data will be imprinted on the film. Imprinted can be the date (via the Dating Unit), the time (via the Timepiece Unit) and a hand-written message (via the Memo Plate).
MF-11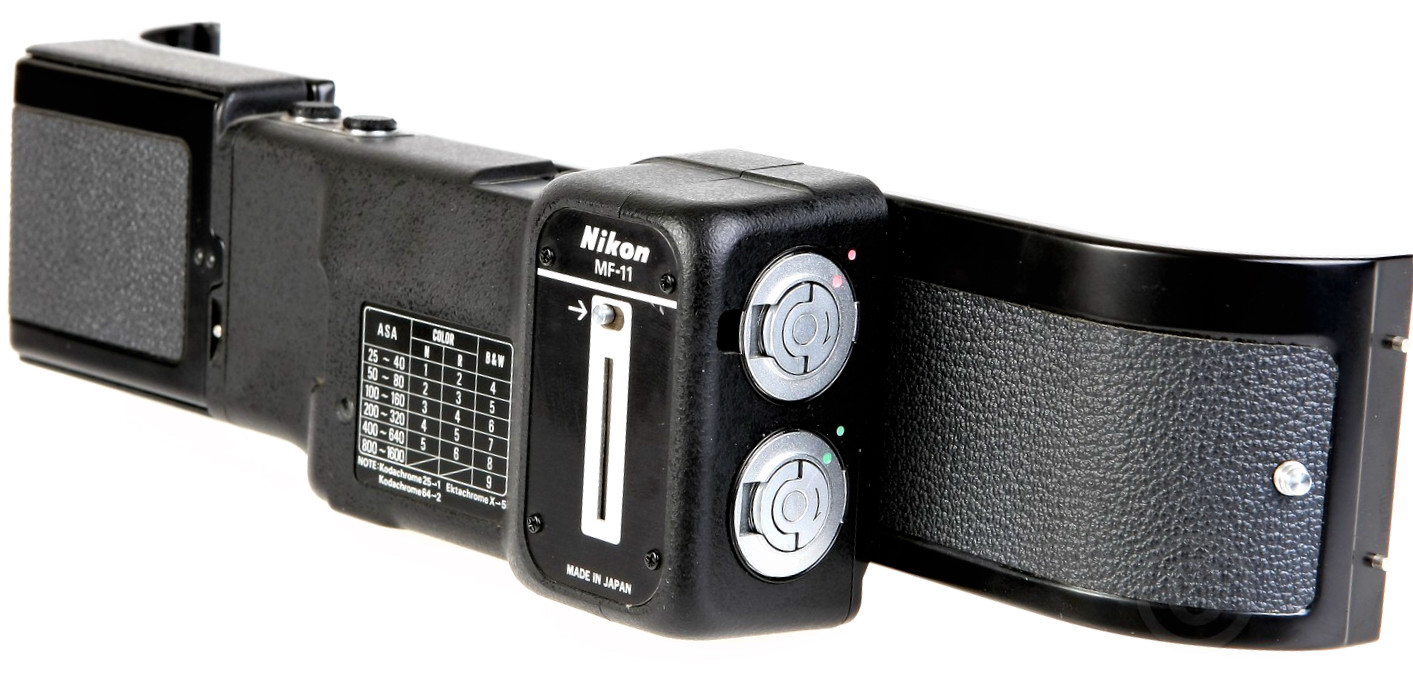 This MF-11 is the data back for the MF-2 750-exposure back, featuring MF-10 data. A very rare item.
MF-12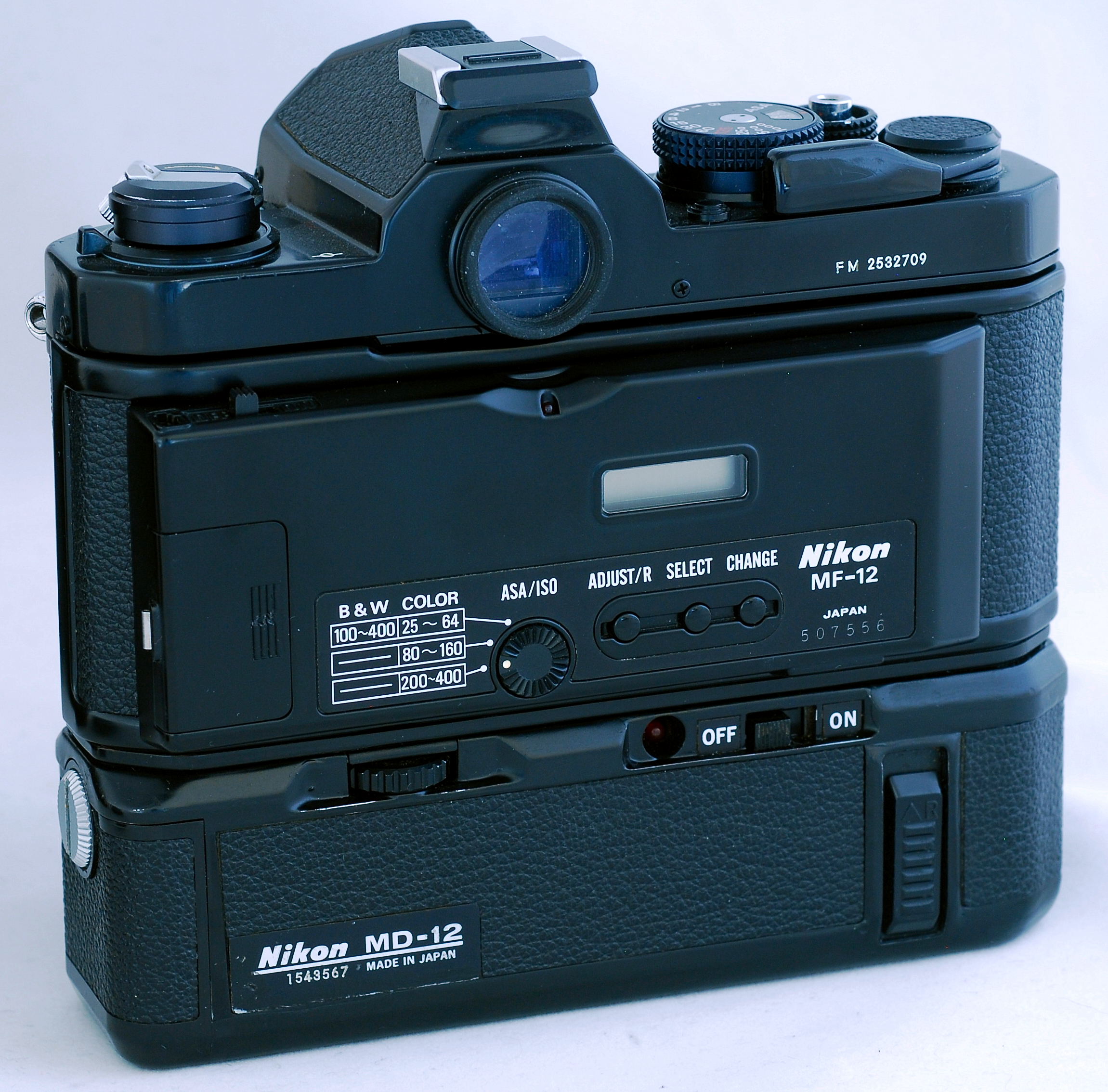 This data back is made for the use on a Nikon FM or Nikon FE. The back has its own battery, so it will work without any motor drive fitted to the camera. The back is connected via a cable in the flash connector of the camera. It will imprint year/month/day or day/hour/minute in the right upper corner of the film. For the Nikon FM-2, FE-2 and FA cameras a second version was introduced, having the same features but without a cable connector. This data back has a direct electronic connection.
MF-14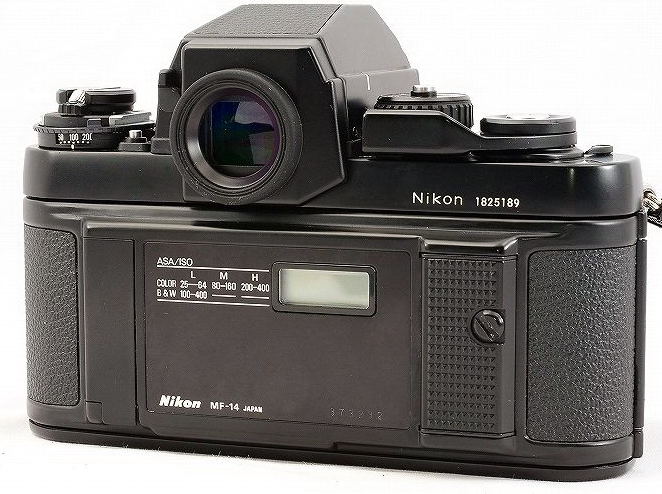 This data back - powered by two little button batteries - is build for any Nikon F3. It imprints similar data as the MF-12. In addition to this it has a quartz clock including alarm function.
MF-15
This data back, featuring like the MF-12, is made to be used on the Nikon FG only.
MF-16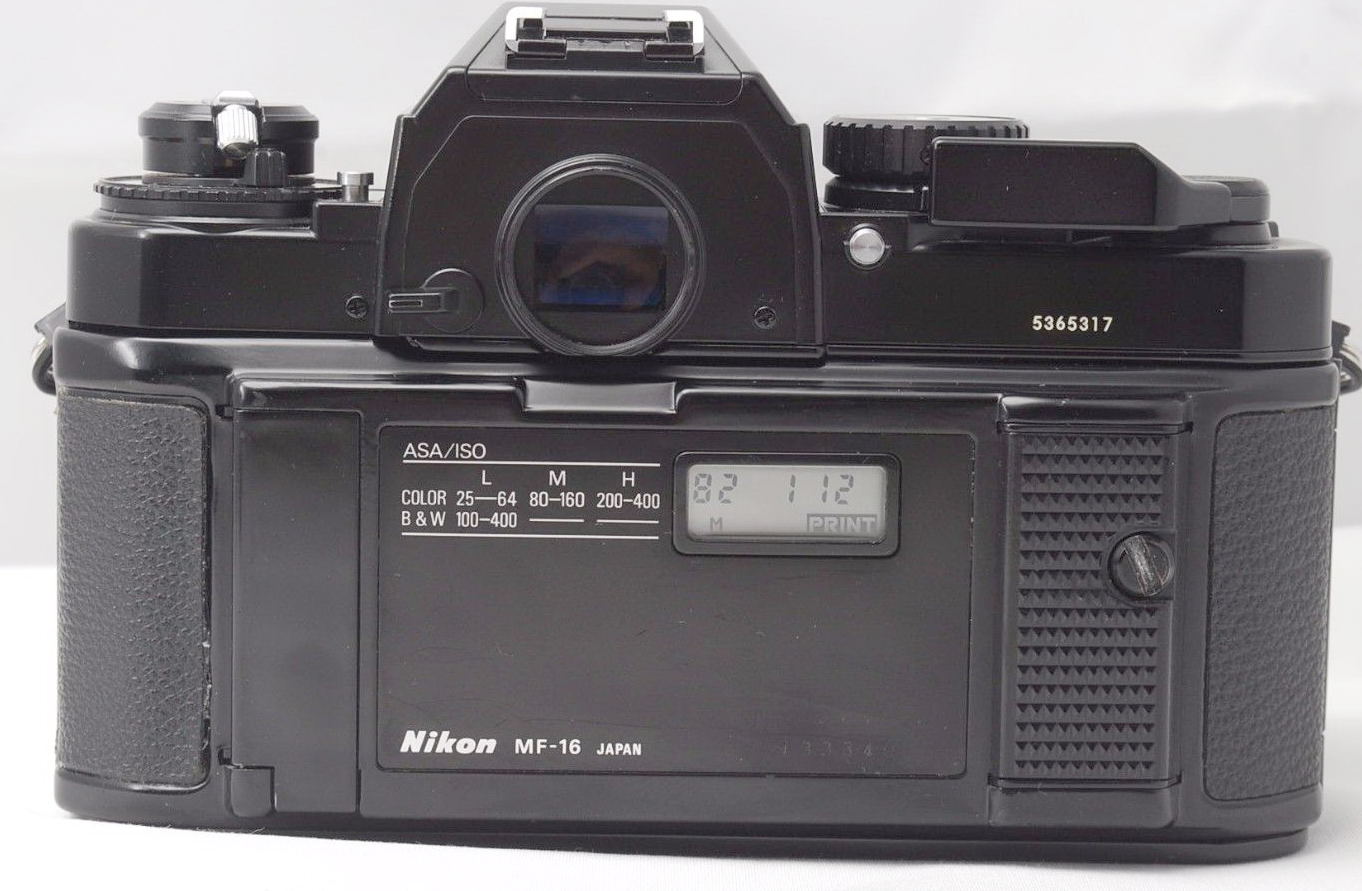 This data back will fit Nikon FM-2, Nikon FM3a, Nikon FE-2 and Nikon FA SLR's. It imprints year/month/day or day/hour/minute or any number up to 2000. It also has a clock with alarm function.
MF-17

This data back can only be used if connected to a Nikon MF-4 . It has the same features as the MF-10.
MF-18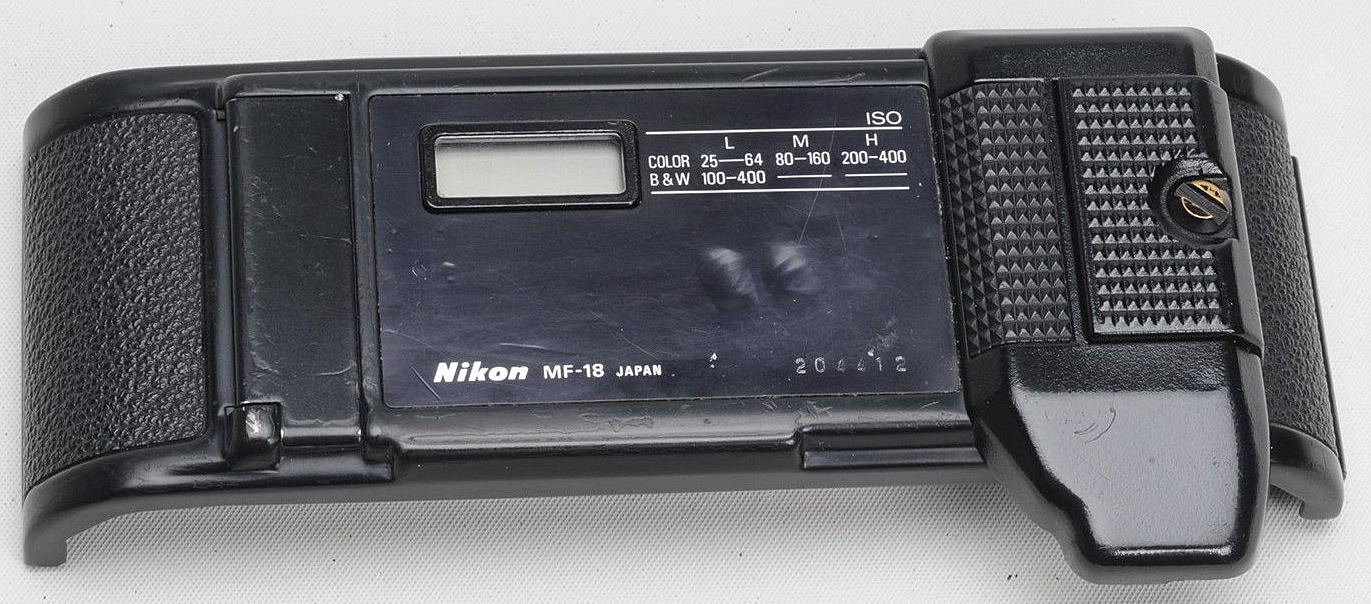 This back is a combined data back and rewind stop back. It will fit any Nikon F3 + MD-4 combination. The data are imprinted in between the images on the film. A special connector prevent the film to be rewind into the cassette.
MF-19

This sophisticated data back can be used on a Nikon F-301/N-2000 and F-501/N-2020. It will imprint dates or numbers like the MF-16 and others, but additionally it has an intervalometer enabling to fire at a certain frequency. It has a built-in calendar (respecting leap years) and a clock with alarm function. The most interesting feature is the auto focus priority mode. As soon as the subject in the viewfinder is passing a previously set focus point the shutter will fire.
MF-20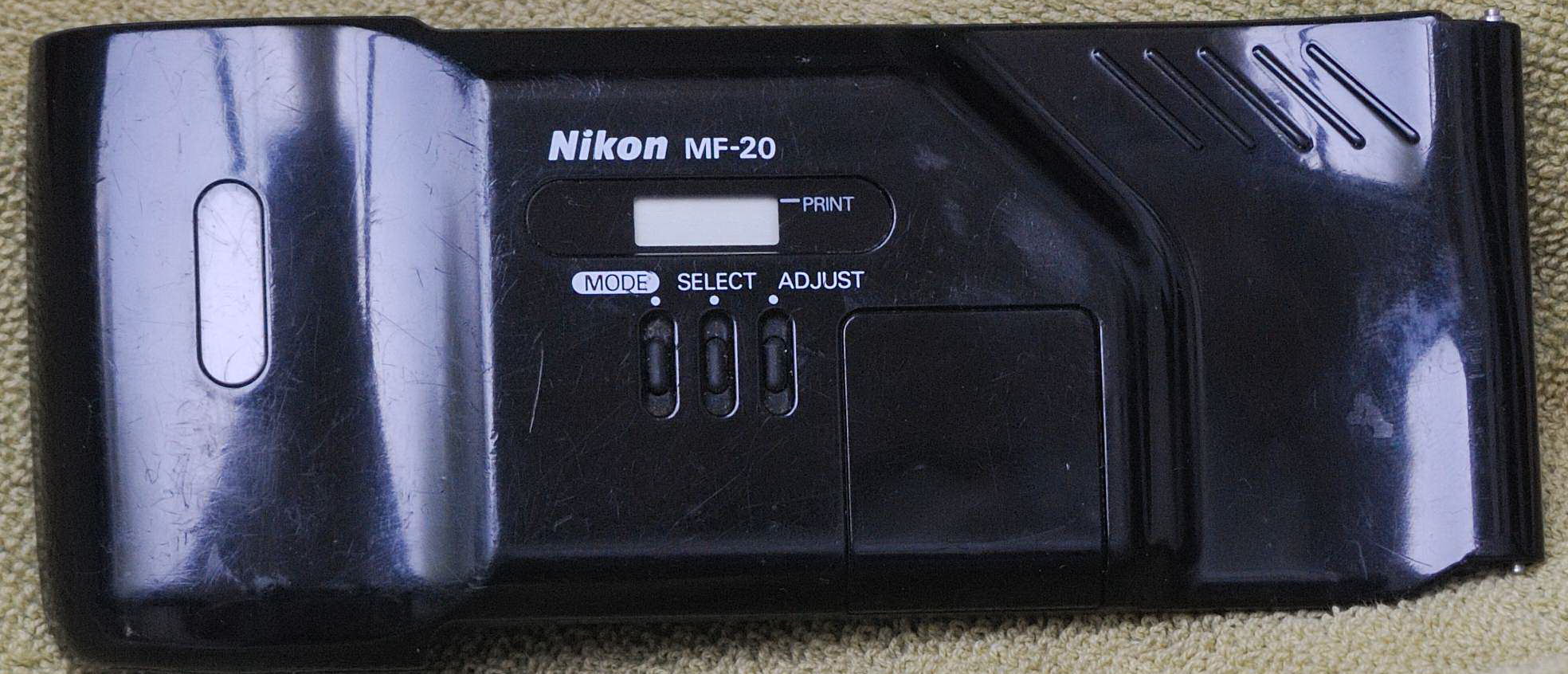 This data back will fit any Nikon F-801/N-8008. Features like the Nikon MF-16. When exchanging the door key it will fit a F-90 as well.
MF-21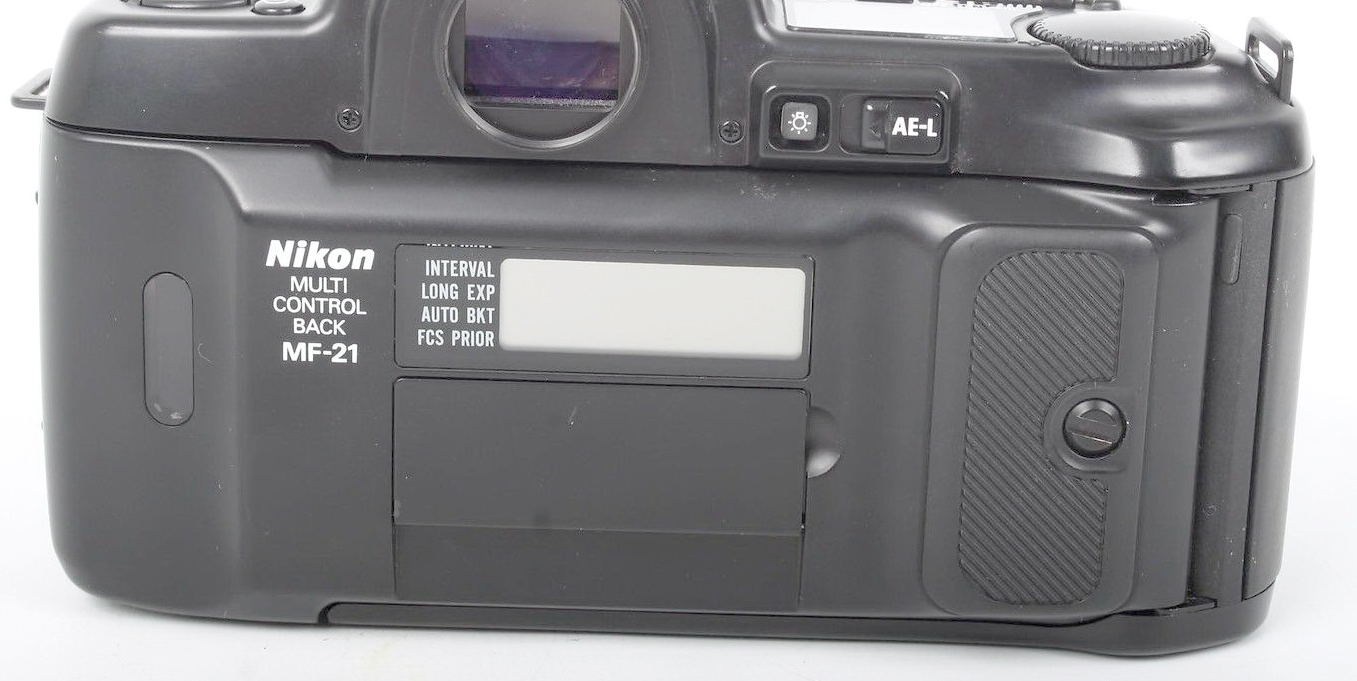 This Multi-Control Data Back is made for the F-801/N-8008-series as well, but has much more to offer. It imprints various data but also aperture and shutter data. It has an intervalometer 'running' up to 100 hours (- 1 second), auto-focus priority and auto-exposure bracketing. Some features can be combined. The DK-8 eyepiece cover is recommended if long-time exposure mode is used.
MF-22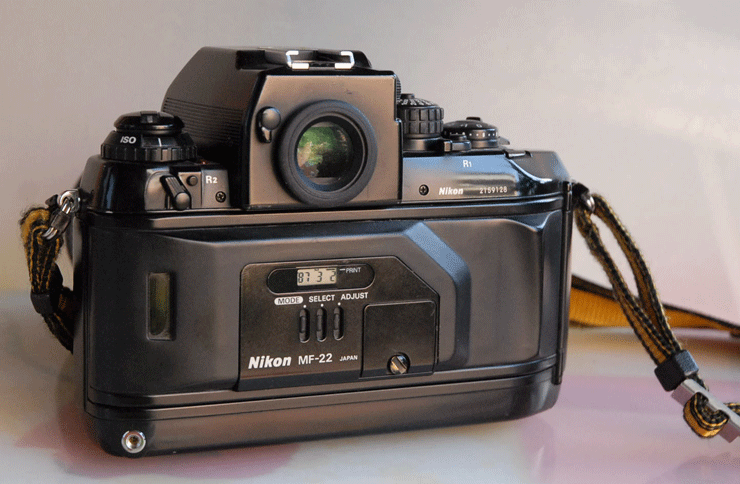 This is a cheaper and simplified version of the MF-23 data back, made for the use on any Nikon F4. It only imprints year/month/day or day/hour/minute.
MF-23

In fact a modern version of the MF-21. It is made for the use on all Nikon F4 versions and has the same features as the MF-21. Imprints can be placed on a film frame or between two film frames. A special book has been written to instruct the photographer using an MF-23.
MF-24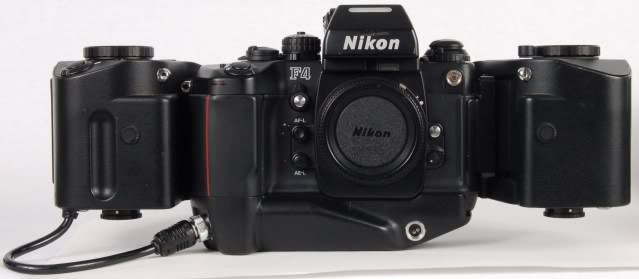 The 250-exposure back for a Nikon F4 + MB-23 has all the features of the MF-23 plus the possibility to shoot 250 exposures on a 30 meter film roll. It was produced on special order thus very rare and possibly very expensive.
MF-25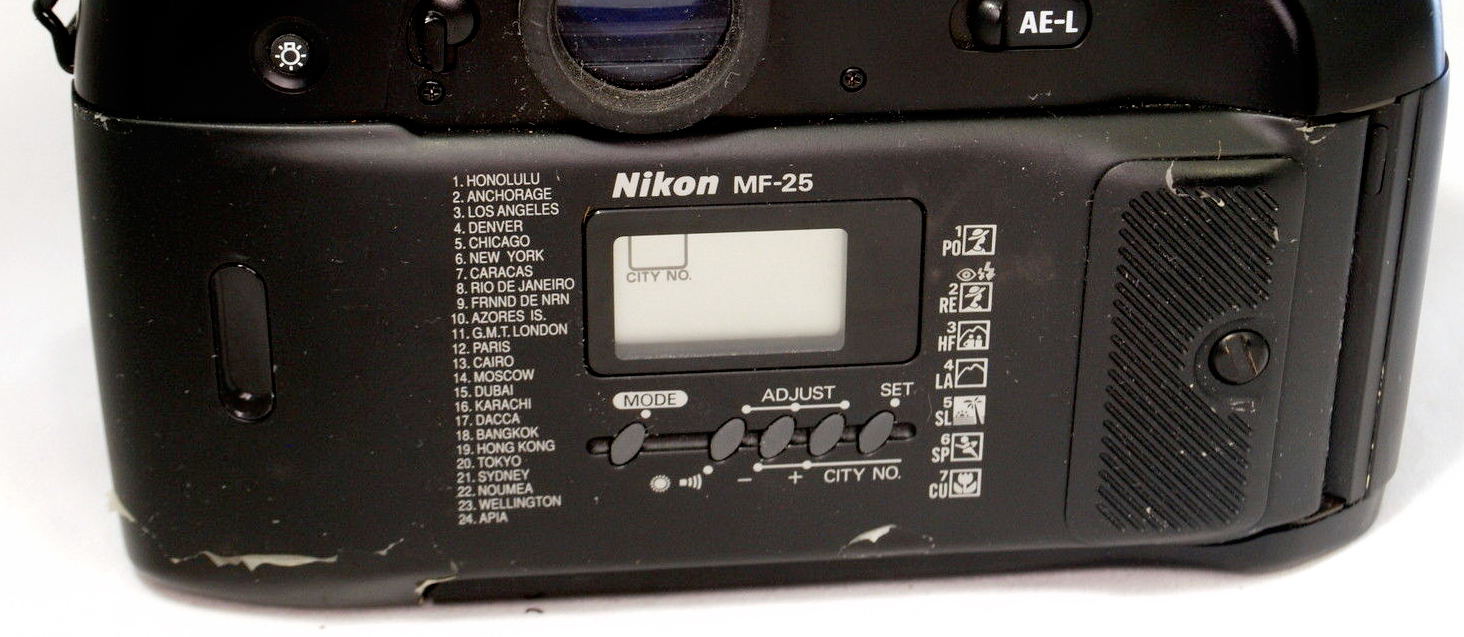 The data back for any Nikon F-90/S/X. It has a built-in world clock with automatic calendar and alarm function.
MF-26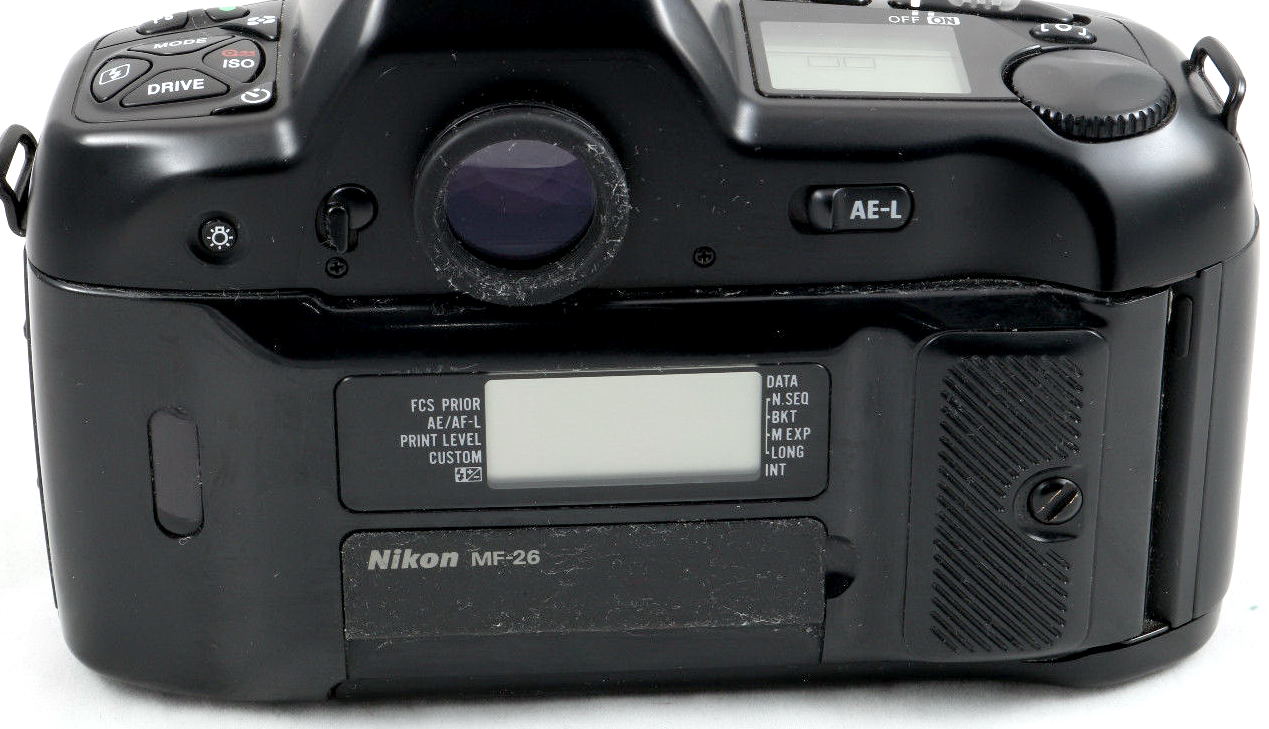 This multi-control data back will fit any Nikon F-90/S/X. This back has a lot of features, especially when connected (via MC-27 cord) to the Sharp Wizard Electronic Organizer (#OZ/IQ-8000 or 9000-series). A Nikon AC-1E card is needed to connect the Nikon F-90, an AC-2E will fit a Nikon F-90 and F-90S. On-line 5 menu's are possible: camera operation, customized settings, memo holder, photo technique selection and control of MF-26 settings. 3 other off-line menu's cover operations guide, photo hand-book and utilities. It is impossible to give here all features of this combination.
MF-27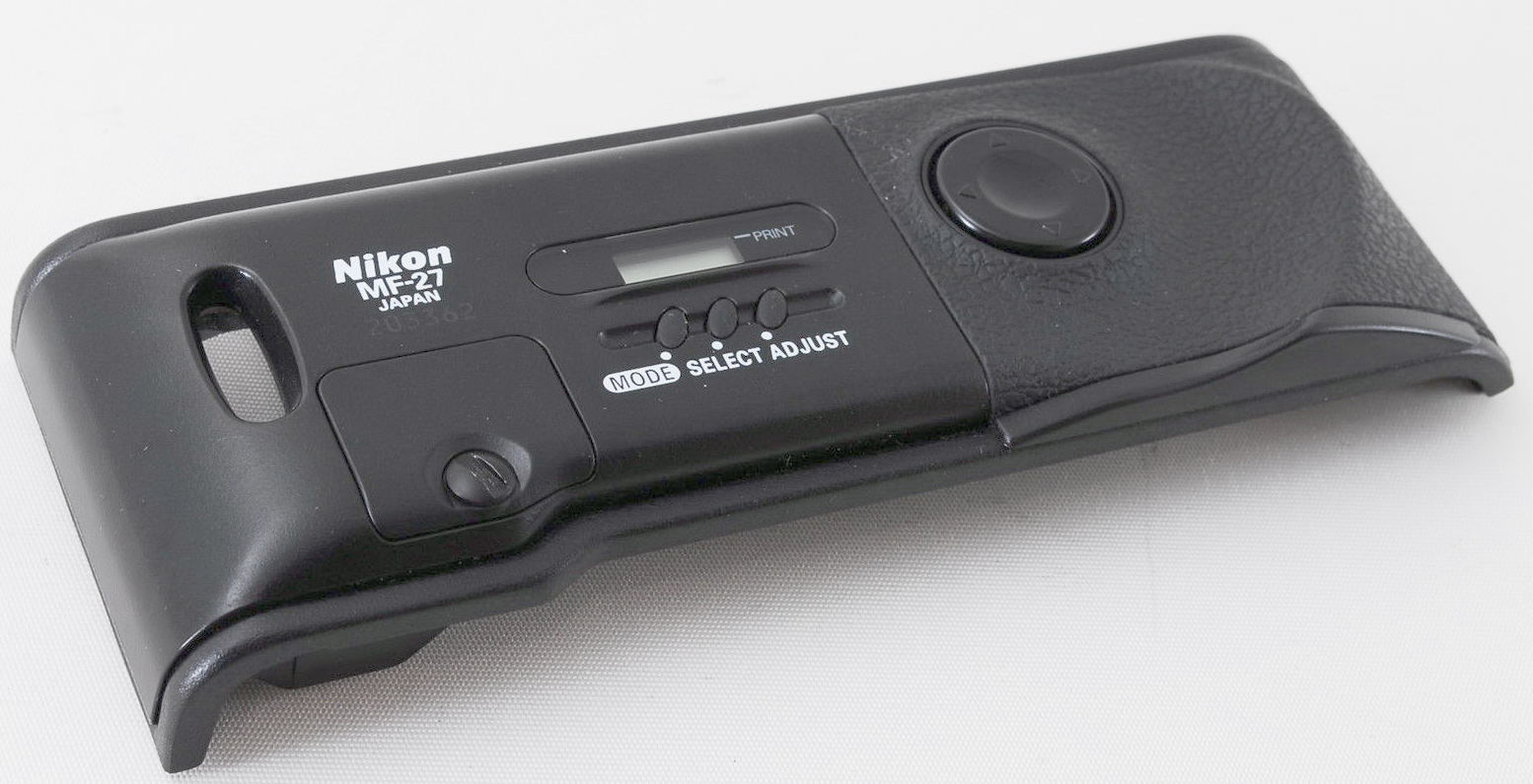 A cheap and simple version of the MF-28 made for the use on a Nikon F5. Time and date can be imprinted (like MF-22).
MF-28
This multi-control data back provides the same features as the MF-23. In addition to this you can imprint a copyright symbol and your name and date in between the frames. Both the MF-27 and MF-28 have a thumb control to select the AF-sensor.
MF-29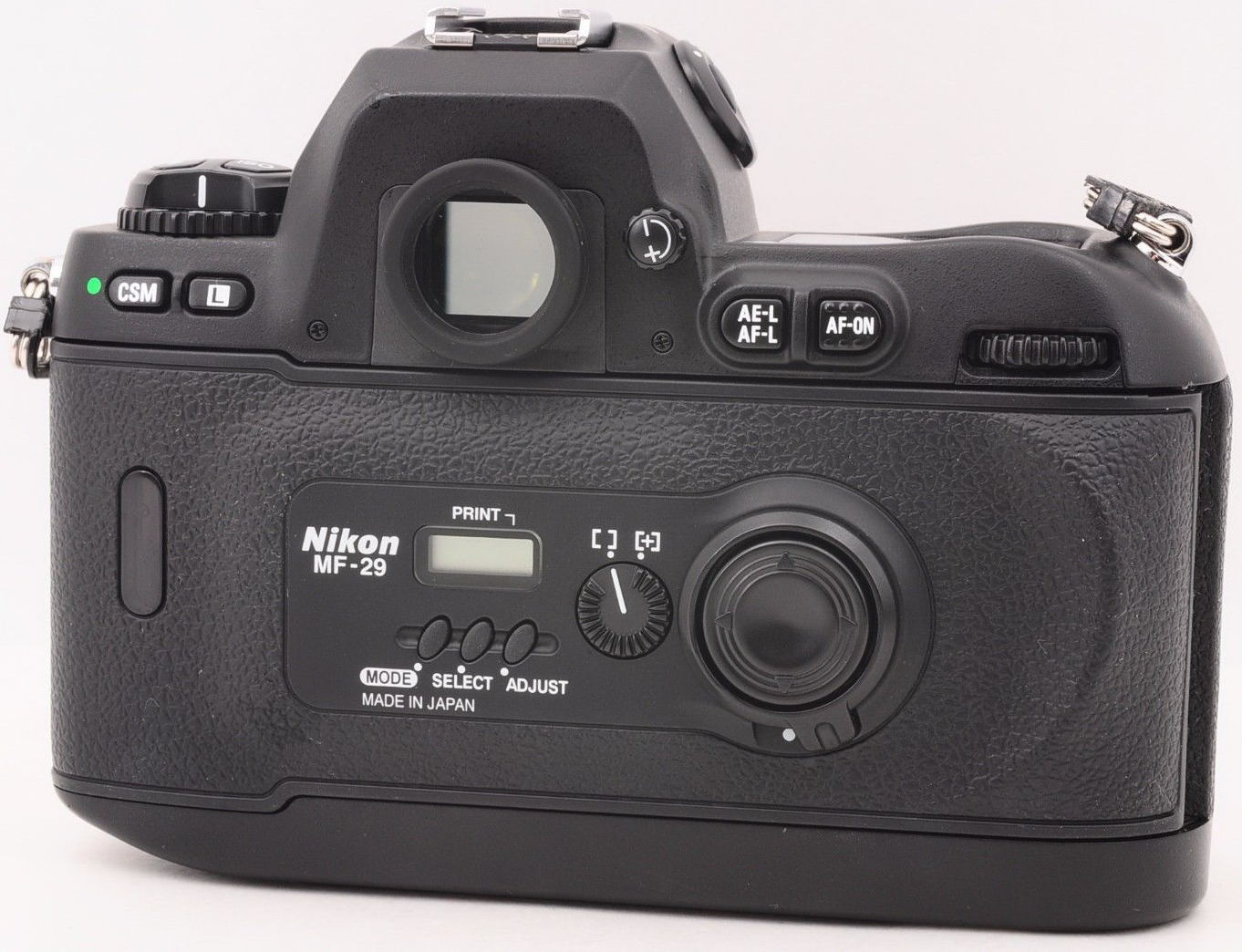 The last data back, listed here, is the MF-29, specially made for the Nikon F-100. Apart from data imprint features it has a thumb control, like the MF-27 and MF-28.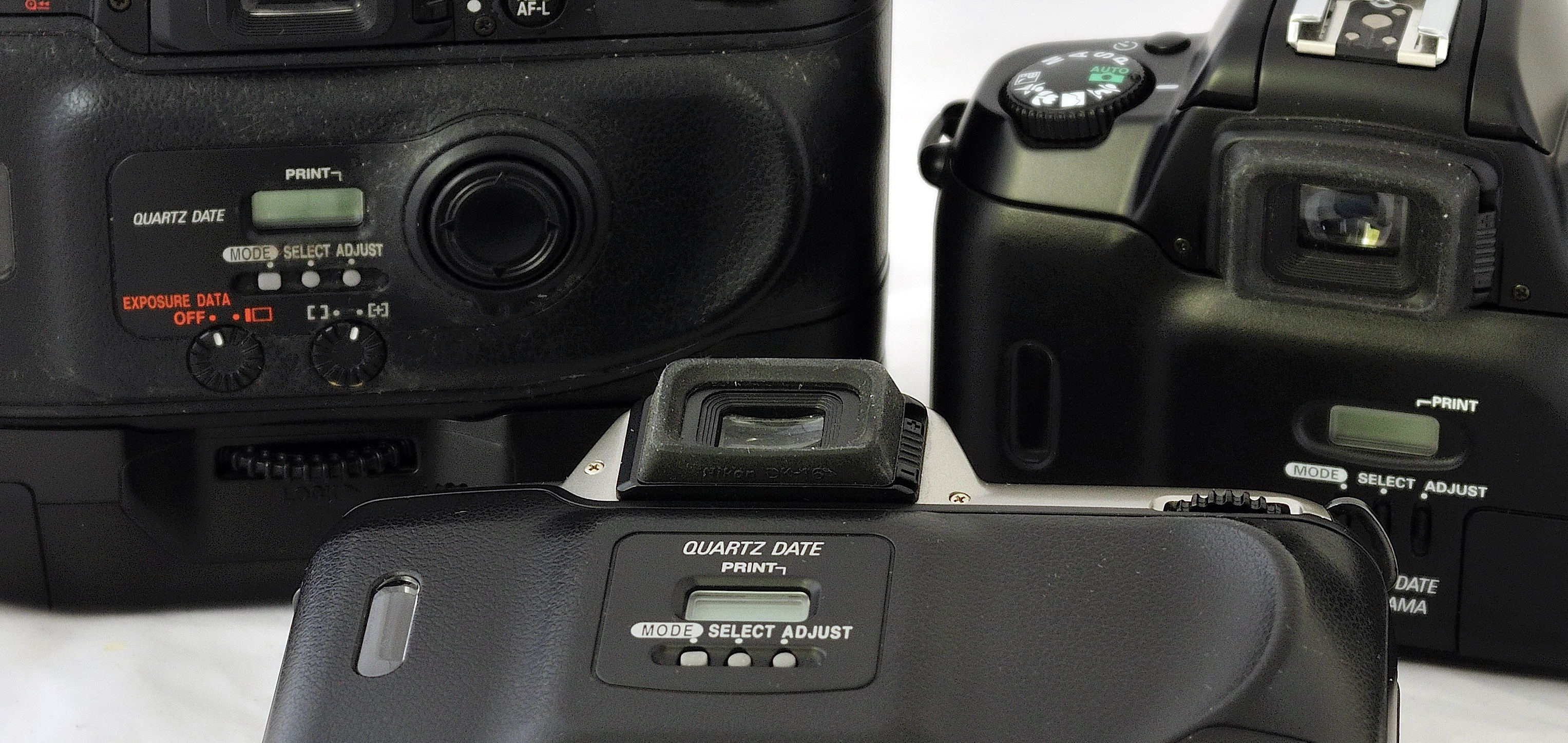 Than there also data backs that have no code/number as they came not as an accessory but as a standard back on several Nikon (quartz date) cameras, like the cameras pictured above: Nikon U (alias Nikon F65/N65), Nikon F60/N60 and Nikon F80/N80.
Nikon camera backs made by others.
Some manufacturers produced camera backs for polaroid films, which were invented by Edwin Land (1909-1991).
Mikami & Co. Ltd, founded in 1947 in Japan produced among -others - many speed dome cameras, camera housings and camera backs. For Nikon F cameras it produced polaroid backs (see pics below) in various formats. Via a mirror system the image is projected on a polaroid film.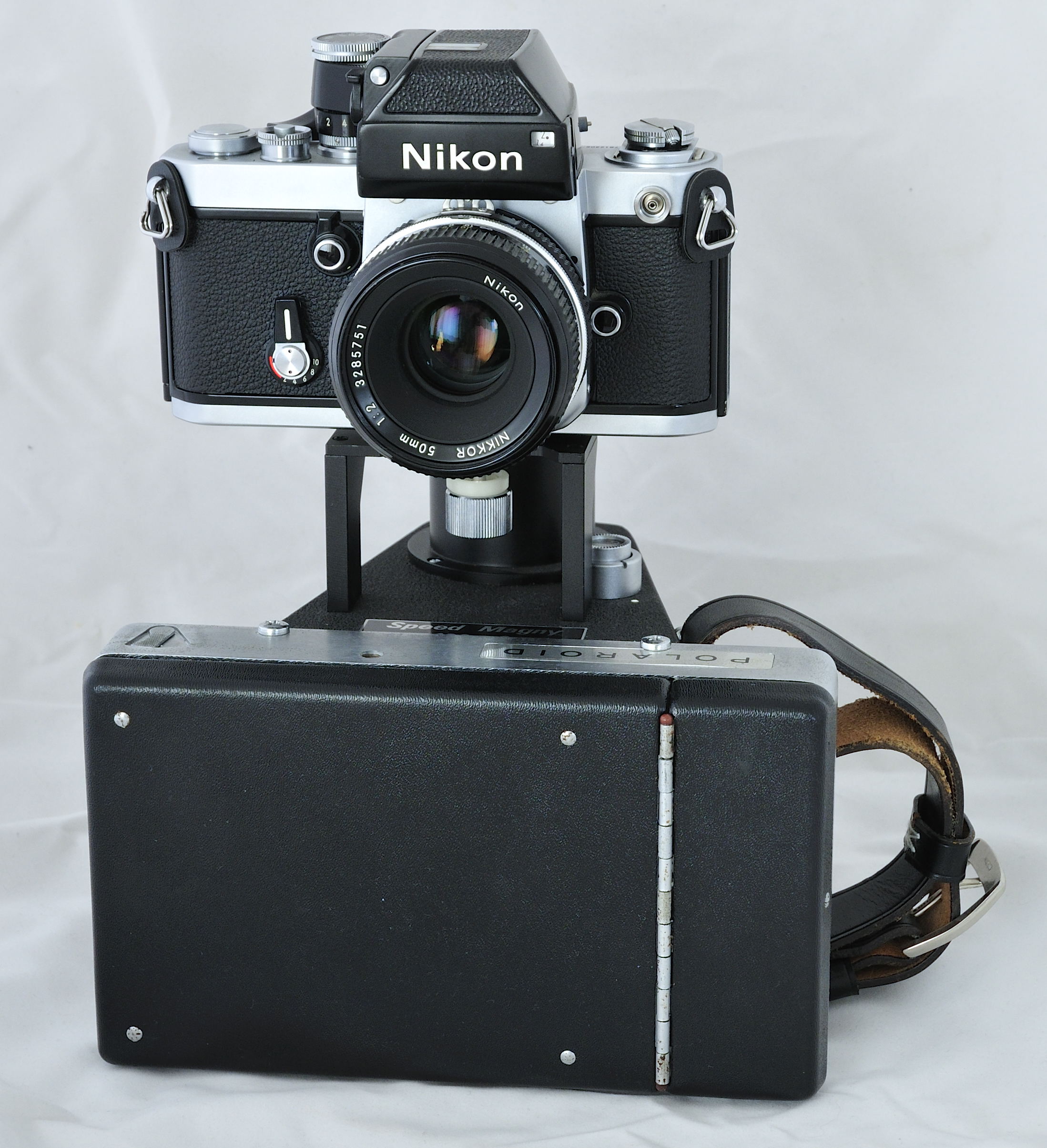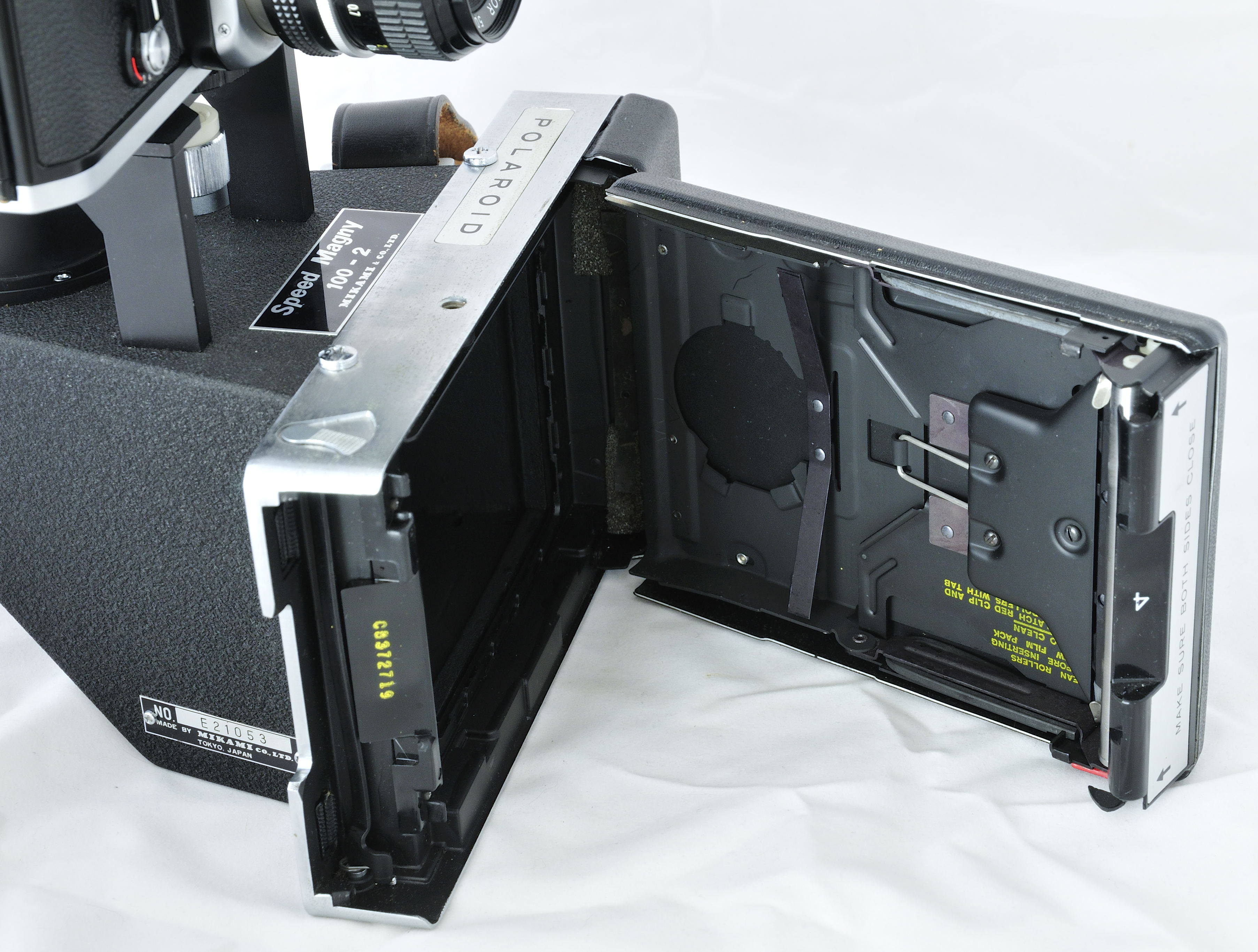 Marty Forscher (1921-2009) was a well-known camera salesman, who invented in 1982 a camera back (NPC Proback) for polaroid films. The backs were produced by NPC (National Polaroid Company) in the USA, although there are Probacks outsourced to manufacturers in other countries (e.g. the Netherlands). The backs were made to fit the Nikon FM/FE-series and Nikon F3.