Nikon bags, cases, blimps,trunks & gloves
Nikon made various bags and other protective materials available for nearly all their cameras, lenses and other gear. A very nice web site gives a comprehensive overview of most interesting bags for Nikon rangefinder and early Nikon film cameras.
Bags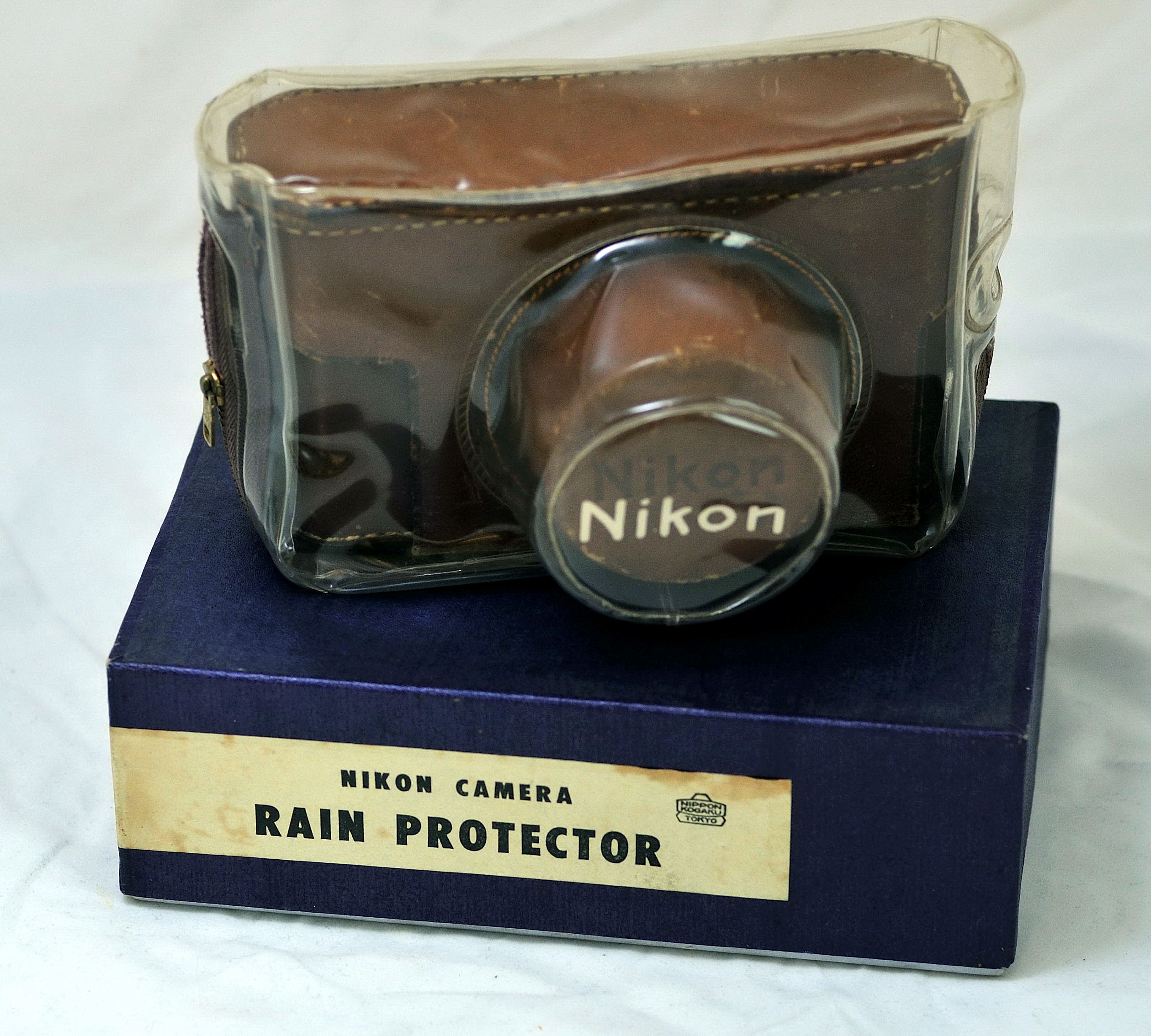 The bags for the rangefinder cameras, lenses and accessories do not have a product code. Most of them are made from brown leather (see above - including a rain protector). Bags for the SLR cameras and lenses do have a code - two letters and a number. The camera bags have a code like CF, CH and CS (soft bags), CS-L are bags for compact cameras, shoulder bags have a CB code, bags for large equipment have FB code, flashes have bags with a SS code, bags/boxes for filters have a CA or CP code, lens bags have a CE and/or CL code. Long lenses can be stored in a trunk with a CT and/or CZ code (see here). For movie cameras like the Nikon R8 and R10 there is an EH-1 and EF bag. Most bags for SLR cameras can be ordered with a different front to accommodate a camera with a longer lens. Have a look into your the manual of your Nikon product to find the right code.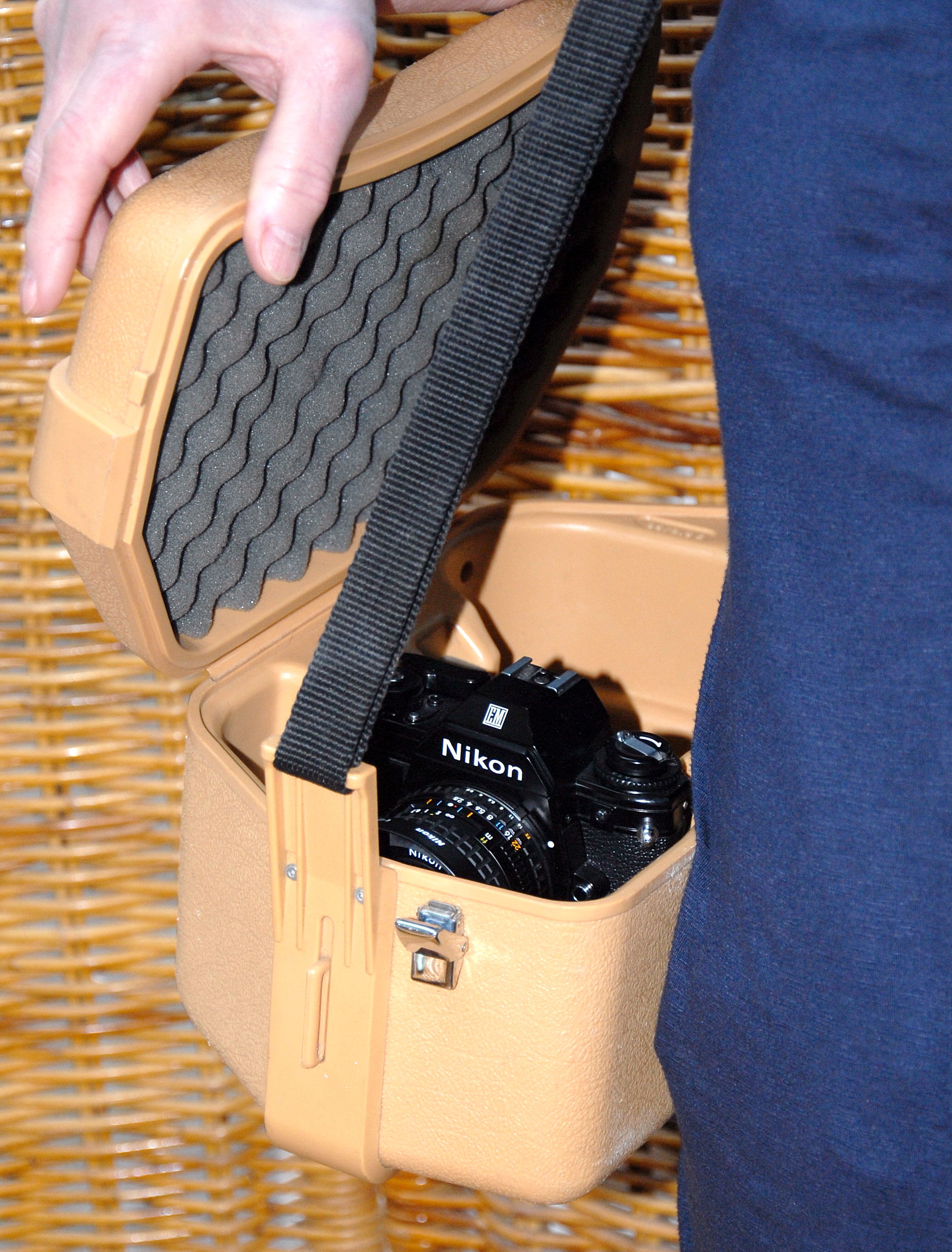 An unique bag is the Nikon FB-E, specially made for the Nikon EM: a plastic 'beauty case' holding a set of one camera body, some lenses and a flash (SB-E).
Lens bags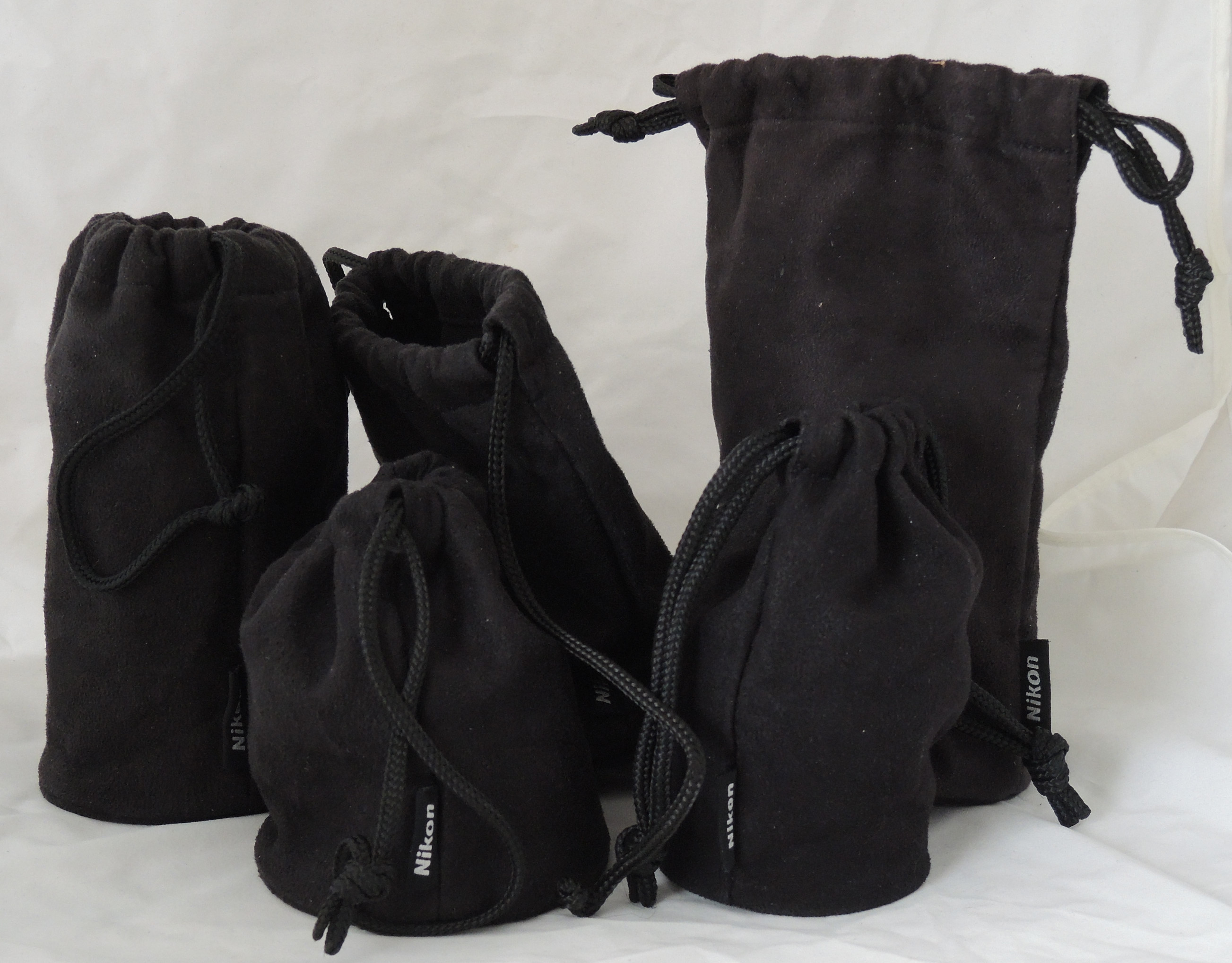 Since the beginning of this century Nikon provided little lens bags with a code CL10xx, the last two digits reffering to the depth in centimeters of the bag. Thus: CL1018 is 18 cm deep. You'll find a little label inside (opposite of the Nikon label outside) the bag.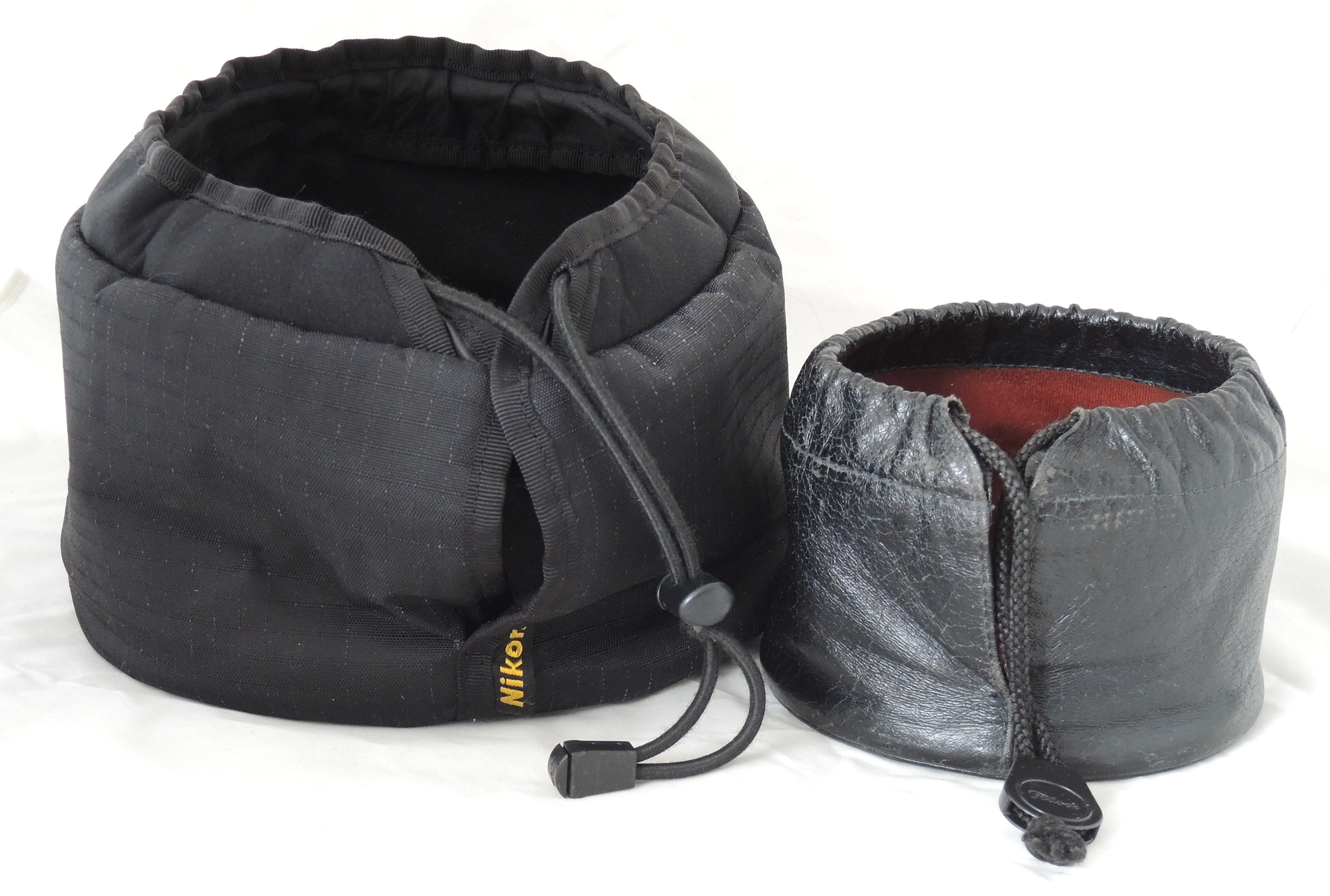 For the front part of the long and fast telelenses no caps have been made, but special 'socks' made of soft leather with textile lining. Above left a sock for lenses with a front diameter of 20 cm. (e.g. 400mm/2.8 and larger), at right for a lens with a diameter of 14 cm. (e.g. 300mm/2.8)
Blimp
A blimp is a cover for a camera with lens (and sometimes other accessories mounted) to reduce noise and/or to protect the set against tough work, rain or cold. For the Nikon F a small blimp (see below) was produced. At right some open space is left for the Photomic viewfinder. This item is rather rare.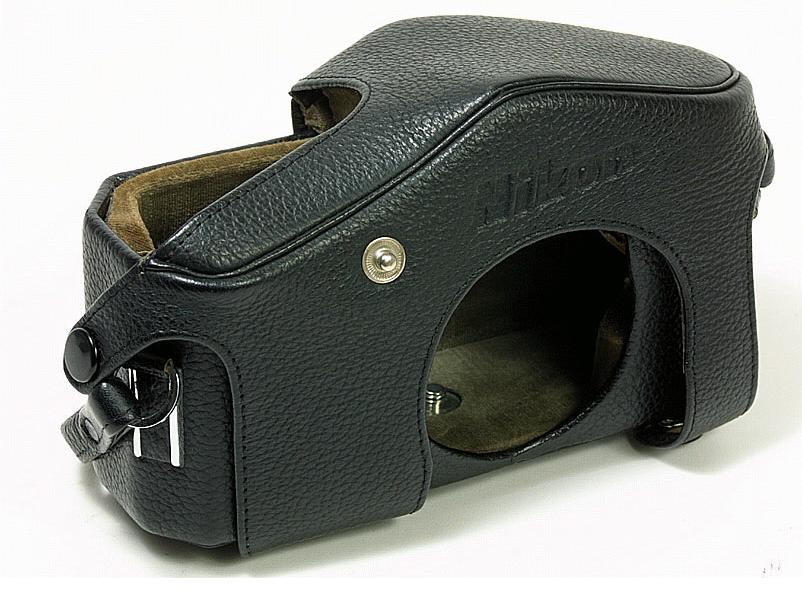 The Nikon CS-13 black blimp (see below) is the most known blimp for nearly all SLR cameras, even when a motor drive is mounted. It is for right handed photographers only.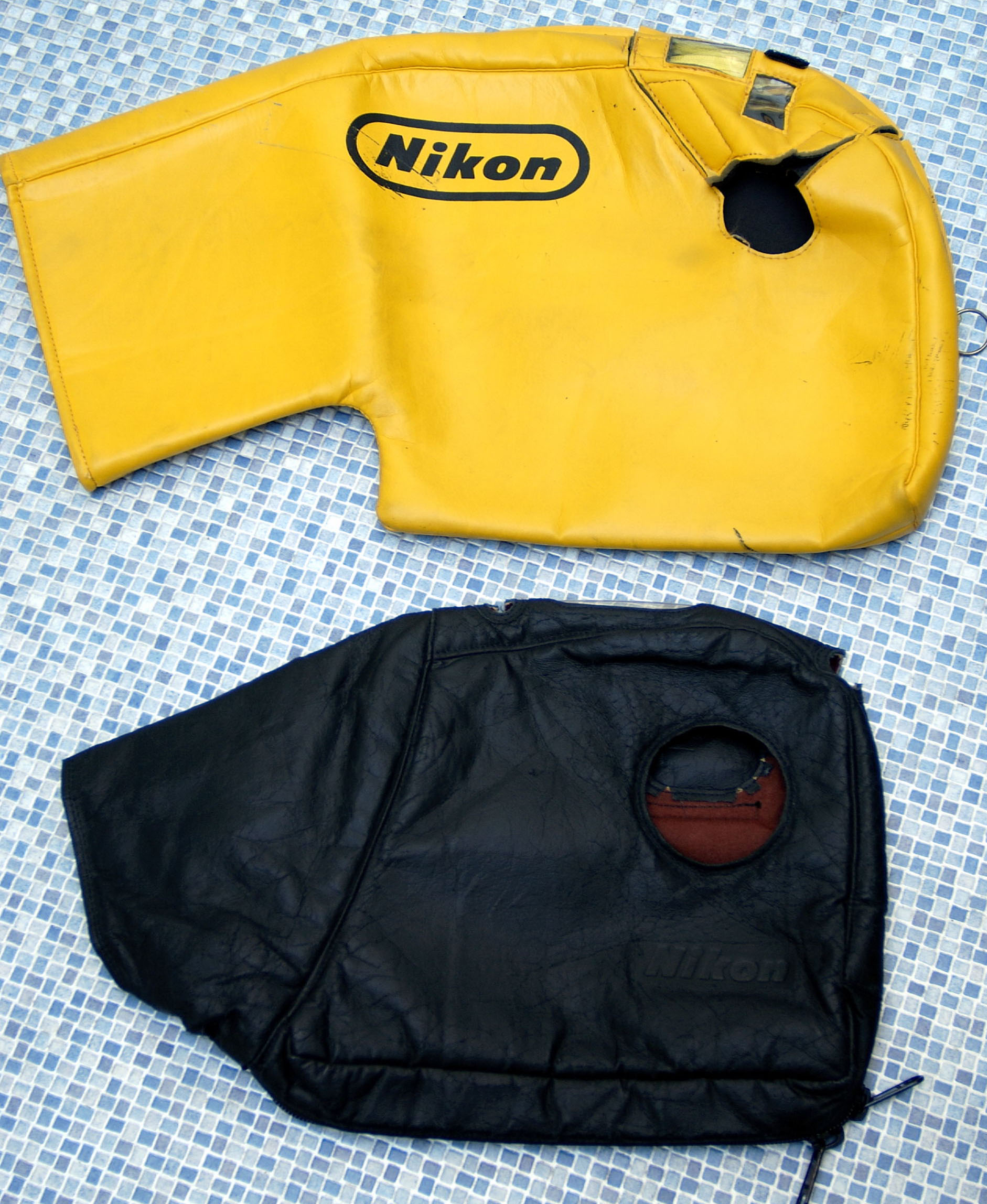 The yellow blimp was given to photographers at the 1980 Olympic Winter Games in Lake Placid (USA).
Nikon NSLC-01 Sound Blimp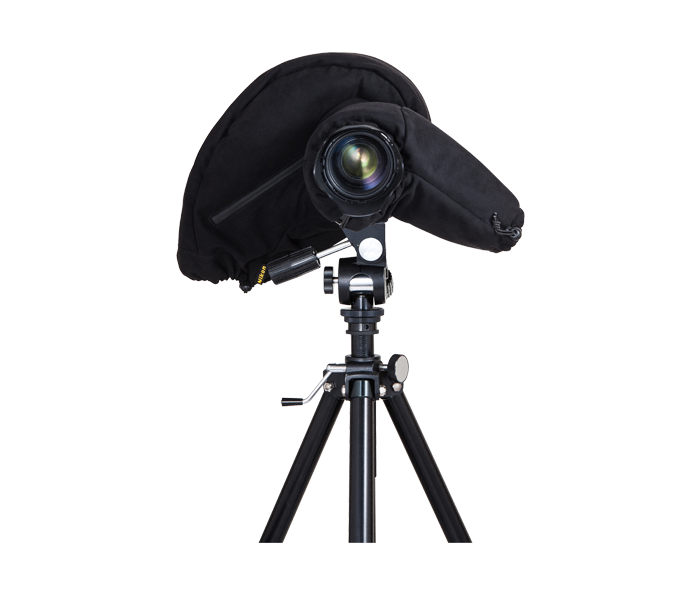 This sound blimp can/should be used when shooting in cinemas, theaters, churches and other places where camera noise may be unwanted.
Gloves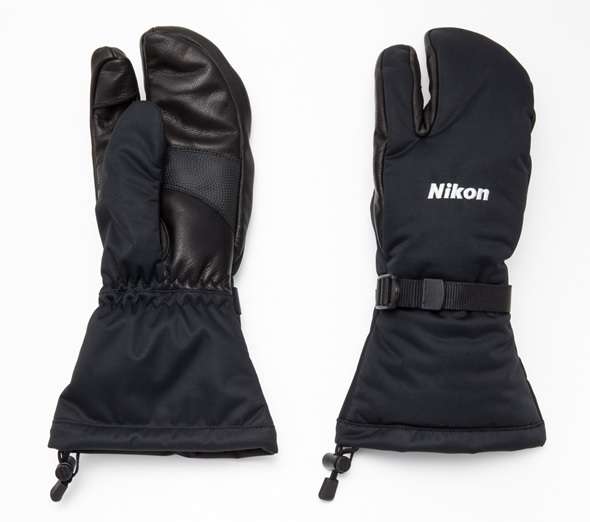 If you think you've got everything you may protect your hands with these gloves when it is cold outside. Both side thumbs and forefinger can be opened so you can scroll all wheels, touch screens and (release) buttons of your camera and/or lens. The gloves are available in black in Medium, Large and XL size.