Nikon binoculars & field scopes
One of the first products Nippon Kogaku produced in its early years were binoculars. Mainly for the Japanese defense industry. Monoculars, binoculars, telescopes, bomb sights and rangefinders of various dimensions were produced by the thousands. Nippon Kogaku was the largest optical industry in Japan. After the W.W. II Nippon Kogaku was allowed to produce civil bino's only. Even today Nikon produces excellent binoculars, field scopes, rifle scopes and a variety of spotting scopes for wild life enthusiasts and sports(wo)men.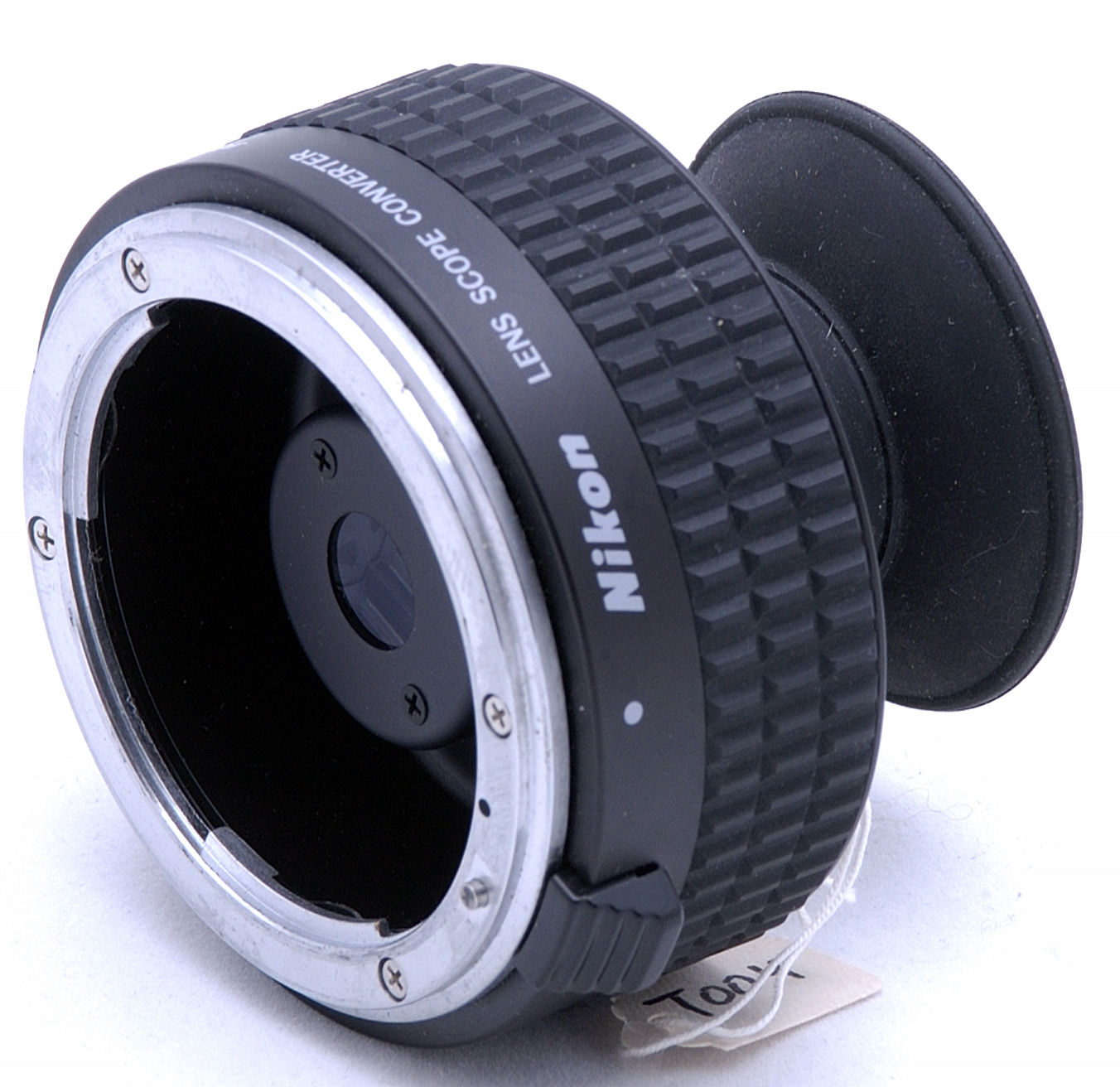 Before digging into the enormous mountain of binoculars Nikon made during the past 100+ years, Nikon has made an interesting accessory which turns almost every lens into a spotting scope: the Nikon lens scope converter (see above).
This funny 'instrument' has an optical system of 5 elements in 3 groups, including a little prism. It can be placed on the rear/back of all Nikkor lenses with an AI/S and/or AF mount. It will not work on lenses with a G-mount, IX-mount (APS-lenses), Nikonos mount, S-mount (rangefinder lenses) and all other lenses lacking the famous F-mount. On the internet there are 'manuals' to modify the mount of the converter but the risk of ruining both the converter and the lens is great. When mounted on a 50 mm. standard Nikkor lens the magnification will be 5 X. So any useable lens will produce a magnification equal to its focal length in centimeters! The aperture of a lens has to be set wide open, although lenses faster than f/2.8 may not produce a brighter view as the built-in prism has a maximum exit pupil of f/2.8. The converter has an adjustable diopter of -5 up to +3. Be careful of fake models that are around.
Binoculars
Nikon produced and is still producing binoculars with either a porro prism or a roof prism, like WX, EDG, Monarch, Aculon and Prostaff.
One of the very first and popular consumer binoculars was and still is the little Mikron binocular with porro prisms is pictured below. There are several versions known;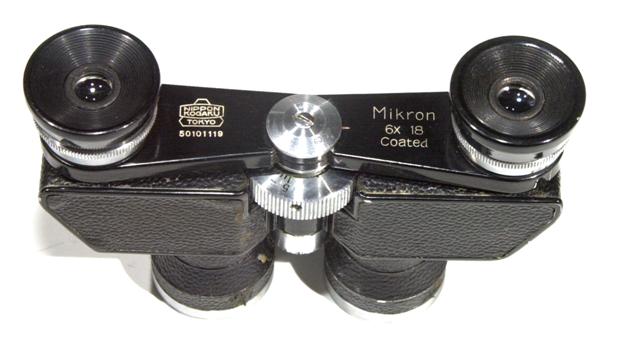 the one pictured below was build during the American occupation of Japan after World War II, 'documented' by the engraving 'made in occupied japan' on the left prism.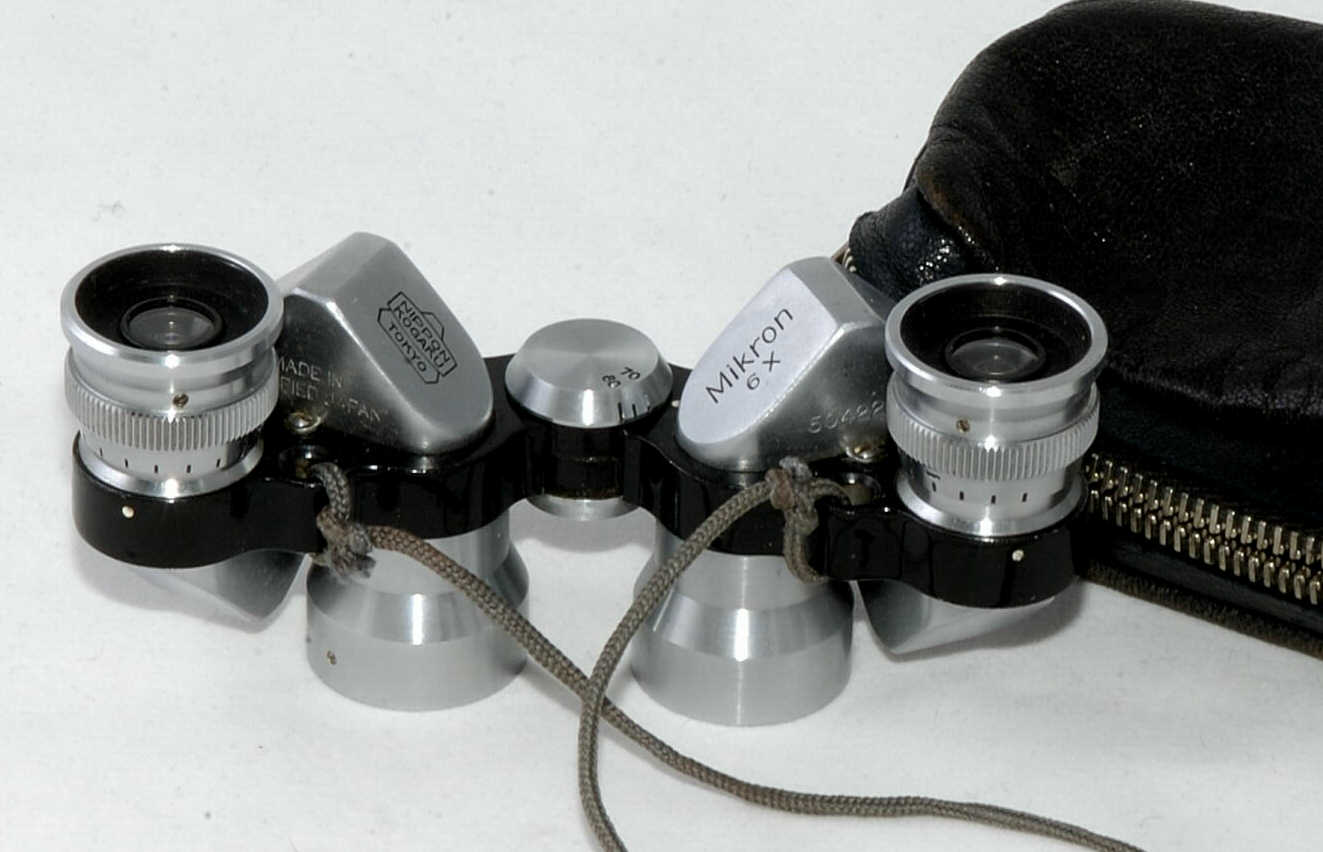 Mikron 6 x 30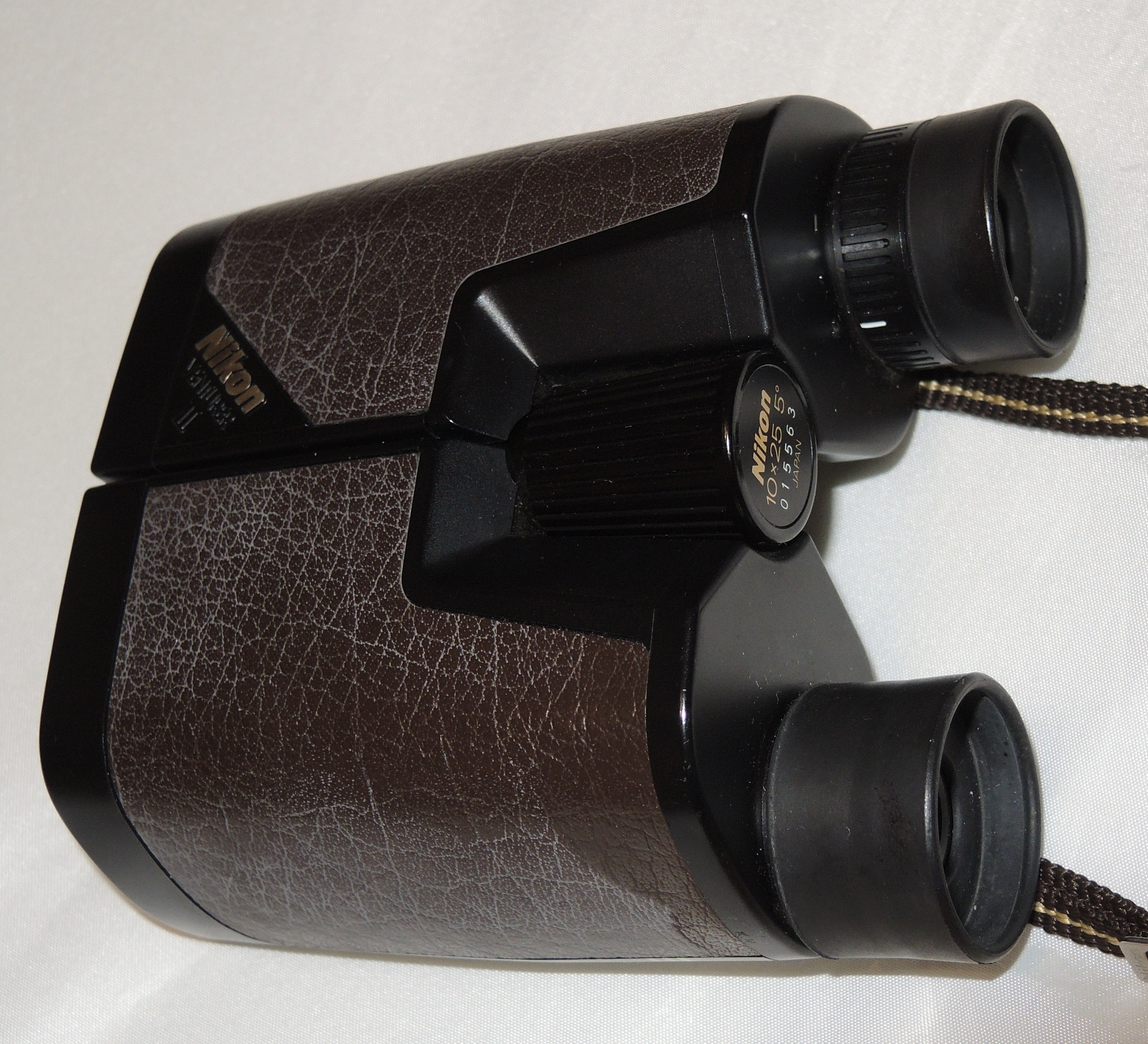 a popular Venture II 10 x 25 binocular (porro prisma) offered in the 1980's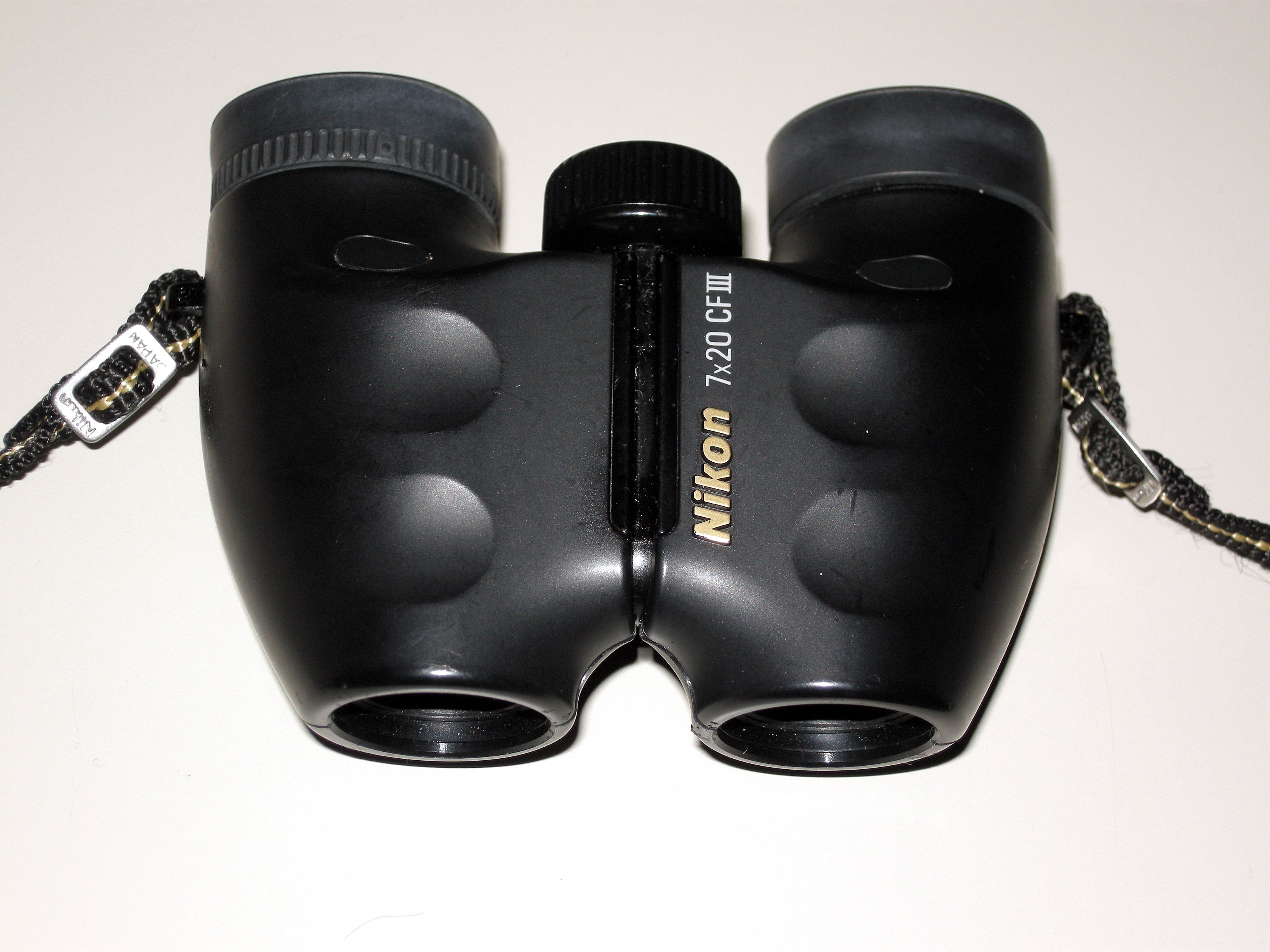 A modern version of a little binocular (porro prism) featuring 7 x 20 enlargement with central focusing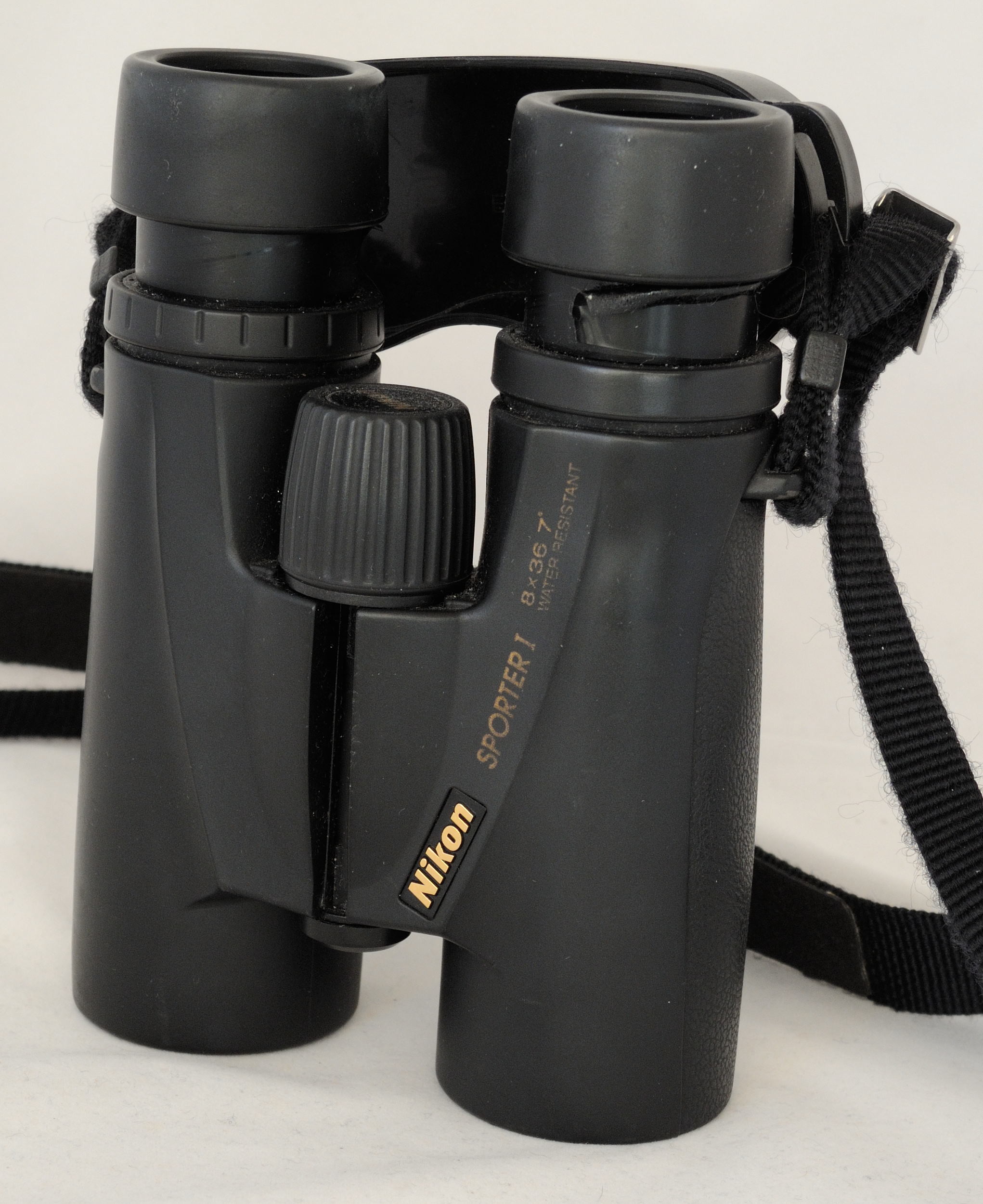 Another popular binocular is the Sporter I-series 8 x 36 (roof prism)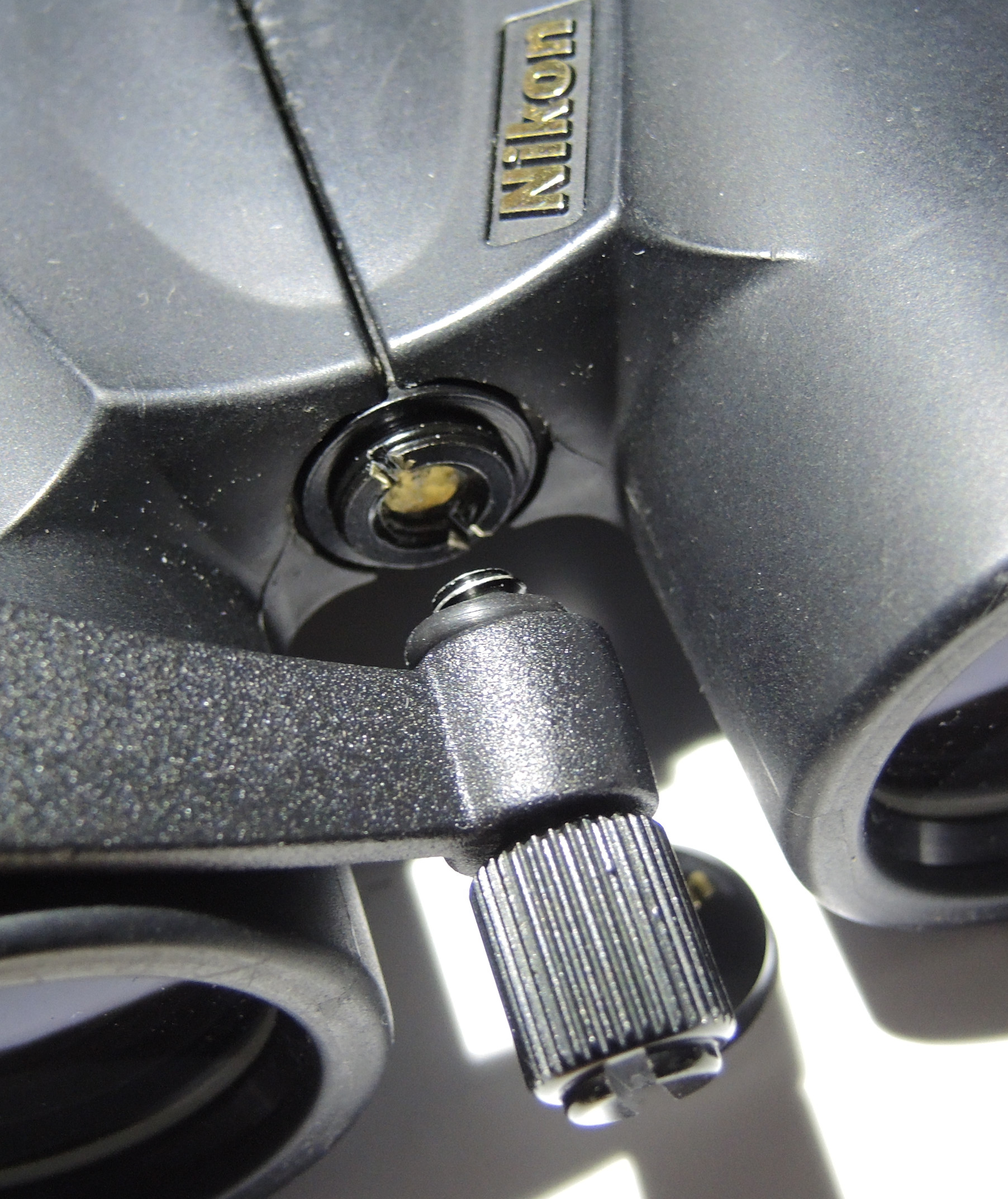 Above a picture of a Nikon bino with removed front cap; a tripod adapter (like pictured below) can be fastened.
Nikon TRA-3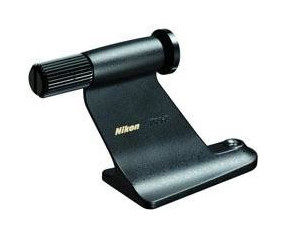 Most Nikon binoculars with a roof prism have at their front a screw (covered by a cap) in which a tripod adapter can be connected.
Fieldscopes
For some decades Nikon Corporation produces beautiful fieldscopes for observing nature etc.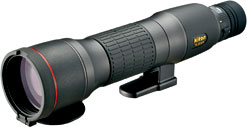 EDG Fieldscope 85
As this site is limited to Nikon equipment for photography, fieldscopes are not extensively reviewed here. But since most fieldscopes can be used or be transformed into a long tele-lens, equaling a focal length of 1200 - 1500 mm., it may be interesting to mention this here.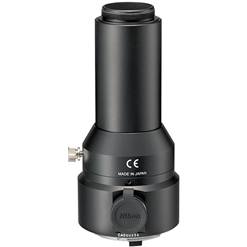 With the use of the Nikon FSA-L1 (see above) many fieldscopes can be mounted on all Nikon digital SLR camera's. Using the manual or aperture priority setting of the camera very nice pictures can be made. Using e.g. a Nikon D2 even matrix metering is possible.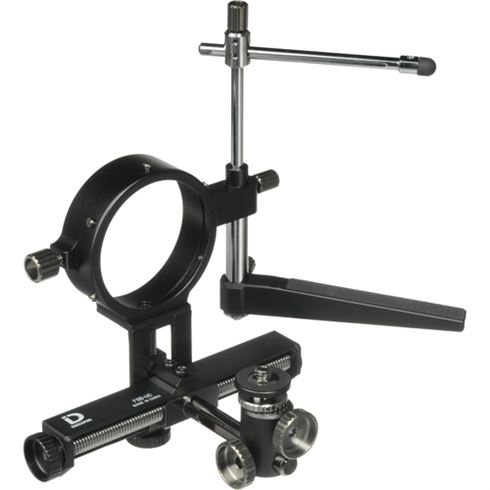 The Nikon FSB-UC can be used on most field scopes coupled to many Nikon Coolpix cameras.
For more information please see your local dealer.