Nikkor cine- and TV-lenses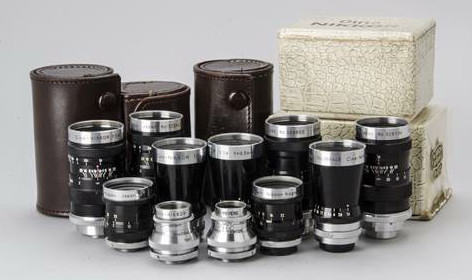 Above a nice collection of cine-Nikkors in C-mount
==============================================================
Since the early 1950's Nikon Corporation is producing lenses for various movie-, cine- and TV-cameras; mainly cameras made by other manufacturers. Probably the most produced (some say over 80,000 lenses) Cine-Nikkor ever, is the below pictured 1.9/13 mm. Cine-Nikkor-Revere for the Revere 40 movie camera-series.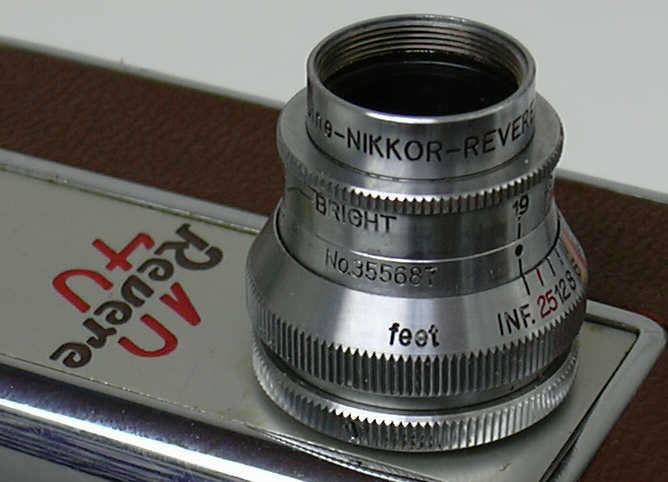 For this cute and successful 8-mm. movie camera and other amateur movie cameras with the same mount Nikon produced a Cine-Nikkor 1.9/38 mm. and a Cine-Nikkor 1.9/65 mm. These two lenses are rather rare and - nowadays - difficult to find. Known lenses to the author are the following Cine-Nikkors in C-mount: 1.8/6.5 mm, 1.9/6.5 mm, 1.8/10 mm, 1.8/25 mm, 1.4/25 mm, 1.8/50 mm.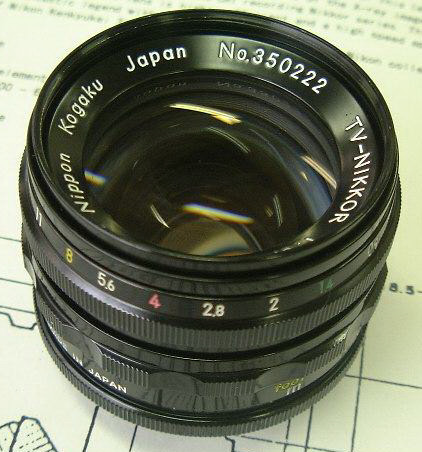 Very fast 0.9/35 mm. TV-Nikkor in LTM (39 mm.) - Courtesy Michio Akiyama
Nikon also produced Cine-Nikkor lenses for Super-8 movie cameras, 16mm. movie cameras (in D-, C- and Arri-mount) and TV-Nikkor lenses for various professional (portable and stationary/studio 1.5 inch, 2/3 inch and 1 inch) TV-cameras, with zoom ranges up to 19 x and more! In 1984 Nikon introduced its first 7x-zoom lens for a High Definition TV-camera, followed by a high resolution monochrome CCTV (Nikon HR-900W) camera.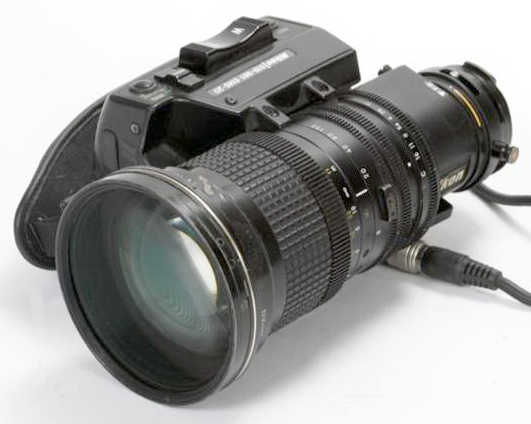 TV-Nikkor ED 1.7/8-152 mm
Most Sony Betacam reporter's TV-cameras are/were fitted with TV-Niikor 1.7/9-117 mm or TV-Nikkor 1.7/8.5-127.5 mm. lenses. An North-American company, producing special cameras for the movie and defence industry - Photo-Sonics, founded by Adolf Furer in 1924 - used many Nikkors with special converted mounts.
BTW: TV-Nikkors for TV-cameras have a crop factor of 2.7, making it possible to be used on Nikon 1-series cameras. Unfortunately focusing and stopping down the lens is not possible.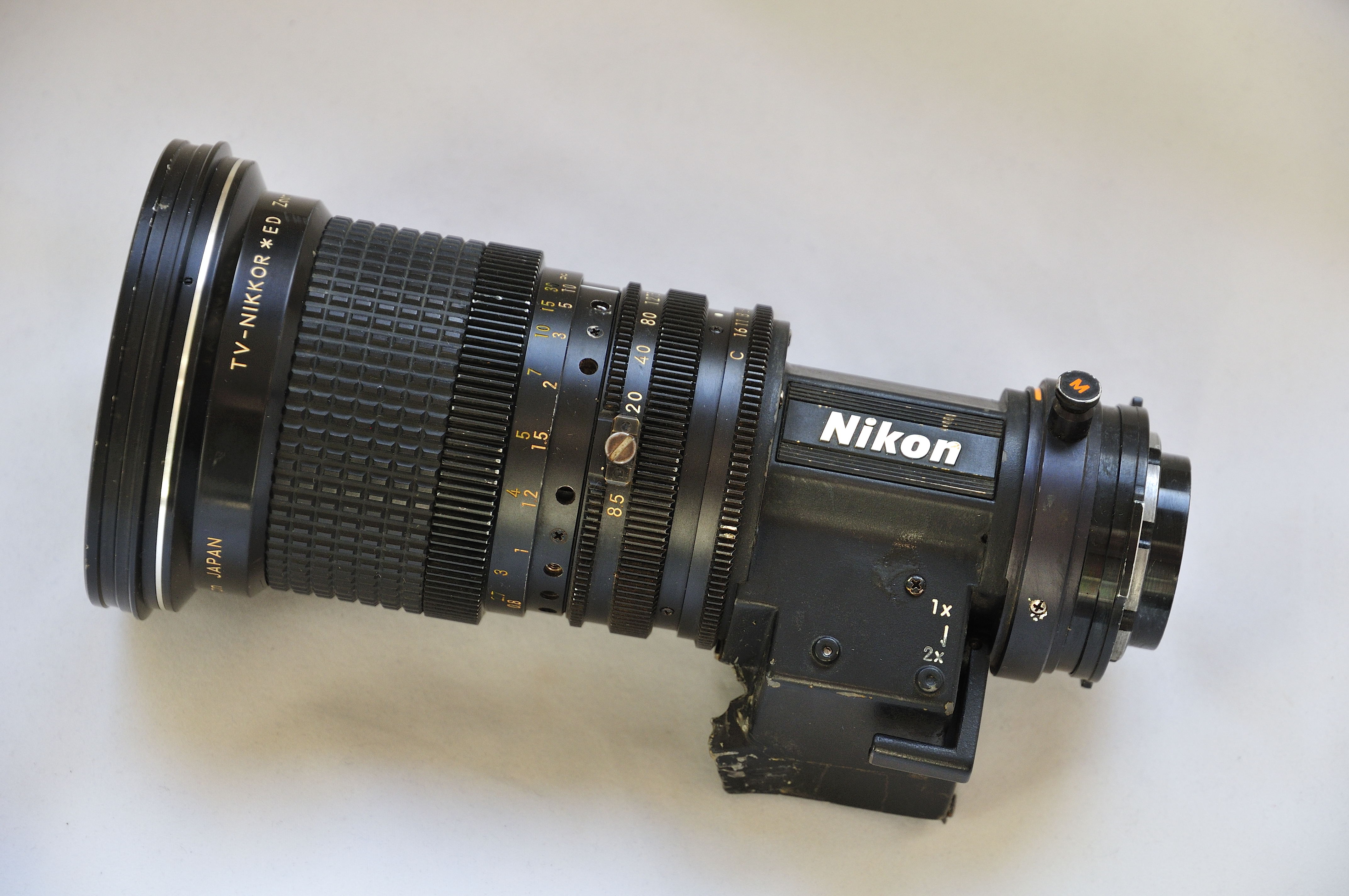 TV-Nikkor 1.7/8.5-127.5 mm. without focus unit.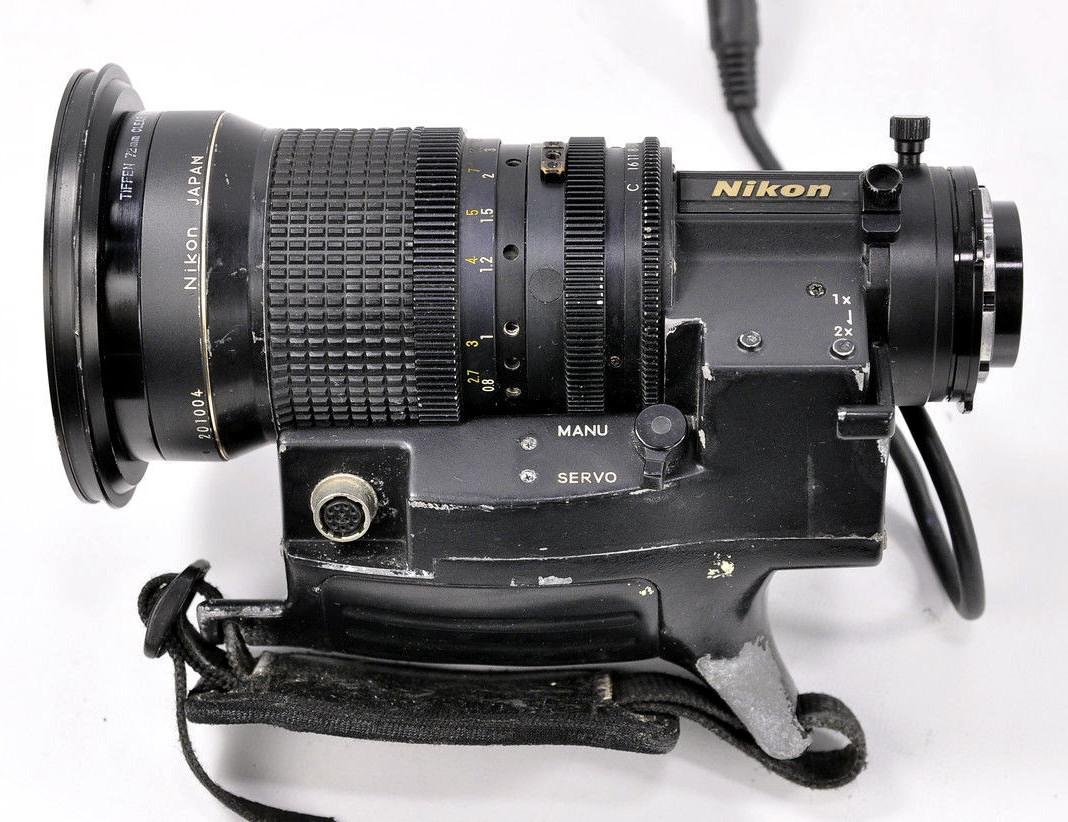 TV-Nikkor 1.7/9-117mm.
As this site deals mainly with lenses for photography, information on cine- and TV-lenses will be limited.