Nikon Coolprint printers
Just after the introduction of the very first Nikon Still-Video Camera in 1986 Nikon introduced (in 1987) its first color photo printer. As the results of this printer were not of the quality Nikon photographers were used to (as many reviews stated), and because of the tough competition and relatively high price, Nikon didn't sell this printer worldwide.
Nikon NP-10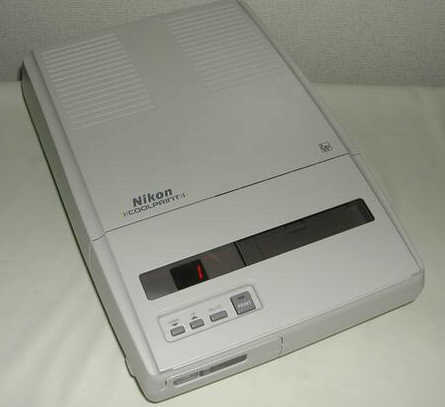 Nikon Corporation introduced in May 1994 a dye-sublimation printer* for A6 paper and stickers only. This printer, late 1994 available for a (US) List price of $ 2,350.-- produces photo quality prints of 142 x 142 dpi resolution, with 8-bits colour (= 16.7 million printable colours), in just 60 seconds.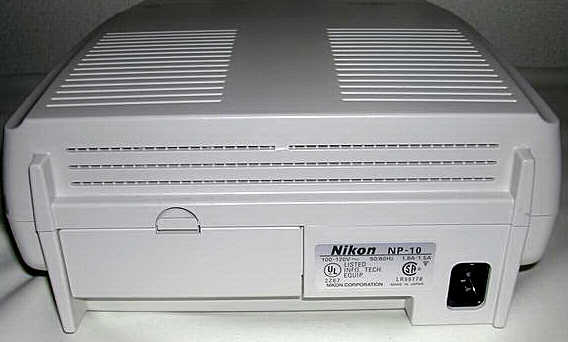 This printer wasn't a great success; it was never marketed in Europe.
Nikon NP-100 / NP-200
Both printers were introduced in 1996 as - almost identical to the NP-10 - a dye-sublimation printer* for A6 format paper only. Both printers print in 306 dpi which is equal to the print resolution of most periodicals worldwide.
Nikon Coolprint II
This thermal printer* was introduced in 1996. It didn't become a world hit, unfortunately.
Especially for the above-mentioned printers Nikon supplied special paper (NP-M100), postcards (NP-M50N and NP-C050) and adhesive stickers and labels (NP-S50 etc.). Nikon Corporation was not and is not a prominent player on the world's printer market. To compete with existing printer manufacturers Nikon has to be depended on others. "Every man to his trade" should be Nikon's policy in this.
Nikon Corporation left the printer market late 1999.
* Dye-sublimation (or dye-sub or thermal dye transfer) printers print images as dots, employing a printing process that uses heat to transfer dye to a medium such as a plastic card, paper, or fabric. A thermal printer (or direct thermal printer) produces a printed image by selectively heating coated thermochromic paper, or thermal paper as it is commonly known, when the paper passes over the thermal print head.