Nikon special digital cameras
In the past Nikon Corporation made some special cameras for the use on microscopes etc. It is clear that scientists and researchers nowadays are needing digital cameras for imaging whatever object they make visible through microscopes. In this chapter some special cameras for film can be found.
Below you will find some details of special digital cameras Nikon Corporation made and still has available for scientists and researchers.
The very first digital camera for the use on a microscope was the Nikon digital eclipse camera system to be used on the Nikon eclipse microscopes (see chapter mentioned above). State-of-the-art digital cameras for the use on microscopes is the Nikon digital sight series, introduced in April 2003. Below you'll see the Nikon DN100 digital network camera, with which color images of 1.3 Mp. at a frame rate of 15 fps can be transferred to the internet or a PC.
Note: Whenever you are interested in one of these cameras don't ask your local dealer as he will not be able to help you. He probably will not even be aware of the existence of these special cameras. You have to see an official representation of Nikon Corporation or Nikon Instruments in your country for more info.
Nikon DN-100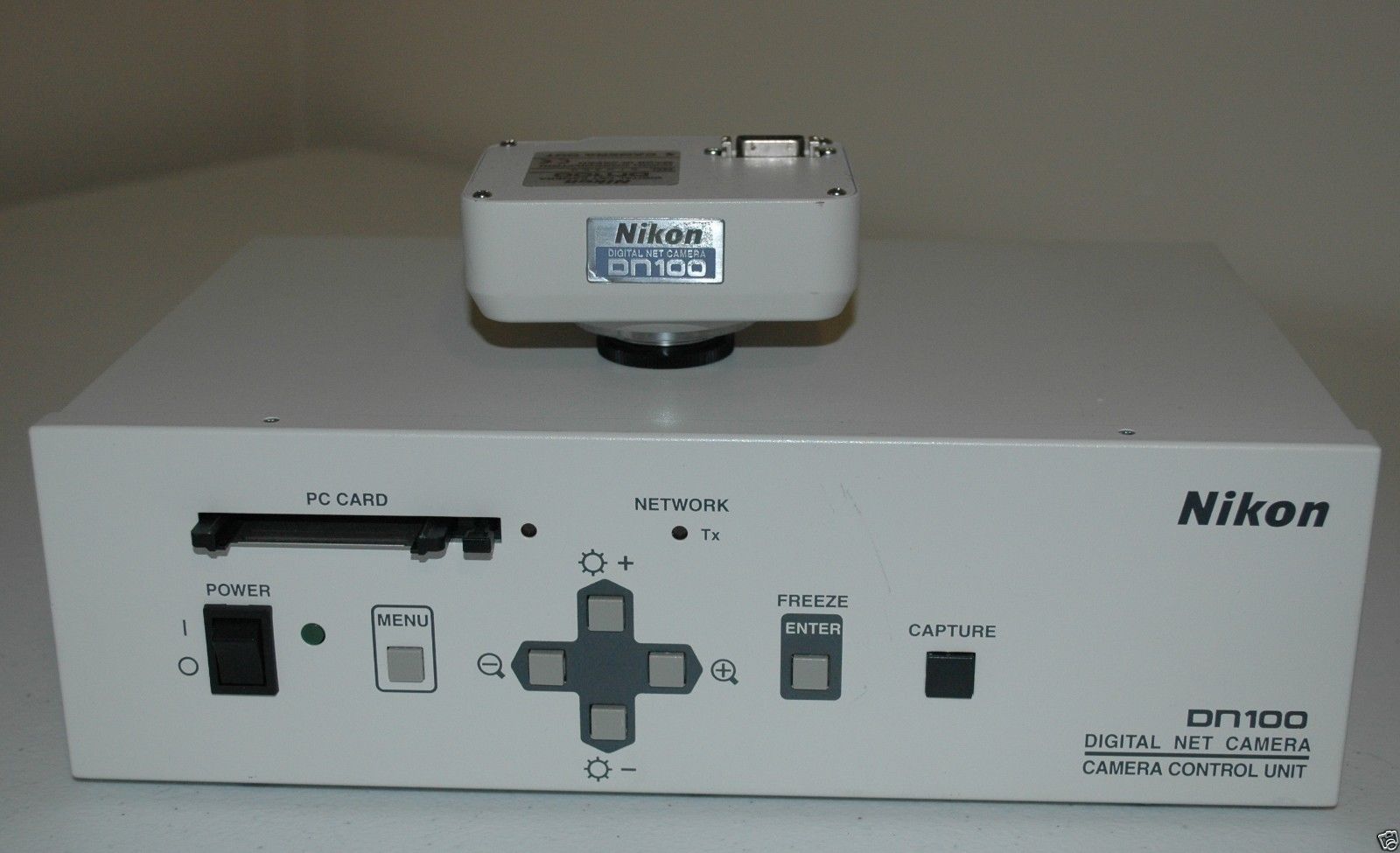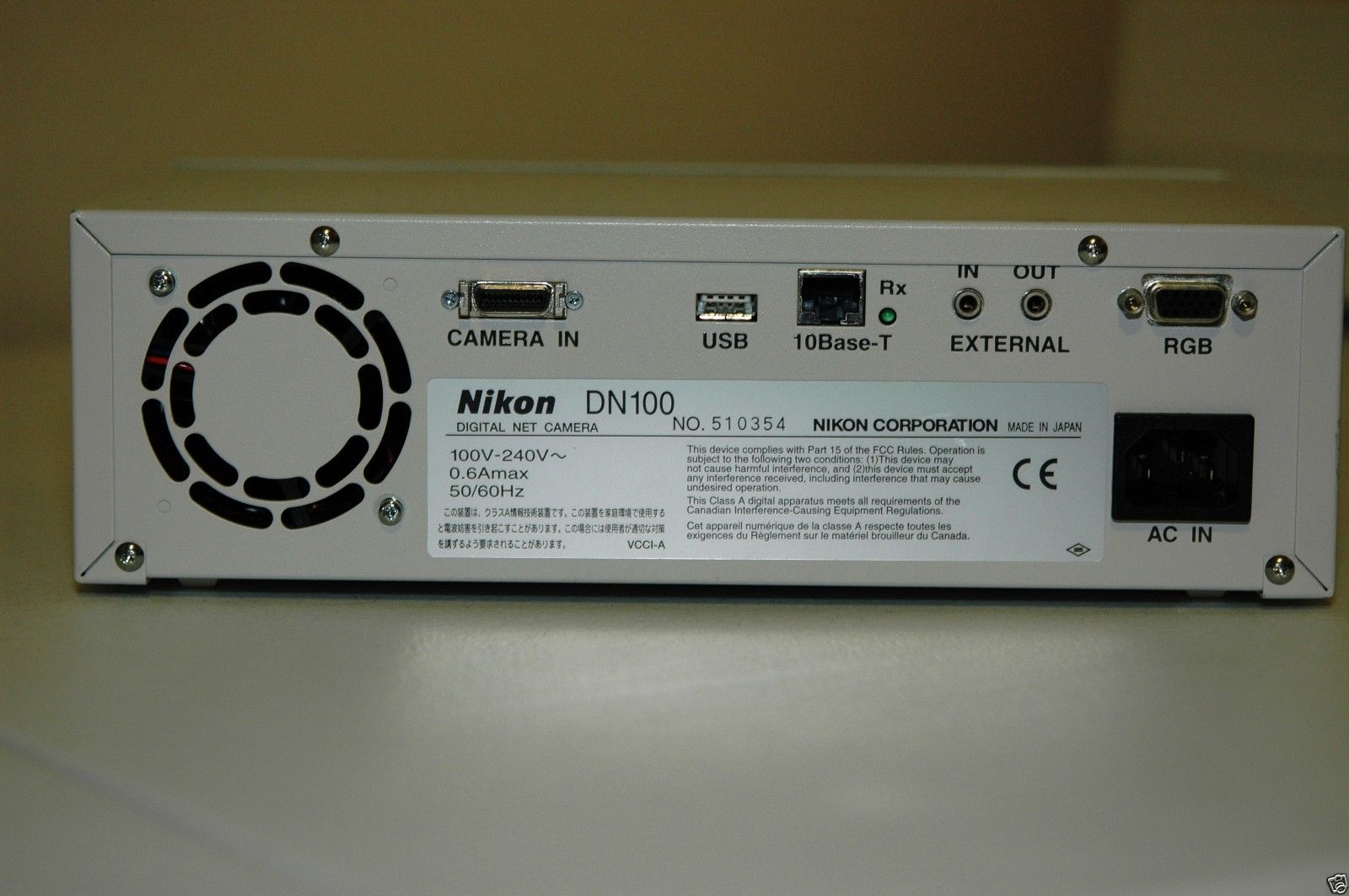 Nikon DXM-1200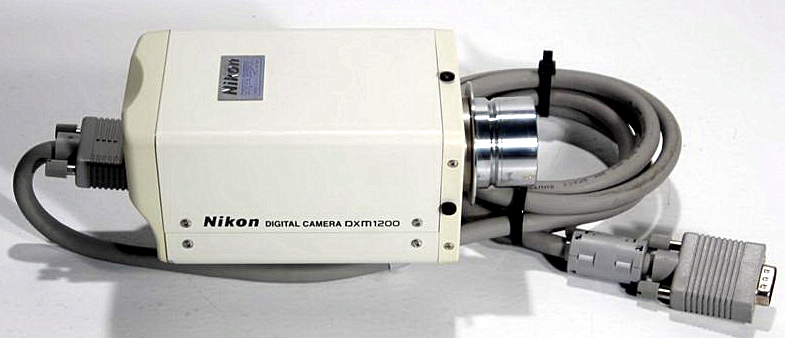 Nikon digital camera DXM1200 offering 12 Mp.
Super high-definition cooled color camera head—DS-Ri1

The DS-Ri1 realizes an image quality of 12.7 megapixels and 2200 TV lines with the pixel shift method. Superior color reproduction capability allows recording of accurate specimen colors, and smooth live image display at a high frame rate of max. 19frames per second (fps) makes focusing easy. Because the CCD is cooled at 10° below its uncooled state, heat-induced noise is reduced, and this ensures clear fluorescence images.
DS-Ri2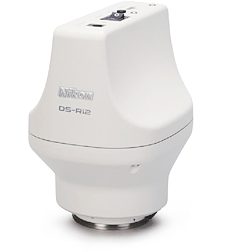 In April 2014 Nikon introduced for the first time a special digital camera with a FX-CMOS (full frame) sensor with 16,2 Mp. Color images may be shot in single shot mode or at a frame rate of 19 fps (1280 x 1024 pixels) or 45 fps (1636 x 1088 pixels) in an ISO-range of 200 - 12,800. The camera has an F-mount and weights in at 1.2 kg.
High-definition color camera head—DS-Fi1

A 5-megapixel CCD faithfully captures microstructures with resolution as high as 2560 x 1920 pixels. Other advanced features include improved image quality through the upgraded IR-cut filter and enhanced frame rate. It can be universally used for brightfield, darkfield, phase contrast, or DIC observations.

High-definition cooled color camera head—DS-Fi1c

A Peltier* device cooling mechanism has been incorporated into the 5-megapixel CCD that delivers high-resolution images of up to 2560 x 1920 pixels. This mechanism keeps the CCD at 20°C below its uncooled state to produce high-contrast images with less heat-induced noise. It is ideal for imaging of weak-light structures under fluorescence and darkfield microscopy.
High-definition color camera head DS-Fi2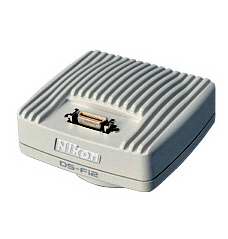 This high-definition digital camera head features a 2/3 inch 5 Mp. CCD sensor, recording 2560 x 1920 pixels. It is possible to make 21 frames per second in combination with a standalone control unit DS-L3 and a Nikon ECLIPSE Ci-L microscope.

High-definition microscope camera DS-Fi3
August 2016 this camera in the Digital Sight series is 'a dramatically improved digital camera for microscopes that integrates functions of the existing camera head DS-Fi2, Filc and Vil' as Nikon stated in its press release. The camera has a 5.9 Mp CMOS-sensor and ISO settings from 50 - 3200 and a high-speed 10.1 inch live display on the DS-L4 DS camera control unit. Images can be saved in BMP, TIFF and JPEG.
High-speed live display color camera head—DS-2Mv

Features a high frame rate, 2.0-megapixel CCD. Displays SXGA live images (1600 x 1200 pixels max.) at 15fps (30fps max.). The DS-2Mv balances smooth live image movement and high resolution.


High-speed live display cooled monochrome camera head—DS-2MBWc
Incorporates a Peltier* device cooling mechanism that keeps the CCD at 20°C below its uncooled state. Coupled with sensitivity five times greater than conventional models and high frame rate (30fps max.) of the 2.0-megapixel monochrome CCD, this camera provides clear images with minimal heat-induced noise and photo bleaching.

In addition to the above products, the DS-Qi1 high-sensitivity cooled monochrome camera

with low noise and excellent quantitative capability—perfect for time-lapse fluorescence observation—is available.
DS-Qi2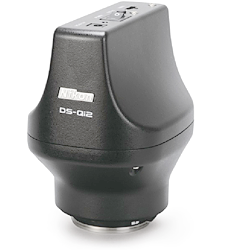 Late April 2014 the successor of the DS-Qi1 was introduced, featuring a full frame FX-CMOS sensor with 16.25 Mp.. The camera has the same features as the DS-Ri2, although the DS-Qi2 is capturing monochrome images only. The camera has Peltier cooling to reduce noise. Images can be saved in BMP, JPEG and TIFF.
The DS-Vi1 is a high speed, high sensitivity microscope camera featuring 2 Mp. color CCD with SXGA video display rates of up to 27 frames per second.
For above cameras Nikon produced three camera control units: the DS-L2 stand-alone microscope camera control unit featuring large built-in 8.4 inch LCD screen, the DS-U2 compact PC-based camera control unit with USB 2.0 connector offers information transmission of more than twice the speed of previous controllers and the successor of the DS-U2, the DS-U3 with the possibility to interface a DS camera to a PC computer through FireWire 800, resulting in a 60 % faster image transfer than previous models..
* Named after the French physicist Jean Chr. A. Peltier (1785-1845)