Nikon 1-Series digital rangefinder camera
+ accessories
2011 - 2018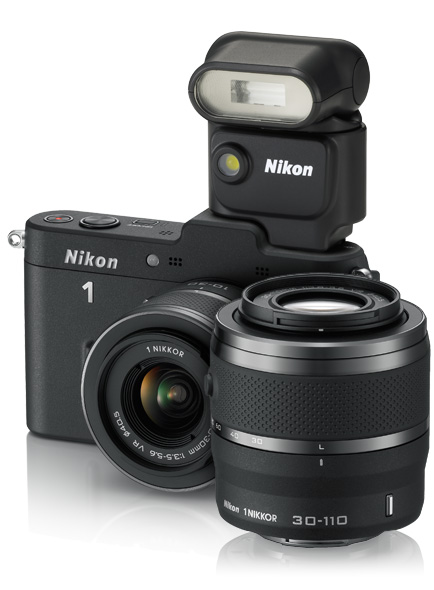 Nikon Corporation's President, Mr. Makoto Kimura, stated in an interview - as Bloomberg LP published early July 2010 - that Nikon would introduce a digital mirrorless interchangeable lens camera later in 2010 or early 2011 (Nikon's financial/fiscal year 3/2010 - 3/2011). Due to the devastating natural disaster early March 2011 in Japan some new projects have been put off, however.
BUT: On September 21, 2011 Nikon Corporation proudly presented its step into a new photographic sector: the digital rangefinder camera with the possibility of exchanging lenses. Some competitors, like Leica and Sony, were already offering such cameras, so Nikon could not remain behind.
With the introduction of not one camera, but two cameras - at the same time! - Nikon offered a new camera system or system camera. And four lenses, a special flash light and an adapter to make use of the F-mount AF-Nikkor lenses. Despite the crop factor of 2.7 a very nice feature for those that have a bag full of 'older' Nikkor lenses.
1-Series cameras are fitted with a new AF-CMOS image sensor, a hybrid AF-system (phase detection and contrast detection), high-performance dust reduction (by vibrating the sensor) a new high-speed image-processing engine: EXPEED3, and a new Nikon 1-mount lens system. All cameras are featuring the known exposure modes (P,S,A and M), including 5 scene modes and have a shutter release button (for stills), a movie start button and an on-off button on the right top. Nearly all other buttons are put at the right side of the screen on the back. Fortunately the lay-out of all button and switches are at both bodies identical.
For photographers with hands like hams these cameras are a bit too small; they do not have a grip (like Sony NEX and Olympus PEN cameras) for the right hand, although the V1 has a tiny strip at the right front side of the lens.
Nikon made many accessories for these cameras, like various bags and straps, as well as a special flash (SB-N5), a FT-1 adapter (see at the bottom of this page) to make use of F-mount Nikkors (except IX-Nikkors) and a GPS device. (see for details the relevant chapters).
In May 2012 Nikon issued firmware upgrade (A 1.12, B 1.10) for both the Nikon 1J1 and Nikon 1V1. If you are going to upgrade the software of your camera, you should install both firmware. When buying a second hand camera, check the firmware!
The CX-Nikkors are reviewed here.
Latest update: In July 2018 Nikon unfortunately announced to discontinue the production of all Nikon-1 series cameras!
Nikon 1J1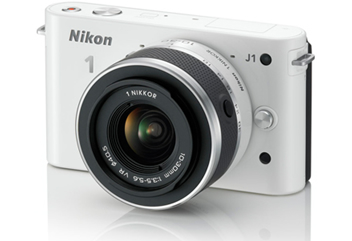 This brand new camera, weighing just 234 gram, is offered in 5 different colours (white, red, black, pink and silver). It features an new AF-CMOS sensor of 13.2 x 8.8 mm. (called CX-sensor by Nikon) with 10.1 Mp. Images are stored on a SD-card in NEF (RAW), compressed 12-bit NEF and in three JPEG compressions. The shutter offers speeds of 1/16,000 - 1/3 sec. with a rather slow flash sync of 1/60 sec. At the other hand shooting is possible at frame rates of 5 - 60 (!) fps., making slow-motion imaging possible. There is no viewfinder, but imaging and images can be seen on a 3 inch 460k-dot TFT-LCD screen on the back. The camera has 4 shooting modes: motion snapshot, smart photo selector, still image and full-HD (1920x1080) movie in 100-3200 ISO setting + H1 = 6400 ISO. It also has a small built-in pop-up flashlight. This nice little camera uses EN-EL20 batteries
Nikon 1J2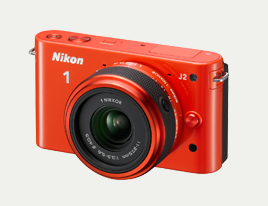 Early August 2012 Nikon introduced - as expected - a follow-up model in the Nikon 1-series: the Nikon 1J2. This new version has the same body, the same sensor, the same shutter and the same lens mount as the Nikon 1J1. It has an advanced hybrid AF system with 73 focus areas and it has a new 3 inch, 921K dots TFT-LCD screen. Focusing, focus tracking and HD-filming has been improved, too. Interesting for those having many Nikkor F-lenses, this camera can be used with the optional lens adapter. The camera uses the EN-EL20 batteries and will be available in six different colours.
Nikon 1J3

In January 2013 Nikon introduced the J3 model with the same body and technical specifications as its predecessors, but featuring a 14.2 Mp sensor. One can choose out of 32 languages, various exposure, movie programs and 5 colours (silver, black, white, red and beige! The new EXCEED 3A image-processing engine has 2 processors for even faster processing.
Nikon 1J4
Early April 2014 Nikon introduced this model with a 18.4 Mp CMOS-sensor (with no low-pass filter!), 105 AF phase-detection focus points (171 contrast AF points) and (as Nikon claims) the world's fastest high-speed continuous shooting (20 fps) with AF tracking. Full-HD movie is possible as well as transferring images via a Wi-Fi connection to PC's and other devices.
Nikon 1J5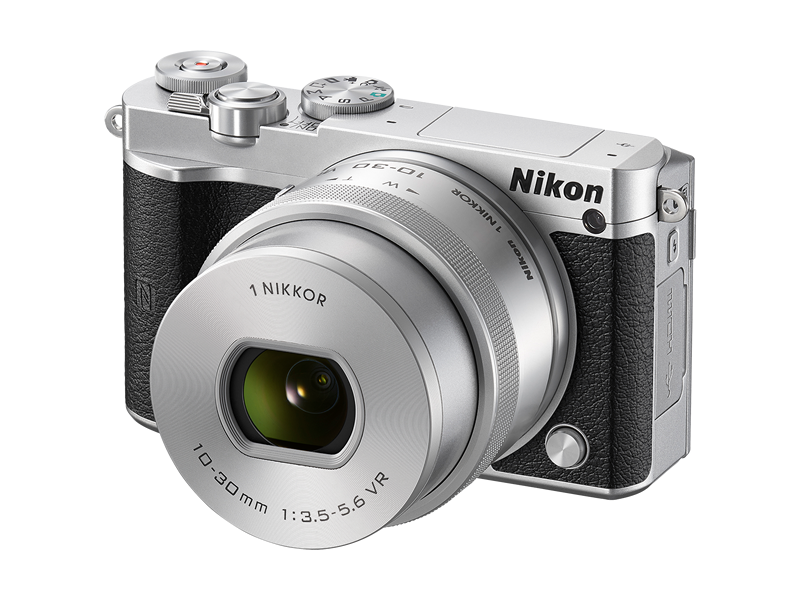 Exactly one year after the introduction of the Nikon 1J4 Nikon this even more sophisticated camera was introduced. It has a 20.8 Mp backside-illuminated CMOS-sensor and the new Expeed 5A image-processing engine. It is possible to shoot continuously at a speed of 20 frames per second with (!) AF-tracking. And on top of that 4K (3840 x 2160) movies of a maximum length of 10 minutes can be made. The camera also has a Pictbridge and Wifi-connection. ISO-settings are ranging from 160 up to 12,800. The shutter runs as high as 1/16,000 sec. but with a disappointing flash sync of a mere 1/60 sec.
Nikon 1S1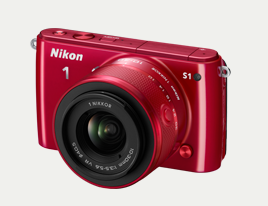 Together with the 1J3 this camera was introduced. It has 10.1 Mp CMOS sensor and more or less the same specifications as the J1/2/3 versions. The shape of the body is a bit more rounded and is available in white, black, pink, red and khaki colour. Also the monitor offers with its 3 inch, 460,000 dot TFT LCD screen a bit less than the others.
Nikon 1S2
Mid-April 2014 Nikon introduced the successor of the 1S1, featuring a CMOS-sensor with 14.2 Mp., 135 AF-points, an ISO-range of 200 - 12.800 and full HD movie shooting with a built-in stereo microphone. The shutter is very fast with a range of 30 sec. up to 1/16,000 sec.! at a firing rate of 20 fps. Images can be saved on micro-SD memory cards in RAW or JPEG. The flash sync is a disappointing 1/60 sec.
Nikon 1V1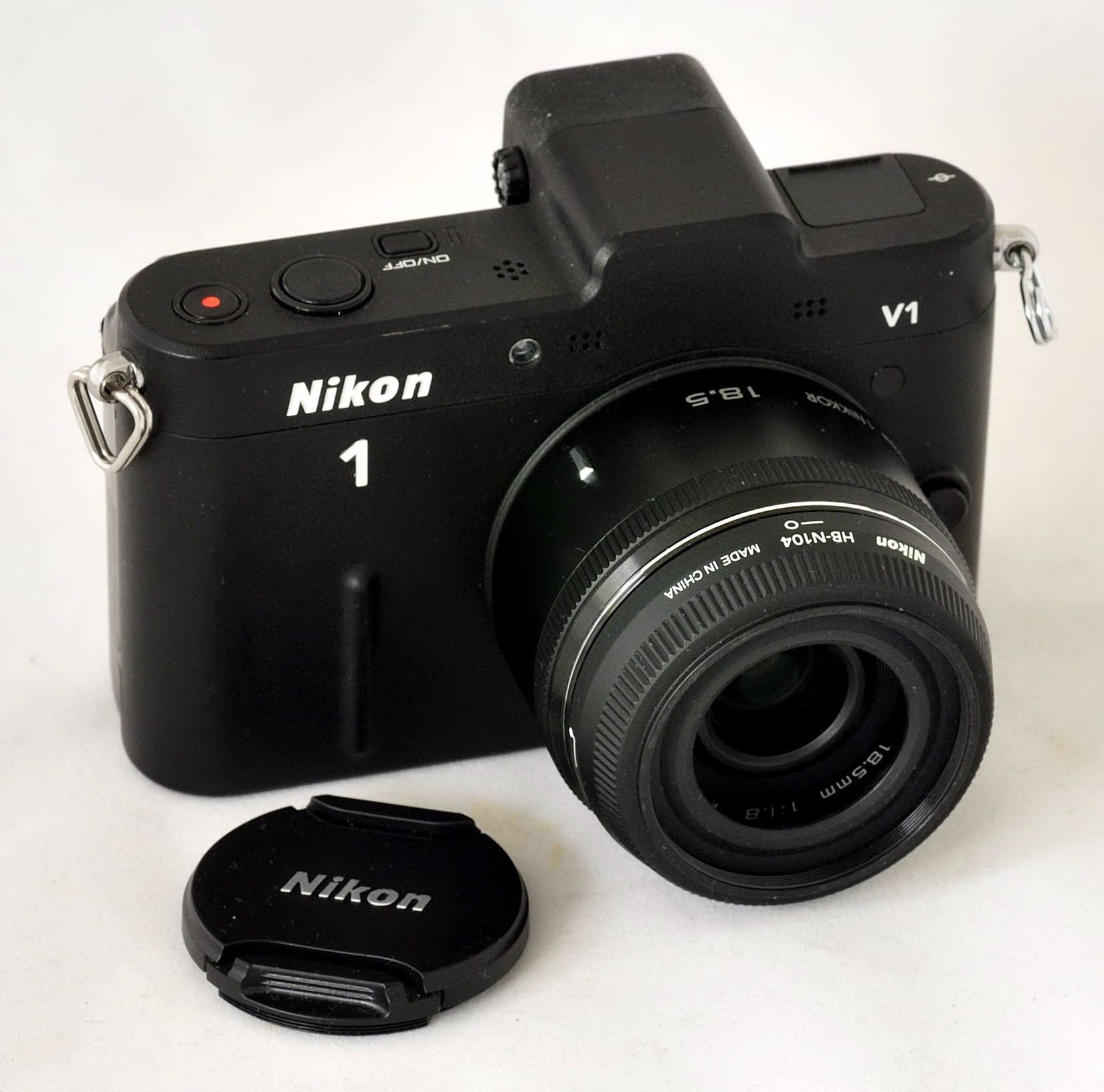 This camera, which is a bit fatter (wider, higher and thicker) than his mate, has the same sensor - with identical specifications - as that of the Nikon 1J1. Interesting feature here is an electronic viewfinder and an electronic shutter with speeds from 1/16,000 - 30 sec. and a mechanical shutter with speeds from 1/4,000 - 30 sec. Flash sync is 1/60 sec when using the electronic shutter and 1/250 sec. when using the mechanical shutter. There is no built-in flashlight, though. What also differs is the TFT-LCD screen, here offering 920k-dots. Full-HD filming is possible with stereo sound recording by two built-in microphones. And slow motion filming up to 1,200 fps at a frame size of 320 x 120 pixels is possible! The camera is weighing in at 294 gram, uses EN-EL 15 batteries and can be connected to a Nikon GP-N100 GPS-unit.
Nikon 1V2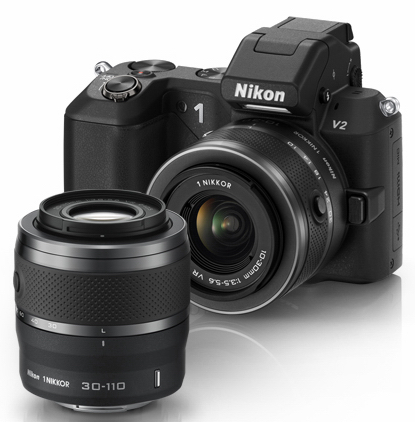 At the end of October 2012 Nikon introduced this upgraded version in the Nikon 1V-series. It features an almost identical 1V1-body, but has a CMOS-sensor with 14.2 Mp. and a faster processing engine. The electronic viewfinder (EVF) is quite larger, thus giving the camera together with its larger grip an SLR-outlook. The camera offers a built-in flash light, Live Image Control and a Slow View Function (slow motion playback). It is also possible to connect the Mobile Adapter WU-1b enabling the wireless transfer of images to an other device.
Nikon 1V3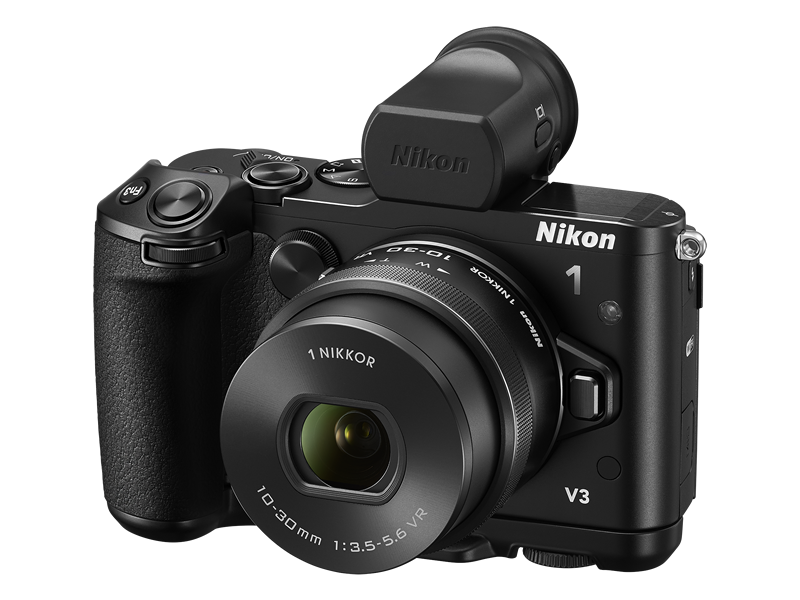 Mid-March 2014 Nikon presented the "world's fastest continuous shooting rate with AF tracking" on its "advanced camera with interchangeable lenses"!! The camera has a CX-format sensor with 18.4 Mp enabling to capture pictures at 20 fps. ISO-range is 160-12,800. Autofocus is possible thanks to 105 focus points with phase-detection and 171 focus points with contrast detection. It is the first Nikon-1 camera featuring a virtual horizon, displayed in the live view vari-angle 3 inch LCD-monitor with an 1,037k-dot electrostatic touch screen. A mechanical shutter runs from 1/4000 sec. - 30 sec,; the electronic shutter runs from 1/16,000 sec.! Images can be saved in RAW/NEF or Jpeg, HD-movies in mov-files.
An optional accessory is the electronic viewfinder DF-N1000 with a 0.48 inch , 2,359k-dot color TFT LCD viewfinder with a frame coverage of 100 %. An optional grip GR-N1010 with an angled shutter release button, a function button and a sub-command dial can be fitted too.
Nikon 1AW1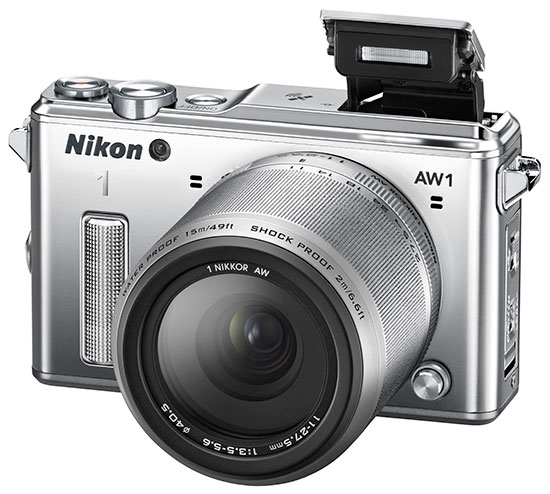 Late September 2013 Nikon introduced a very interesting camera in the Nikon 1-series. The AW1 camera body may be the first successor of the famous and still beloved Nikonos underwater cameras. It is the first digital rangefinder camera with interchangeable lenses, water proof down to 15 meters and it can withstand the shock of a fall from a height of 2 meters (when built-in flash is closed). The camera body is packed with interesting features like a built-in electronic compass, altimeter, depth gauge, virtual horizontal display, GPS, built-in flash (flash sync = 1/60 sec.), stereo microphone and a 3-inch monitor with 921k dots. The CMOS-sensor of 14.25 Mp. has no optical filter and has a sensitivity equal to ISO 160-6400. The electronic shutter runs from 1/16.000 - 30 sec.! and the bulbs setting ends after about 2 minutes. Two existing lenses have been modified for the use under water: CX-Nikkor 2.8/10 mm. and CX-Nikkor 3.5-5.6/11-27.5 mm. (see lens chapter for further details). Focusing is possible in AF and MF mode. In AF-mode with focus tracking 15 fps are possible; with locked focus even 60 fps. - lovely setting for slow motion. Video in HD is possible as well, of course with stereo sound recording. Exposure metering in three underwater modes are offered: standard, scuba (for diving deep) and close-up. White balance and auto distortion control is set automatically with underwater settings. The camera uses EN-EL20 batteries. Finally a special flash light has been announced; available just before Summer 2014.
This very nice addition to the Nikon 1-series is available in black, chrome and white.
Nikon LD-1000 LED Light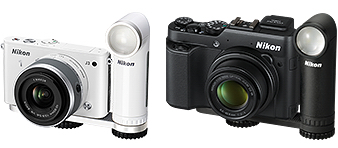 Early September 2013 Nikon introduced for the first time in its history a LED light usable when shooting images and/or movie. The cute little light doesn't produce an enormous output, but with its 130 lux at 1 meter it may be of great help. The light can be used on a bracket or separated from the camera. It weights in at 130 gram, the bracket just 50 gram. Although the Kelvin temperature of the LED light isn't mentioned by Nikon it should come close to daylight. The light uses 4 AAA batteries; depending on the battery type the light may stay operational at full power some 30 - 120 minutes; half power 60 - 240 minutes. The LD-1000 is available in black and in white finish.
Nikon SB-N10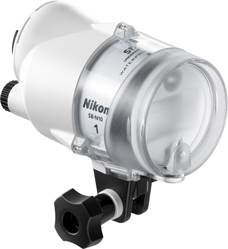 This flash gun for underwater photography was announced late September 2013, but became available in April 2014. Its guide number is 28 at ISO 100/meters. The flash gun is waterproof down to a depth of 100 meters.
Nikon WP-N1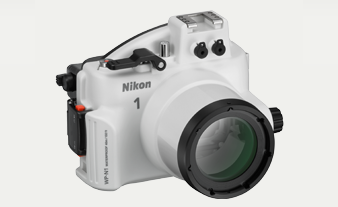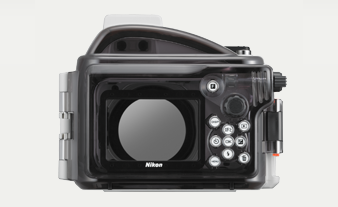 Early August 2012 Nikon introduced this plastic, non-floatable waterproof case in which the Nikon 1J-models can be placed together with the CX-Zoom-Nikkor 10-30mm. The case can be used - in fresh and in sea water - as deep as 40 meters / 130 feet. Above water it weights (empty) in at 790 gram. The water proof case is compatible with the external YS-D1 underwater flashlight, produced by Sea&Sea Sunpack Co. You cannot restrict the flash from firing since the camera will be set in the waterproof case with the built-in flash raised. You cannot rotate the multi selector from outside the case, either. The flash will not fire even with YS-D1 while shooting with Motion Snapshot, Smart Photo Selector, or when using electronic (Hi) shutter for continuous shooting.
Nikon WP-N2
In January 2013 Nikon came with a slightly modified underwater housing for the newer 1-Series bodies, like the the Nikon 1J3.
Nikon WP-N3
Early April 2014 Nikon introduced this underwater housing for the later Nikon 1-Series models. It can be connected with the Nikon SB-N10 and is waterproof as deep as 45 meters.
Nikon FT-1
Nikon introduced just after the introduction of the first Nikon 1-Series cameras an adapter to mount manual and autofocus lenses on any 1-Series: Nikon FT-1. Below an example of an AF-I Nikkor 4/600mm. As the crop factor is 2.7 the total focal length of this combination is an AF-lens with a staggering 1620 mm!! The adapter will accept nearly all AF-Nikkors (including VR) and transfers all exif-data.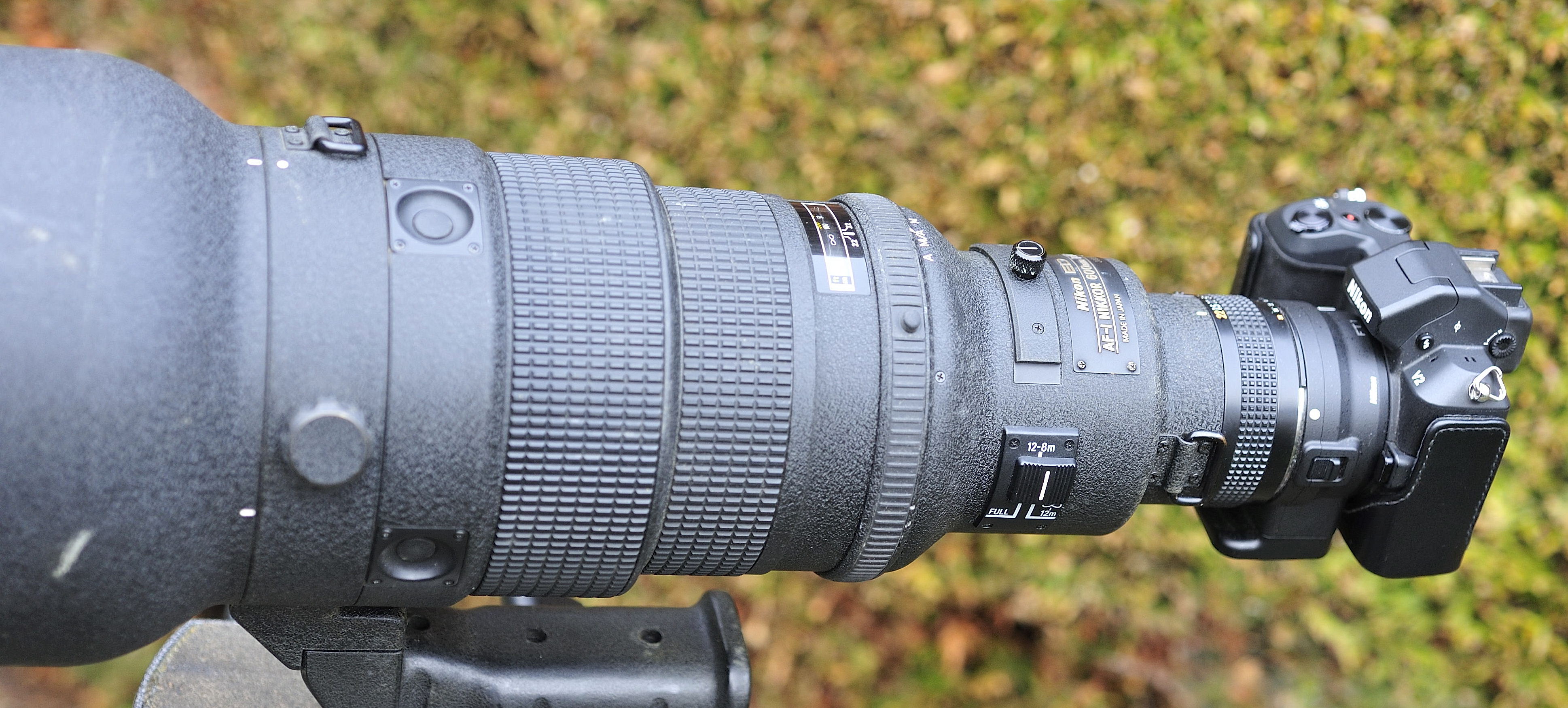 Since the cameras, lenses and accessories mentioned above are not in production anymore, they have become an interesting collector's item. They were produced in relatively large quantities and sold nearly in all major countries. Above all they are very well usable for many years to come!