Nikon Z-series
mirrorless digital cameras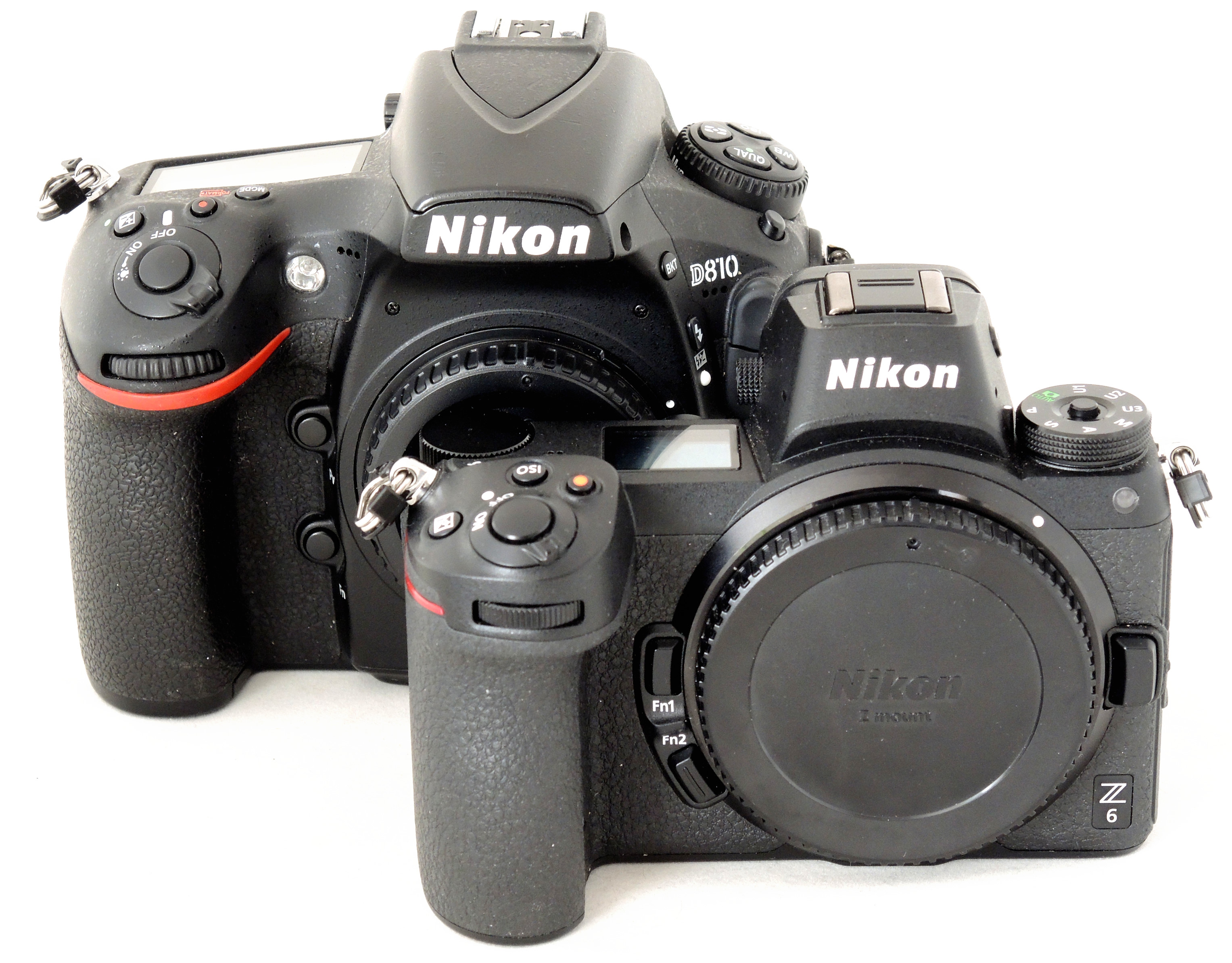 The new Nikon Z6 in front of his larger brother Nikon D810
Late August 2018 Nikon Corporation announced a fully new camera system or system camera: Two newly developed digital cameras without a mirror (like the SLR cameras have). The advantage of a mirrorless camera, but fitted with an electronic viewfinder (EVF), is that your view through the viewfinder will not be interrupted and the AF-sensor and exposure meter in the camera will not be interrupted as well. The digital viewfinder may give you a permanent bright(er) view of an image directly from the sensor.
The first two new cameras were baptized as Nikon Z6 and Nikon Z7. Without any doubt Nikon will introduce more mirrorless cameras in near future. With the introduction of these new cameras Nikon introduced also a new lens mount: Z-mount. This mount is a bit wider (55 mm) than the famous 60 year old F-mount (46 mm). The new Z-lenses will be reviewed here. The new Nikon-Z cameras have a built-in 5-axes vibration reduction (also working with older MF- and AF-lenses via the Nikon FTZ mount adapter) and the new Exceed 6 processor. They have a single slot for the very fast XQD memory cards.
The most interesting novelty of these two first Nikon Z cameras is the ability of focus stacking, with which you can extend depth of field (DOF) and sharpness!
The full frame mirrorless camera series was extended with the introduction of Nikon-Z camera with a DX-sensor, beginning with the Nikon-Z50 in October 2019.
As you will see in the Z-lenses chapter most lenses are much bigger than their F-mount brothers and undo the advantages of the relatively compact Z-cameras
Note: To reset the Z-cameras to 'out-of-the-box' settings go to the setup menu and scroll down to 'reset all settings'.
Nikon Z-5 - Nikon Z-6/6II - Nikon Z-7/7II - Nikon Z8 - Nikon Z9
Nikon Z-50 - Nikon-Z fc
More info will be uploaded later, so stay tuned!
Late July 2020 the Nikon Z-5 full frame camera was introduced, featuring a 24.3 Mp. CMOS-sensor with a sensitivity of ISO 100-51,200. The camera has built-in 5-axes Vibration Reduction, hybrid AF system with eye-/animal detection, 4k UHD/30p. video and a 3.2 inch tilting monitor. A novelty is the possibility to use two memory cards.
Nikon Z-6 / Z-6II
This camera was introduced in August 2018 featuring a CMOS 24.5 Mp. sensor with a sensitivity of ISO 100-51200, a hybrid AF-system (phase- and contrast detection) with 273 AF-points. It also has a 3.2 inch/8 cm. tilting LCD monitor with 2.100k dots. And of course the newly developed Z-mount. Since it lacks a swinging mirror this camera is able to shoot at 12 frames per second and 4k UHD video.
Mid October 2020 Nikon intrioduced an upgraded version of the Z6: Z6II, featuring a better focus system and better video capabilities. It also has a QXD- and SD memory card slot.
Nikon Z-7 / Z-7II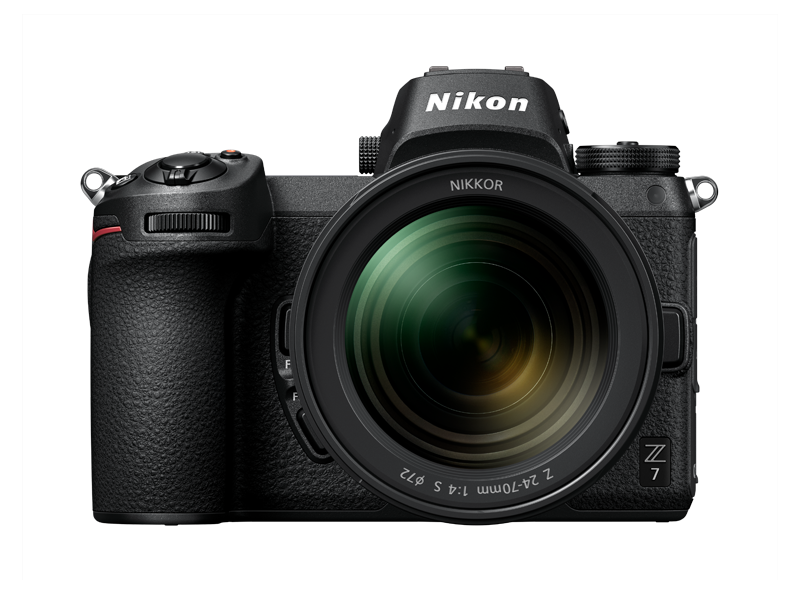 Almost identical to the Nikon Z-6 is this camera, introduced in August 2018 simultaneously. It has a sensor with 45.7 Mp., with a sensitivity of ISO 64-25.600 and 493 AF-focus points. Maximum shooting speed is 9 fps. This version has a QXD-card and SD-card slot.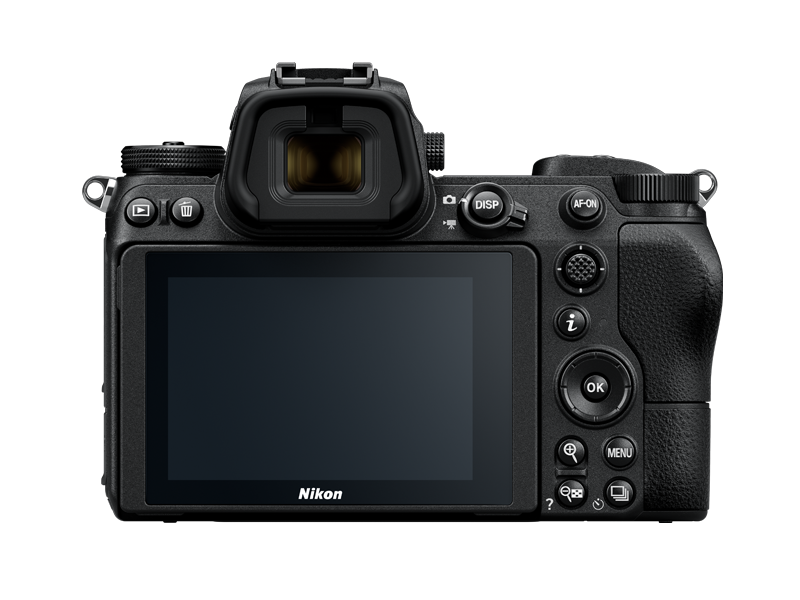 Mid October 2020 Nikon introduced an upgarded version: Nikon Z-7II. It has 2 EXPEED 6 image processors for faster image processing, an enhanced focus system and better video capabilities. It can be ordered with a new Nikon MB-N 11 battery pack.
Nikon Z-8
To be introduced in 2021
Nikon Z-9
To be introduced in 2021
Nikon Z-50
Mid October 2019 Nikon introduced the first Nikon-Z camera with a (AP-C) DX-sensor. It has a CMOS sensor with 20.9 effective pixels, incorporating a focal-plane phase-detection. ISO range is 100-51,200. The camera has a 3.2 inch 1.040 k-dot tilting touch-screen LCD. 4k UHD video is possible. The FT-Z adapter can be used on this camera, too, as the Z-mount is the same as on the FX cameras. The most important feature is missing: there is no in-camera vibration reduction!!
Nikon Z fc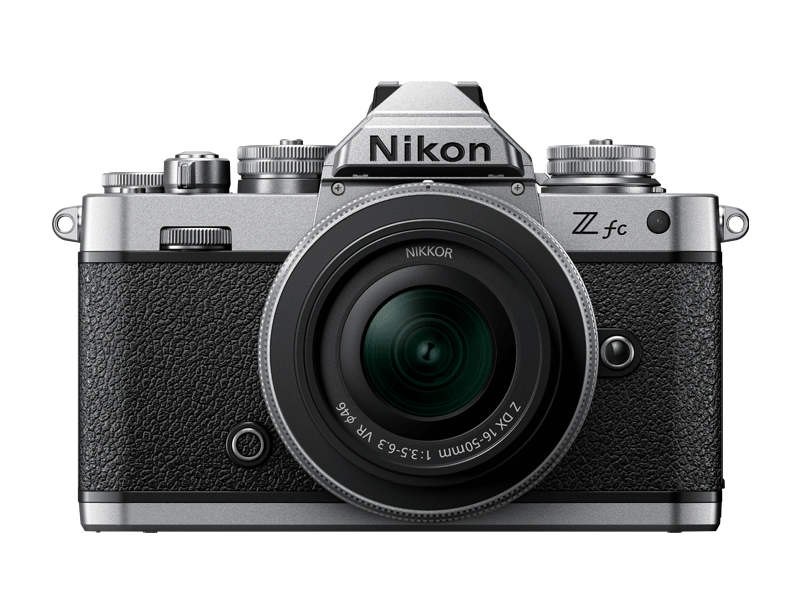 After nearly 15 years nagging around in his website and many articles Nico van Dijk (owner of this site) has his way! Late June 2021 Nikon introduced a digital version of the popular and successful Nikon FM/FE/FA-range of single lens reflex cameras: the Nikon Z fc. This very nice camera has a DX-sensor with 20.9 Mp. and the new Z-mount. It can captures images in ISO-100-51200 at 11 fps. in 14-bits NEF on one SD memory card. It has an OLED-viewfinder of 1 cm. and 2.3K (XGA) dots. Shutter speed goes from 4 sec. up to 1/4000 sec., a vari-angle 3 inch screen with 1 Mp. Movies can be shot in 4K UHD with stereo sound. It also has built-in wifi and bluetooth. The digital FM weighs in at only 445 gram.