Nikkor 1.2/55 mm.
History
The very first or early photographers had to tackle many problems. Films or glass plates were rather slow (= light sensitive layer with a low ISO/ASA-number) and lenses were relatively slow (= small maximum aperture), too. Lenses with more than 4 elements lost a lot of of their brilliance due to reflections. In the mid-1930's some engineers of Carl Zeiss Werke in Germany discovered by accident a method to reduce internal reflection of photographic lenses. By covering the lens elements with a coating reflections were minimized, thus making it possible to make use of more elements and to make lenses faster (= wider maximum aperture). Carl Zeiss was a long time record holder with its Sonnar 1.5/5cm. for the Contax rangefinder cameras.
Nikon Corporation was very proud when it announced - in the early 1950's - a new standard lens for its rangefinder camera with the slogan 'faster than 1.5/5 cm.!". The Nikkor 1.4/5 cm. - and its SLR 1.4/50 mm. versions - is one of the Nikkor lenses on the longest 'active service'! In those days it was difficult to produce a fast lens, especially for single lens reflex cameras. The swinging mirror required a certain distance between the rear element of a lens and the film plain. In 1959 Nikon's first SLR - the Nikon F - was introduced. One of the lenses that became available was the Nikkor-S 1.4/5.8 cm. It was impossible to produce a lens with a focal length of 50 mm. with a maximum aperture of f/1.4. Many other camera and lens manufacturers had to cope with that problem, too. To avoid optical problems many standard lenses, made in the 1950's and 1960's have a focal length closer to 60 mm. than to 50 mm. Nikon introduced in 1962 its standard Nikkor 1.4/50 mm. A modern version of this lens is still available.
Nikon Corporation introduced in 1956 a standard lens for its rangefinder cameras with a focal length of 5 cm. and a maximum aperture of f/1.1. The design of this lens was based on the patent (N0. 565566 - 1930) of Dr. Albrecht Wilhelm Tronnier(*1). To produce such a fast lens for its SLR cameras was very difficult. After the introduction of the SLR Nikkor 1.4/50 mm. Nikon engineers continued to work on an even faster standard lens.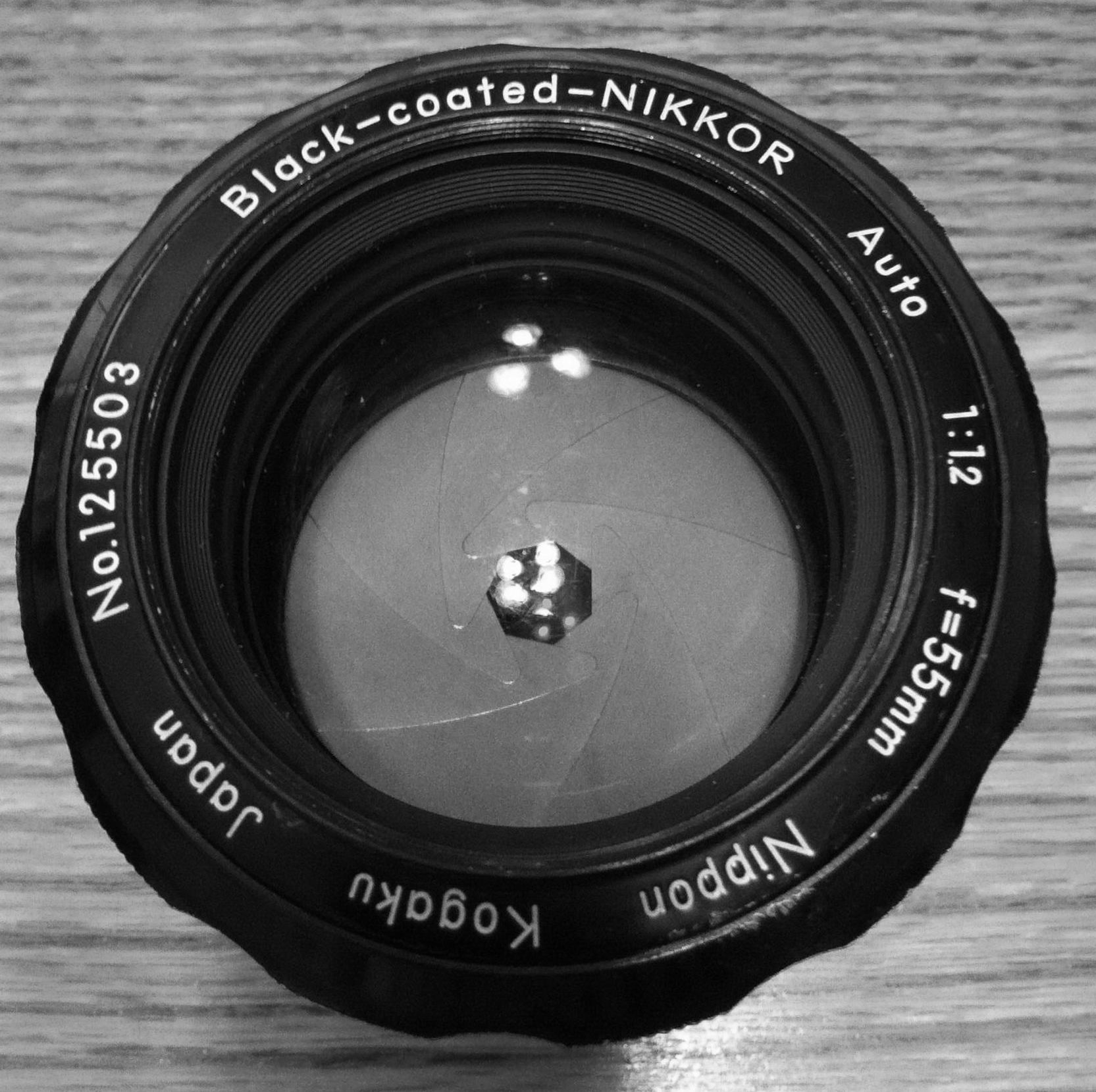 Extremely rare Black-coated-Nikkor Auto 1:1.2/55 mm. No. 125503. (photo courtesy A.T.)
Various prototypes of a fast Nikkor-S 1.2/55 mm. were tested in 1964 and 1965 by its designer, Mr. Yoshiyuki Shimizu. Above a picture of a prototype of the Nikkor-S 1.2/55mm. with a clear engraving of the coating used. The design of this Nikkor was also based on the design of earlier mentioned Dr. Tronnier. He designed in 1932 a relatively fast lens (Schneider Xenon 1.5/5 cm.) with 7 elements in 5 groups. (*2)
The lens (#970103) pictured below has a lens body equaling that of the Nikkor 1.4/5.8 cm. In comparison with that lens the filter ring must have a width of 62 mm. As most Nikkor lenses had/has a standard 52 mm thread, Nikon changed the design in order to keep it in line with the other lenses. Some Japanese sources say that the pictured lens is a dummy made for publicity only. (Yet) nobody knows where it remains.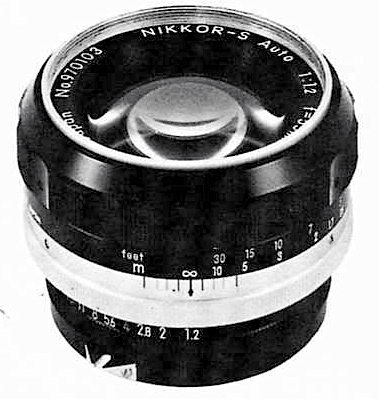 In December 1965 Nikon introduced the first Nikkor-S 1.2/55 mm. with a metal barrel with scalloped grip and a 52 mm. filter thread. As shown above the serial numbers probably started at #970101 and the real production lenses started at #970111. So the lens below, fitted on a contemporary Nikon F is one of the very first!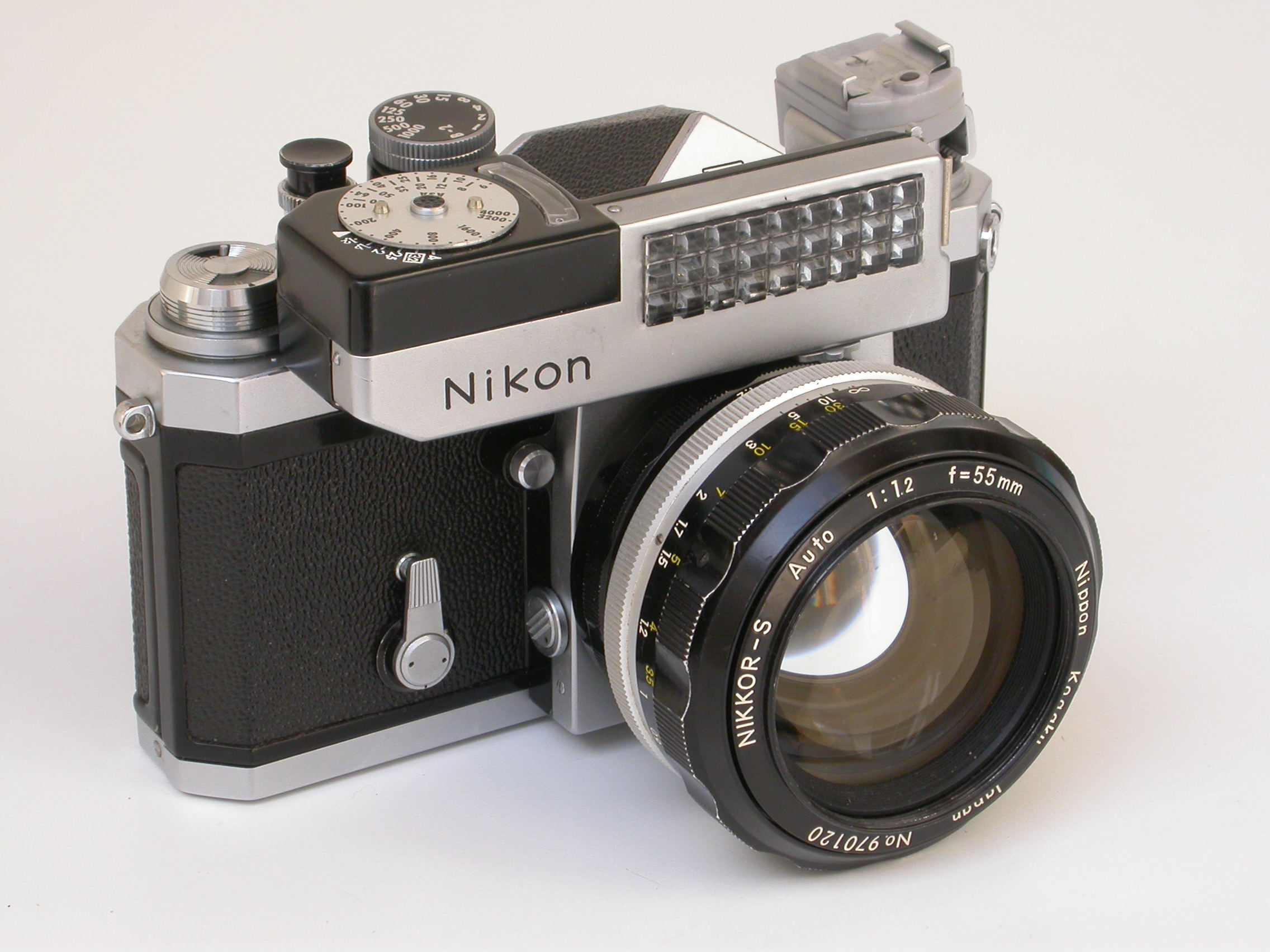 =======
*1. Dr. Albrecht Wilhelm Tronnier has been chief designer (1924 - 1936) of Jos.A. Schneider Optical Works in Bad Kreuznach, Germany. This gifted engineer has over 360 lens designs patented!! Schneider wasn't able to produce an equally fast lens by itself. Nikon worked several years to finally bring this fast lens on the market.
*2. It is important to state here that Nikon was assisted in its lens design and production by 8 German optical engineers in the 1920's and that the German dictator Adolf Hitler gave nearly all patents - owned by Carl Zeiss - to the Japanese government in the framework of the Pact between Germany, Italy and Japan in September 1940.
=======