Nikon D300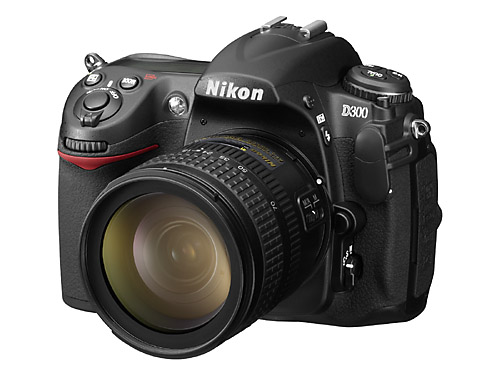 Late 2007 Nikon introduced this very sophisticated digital reflex camera. It has a CMOS-sensor of 13.1 million pixels, of which 12.3 Mp are effective to form razor sharp images. It is a bit funny that Nikon ´went back´ to the CMOS sensor and didn´t use an evolution of the LBCAST sensor it was so proud of. The body, its lay-out and ergonomics are similar to that of the Nikon D-100 and D-200. One exception is the larger screen at the back: its 3 inch TFT-LCD has a staggering 920,000 pixels! New on this camera is the self cleaning sensor, a 51-section AF-module, live view possibility for handheld and tripod photography and an active D-Lighting for optimizing images during shooting. Images can be stored in NEF (12 or 14 bits compressed or uncompressed), TIFF and JPEG (fine, normal and basic). Needless to say that large (CF) memory cards are needed as a TIFF image will ´eat´ 37 Mb!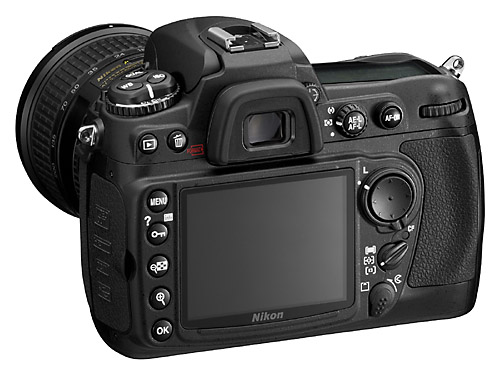 This camera can be used with nearly all Nikkor lenses ever made. Data of older non-AF lenses has to be entered in the camera software, if so aperture will be shown in the view finder! The little built-in flash (GN - 13 at ISO 100) can be used at short distances or as master flash within Nikon´s i-TTL Creative Flash System. An optional multi-power battery pack MB-D10 can be placed under the camera as well as optional GSM equipment (NMEA-0183 - version 2.01 & 3.10) and a wireless WT-4/4A. The camera has connectors for hi-speed USB, video (PAL or NTSC), HDMI (high definition multimedia interface) and (via USB) a PictBridge printer.
More specifications can be found in the matrix in this chapter.
In October 2008 Nikon issued a firmware upgrade (1.10) for Windows and Macintosh. When buying a second hand camera check the firmware!