Nikon D50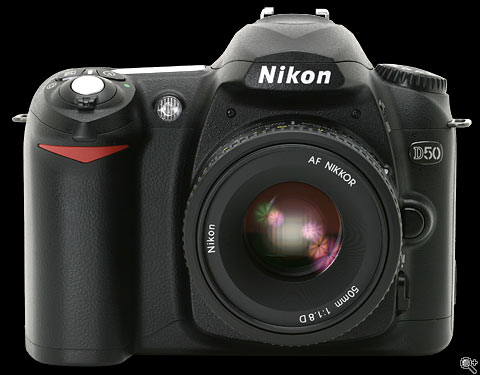 This nice and cute digital camera - as a new entry-level digital SLR - was introduced in June 2005. The camera, available in black and white, was/is mainly sold in a kit with a new Zoom-Nikkor 3.5-5.6/18-55 mm. and 55-200 mm. zoom lens. Both lenses are AF-S lenses with built-in AF-motor and G-bayonet, thus not usable on older cameras which require an aperture ring. Both lenses are designed for the DX frames (equivalent to the half frame film format) and they have some elements of ED glass, which may imply that they have Nikon quality.
The D50 - available in silver or black finish - has the well-known Sony DX-sensor with 6.1 effective megapixels. ISO range is similar to the other amateur digireflex cameras: 200-1600. In addition to the P, S, A, M setting 7 photographic motives (aka digital vari-program) can be chosen. New in this range is the setting ´children´! Like in ´portrait´ shutter speed and aperture but also white balance is set automatically. Via ´PictBridge´ connection the camera can be connected to a printer and all or selected images can be printed without the assistance of a PC. The camera comes with the PictureProject software (version 1.5 or later) for image management or processing on a PC or Macintosh. It is a pity that extra money has to be spend for Nikon Capture 4 software, with which the NEF-images (NEF = Nikon Electronic File) can be adjusted. Nikon makes it possible to shoot pictures in RAW, but with the software supplied with the camera those images can´t be managed. Strange policy of Nikon Corporation.
See for more info in the Matrix.