Nikon D5500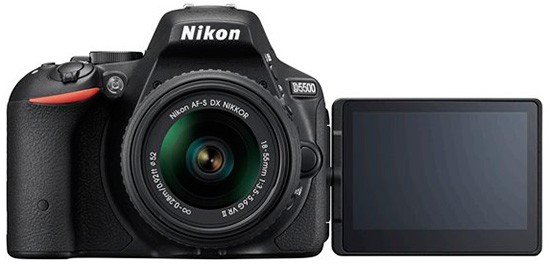 "The D5500 is the world's smallest, lightest, and slimmest digital SLR camera". This statement was used by Nikon Corporation at the introduction of this digital SLR early January 2015. Nikon added that this is in respect of cameras with a vari-angle monitor. With its 470 gram (battery and memory card included) it is nearly as heavy/light as the Nikon D3100 and D3300. Compared to the other cameras in the Nikon D5xxx-series (530-780 gram) this camera is rather light, indeed. Whether such a light camera will give a stable grip while shooting is up to the individual user.
The camera, with a CMOS DX-format sensor with 24,2 Mp., is packed with modern features, like a touch screen equipped vari-angle 3 inch/1,03 K-dots TFT monitor, face priority, wifi-connection, live view, HD-movie + built-in stereo microphone. Most other features are identical to those of the Nikon D5300, although the ISO setting can go as high as 25,600!
The monitor has a touch screen where one of eight frequently used camera settings (Focus-point selection, AF-area mode, Aperture, ISO sensitivity, etc.) can be assigned to this function by simply tapping or sliding a finger across the monitor while looking through the viewfinder. Furthermore the D5500 is the first Nikon DX-format model to offer the Vignette Control function, which processes images to reduce the drop in brightness at the edges of frames.
For more information have a look at the matrix.