Rangefinder cameras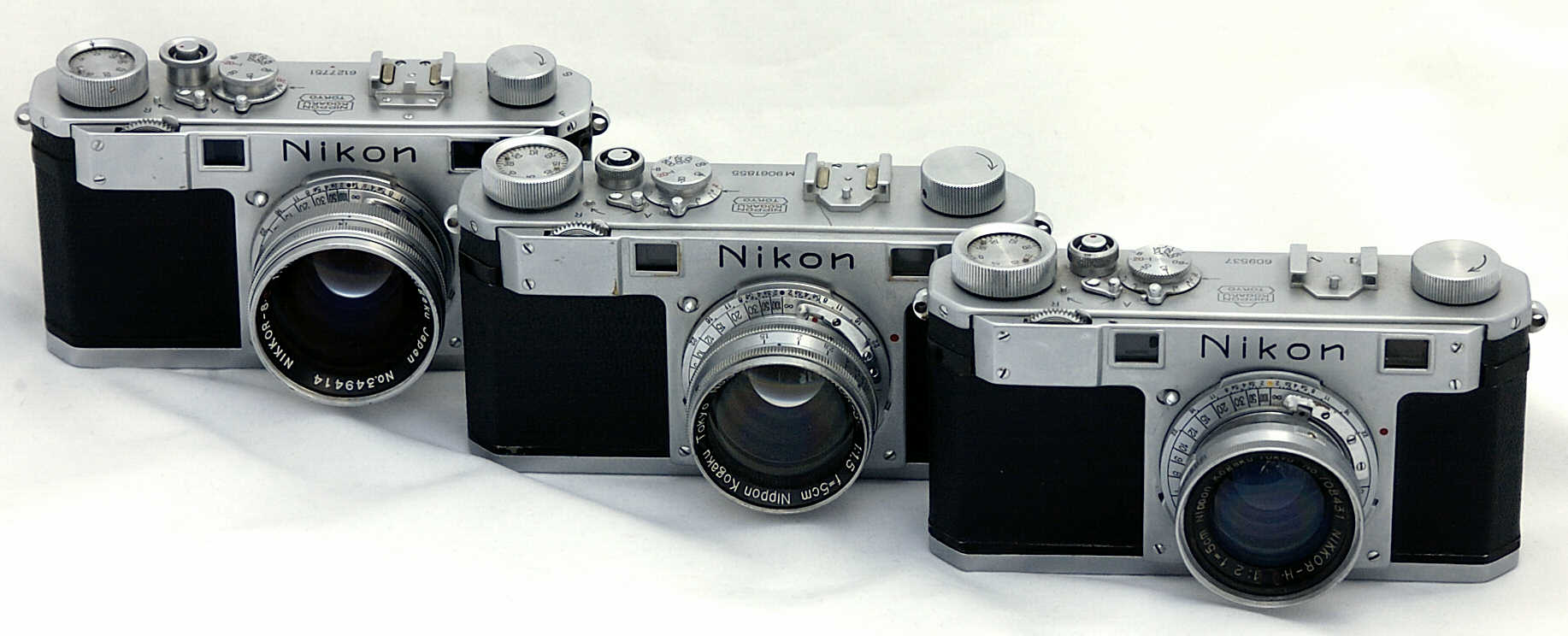 From left: Nikon S, Nikon M & Nikon I
Introduction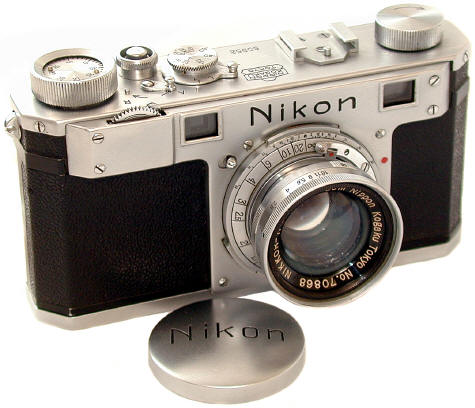 Nikon I
Looking askance at cameras produced by Canon, Leitz and Contax, Nikon introduced early 1948 its first rangefinder camera: the Nikon Camera, nowadays known as Nikon I. This rangefinder camera has an image frame size of 32x24 mm., later referred to as 'Nippon' size*. Leitz, Canon, Contax and many others used the 35 mm. cinefilm at a frame size of 36x24 mm. aka 'Leica' size. Nikon tried with this marketing gag to attract photographers, as the Nippon size made it possible to take at least 40 images/frames on a standard 35mm. film length and its proportions would correspond better to the paper sizes. The camera wasn't, however, a success. On the domestic market in Japan the camera was rather expensive, for the export American occupation army leaders were reluctant to promote this camera as it didn't fit the standard Kodak slide format. And......Nikon had to beat the already existing Canon, Leica, Contax, Argus, Minolta, FED and other rangefinder cameras. Many professional photographers were still using - what we call now - large format cameras. After some 750 cameras Nikon tried to make a concession by introducing (early 1950) the Nikon M, having a frame size of 34x24 mm. Even the Nikon S, which followed the Nikon M in 1951, had, despite what many publicists have written, that same frame size. BTW: Minolta followed Nikon as well by introducing in 1953 a camera with the 34x24 mm. frame size! In fact it is impossible to make pictures with those Nikon cameras at a full Leica frame size of 36x24 mm. as both shutter drums in all 3 models give space to a 34 mm. frame only. Therefore the entire camera body had to be modified. Nikon did so and introduced by the end of 1954 the Nikon S2.

above left: Leica IIIa, center: Nikon S, right: Contax II
* Some other Japanese camera manufacturers, like Chiyoda Kogaku (later known as Minolta), Tokyo Kogaku (aka Topcon) and Takachiho Seisakusho (aka Olympus) used the 'Nippon' size as well. In Europe two Hungarian camera manufacturers used the Nippon size (for the Mometta and Gamma Duflex cameras). The German Apparate und Kamerabau GmbH also made a camera (AkArette) using the Nippon size.
BTW: it is possible to get 40 images on a standard film roll with the Nikon I only, as the Nikon M and Nikon S have a film advance system where the take-up spool advances the film 36 mm., which can be controlled by the wider space between two negatives on the film.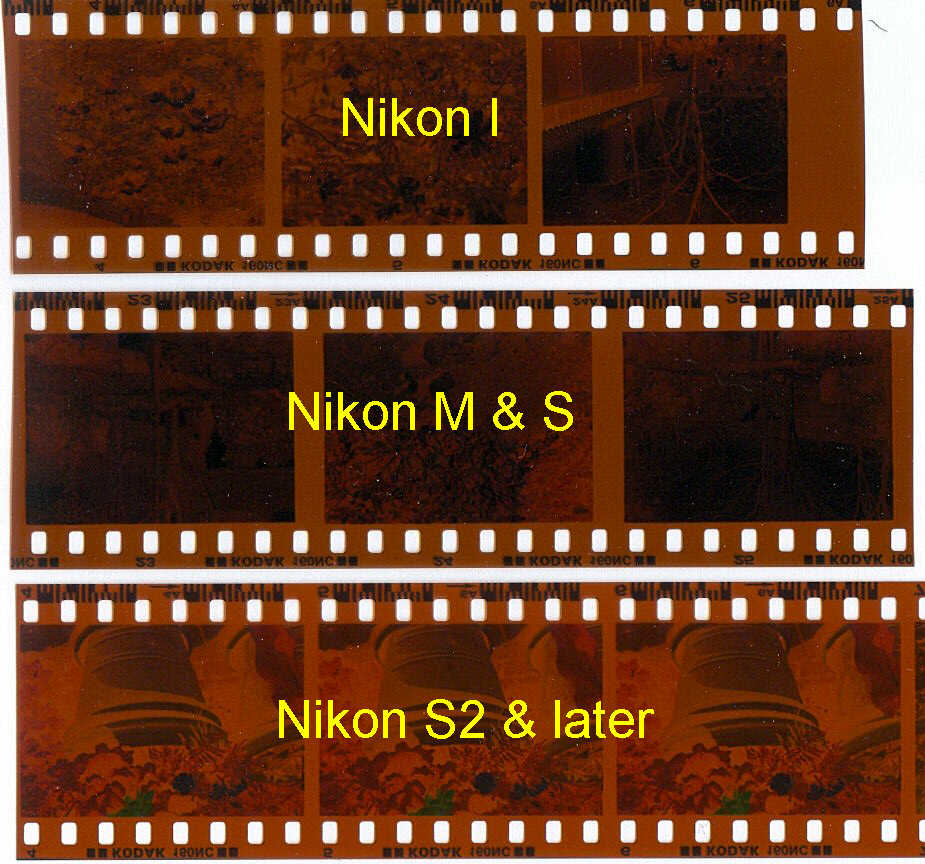 A matrix with the most important technical specifications of all Nikon rangefinder cameras you may find here
For a matrix overview of Nikkor lenses for Nikon rangefinder cameras please see this section.
A review of some RF lenses can be found here.
Details about those viewfinders can be found here.
---
Nikon I, M & S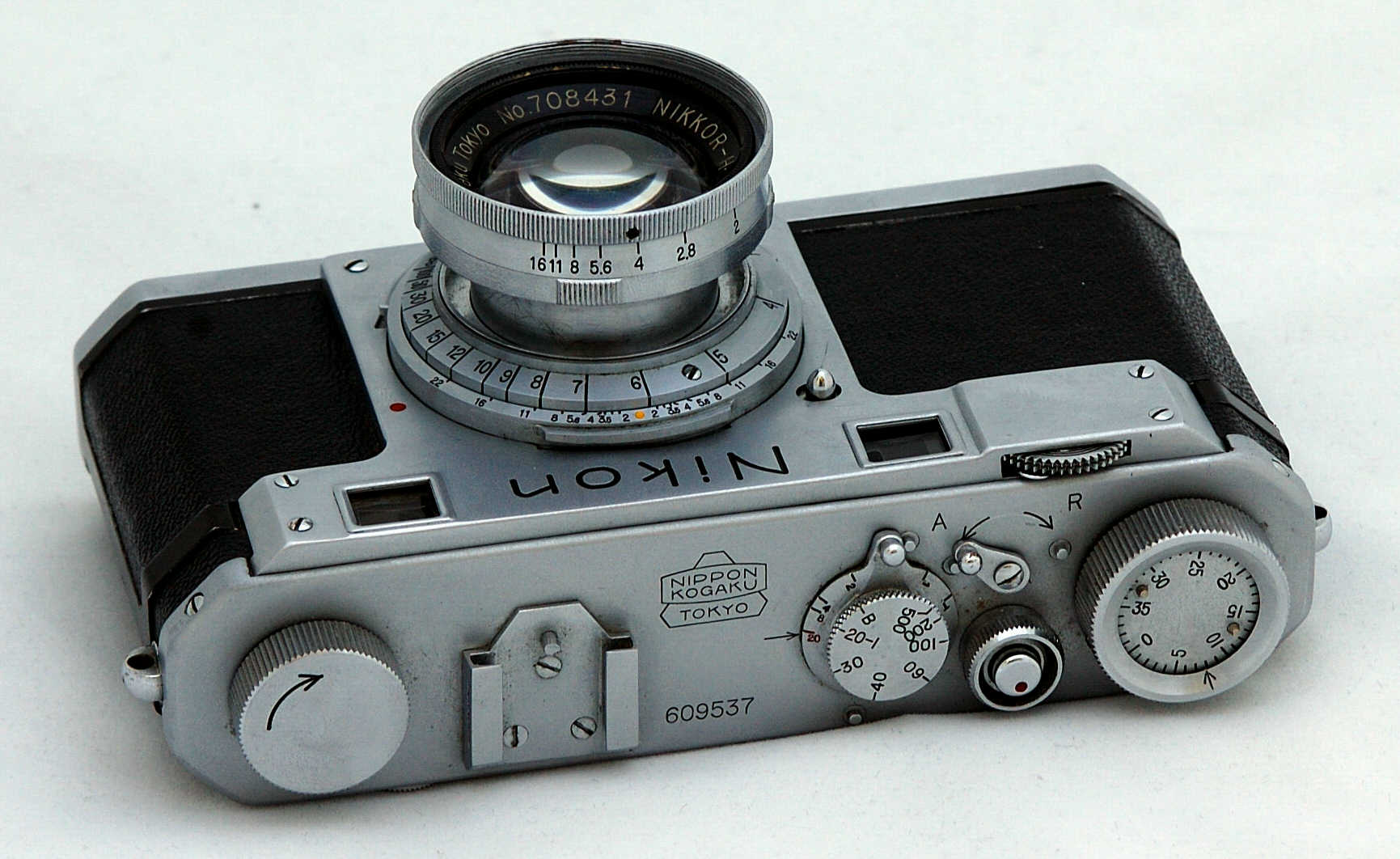 Nikon I with collapsible Nikkor 2/5 cm.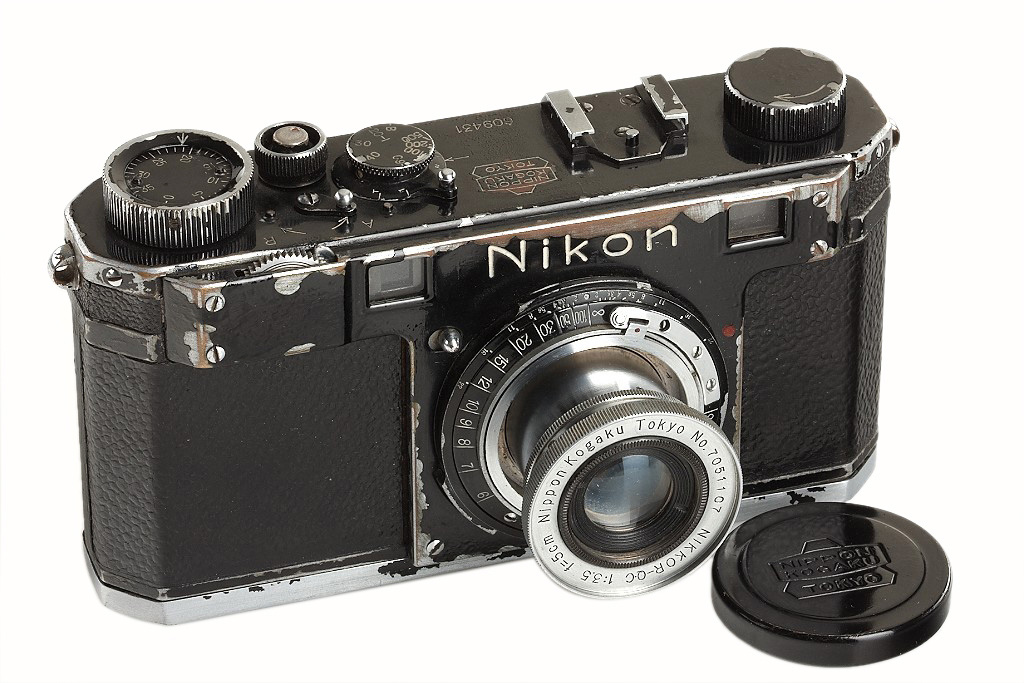 The one and only (fake?) black Nikon I (#609431)!!
(courtesy Westlicht-Auction)
All rangefinder cameras produced by Nikon are in fact based on two models. The first forms the basis of the Nikon I, Nikon M and Nikon S. The design, lay out of the body and technical specifications are - apart from some minor modifications - identical. Many parts are interchangeable, although collectors hate to do so. All cameras have a serial number starting with 609, referring to the date (September 1946) when the camera was designed. After reaching # 6099999 numbering continues with an 8-digit, which was a bit too large. After some 1230 cameras with an 8-digit, Nikon's serial numbering switched to 610xxxx, 611xxxx and 612xxxx. The last serial number might be around 61295xx, which might imply that of these 3 models nearly 40,000 were sold.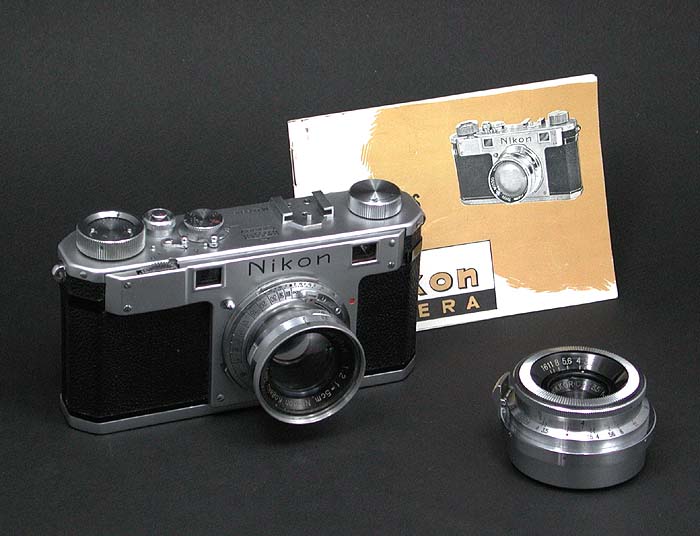 Nikon M without flash synchro-contacts + standard (2/5cm) & wide-angle (3,5/3,5cm) Nikkor lenses + manual
Nikon I has #6091 - 609759; Nikon M #609760 - 6092349; Nikon MS #6092350 - 6094125; Nikon S #6094147 - 60911230, 6100001 - 6129560 (Nikon MS = collector's jargon for Nikon M with flash contacts like on the Nikon S)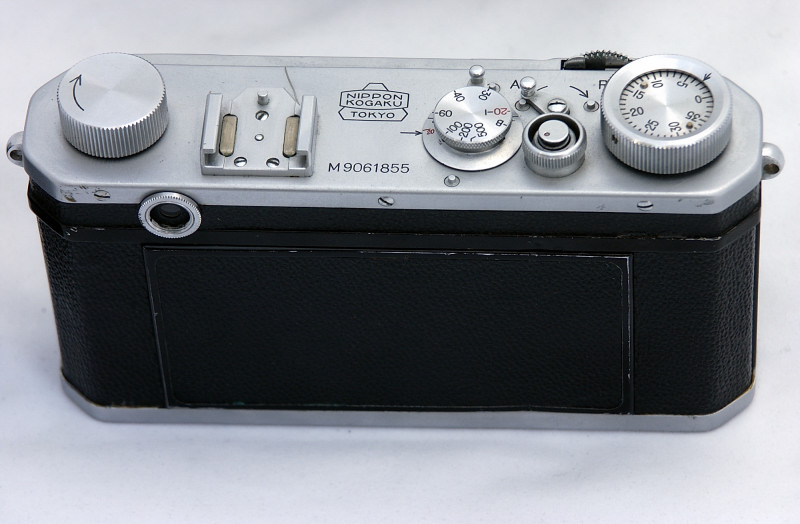 Less than 30 Nikon M cameras are known having an odd mis-engraving: M906xxxx !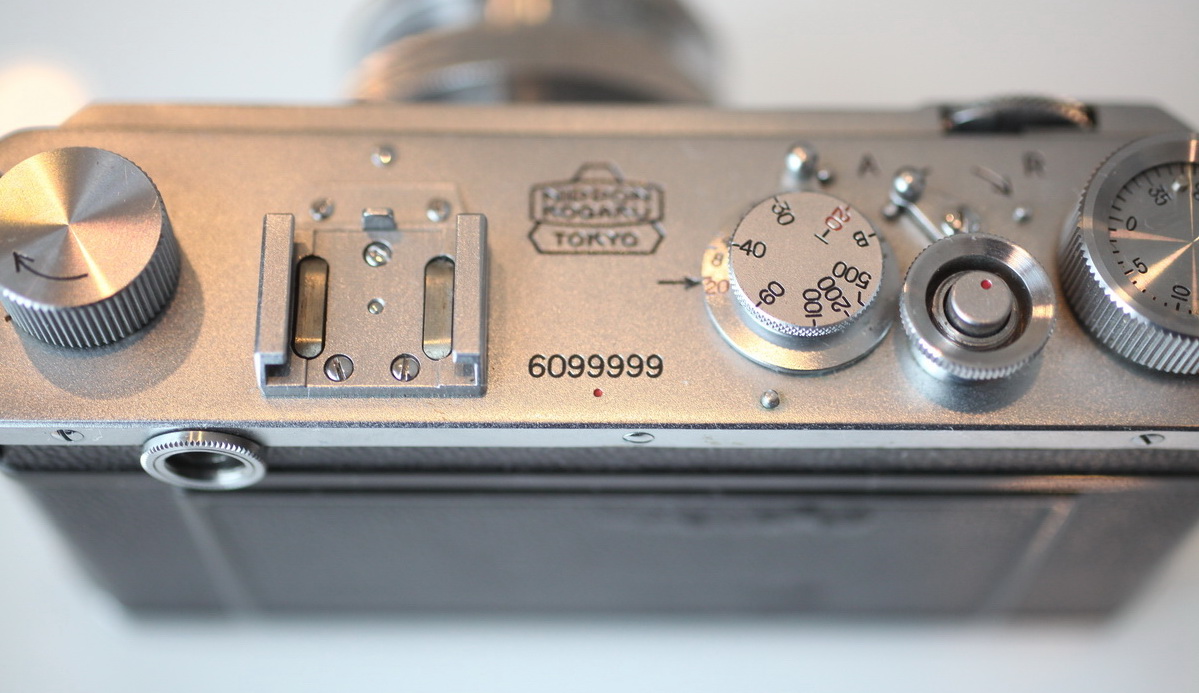 The very last 609xxxx 7-digit Nikon S ! (courtesy A.T.)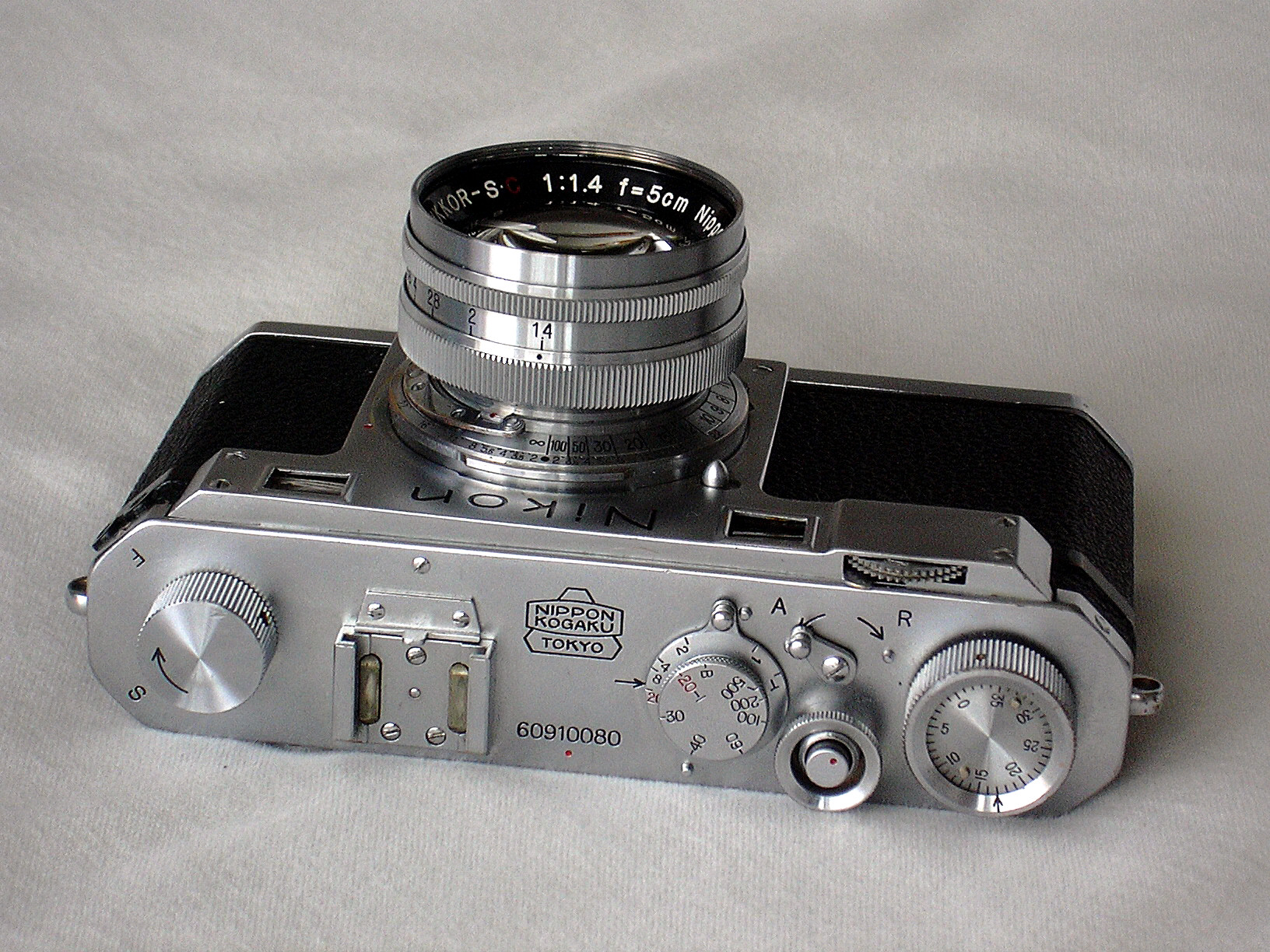 Nikon S with early 8-digit serial number + contemporary 5cm lens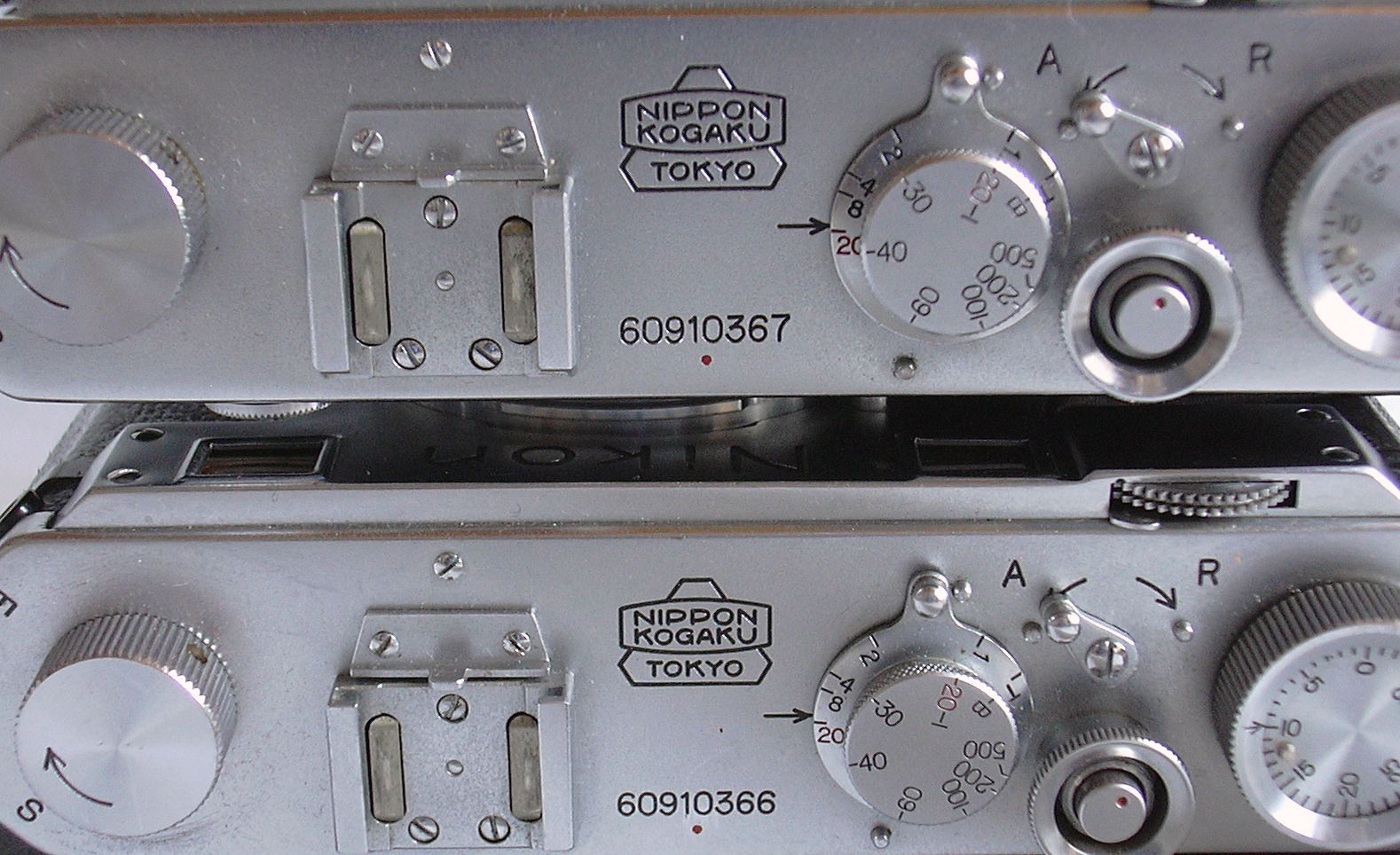 Two Nikon S cameras with consecutive 8-digit serial numbers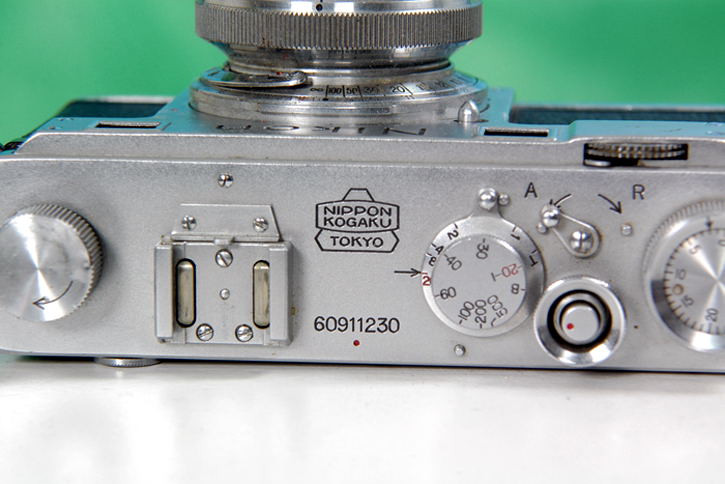 Nikon S with highest recorded 8-digit (courtesy John Teng)

There has been a second series of oddly numbered 8-digit Nikon S cameras spotted: the very rare camera with an 8-digit serial number ending with (a later added) 1. Nobody knows (yet) why these very few cameras were numbered this way.
Most of these models have various engravings as they were produced during Japan's occupation. 'made in occupied japan' can be found on most bodies, lenses and accessories, as well as 'EP', indicating an item sold via American military shops in Japan. Only the Nikon M has the letter 'M' preceding its serial number.
Important note: Be aware that all models should have their serial number engraved in the left upper corner of the inside of its back, too. Backs with an other number may not fit, since all cameras were made and adjusted by hand!
All models have a horizontal cloth shutter (1 - 1/500 sec.), which needs attention. The range finder system - with automatic parallax adjustment - is quite simple but accurate. It's also easy to adjust.
(After removing the little stop in front of the accessory shoe one can find a small screw underneath to adjust the range finder horizontally; after removing the front bezel at the left side of the right window - seen from the front - one find a second screw for vertical adjustments. Have a look at the repair and maintenance page in this site for more details).
For nowadays standards the camera isn't a quick camera. Of course everything is mechanical and none of the models have internal metering or so. Only the last production batch of the Nikon M and Nikon S have flash connectors. The shoe on top of all Nikon rangefinder cameras is an accessory shoe as it has no electrical contacts for a flash. Photographers had to wait until the Nikon F4 and later Nikkormat/Nikomat models to find a genuine flash shoe on top of the camera body or view finder. All older cameras had to make use of separate flash connectors, although Nikon introduced its own bulb flashes already in July 1951! Film loading is rather easy as the back and the bottom - one integral part - slides off the camera body after turning the two keys at the bottom.
A rather modern feature of the Nikon rangefinder cameras is the possibility to make double (or more) pictures on one frame. If you turn the film advance lever clockwise you'll transport the film one frame. While doing so you will see that the shutter speed selector is turning counterclockwise, cocking the shutter. If you turn that shutter speed selector by hand counterclockwise without touching the film advance lever you are able to make a second etc. image on the same frame. Even modern digital reflex cameras don't have that feature.
Changing lenses isn't difficult as long as you do that with a lens focused at infinity. Although this camera was build in rather huge quantities (almost at a conveyor belt) there are various differences to be found on the camera bodies. If we look at the aperture scale on the bayonet mount the older models have a black dot in the middle and at both sides aperture 2 starts followed by 3.5 - 4 - 5.6 - 8 - 11 - 22. On some models the aperture range starts at the left side (seen from the back) with 1.4 followed by a red R (indicating the infrared infinity focus) and 4 (left) or 2.8 (right) etc. down to 22. It is not clear when Nikon made these changes, as the two 8-digit Nikon S's with consecutive serial numbers shown above do have different aperture scales (see below). It is possible that Nikon made these changes in the 8-digit series from production order 6BF15 onward, which started around #60910120.
The Nikon SP, S3 and later models have a lens mount with - at both sides of the black dot - an aperture line starting with 1.4.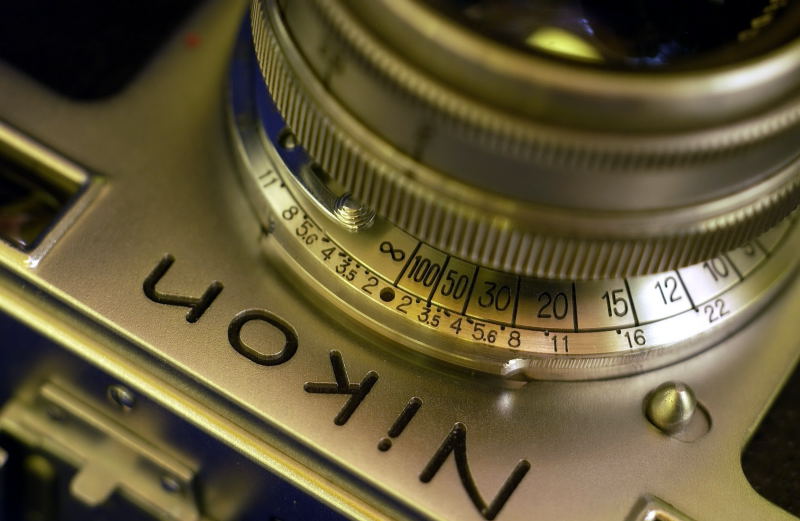 Nikon S with aperture scale starting with 2.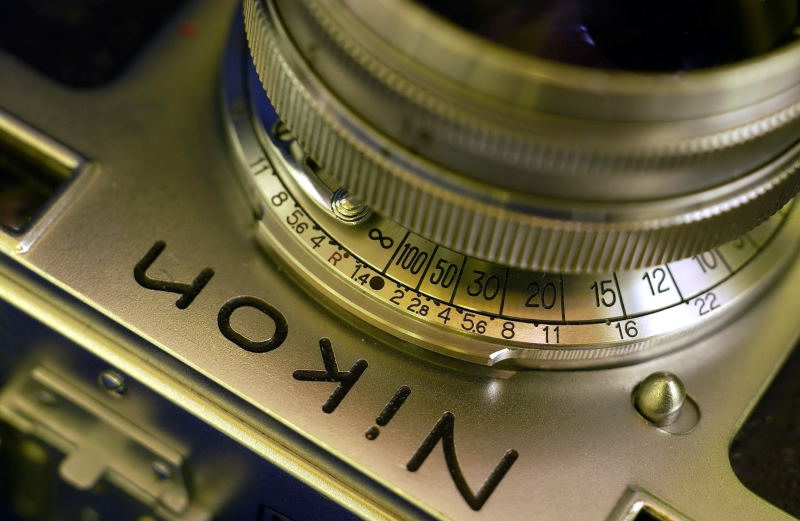 Nikon S with aperture scale staring with 1.4.
Note: Many cameras have problems with their cloth shutter, as they dried out or have one or more holes because sunlight made the lens a burning glass. It is up to the owner to replace the curtains or to leave the camera in original shape.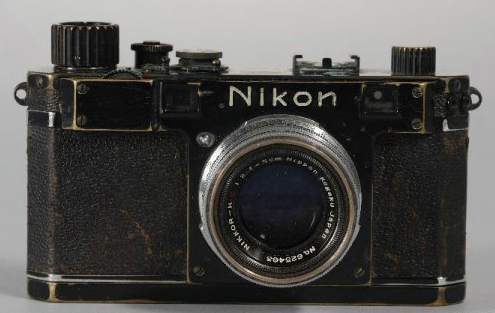 Finally a rare black Nikon S modified on request by Life Magazine photographers.
---
Nikon S2, S3, S4 & SP
To comply with the Leica size the entire camera had to be redesigned.
The second model was the base for the Nikon S2, Nikon S3, Nikon S4 and the most sophisticated and thus most wanted Nikon SP. All have (almost) the 36x24 mm. frame size. A limited number of the Nikon S3 is equipped with a half frame size (real size = 17.5 x 24 mm.) film gate. The back of the camera still forms one integral part with the bottom.
Known serial numbering of the Nikon cameras mentioned in this chapter is: Nikon S2: #6135001-6198375; Nikon SP: #6200001-6232150; Nikon S3: #6300001-6318306; Nikon S3 Olympic: #6320001-6322579; Nikon S3M: #6600001-6600223; Nikon S4: #6500001-6505928; Nikon S3 Millennium: #304001-304xxx; Nikon SP 2005 Limited Edition: #SP0001-2500.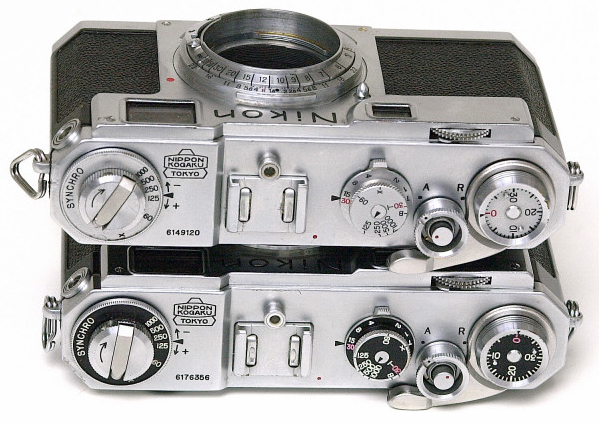 Nikon S2 with chrome and black dials.
All models have a film advance lever, a more common shutter speed indicator (shutter speeds 1 - 1/1000 sec.), a quicker rewind lever, one single flash connector, accessory shoe (which had to move to the center to give space to the higher viewfinder), just one key for opening the back/bottom and an improved range finder. They also have a horizontal traveling cloth shutter, although models S3 and SP exist with a titanium foil shutter. The S3 and SP have a self-timer as well.
The SP model is still the most wanted as it is the most sophisticated model; especially the range finder lay out is a feast for the eye. It also has a single shutter-speed dial and an auto-return frame counter.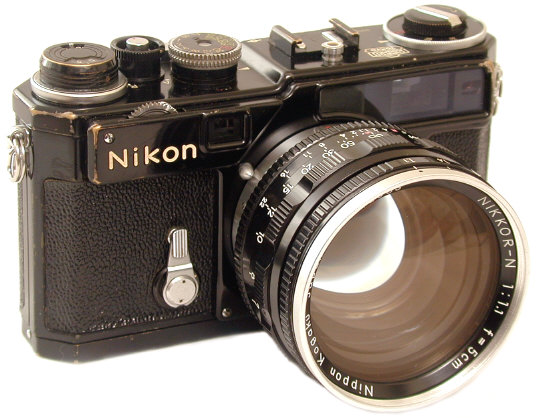 A very attractive combo: Black Nikon SP + fast 1,1/5cm. Nikkor
A very late and rare S2 (Nikon S2E), the entire S3 and SP range can be fitted with a motor drive (S36 and S250). These motor drives or the camera body may have to be modified to fit.
The rangefinders of these models are not interchangeable.
Nikon S3 with Nikkor-O 4/2.1 cm. + special viewfinder
Most models - except the Nikon M and Nikon S4 - were available in chrome and black finish. To find a black Nikon I - however - will be extremely difficult: just one camera (#609431) has been produced and all collectors know where it is. Black cameras are very much wanted, therefore collectors should pay attention to fake black bodies. Apart from the Nikon S2 all models have a viewfinder with various frames (Nikon SP has 6!) corresponding to the viewing angle of the lens in use. The Nikon S2 has two (technically identical) versions; the differences can be found on the top plate where the various dials are either in chrome or in black; the latter improving readability of the dials.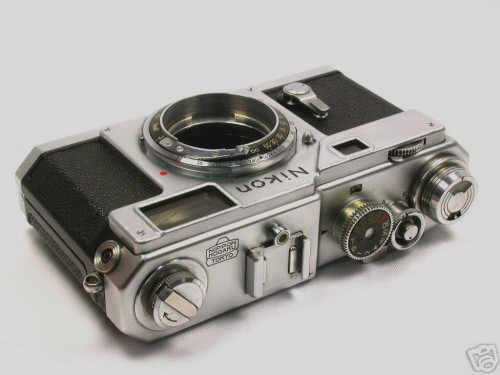 Many collectors are looking for oddly numbered cameras. Here a Nikon S3 with no serial number!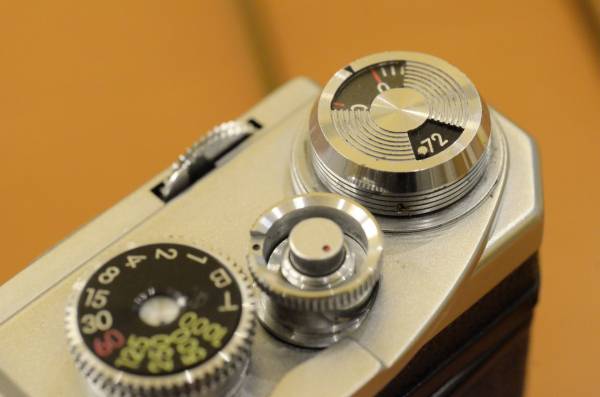 A very rare (only 195 ever made!) Nikon S3 is the Nikon S3M, introduced in April 1960. This camera is able to shoot 72 pictures on a standard 35 mm. film. The film chamber and the viewfinder are modified for the half-frame (18 x 24 mm.) pictures. The counter on the top has been modified, too, as you can see above. A frame in the viewfinder shows the viewing angles of a 35, 50 and 105 mm. lens. The camera came with a specially made Motor Drive S72. Serial numbers start at 6600001.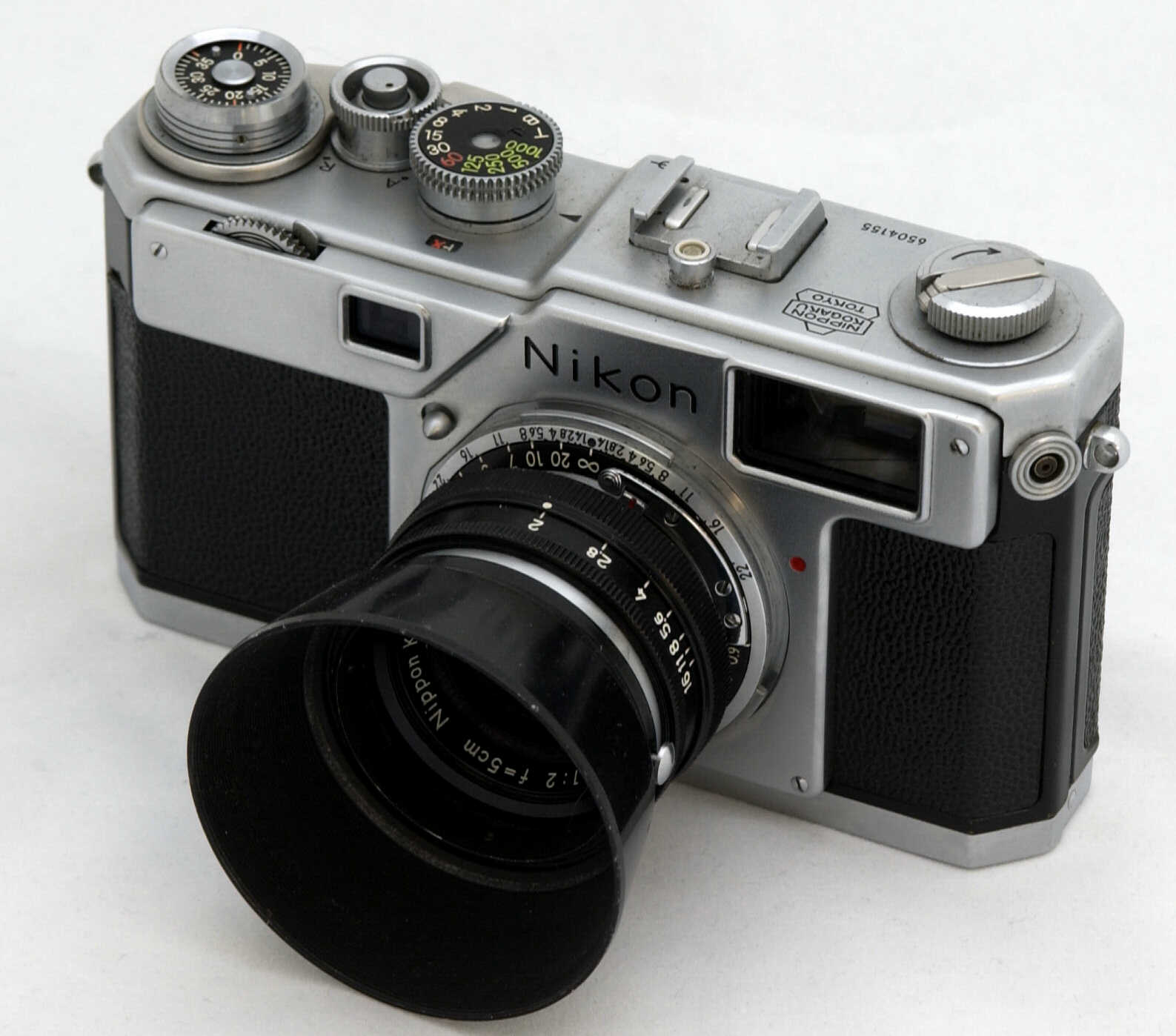 Nikon S4 with contemporary black Nikkor 2/5 cm.
All models have the so called S-lens mount. Almost all lenses, produced for these cameras have an external mount, except some standard Nikkors and the very rare Stereo-Nikkor.
Tele-lenses (longer than 135mm.) can only be used via an additional reflex housing. Macro-photography is possible with close-up lenses and special viewfinders or a bellows. A special lens has been designed for use on a bellows only.
Nearly three years after the production of the Nikon S3 was discontinued Nikon introduced in 1964 - on special request of Japanese photographers - a batch of 2,000 cameras, known now as Nikon S3 Olympic. Only black bodied Nikon S3 Olympic are known.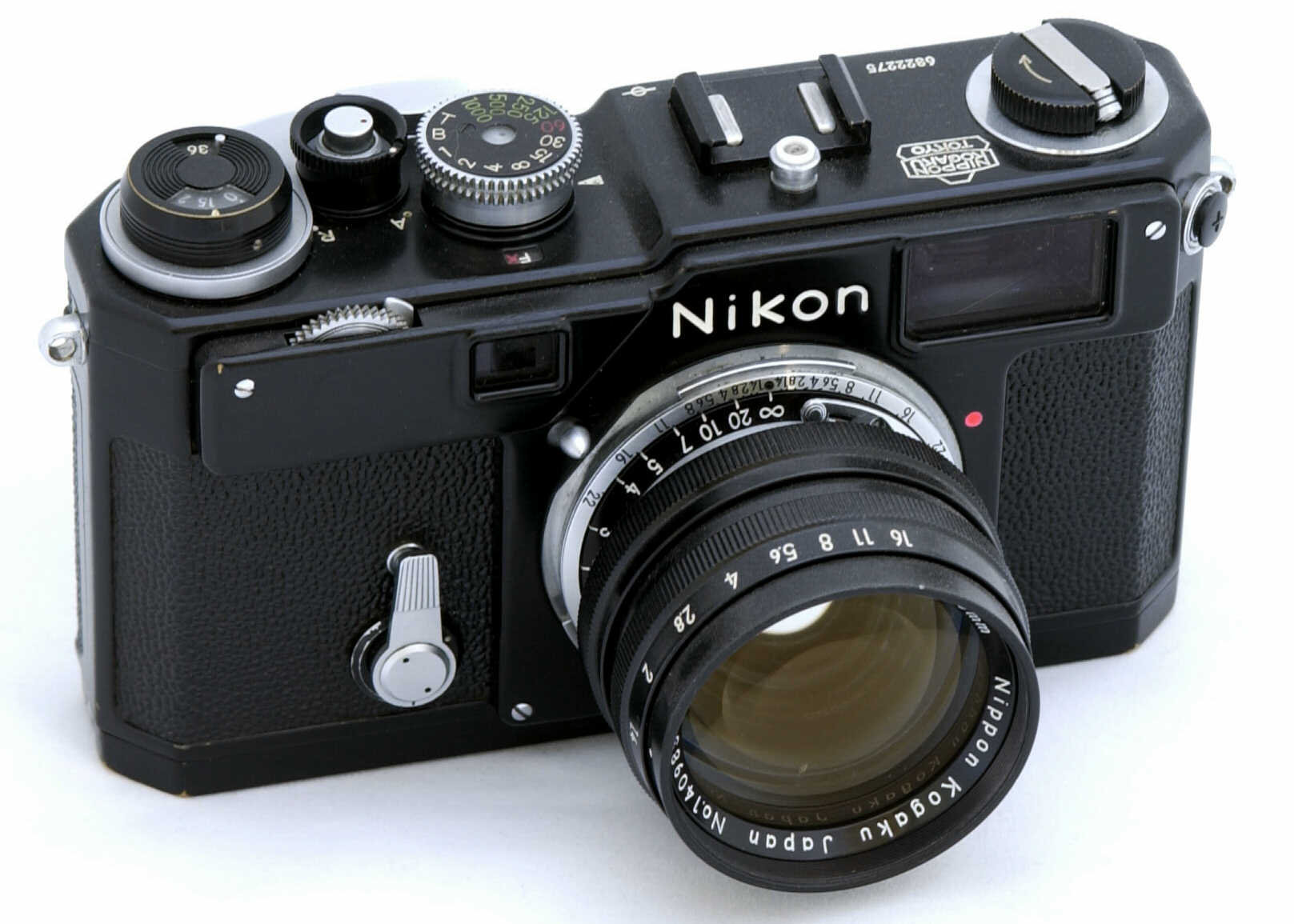 Nikon S3 'Olympic' with Nikkor-S 1.4/50 mm.
For all Nikon rangefinder cameras mentioned hereto Nikon provided clip-on viewfinders with viewing angles of the corresponding lenses. These viewfinders can be placed in the accessory shoe of a Nikon rangefinder camera body. Most of the viewfinders have parallax correction. Details about those viewfinders can be found here.
---
Nikon L & Nikon V
Nikon tried to develop around 1950 a range finder camera with the Leica thread mount (39 mm.), but decided not to put it on the market. Only a few did reach the market. Nikon L with # 1 (see picture) can be seen in the JCII museum in Tokyo, number 4 has been exhibited a while in the Westlicht Museum in Vienna, Austria. In both museums more prototypes can be found.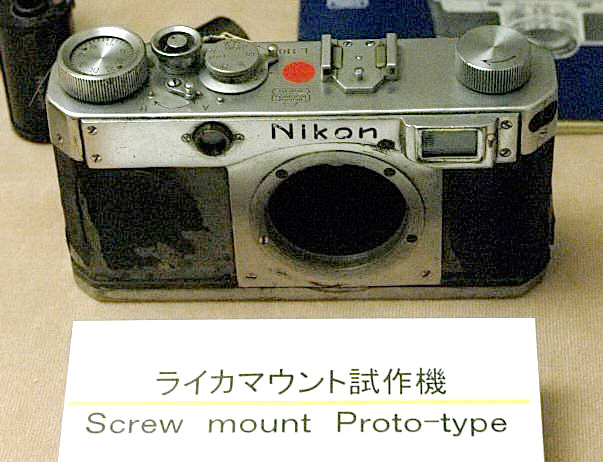 Nikon L0001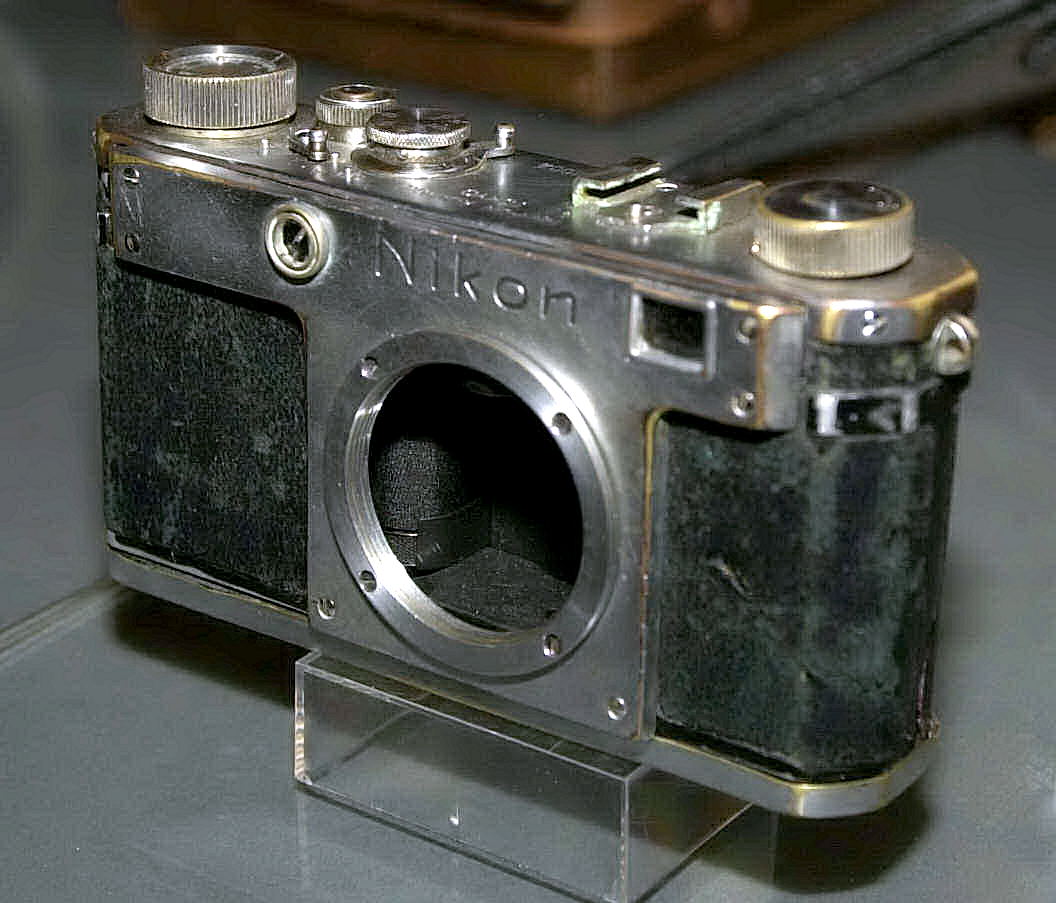 Nikon L0004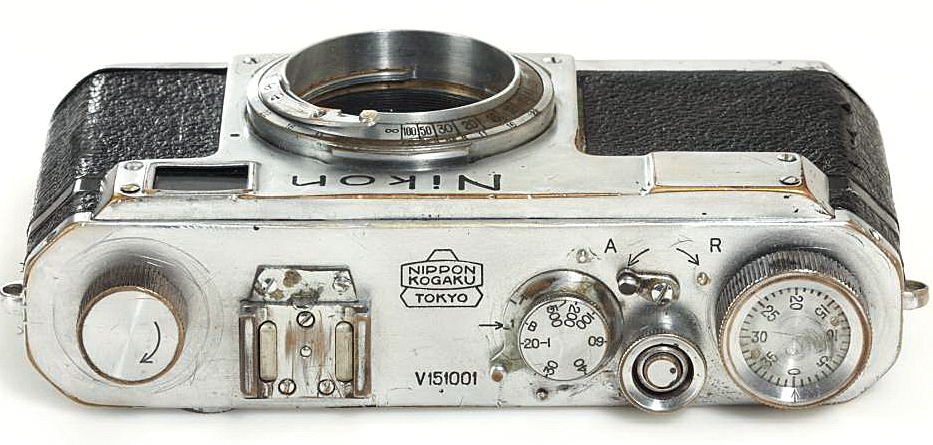 (picture courtesy CS)
Another extremely rare Nikon rangefinder camera is the Nikon V. It has the body of a Nikon S but without flash contacts and without a rangefinder (just one window) and no focusing wheel. More details are unknown to the author. The serial numbers (V151001 etc.), that are also engraved in the upper left corner of the inside of the back, has no relations with the known serial numbers of the Nikon rangefinder cameras.
---
Modern clones
In 2000 and 2005 Nikon respectively introduced a special edition of the chrome Nikon S3 + standard Nikkor 1.4/5cm. (see below) and a black Nikon SP with a Nikkor 1.8/3,5cm. Both cameras have a better finish than their 'ancestors', the lenses have a better (= modern) coating. It is stated that these 'retro' models are build on the basis of the original drawings. Both cameras were sold at a relatively high subscription price. It is easy to determine these cameras by their serial numbers, which are preceded by the - either - S3 or SP.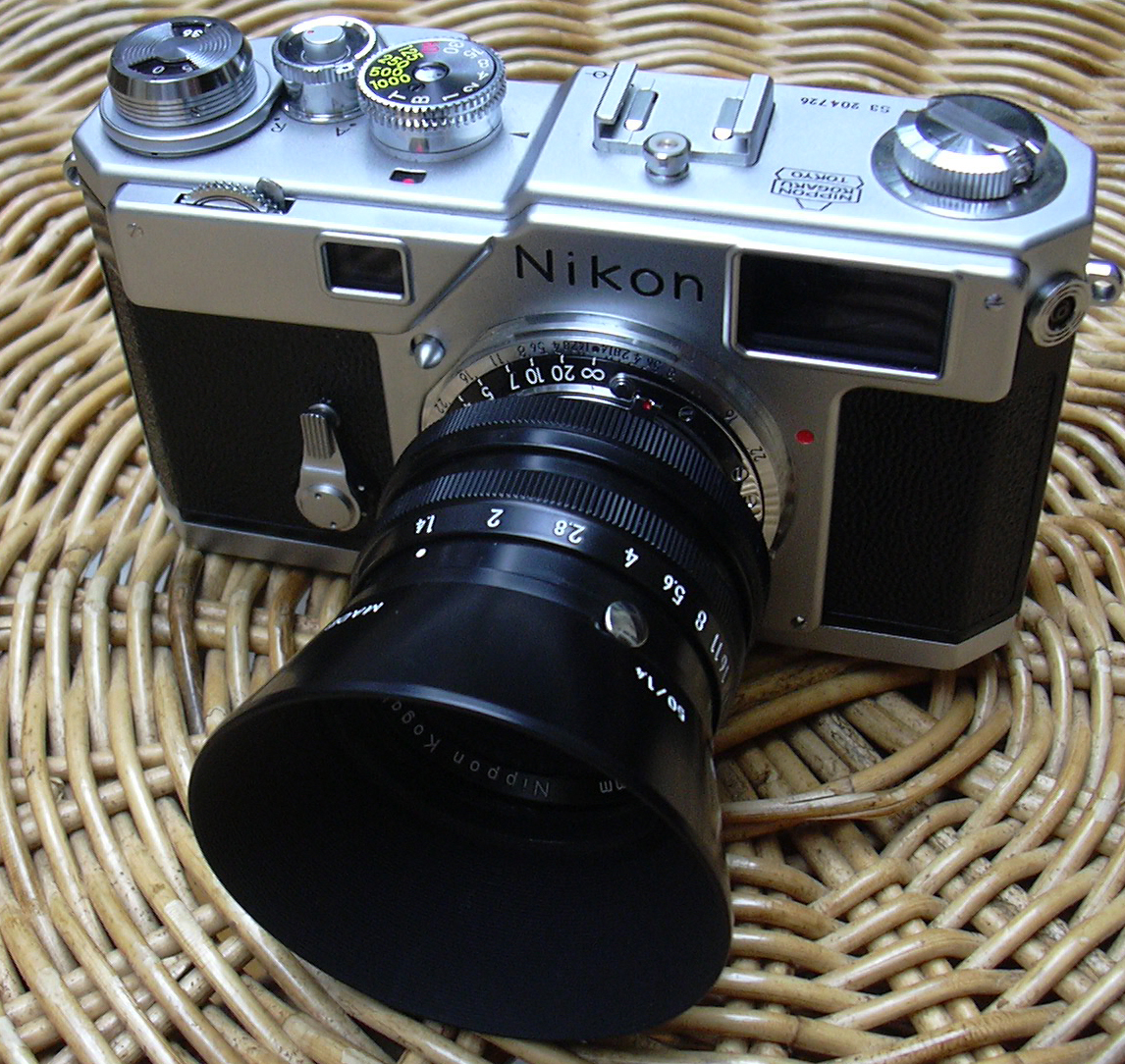 For collectors the black versions of all models - presented here - are the most interesting cameras. For taking pictures the black dial version of the Nikon S2 is to be preferred. It is an easy to use camera with a 1:1 view finder and (still) easy to find as more than 55,000 cameras were build. The SP has an estimated production of 22,000 cameras, the S3 some 14,000, the S4 a mere 5,800 and the S3M is the rarest of all with a total of 195 cameras.