Nikon Coolpix cameras
At the 1997 PMA exhibition in Las Vegas (USA) Nikon introduced its first 2 digital compact cameras: the Coolpix 100 and the Coolpix 300 (see picture above).
Matrix of all Nikon Coolpix cameras (CP 100 - CP SQ) here
---
Coolpix 100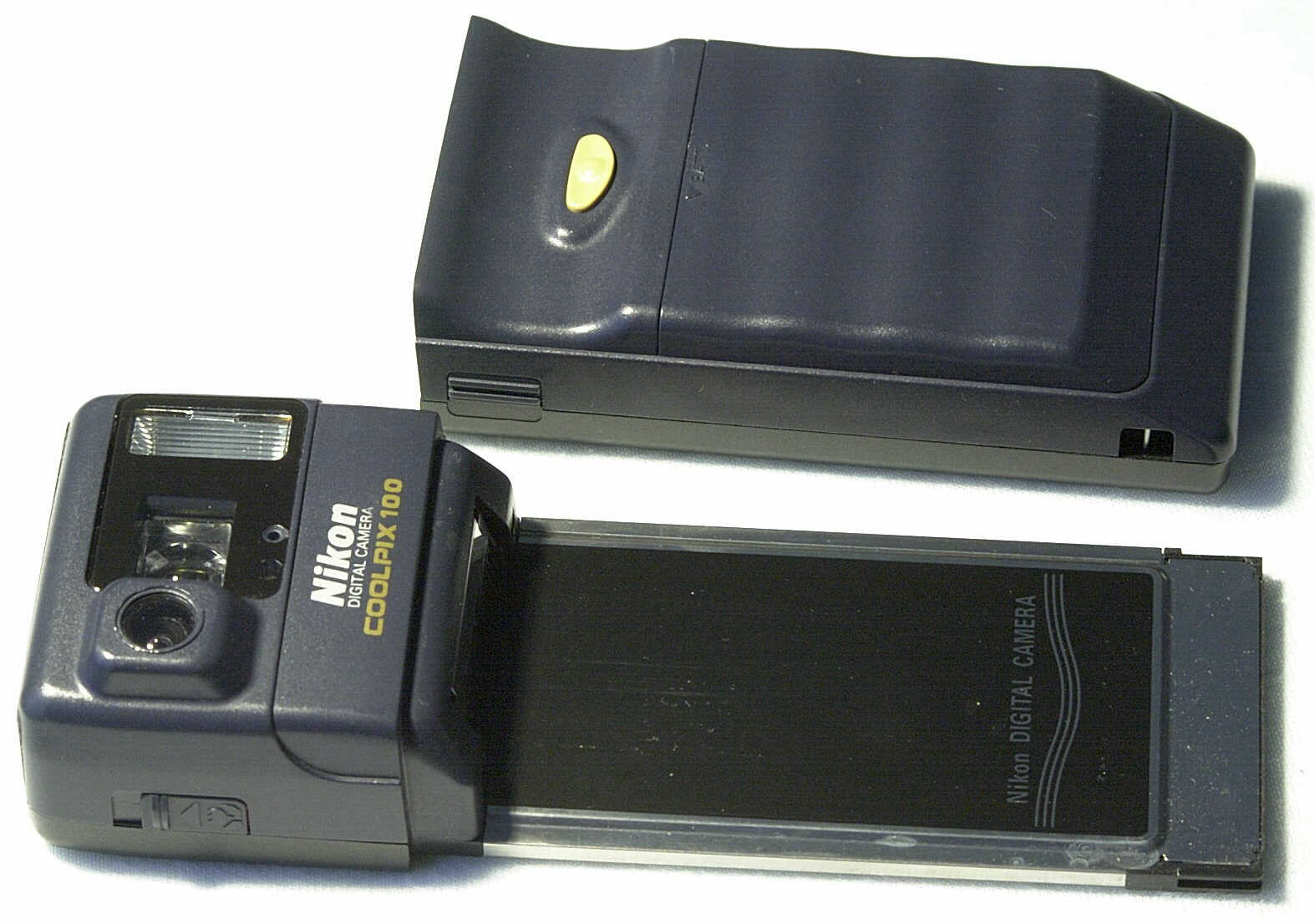 This fancy model, made (by ANAM Industries?) in South-Korea, (but the design equals that of the American Dycam Model 1 from the early 1990's!) has a 1/3-inch scan CCD-sensor with 330,000 effective square pixels. The lens is a fix focus 4/6.2mm. (35mm. equivalent: 45 mm.) with a focus range from 14 cm. - infinity. A separate and clear Albada* viewfinder with parallax indicators makes focusing easy. Internal software gets along well with Windows 3.1 and higher, although there are no exif data available in later imaging software. ISO is fixed at 100. A separate CCD is used for TTL matrix metering with programmed auto exposure. A charge-coupled electronic shutter runs from 1/45 - 1/10.000 sec.!!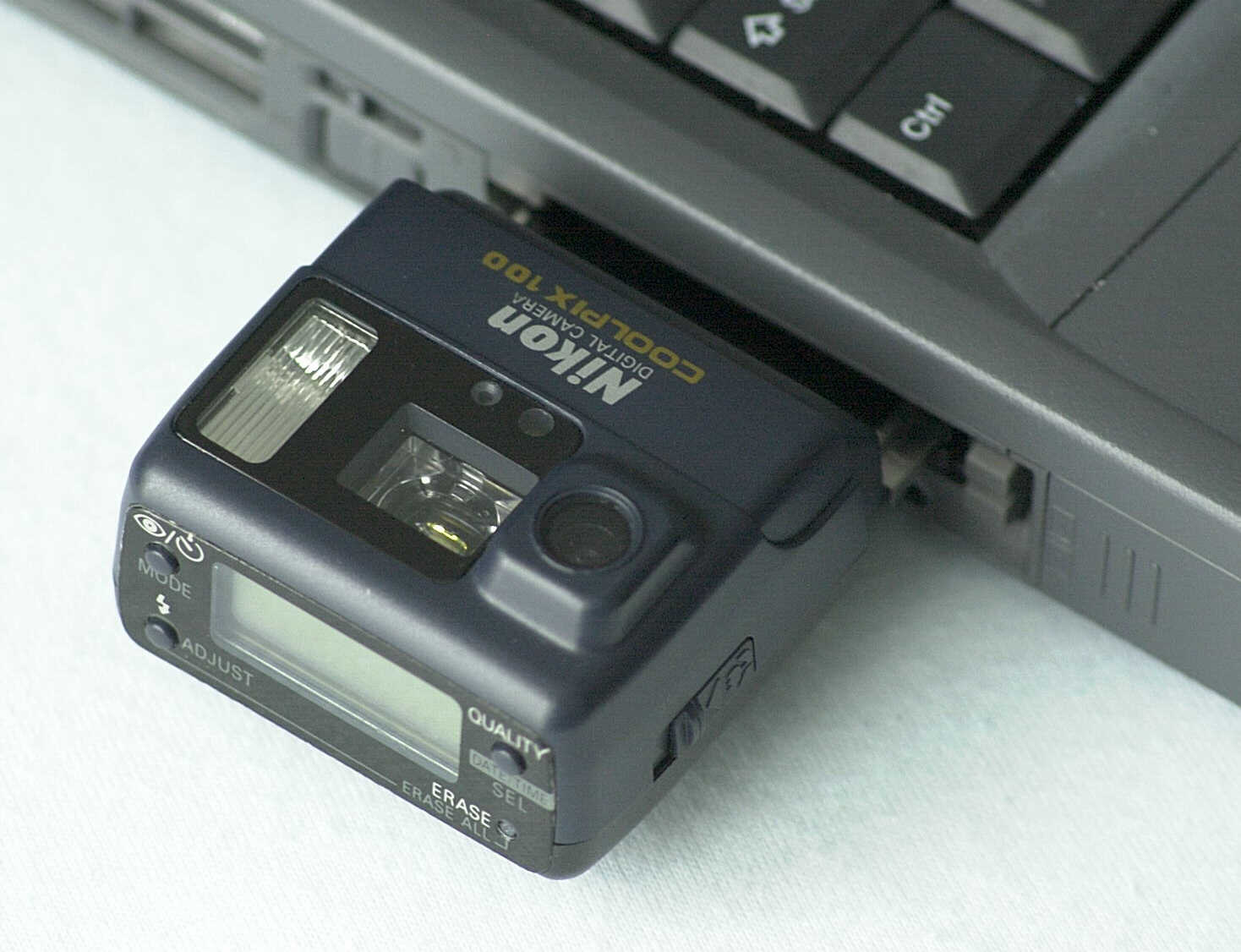 The memory card is a flash-RAM-PCMCIA-card which fits a PCMCIA-slot in any PC or laptop (see picture). It has a capacity of 21 (in Fine mode) or 42 images (in Normal mode) of 512 x 480 pixels. All images are stored in a 1/10 (Fine) or 1/20 (Normal) compression JPEG file. The camera has an internal flash (GN 9) and it has a self timer. This little camera, using 4 normal AA-batteries, is weighing in at 160 gram. In Europe this camera is rather rare, as it was mainly sold at the domestic market and in North-America.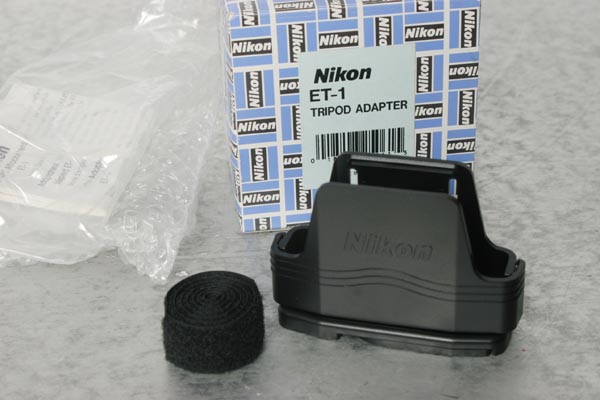 Even more rare is the Nikon ET-1 tripod adapter for the Coolpix 100 and Coolpix 300 as their body do not have a tripod connector.
Coolpix 300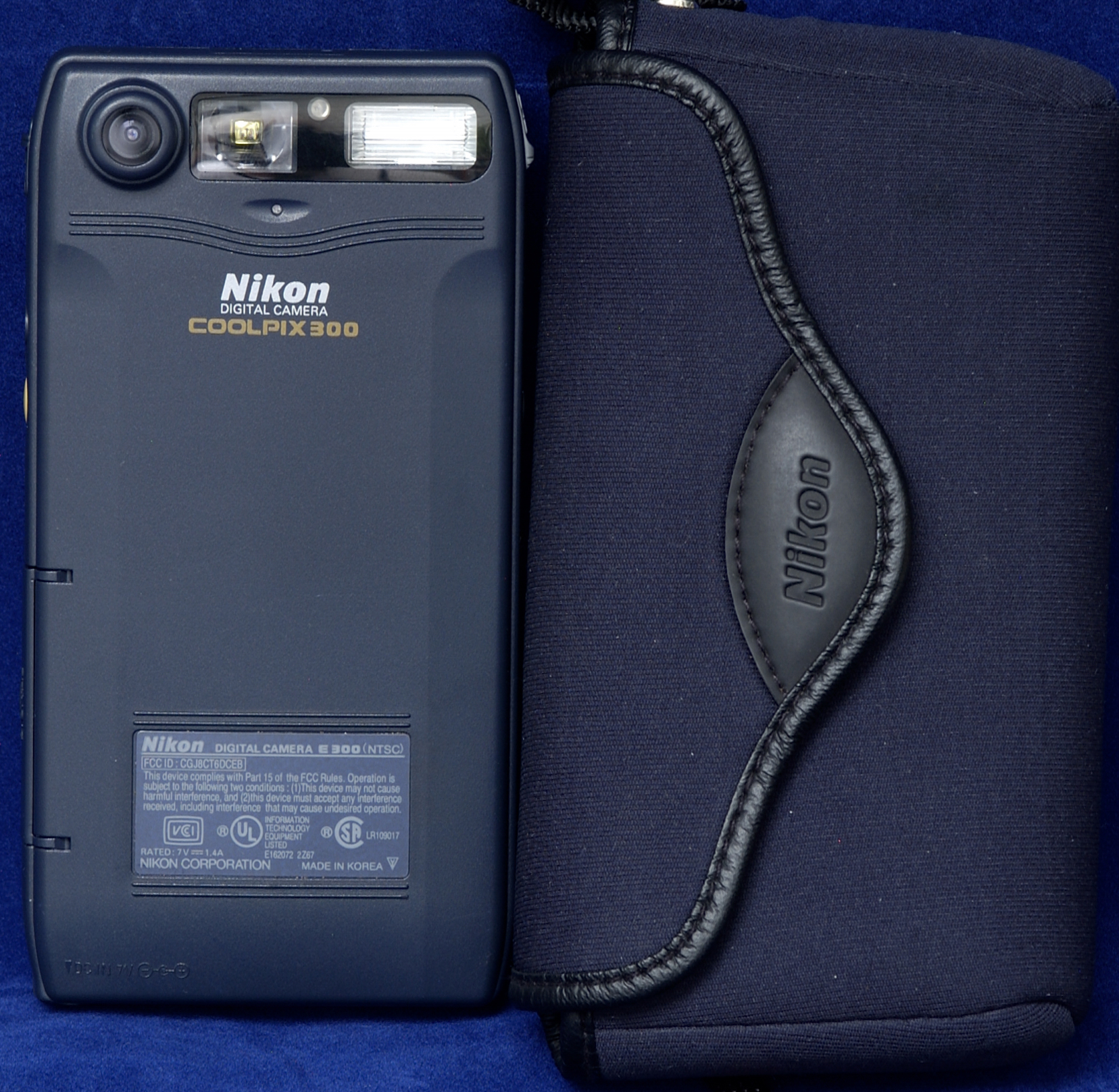 This sophisticated camera, being a little bit bigger and about 80 gram heavier than the Coolpix 100 has the same sensor (330,000 pixels), but produces images of 640 x 480 pixels. It looks a bit like the Apple Newton H1000 aka Message Pad (anno 1993)!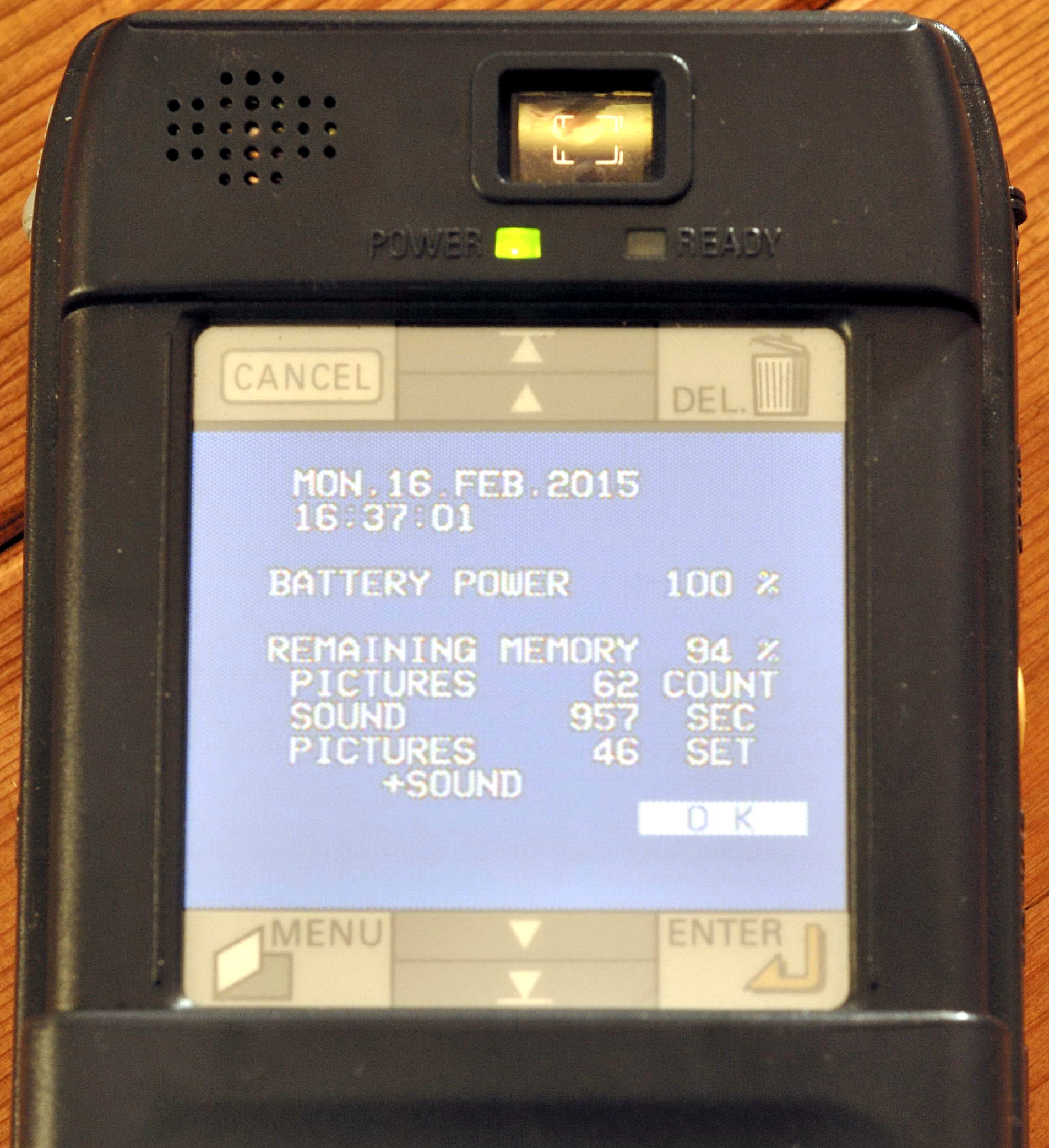 A special touch-sensitive 2.5 inch TFT color LCD-display gives access to an interesting menu and accepts even handwritings with a special pen (stylus), which can be saved on a flash-RAM-card. Handwritings can be written/saved on already taken images as well! Sound recording (via internal condenser microphone) and playing (via a headphone or via internal 20 mm. speaker) is also possible. It has the fix focus 4/6.2mm lens (as the Coolpix 100 - 35mm equivalent is 45 mm.), sharp from 14 cm.- infinity, a built-in flash, automatic exposure and flash programs, self timer and a shooting rate of one picture per second. Focusing via the Albada* viewfinder or via the LCD display is very easy. The charge-coupled electronic shutter runs from 1/30 - 1/2.500 sec. ISO is fixed at 100. A special attention should be given to the built-in calendar! Many other cameras have calendars up to 2010 or 2020 only; the Coolpix 300 has a very optimistic calendar running up to the year 2089!! Pictures and sound recordings can be played back via a TV-set (via AV-cable) and a PC (via serial port or SCSI-kit). The internal memory takes up to 66 images in 'Fine' and up to 132 images in 'Normal'. Flash memory is 4 Mb. This unique Coolpix camera and its brother Coolpix 100 are the only Coolpix cameras that don't use external memory cards!
With this nowadays rare camera Nikon was far ahead of its time. It has a lot of features (in 1997 !) of modern i-Pads, MP-3-players and/or digicams. Just a phone is missing! As this camera was mainly sold in Japan and North-America it is rather rare elsewhere. An European version was sold with a manual in German and French only!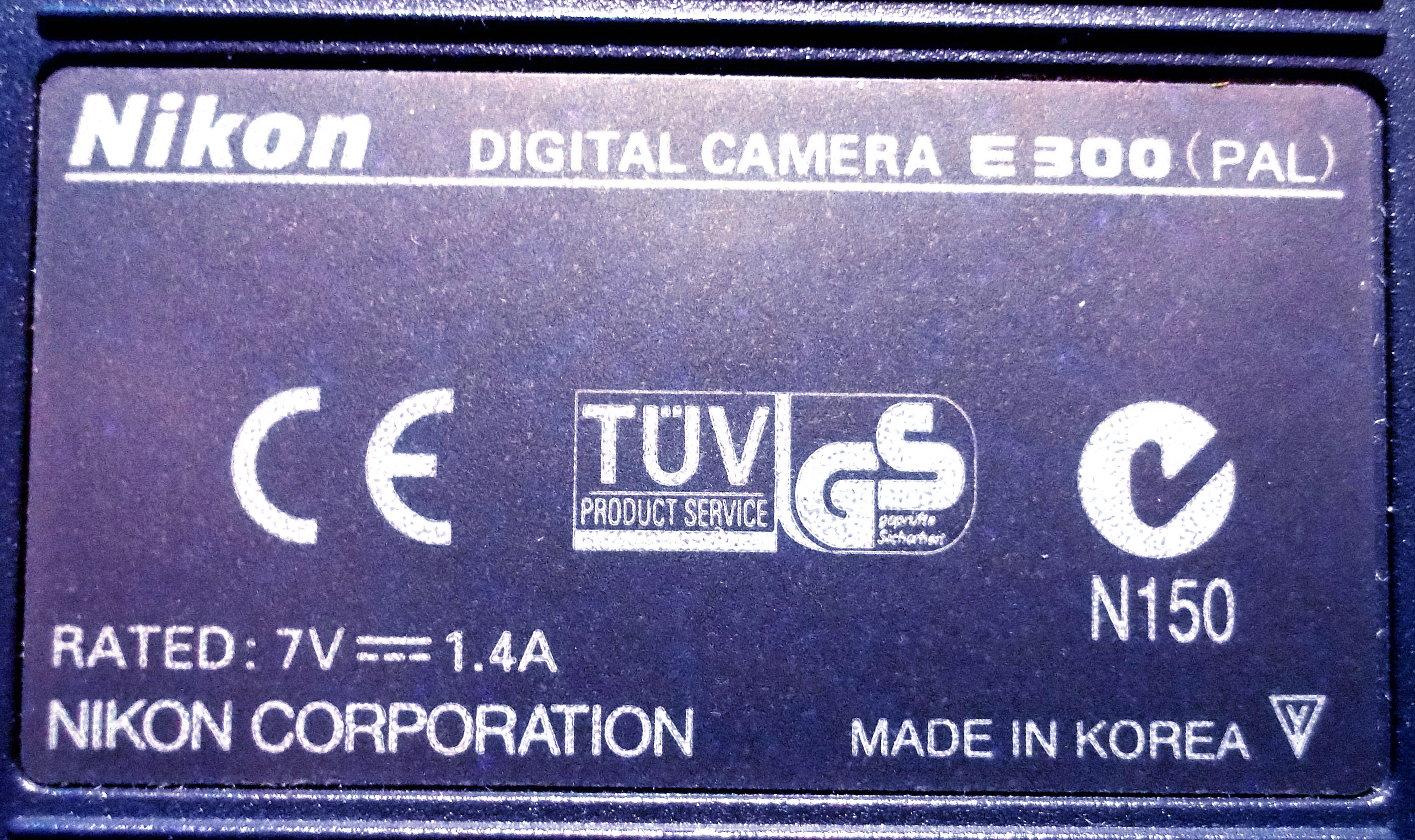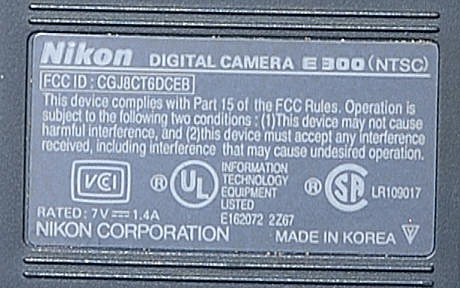 There are actually two versions of the Coolpix 300: the picture above shows you the camera with NTSC-connectivity and for European countries there is the PAL-version. The AC-Power adapter Nikon EH-10 is for the use on 110/120 Volts electricity networks only; for countries with a 220/240 Volts network there is a Nikon EH-10E adapter and in Australia the Nikon EH-10A should be used. When using an AC-adapter the internal flash will not work!
*A (modern) Albada viewfinder has a negative aspheric lens and a positive eyepiece between which a positive meniscus element is located, having on its rear surface a mirror for forming a virtual image of a reticular mark. This viewfinder - used on many cameras - was invented in 1928 by the Dutch military officer and optical engineer Liewe van Albada (1868-1955). He is the 'nestor' of stereo-photography, too.
Coolpix 600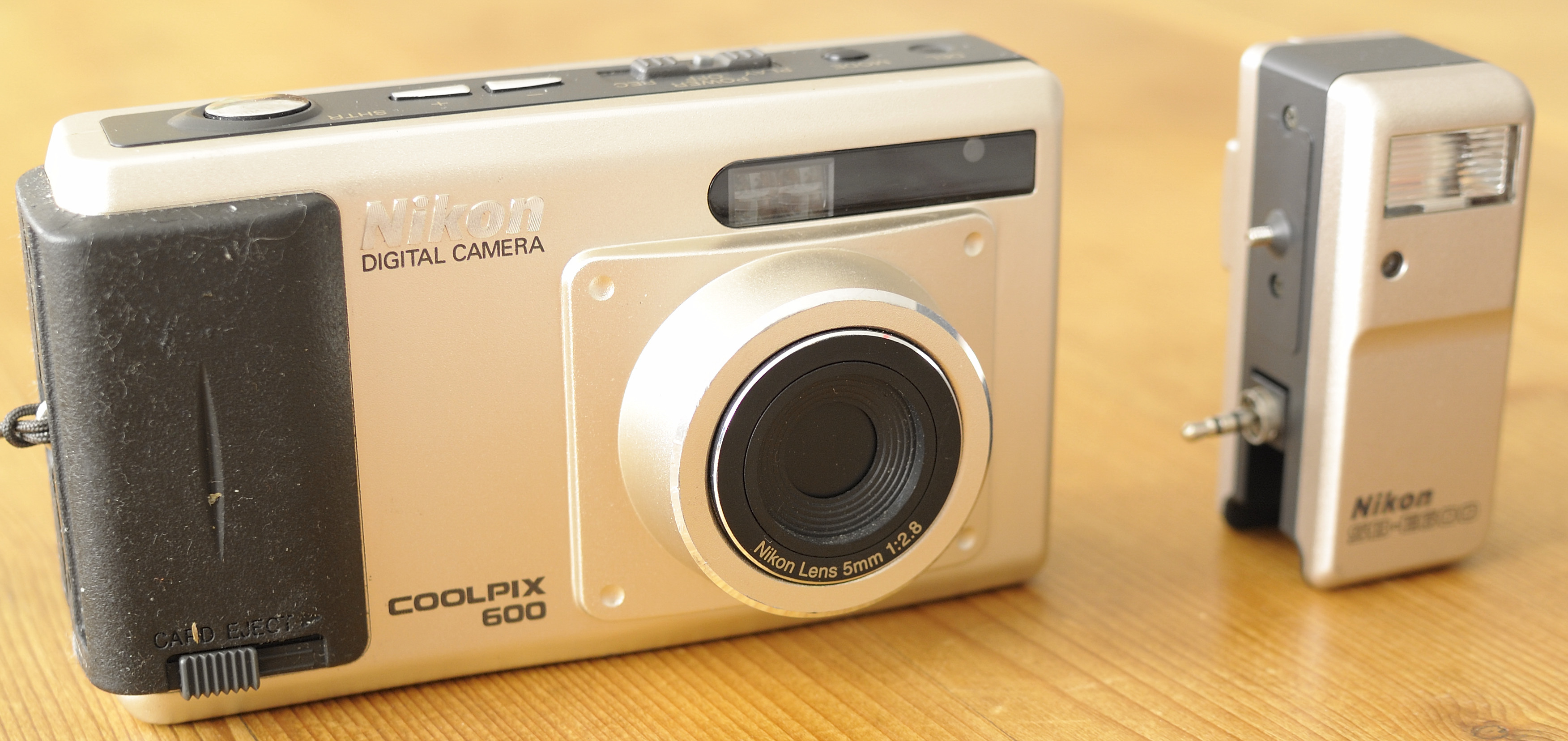 In March 1998 this camera was introduced. It has a CCD-sensor of 1/2.7 inch with 800,000 effective pixels , a 2.8/5mm. auto focus lens (equals a 36mm.-lens in 35mm.-film), 2-inch color LCD screen, optical viewfinder and - the only Coolpix till to date(!) - with a detachable flash (SB-E600 with its own 3-digit serial number!) with the possibility to override flash programs. The shutter runs from 1/4 - 1/2000 sec. Pictures can be taken in 'Fine' mode (1024 x 768), in 'Normal' mode (512 x 384) or in 'Wide' mode (1136 x 640) and saved on a CF memory card. Via a docking station the camera can be connected to a computer run with MS-DOS or MacIntosh software. The docking station has also a 'video out' connector. The camera uses regular AA (LR6) batteries, the detachable flash unit one CR2 battery. It is not advisable to turn the display 'on' while shooting, as the batteries will run empty before you'll notice. The built-in calendar counts up to the year 2097 ! The camera weighs in at 210 gram, the flash unit at a mere 30 gram. This camera wasn´t sold in Europe, as it came with an NTSC video out only.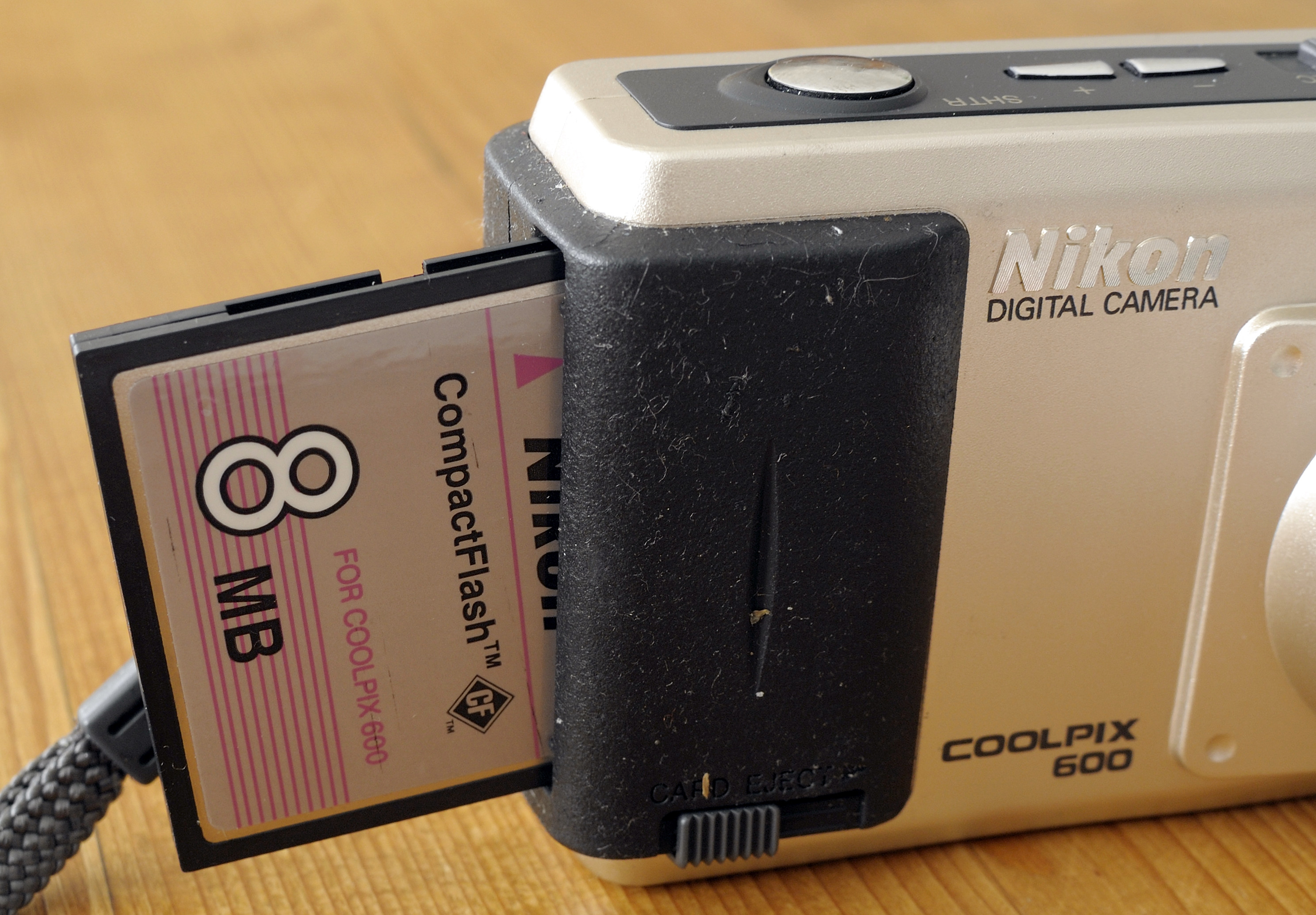 The camera came with an interesting 8 Mb CF memory card!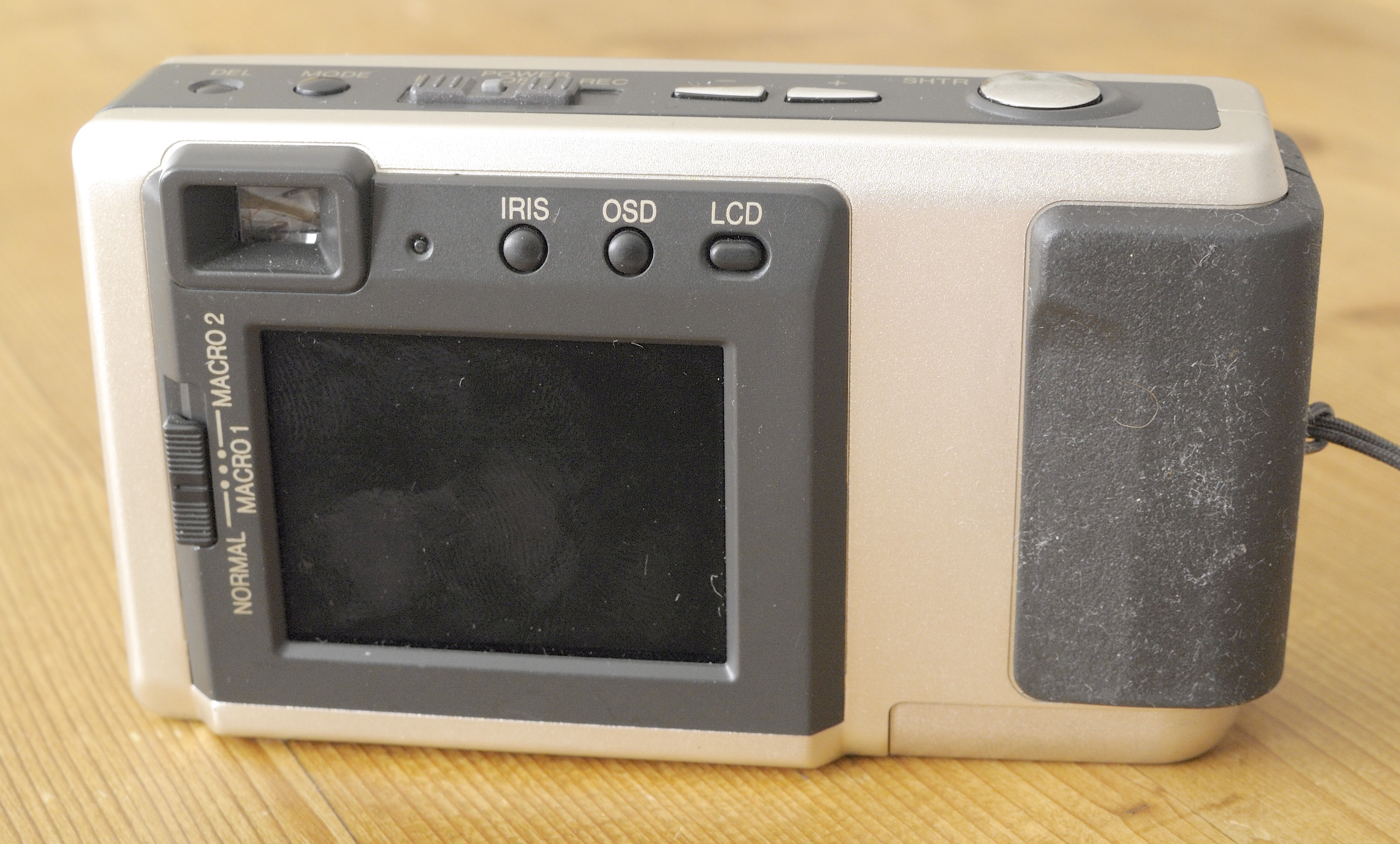 After many years the rubber covers of many cameras become sticky, which is beyond repair. And: like the Coolpix 100 and 300 no tripod connector!
Coolpix 700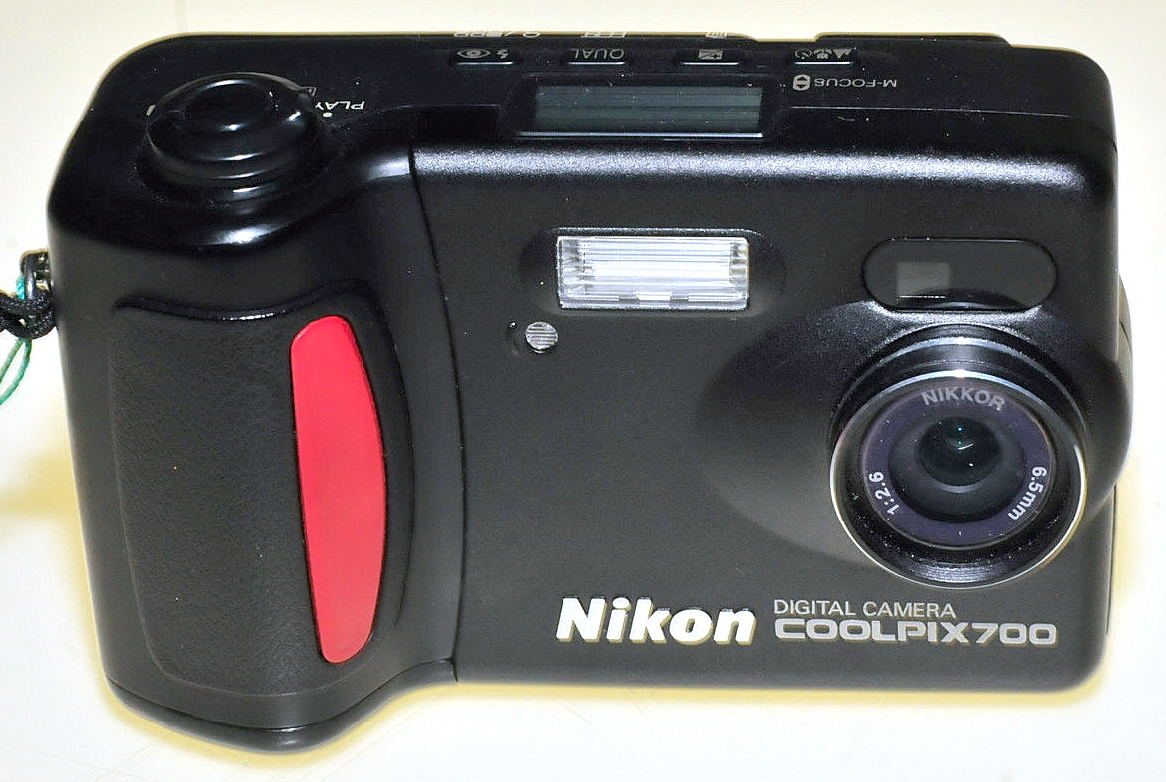 This camera - introduced in March 1999 - looks a bit like the later Coolpix models. It was marketed worldwide (Europe, Asia & America). It has an auto focus 2.8/6.5mm lens (focusing down to 10 cm.) and a sensor of 1/2 inch with 1.92 Mp. Nice feature is its start-up time of less than 2 seconds, automatic white balance, Best-Shot-Selector, separate available fish-eye, wide-angle and tele-lenses, 80-320 ISO sensitivity range, built-in flash, 1/8 inch color LCD-screen, full automatic exposure programs with matrix-, center- or spot metering and red-eye-reduction. Images can be shot and stored in HI (TIFF), 'Fine', 'Normal' and 'Basic' (all Jpeg format 1600 x 1200)); there is also a 'M-REC' mode for images in 610 x 180 pixels. As the first Coolpix in the long line this camera is able to shoot images in black&white as well! Quite a modern camera for its time, although rather expensive with a price of over 700 Euro.
Coolpix 775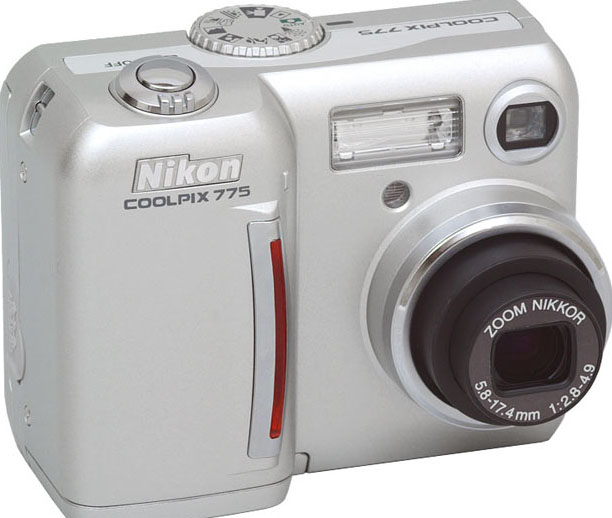 In August 2001 the first Coolpix camera with a zoom lens appears on the market. It has a Zoom-Nikkor 2.8-4.5/8-17.4 mm (equal. 38-115mm), which focuses down to 4 cm. and it has a sensor with 2 effective Mp. The shape of the body of this camera will be often seen at later models.

This very foolproof camera, featuring as the very first Coolpix camera a scene selector wheel, has 7 automatic exposure programs and an USB-connector to sent all pictures (saved on a CF-card) via a PC to Nikon Fotoshare, an on-line photo-album. It also has the first battery (EN-EL1) of a very long line of Nikon batteries, of which most are not usable in other cameras. The apprehensive interchangeability of Nikon batteries starts here!!
Coolpix 800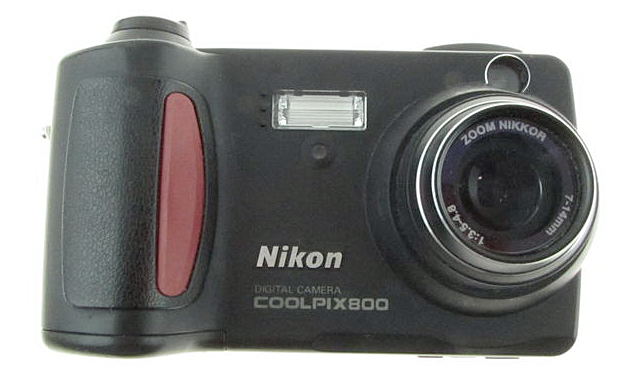 This camera was introduced in 1999; its sensor has the same resolution as the sensor in the Coolpix 700; its zoom lens equals a 38-76 mm zoom lens and focuses down to 7 cm. The camera body is almost identical to the Coolpix 700. The exposure meter offers matrix, center and spot measuring in an ISO-range of 100-400. Either pictures are taken fully automatically or manually.
Coolpix 880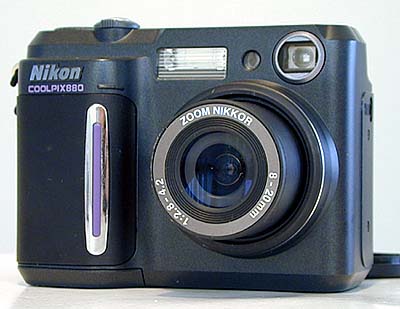 Mid 2000 - just before the Photokina Camera Exhibition in Germany - this camera, replacing the 800, was introduced. It has a sensor with 3.3 effective Mp, a zoom-Nikkor 2.8-4.2/8-20mm (equal. 38-95mm) and 11 scene-programs, 5 auto focus areas in the rangefinder, an 1.8 inch LCD screen and a relatively short startup time of 0.1 second.
Coolpix 885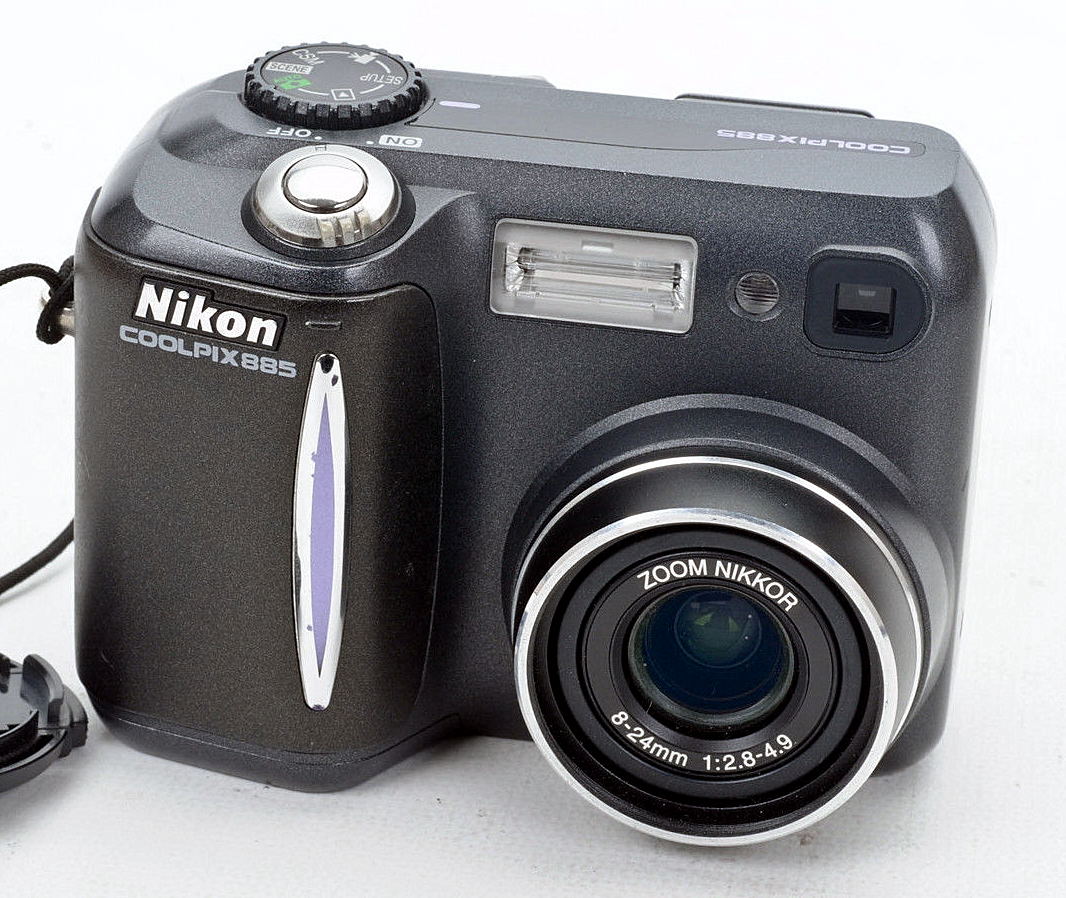 This ´taller´ brother of the Coolpix 775 has a sensor of 3.2 Mp, a zoom-Nikkor 2.8-4.9/8-24 mm. (equal. 38-114mm), 256-segment matrix, center and spot metering and a lot of programs, like mentioned before.
The Coolpix 900-series has a special design, where the actual camera body houses the main electronics, the CF-cardholder and LCD-screen while the swiveling lens body includes the flash and rangefinder. Later models with this feature are the Coolpix 950, 990, 995, 4500, SQ and - to a certain extend - the Coolpix 2500 and 3500.
Coolpix 900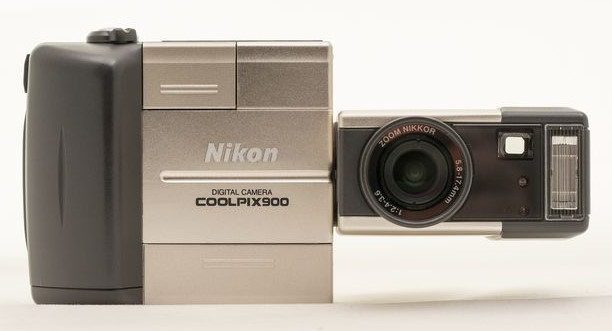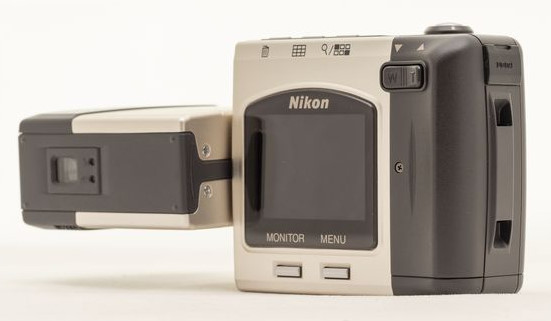 Here we have a very special camera: the first swivel-lens bodied Coolpix, introduced in 1998. It was the first digital compact camera with a 3x zoom range. Further features are a sensor with 1.2 Mp, 3 exposure programs, auto focus and continuous shooting of 2 frames per second!
Coolpix 910
This version exist also as Coolpix 900S. It is an improved 900 with better exposure correction, a TTL-flash connection and an adjustable standby time.
Coolpix 950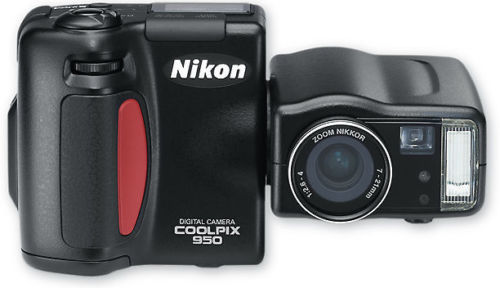 This camera, introduced in 1999, has a zoom range identical to the Coolpix 900. It was awarded with ´the best digital compact camera of the year´. The sensor has a size of 1/2 inch with 1.92 Mp. Taking pictures is possible via a full automatic program, aperture-priority or shutter-priority. The 2 inch LCD screen can be used as viewfinder as well. ISO range is 80-400.
Coolpix 990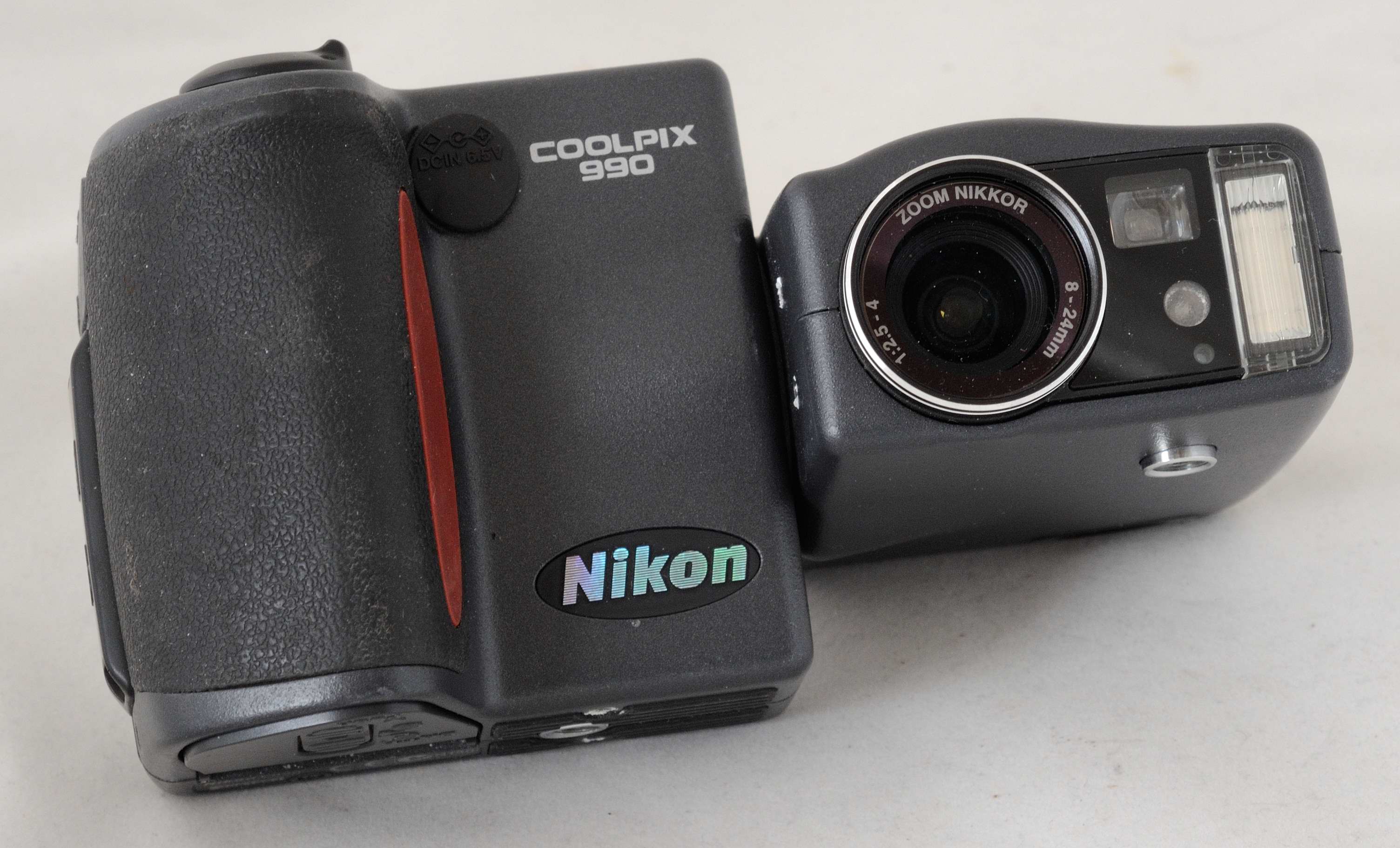 In May 2000 this improved model was introduced. It has a 1/1.8 inch sensor with 3.1 effective Mp., the zoom lens (equal. 38-115 mm.) focuses down to 2 cm! The body and other features are almost identical to the 950.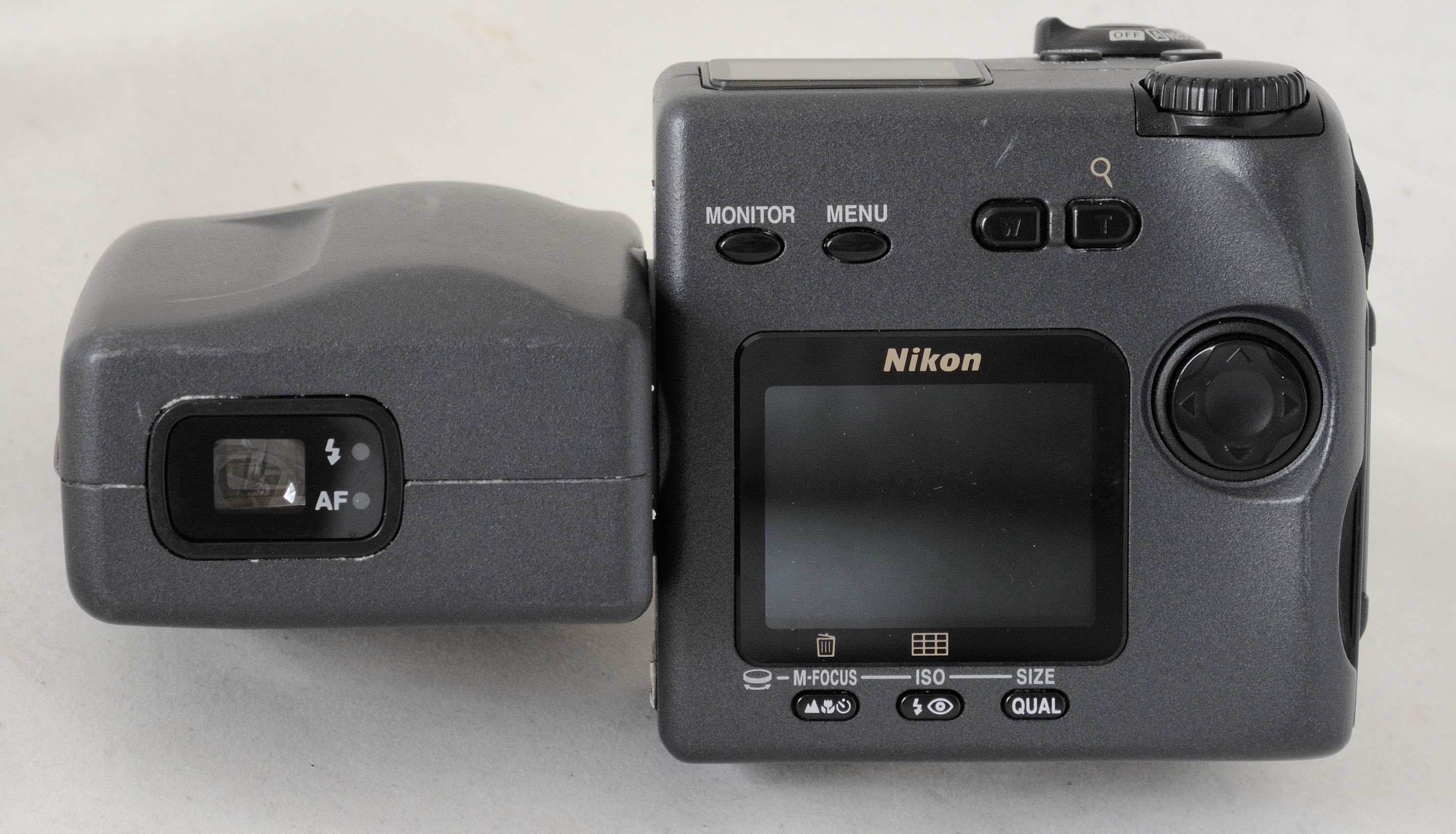 Coolpix 995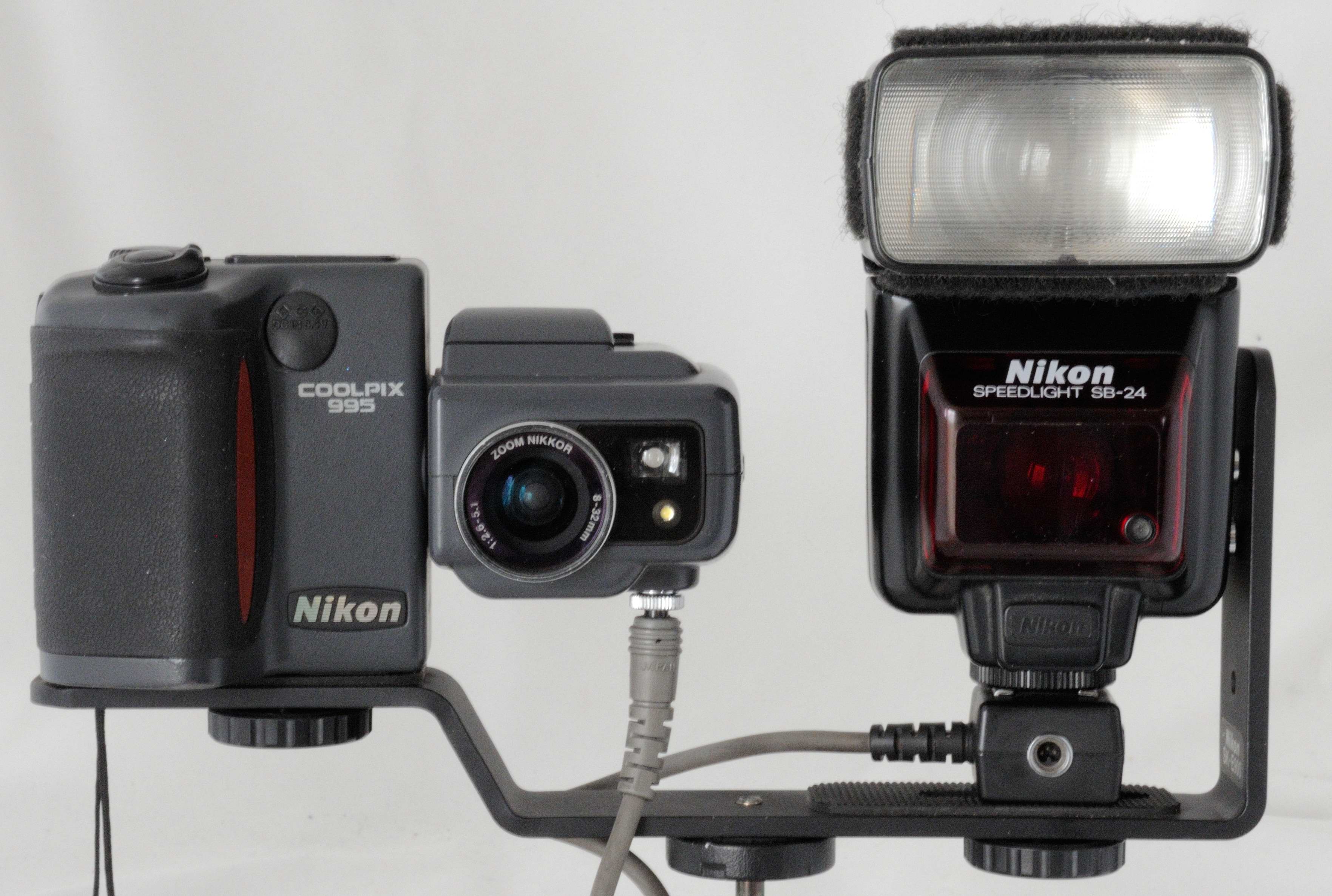 A lot of camera dealers didn´t like the introduction of this camera, as the Coolpix 990 wasn´t available yet. Many customers ordered a 990, but cancelled their order when Nikon announced the 995. The zoom lens has a larger range (equal. 38-152 mm.) and the flash is a pop-up version. All other features are seen in the 950 and 990. Although this Coolpix has an built-in flashlight the Nikon SK-E900 bracket (made for the Coolpix 900) fits the Coolpix 995 too! Above picture of the Coolpix 995 + SK-E900 + AS-E900 + SB-24.
---
From now on Coolpix cameras were given a 4-digit number. The Coolpix 1000 series doesn´t exist - for whatever reason - as the first in the new range of models was the Coolpix 2000.
Most Coolpix cameras from now on have a wheel/selector on the top or on the back of the camera body with symbols referring to program settings.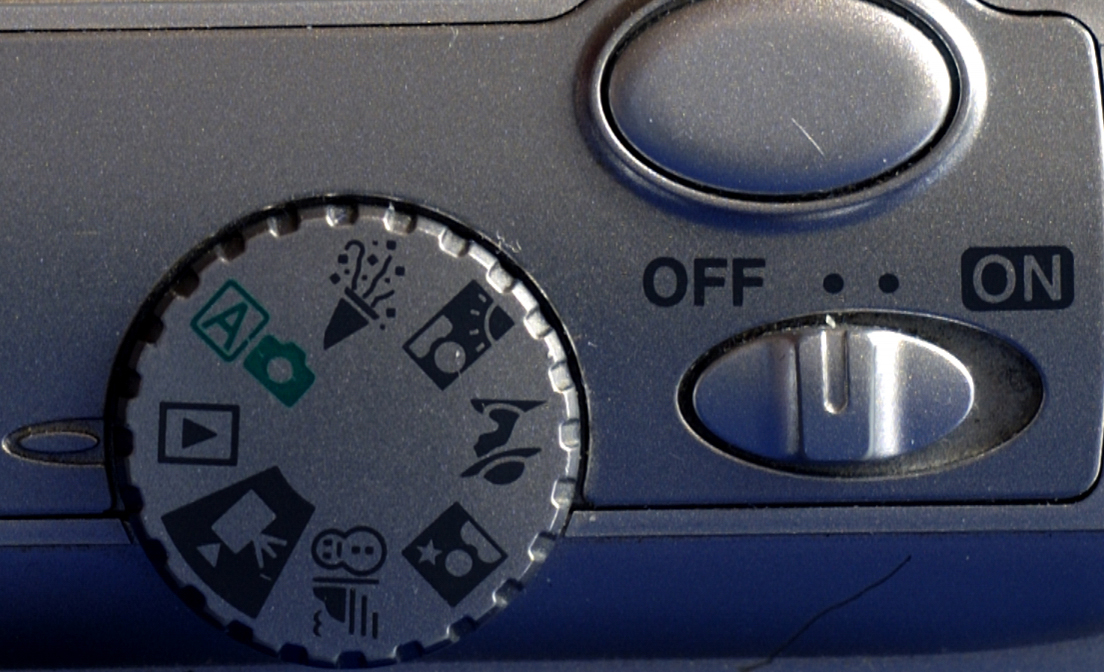 Most symbols are easy to understand. BUT: be aware that when you set the camera for indoor photography, like the above party, evening or portrait settings, the CPU will choose automatically for flash assistance and when you delete flash support, the exposure time may become that long that you need a tripod. Most cameras will indicate that on the LCD screen by a blinking hand! Making longer movies with a Coolpix camera often depends on the memory card you are using. Bear in mind that making a movie at a resolution of 320 x 240 pixels each second will 'eat' 0.24 Mb. of the total memory. Higher resolutions will use more memory space accordingly. So, use a card with a large capacity or buffer.
Coolpix 2000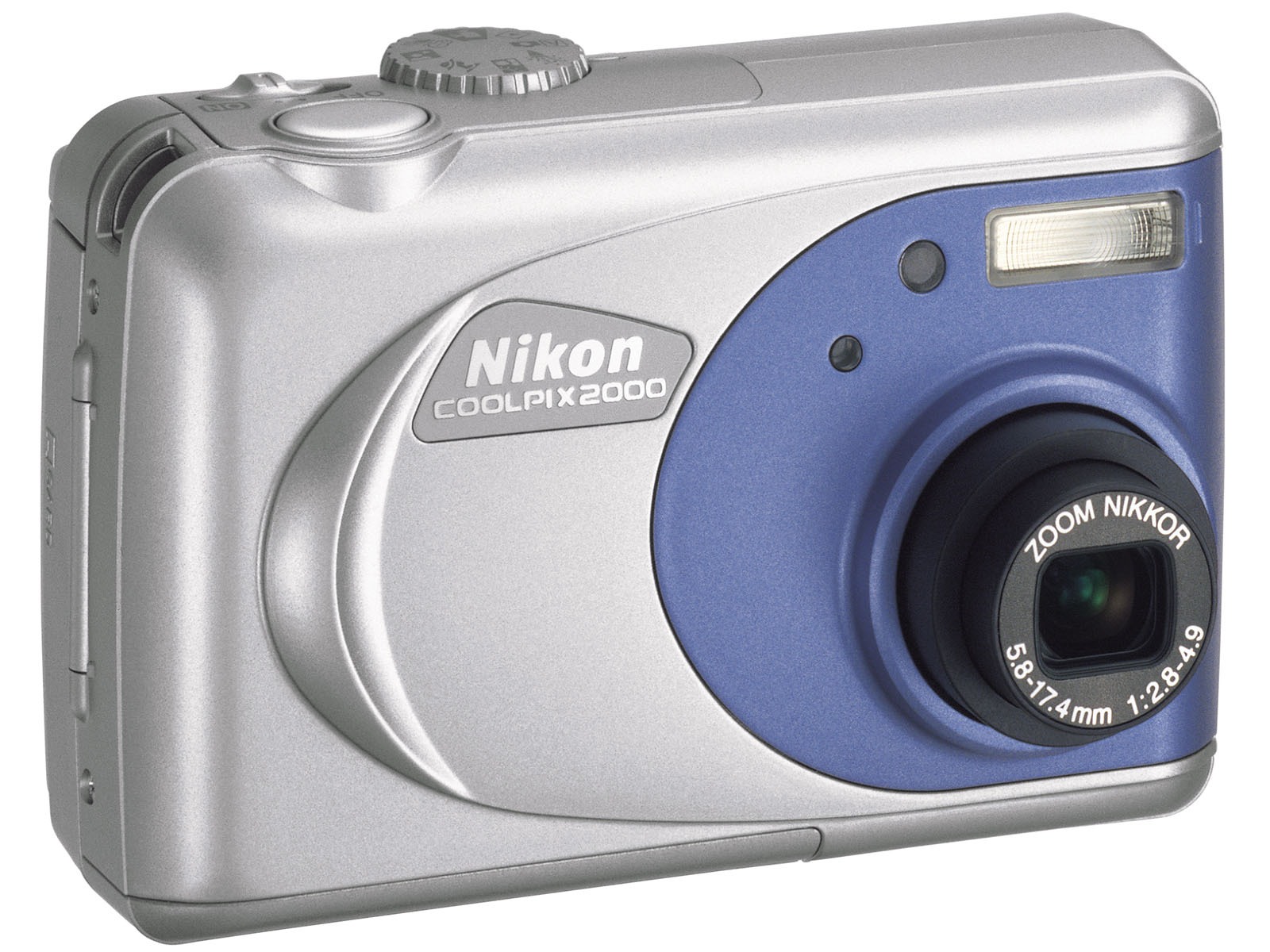 This camera, with the size of a cigarette case, was introduced in 2002. It has a 2Mp sensor, a zoom lens with the 35mm-equivalence of 38-114 mm. (focusing down to just 4 cm!) and various scene programs. Easy to handle and hide, using worldwide available AA-batteries. Especially in close-ups very sharp images, at infinity not the best of its class.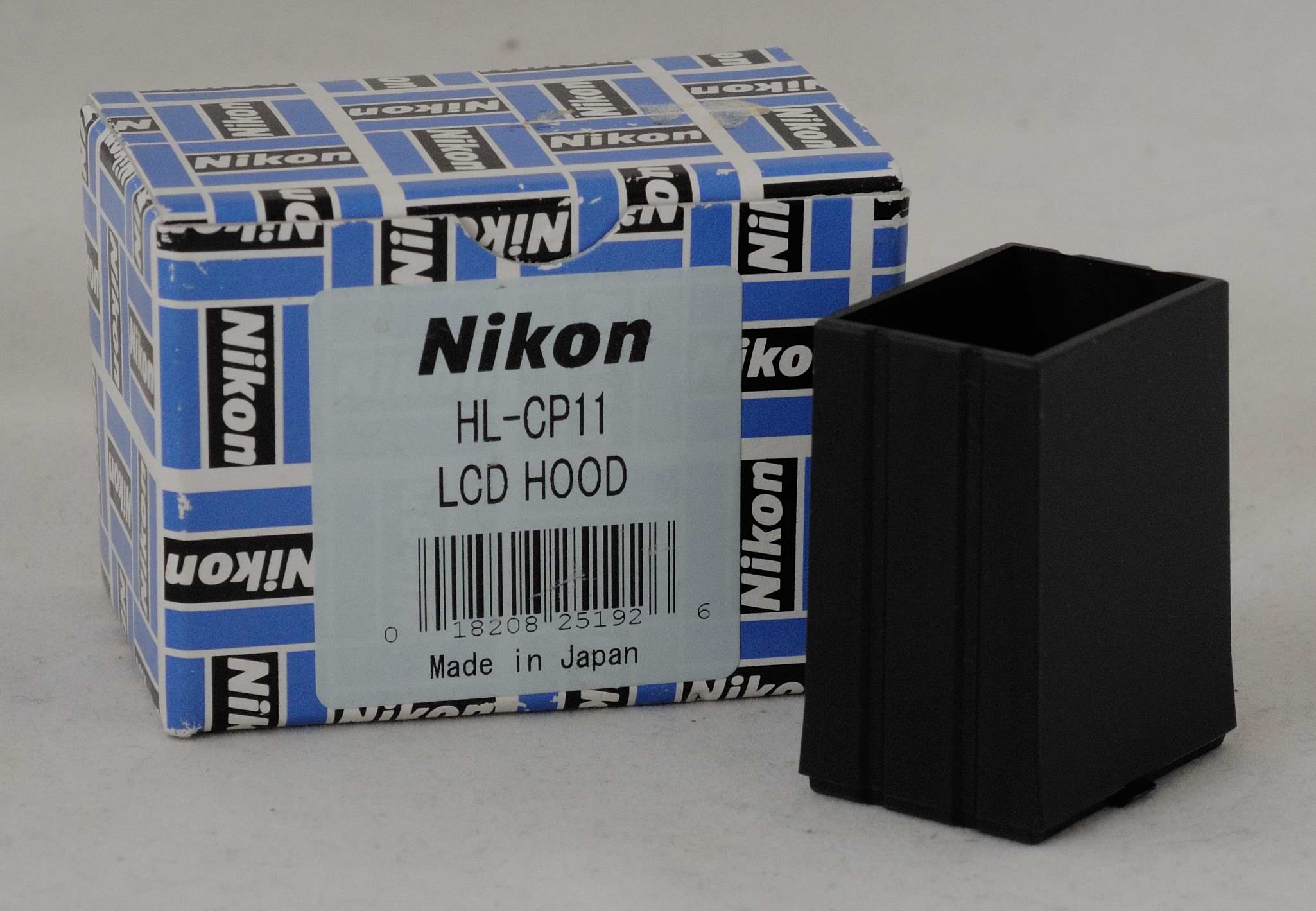 A special clip-on hood for the LCD screen was offered.
Coolpix 2100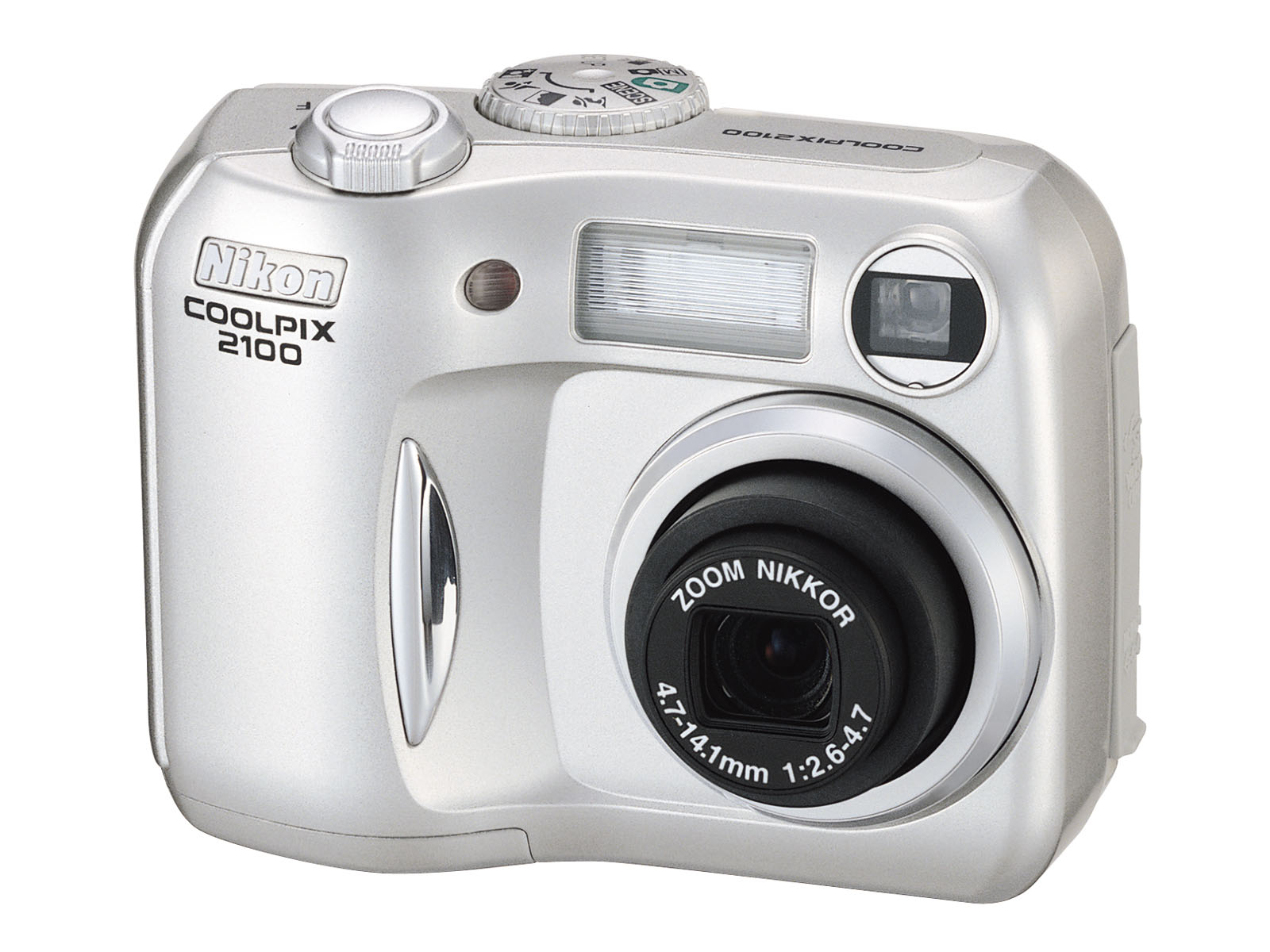 This body model, introduced in 2003, is - after the 775 - used in many Coolpix cameras (CP2xxx/3xxx/4xxx-series). The 2100 has the same sensor as the 2000 and an almost identical zoom range. For people with hands like hams this camera might be too small. Most Coolpix cameras with these bodies are weighing less than 200 gram (including 2 AA-batteries!).
Coolpix 2200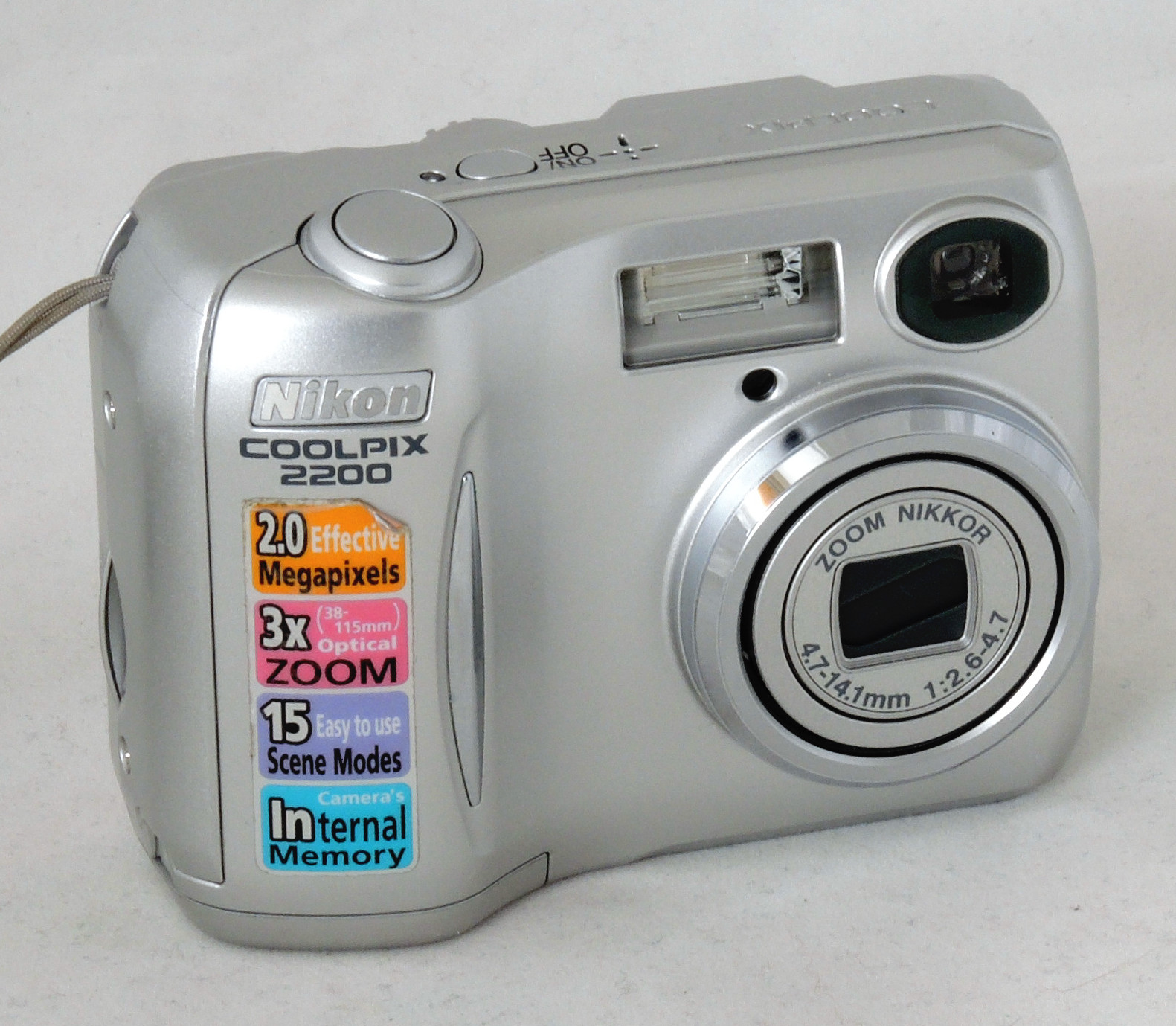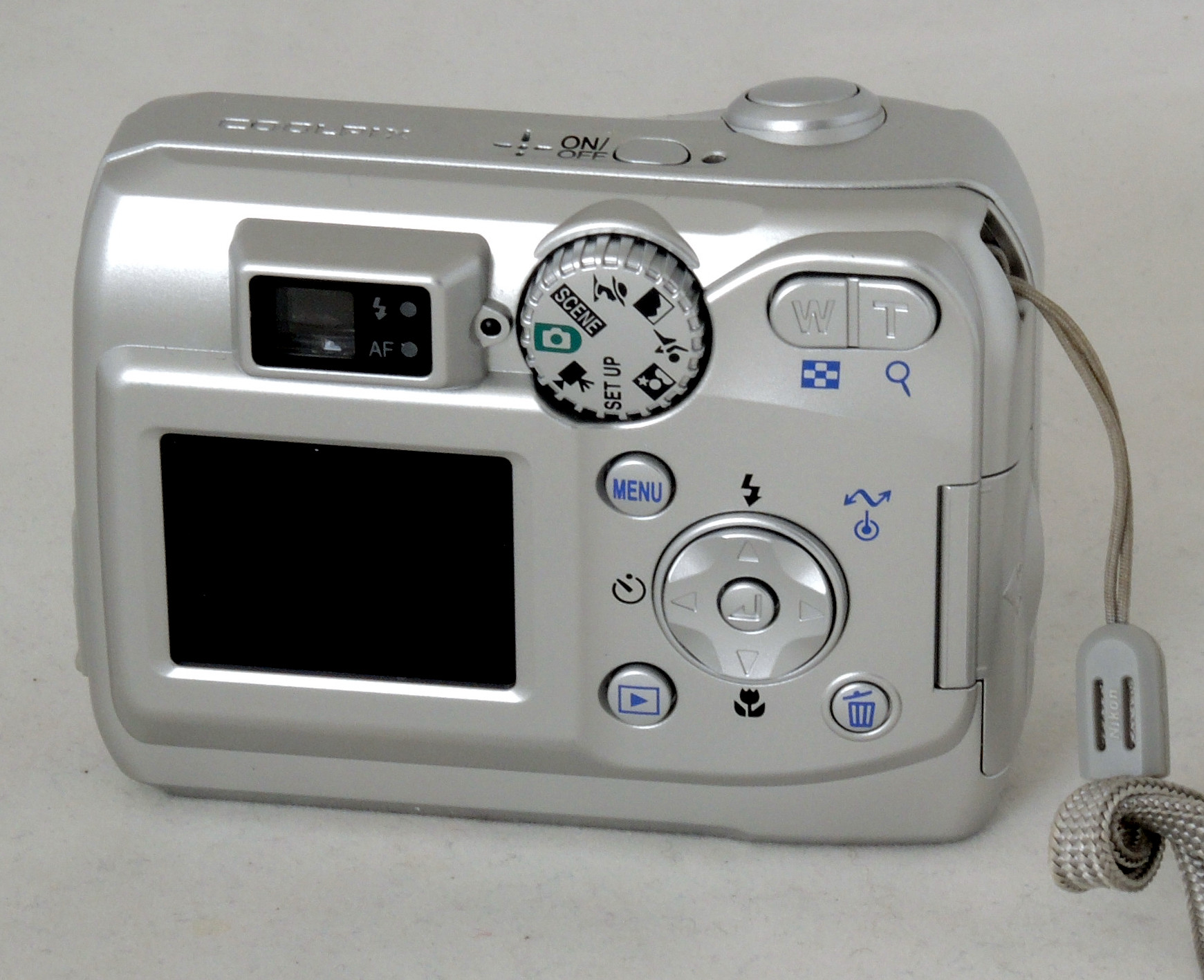 In 2004 this camera, together with the Coolpix 3200 was introduced. It has the same sensor and lens as the 2100. New features are the faster shutter (1/3,000th sec.), an internal memory of 14.5 Mb and one of the first Coolpix cameras using a SD memory card.
Coolpix 2500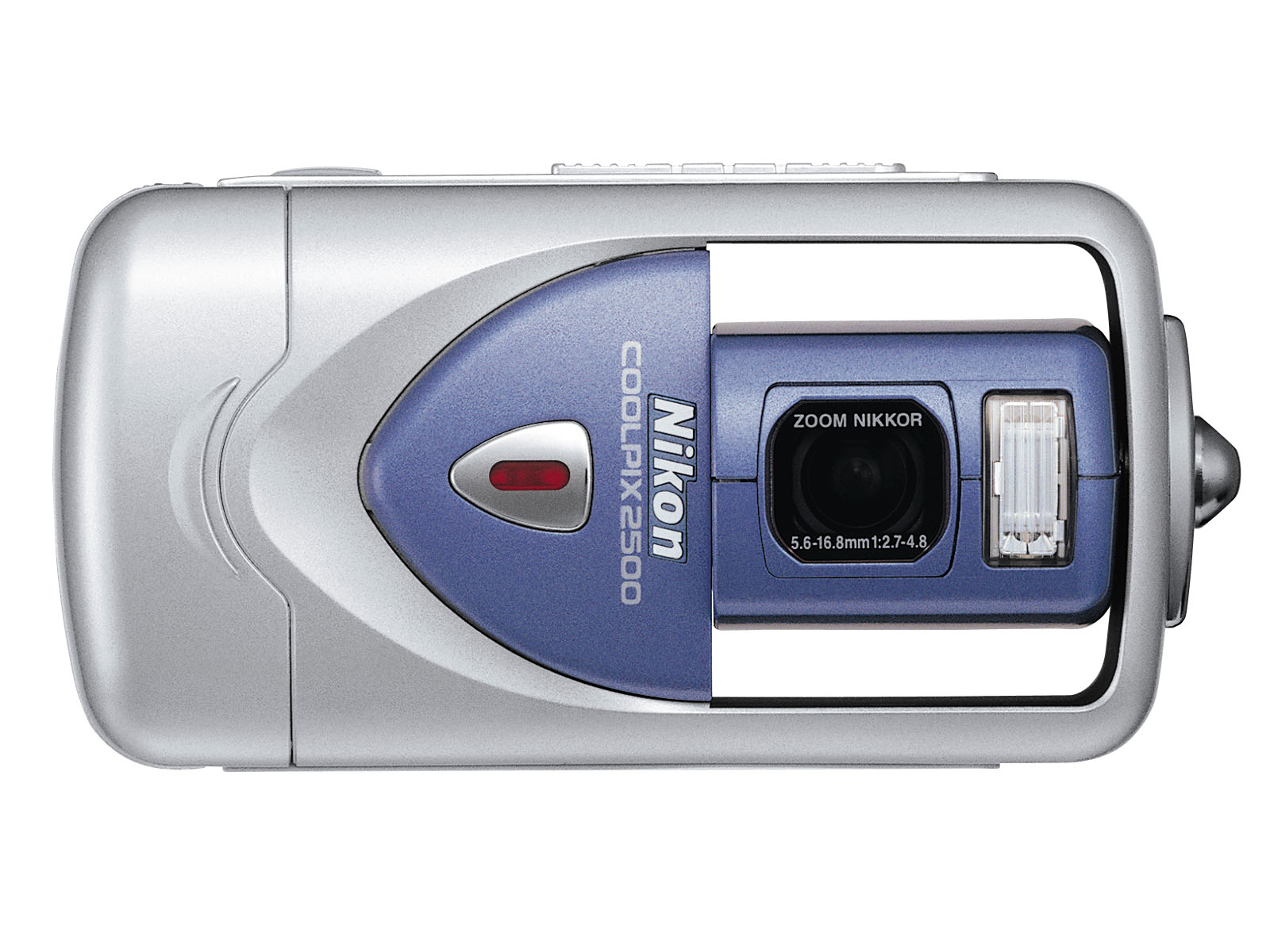 This design was a revolution. The body is made of metal (!) and the lens (and the flash) can be stored/turned inside the camera. The sensor and the lens are the same as in the 2000. For working under tough circumstances this camera is the best choice.
Coolpix 3100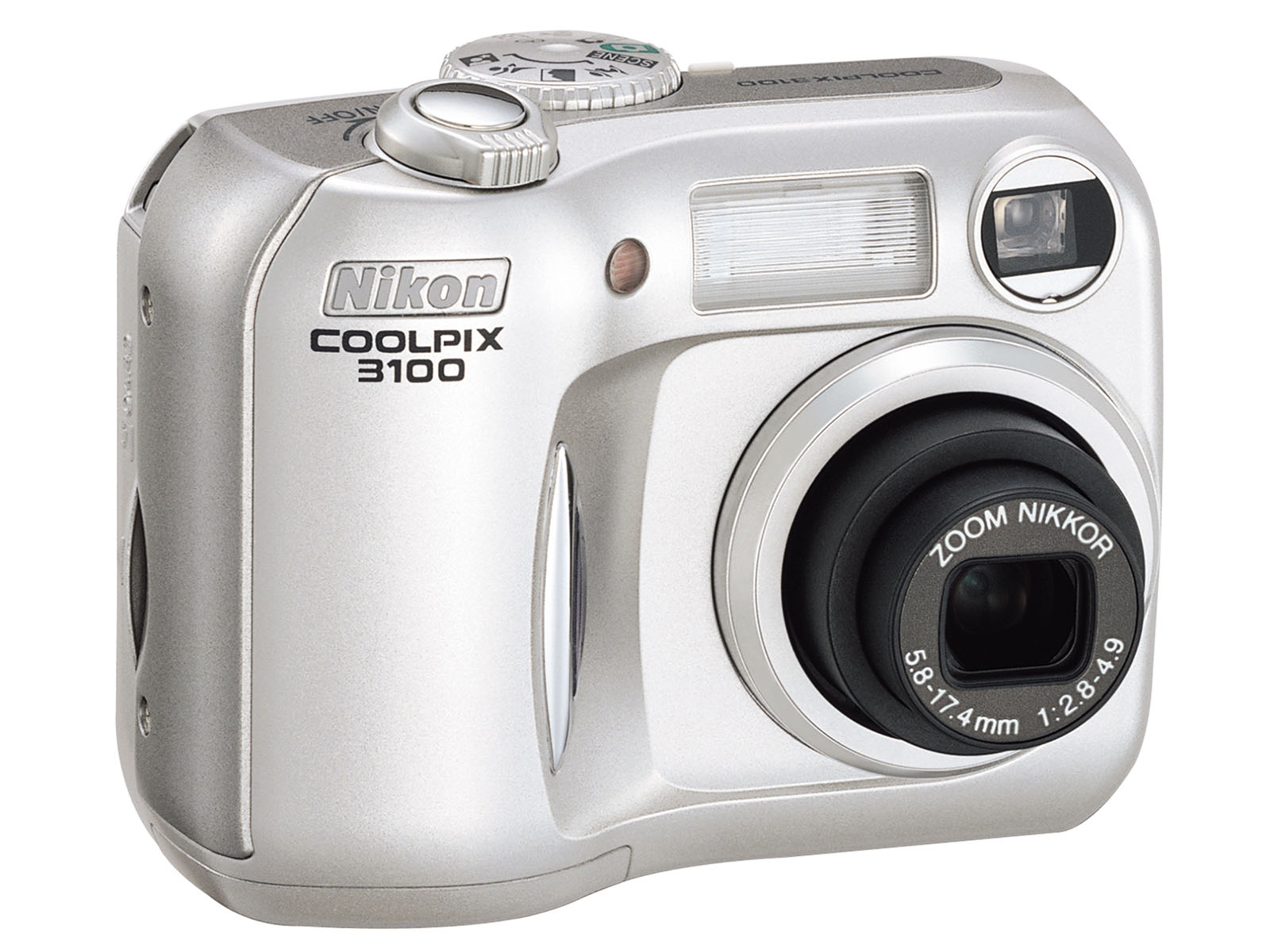 This camera is the sister of the 2100, having a 3.2 Mp sensor in stead, an almost identical zoom range and all programs and features of the 2100.
Coolpix 3200
Also this camera is a sister of an earlier model: Coolpix 2200. Its sensor has 3.2 Mp, the lens and all other features are coming close to those of the 2200.
Coolpix 3500
In an identical metal body this camera is the sister of the Coolpix 2500, save the sensor having 3.2 Mp. A rather rare accessory is the removable hood (HL-E2500) for the LCD screen. It has to be fastened ith a transparent clamp. It will fit the Coolpix 2500 too.
Coolpix 3700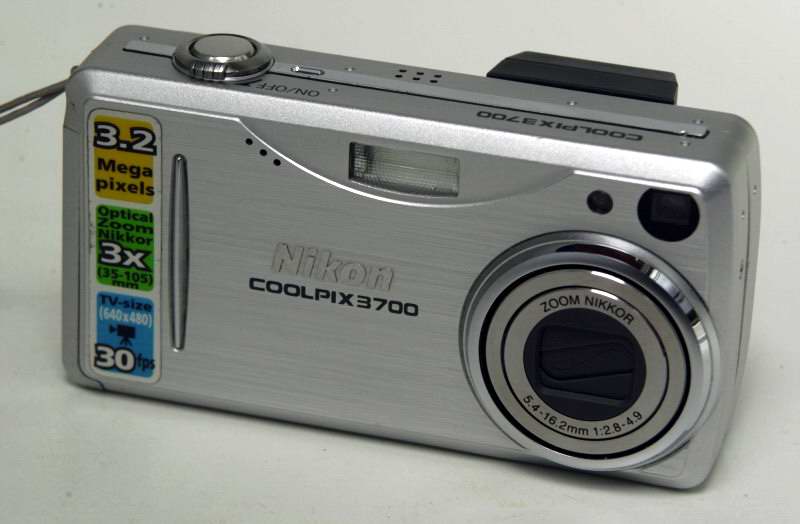 For a change a Coolpix in aluminum outfit! Introduced in 2004 this beauty has a sensor of 3.2 Mp., a zoom lens equaling 35-105 mm zoom range in 35mm. photography. Interesting feature is the soundless shutter. For those that want to hear something a variety of ´shutter´ sounds can be chosen!
Coolpix 4100
Bodied like the 2100/2200/3100/3200-series this camera has a sensor of 4 Mp., a zoom lens like in the 3100 and 3200 models. 15 motive programs, 4 assistant programs and a menu in 10 languages! The camera also ´tells´ the photographer (sic!) if an image is not sharp!
Coolpix 4200
A little bit slimmer is this Coolpix with a 4 Mp. sensor and a (equal.) 38-114 mm. zoom lens. Novelties are an internal memory of 12 Mb and a ´PictBridge´ connector for linking the camera to a printer without using a PC. You don´t need a PC, too, for red-eye-reduction; it´s possible with the camera software.
Coolpix 4300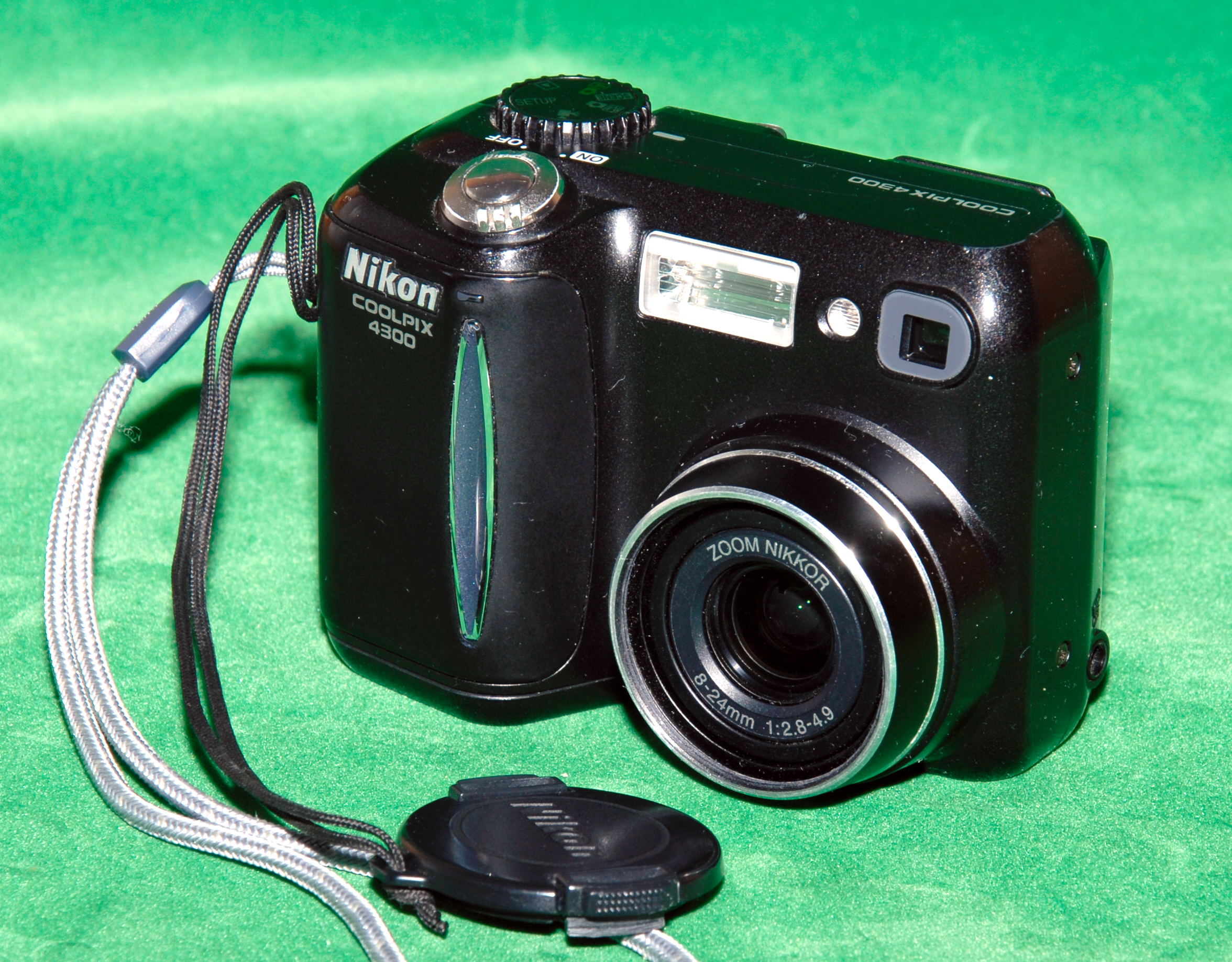 In 2002 this successor of the Coolpix 880 was introduced. The sensor has a resolution of 4 Mp. and the lens comes close to that of the Coolpix 885. Although a lot on and in this camera is foolproof, shutter speed and aperture are manually adjustable.
Coolpix 4500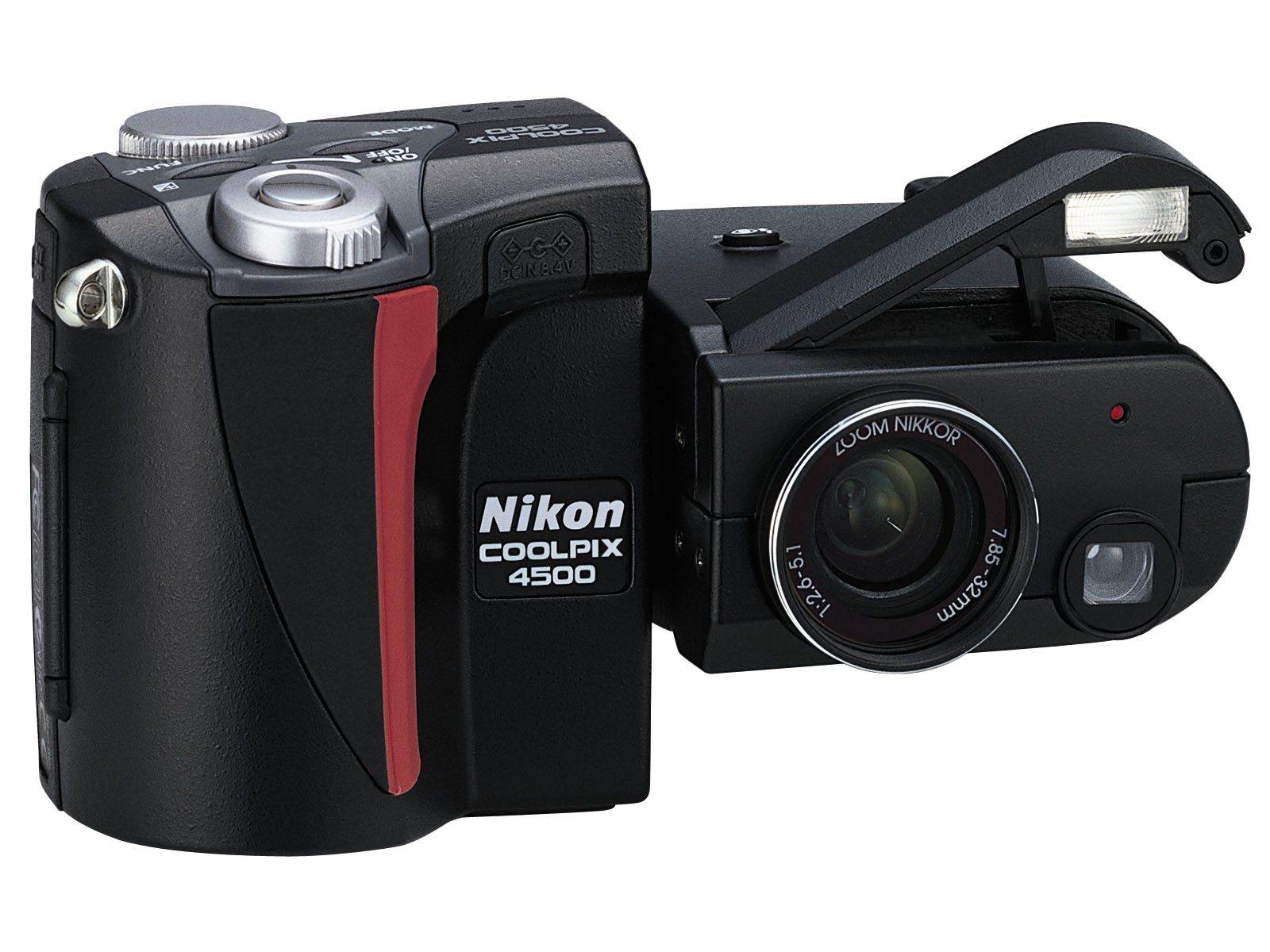 Based on the swivel-models, this camera - introduced in 2002 - is packed with novelties. It has a 4 Mp. sensor, a 4x zoom lens, pop-up flash, Program, Aperture-priority, Shutter-priority, Manual and 16 motiv-programs to choose from. Sound recording is possible and the AF-system comes from the Nikon F5 and F-100 SLR´s. Special feature is a possibility to correct images on-screen. A 28mm lens thread allows additional lenses, from fish-eye up to tele lenses of (equal.) 400 mm.
Coolpix 4600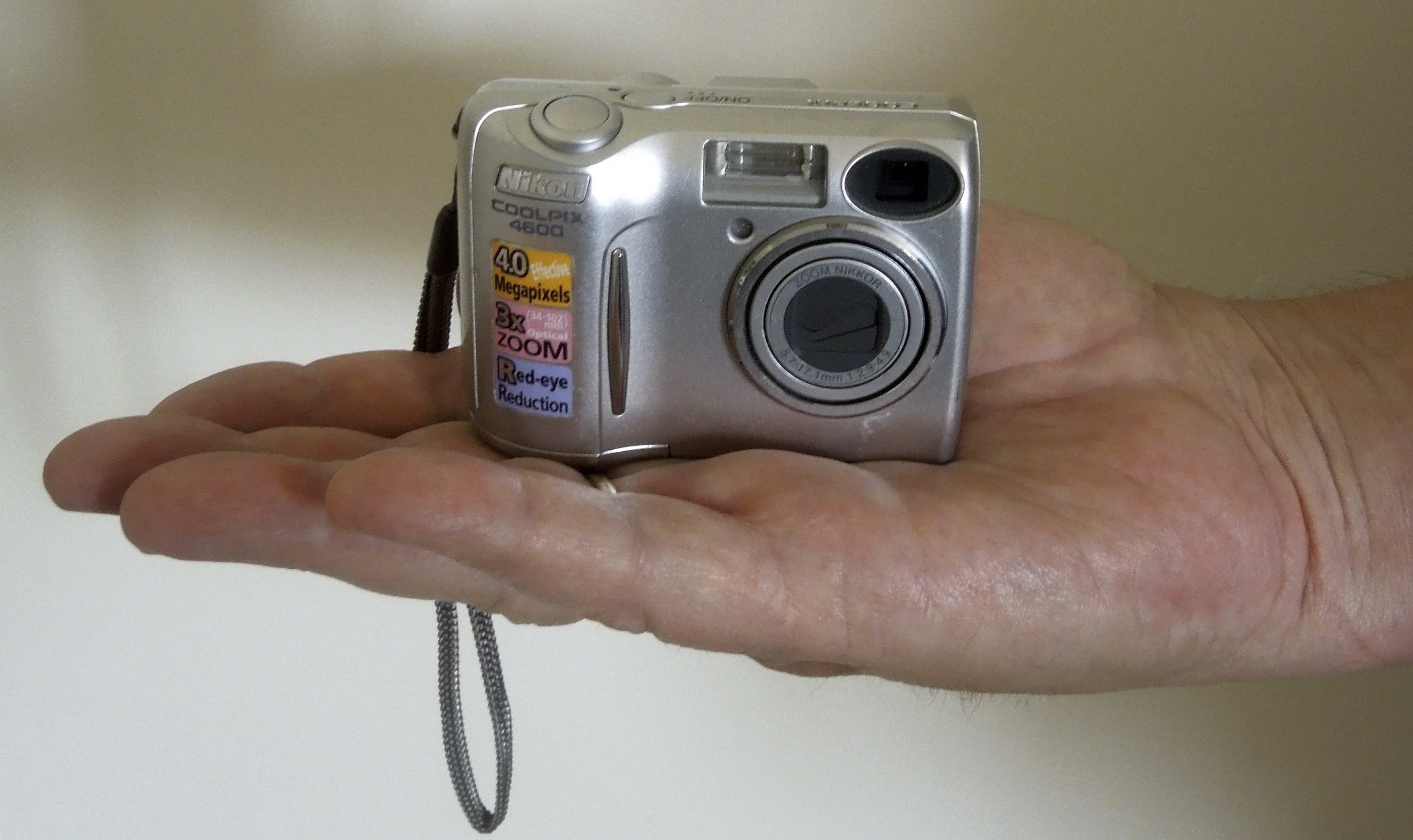 In a tiny body like the 3100 this Coolpix features a 4 Mp. sensor. This camera is pack, too, with software including various programs, like the Coolpix 4500. It is a sister model of the Coolpix 5600.
Coolpix 4800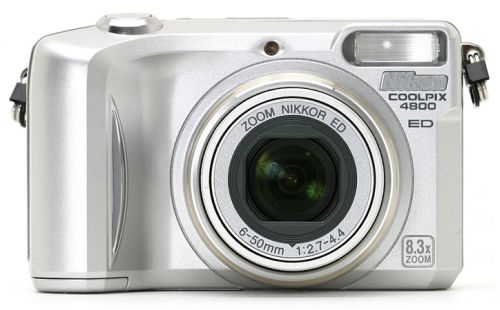 This camera has a 4Mp.-sensor and a huge zoom lens, covering focal length from 36 - 300mm. The zoom lens has 2 ED-elements and can 'run' through the entire zoom range within less than 1.5 sec.! It has 15 motiv-programs and a built-in memory of 13.5 Mb.
Coolpix 5000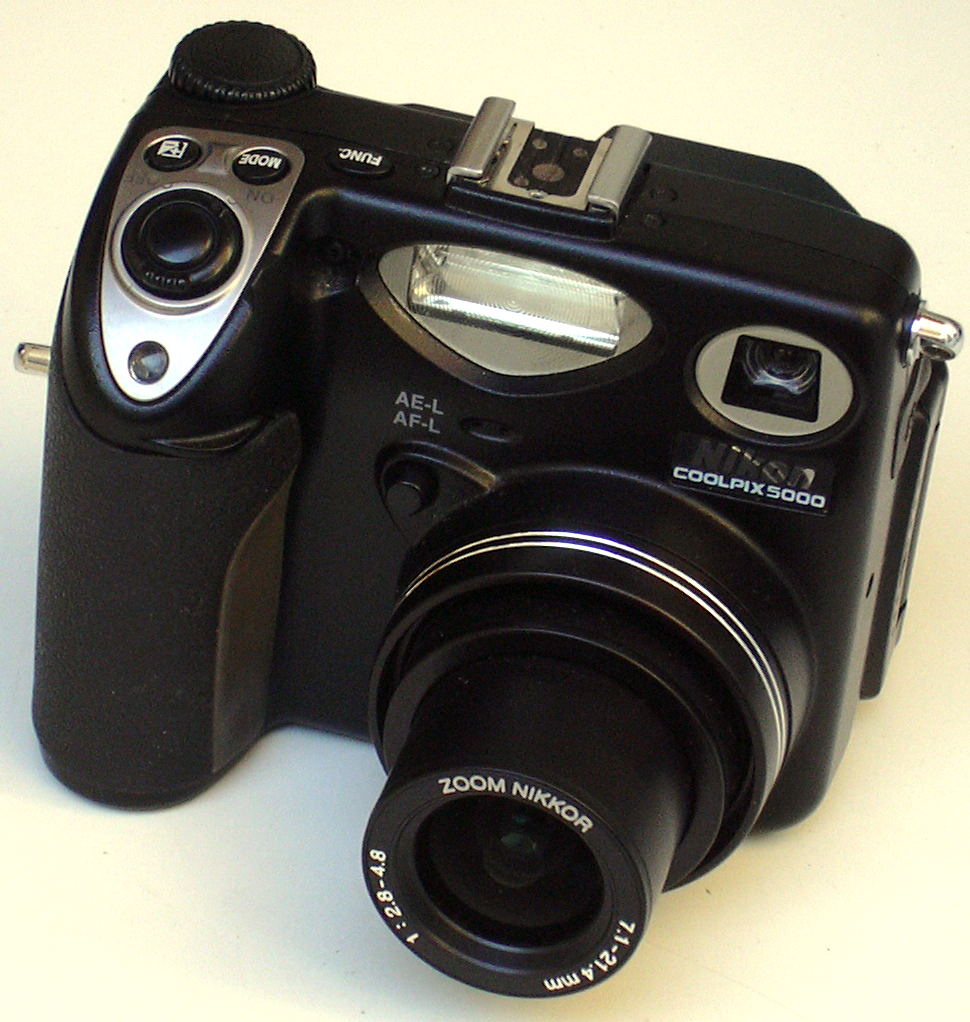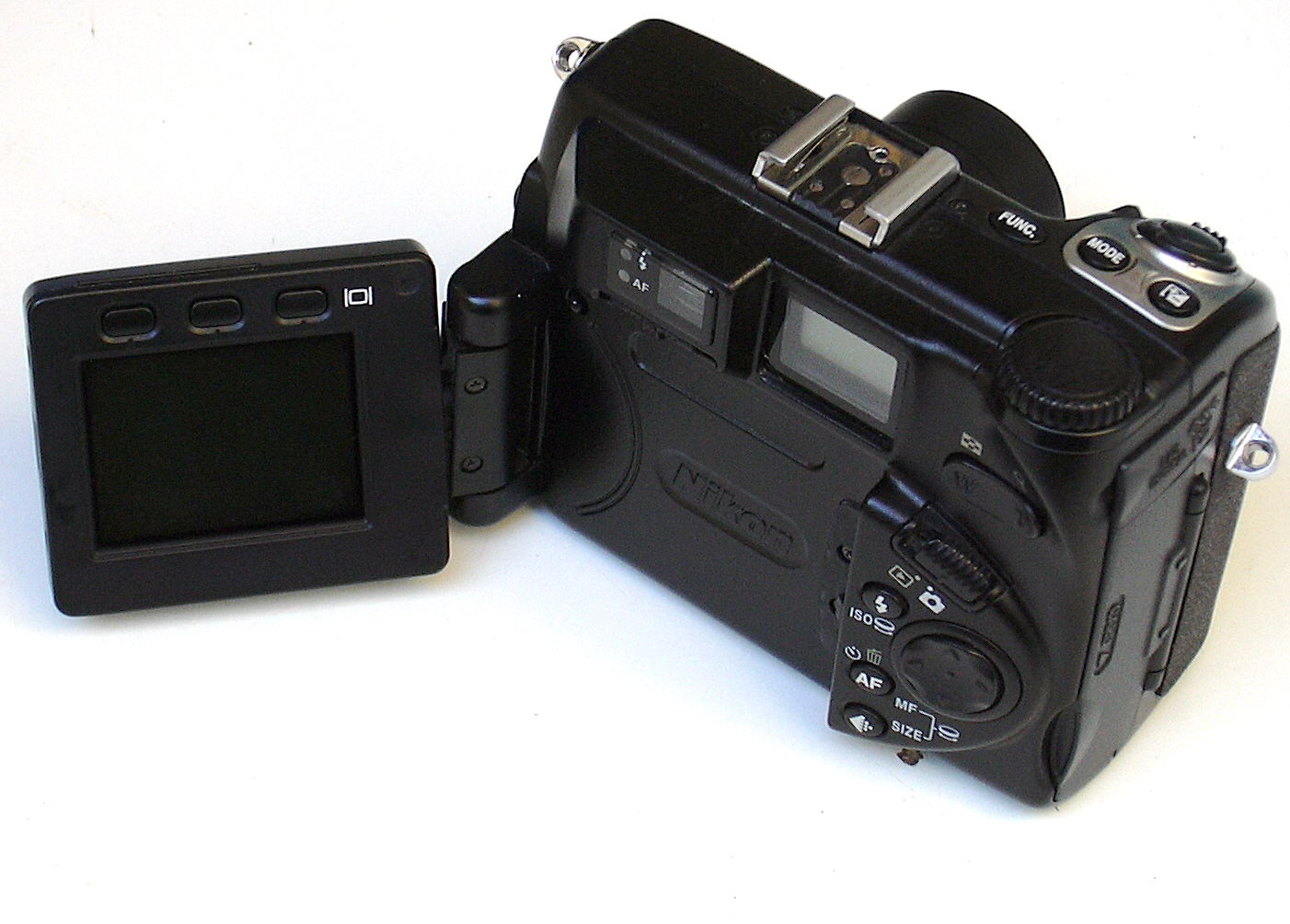 A very nice camera - in black only - introduced in 2001. It has a 5 Mp. sensor and a nice 3x zoomlens with no less than three aspherical elements. The focal length of the lens equals that of a 28-85mm. lens in 35mm-format. Packed with features like white balance setting, clear image mode, shutter speed up to 1/4000 sec., noise reduction mode and manual focus functions. It has a built-in flash but takes nearly all Nikon Speedlights on its accessory shoe. Even up to nowadays standards a very sophisticated camera.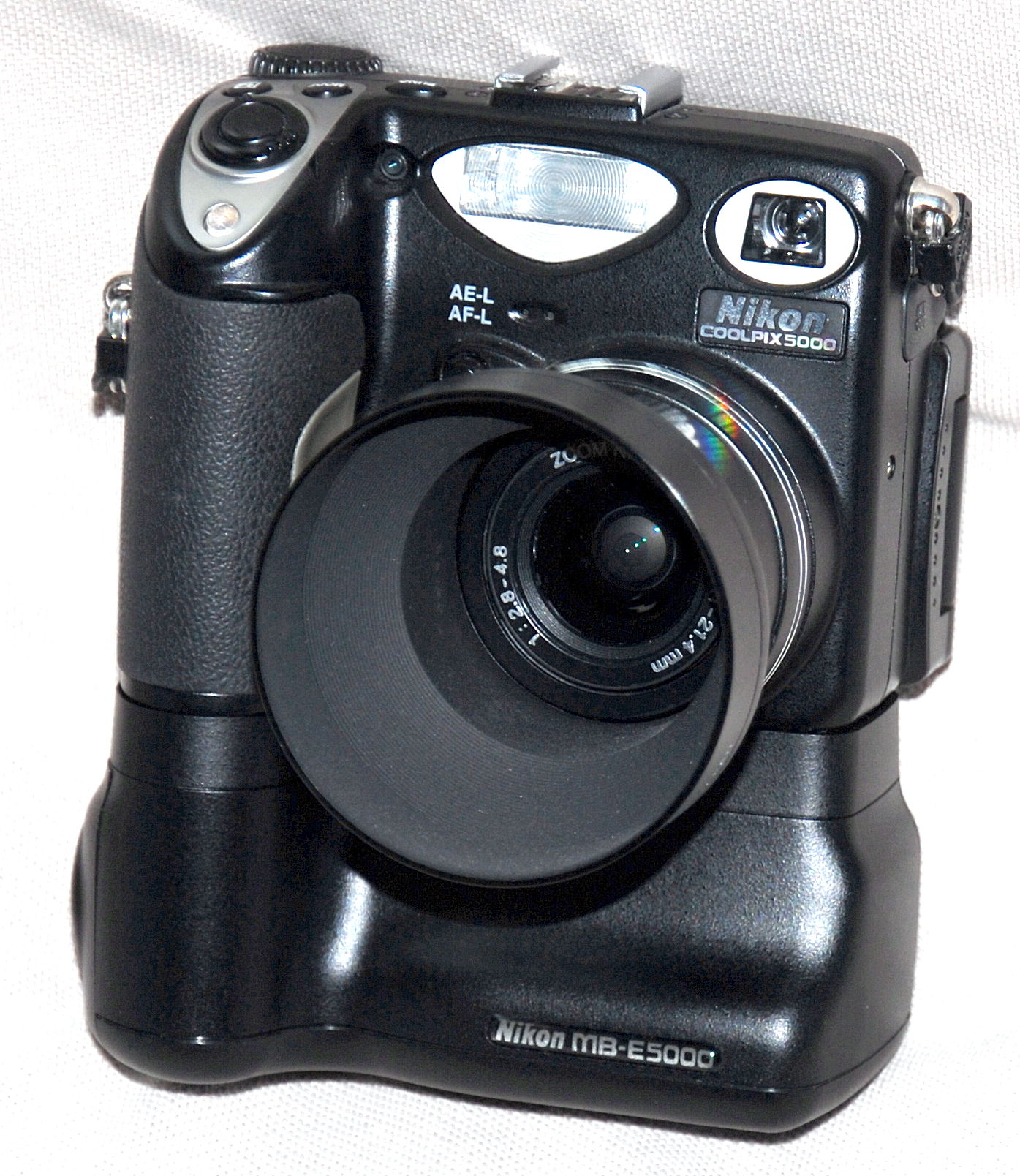 It's also one of the rare Coolpix models for which an additional battery pack (MB-E5000), using 6 AA-batteries, and a lens hood (HN-E5000) became available.
Coolpix 5200
A new design making the camera a bit more flat. Its magnesium body is packed with a 5 Mp.-sensor and a 3xzoom lens (38-114mm), including one ED-element. Auto focus down to 4 cm., automatic white balance, 2 video-clip settings and 11 motiv-programs.
Coolpix 5400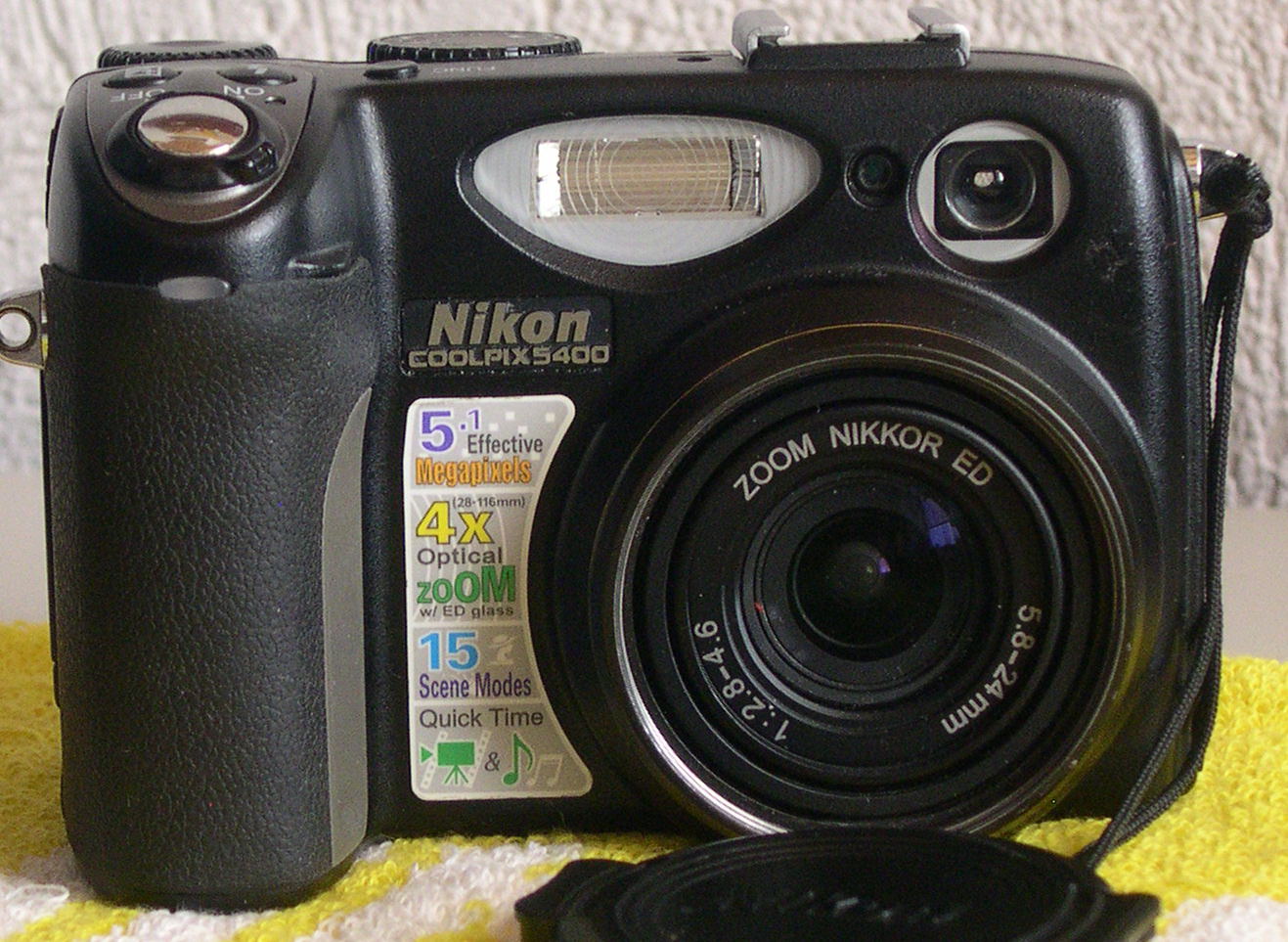 The successor of the popular 5000, this camera offers 4x-zoom and 15 motiv-programs. Its lens has a wider range from 28-116 mm. (= 35mm-equivalent). After installing firmware upgrade 1.4 it's possible to shoot in NEF/RAW and to make sound movies.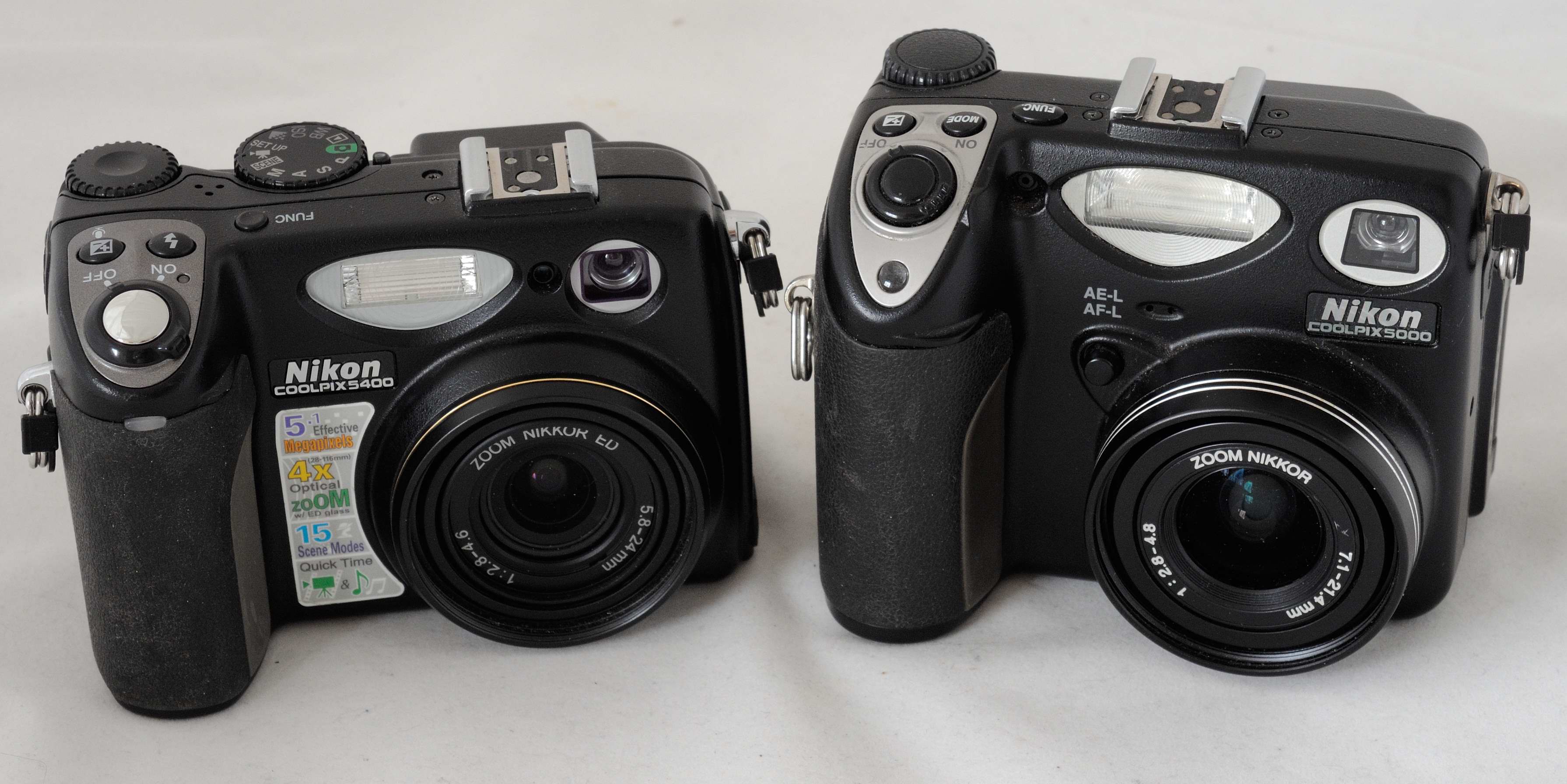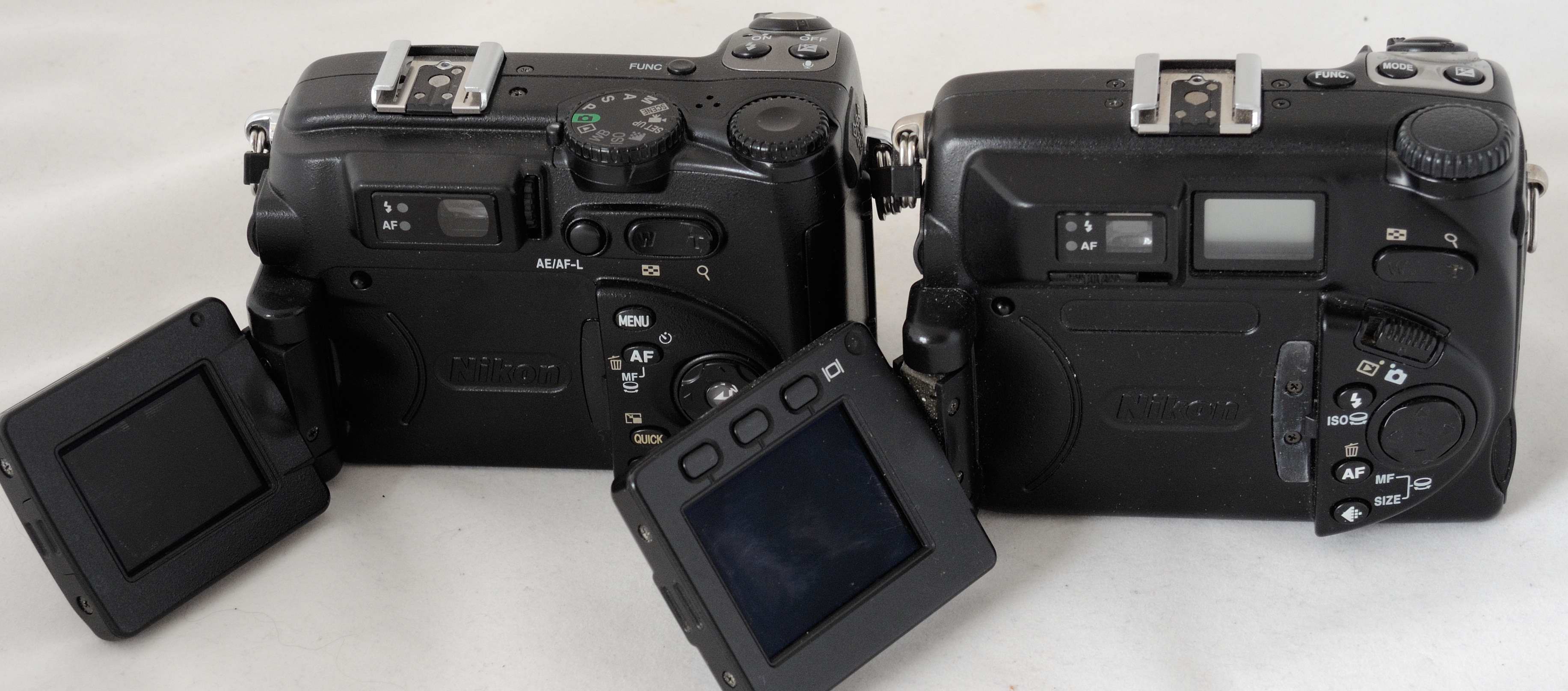 From above pictures you can see that the Coolpix 5400 (left) is a bit smaller than the Coolpix 5000. The LCD screen is smaller too and the small LCD on the back of the Coolpix 5000 next to the viewfinder has gone. The Coolpix 5400 has the newly introduced icons on the commander wheel.
Coolpix 5600
Sister-model of the Coolpix 4600 fitted with a 5.1 Mp. sensor.
Coolpix 5700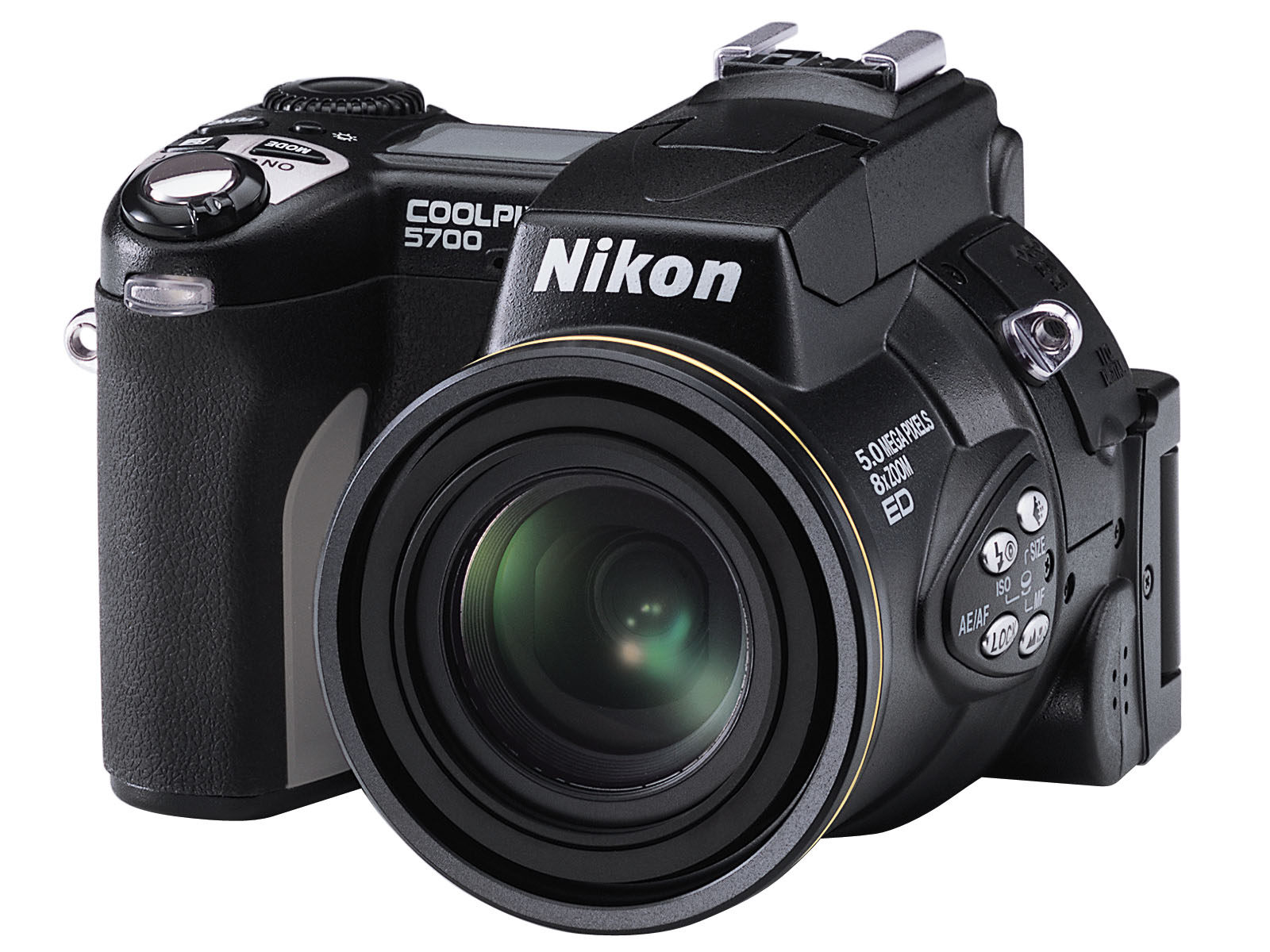 This model is a so-called bridge camera. It looks like a single lens reflex camera but it isn't. It has the body of a SLR but with a built-in, non-exchangeable lens with a zoom range from 35 - 280 mm. (35mm-equivalent). This camera has a 5 Mp. sensor and various programs, an electronic viewfinder and the possibility to capture images in Nikon Electronic File (NEF/RAW).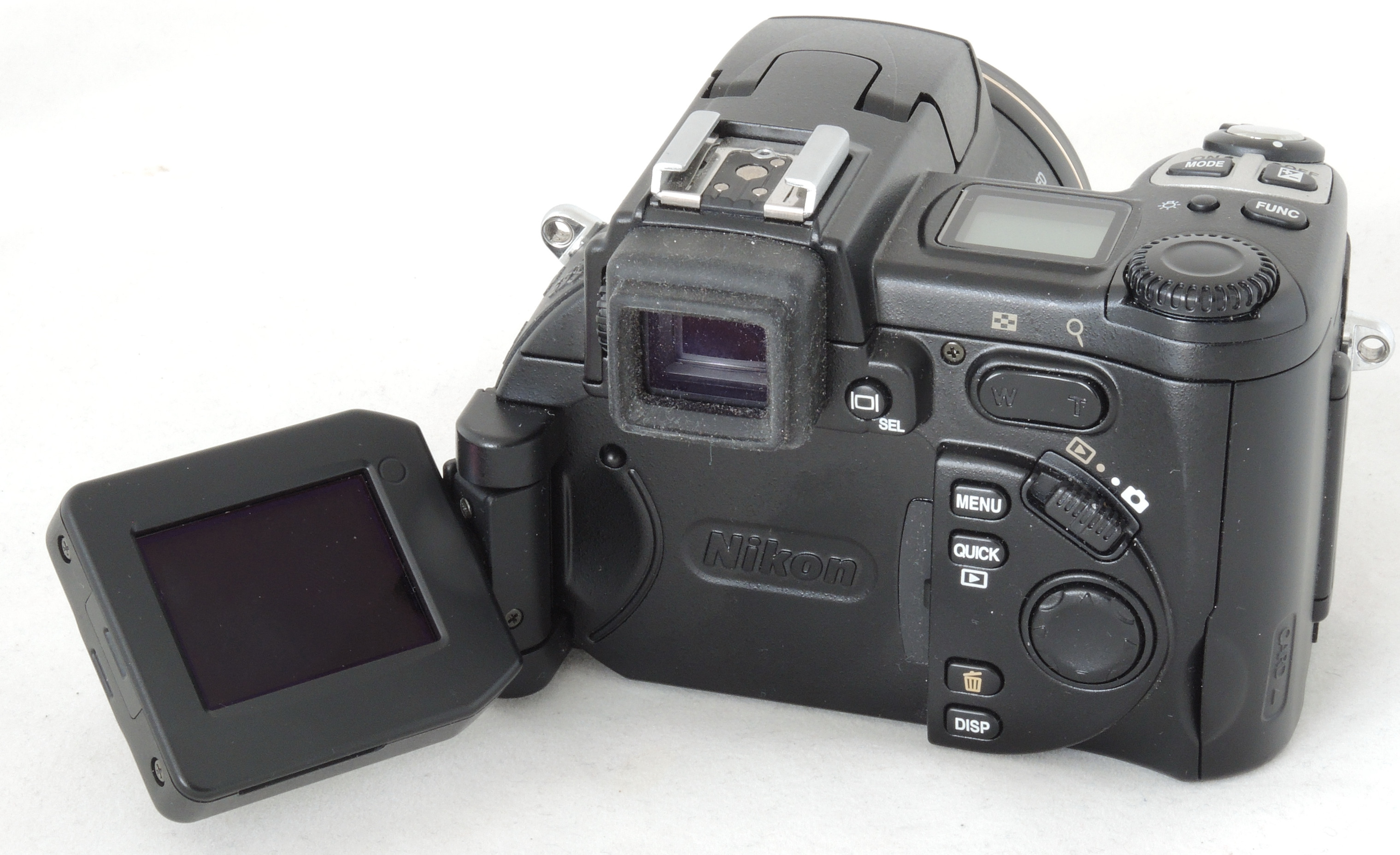 The back of this Coolpix is similar to that of the CP5000. The rubber eye piece cover is difficult to clean after all those years.
Coolpix 5900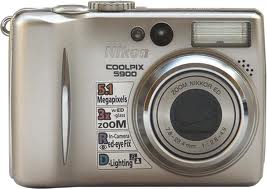 Very nice Coolpix packed again with various (16) exposure and focus programs. It has an AF face priority setting focusing automatically on a face, including white balance setting. Auto focus with a possibility to select from 99 (!) AF-segments. This camera has a 5 Mp-sensor.
Coolpix 7600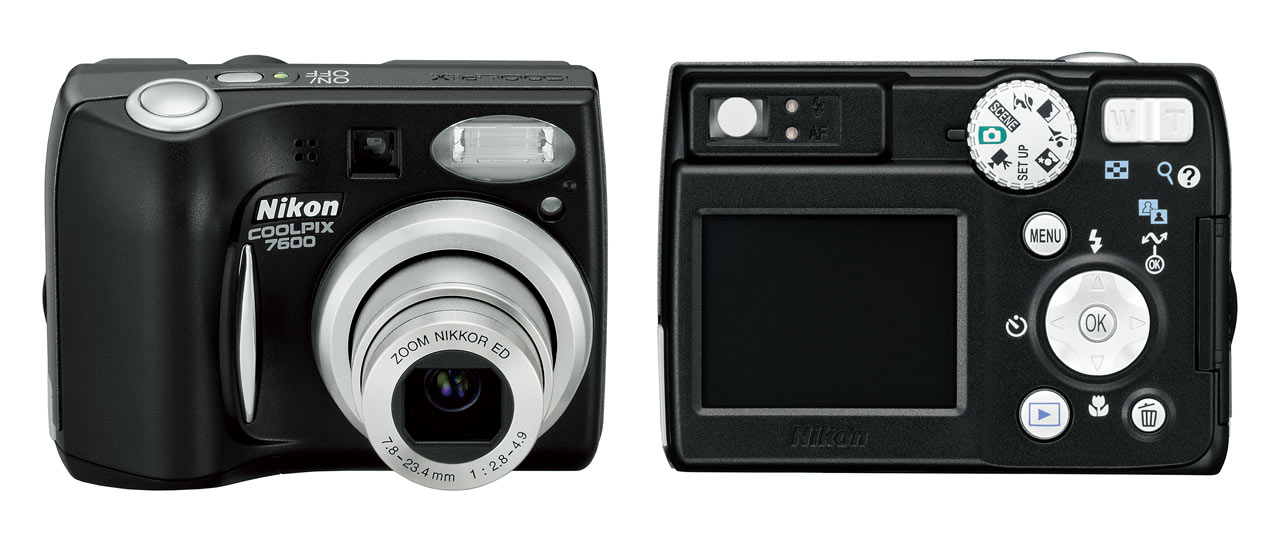 New design camera with a 7.1 Mp.-sensor, 3x zoom lens including vibration reduction, 15 motiv-programs including 5 movie settings (of which 2 with a speed of 30 fps.). Pictbridge and PictureProject features and a 14 Mb internal memory. This camera uses SD memory cards.
Coolpix 7900
Sister of the Coolpix 5900. This camera has a 7 Mp. sensor.
Coolpix 8400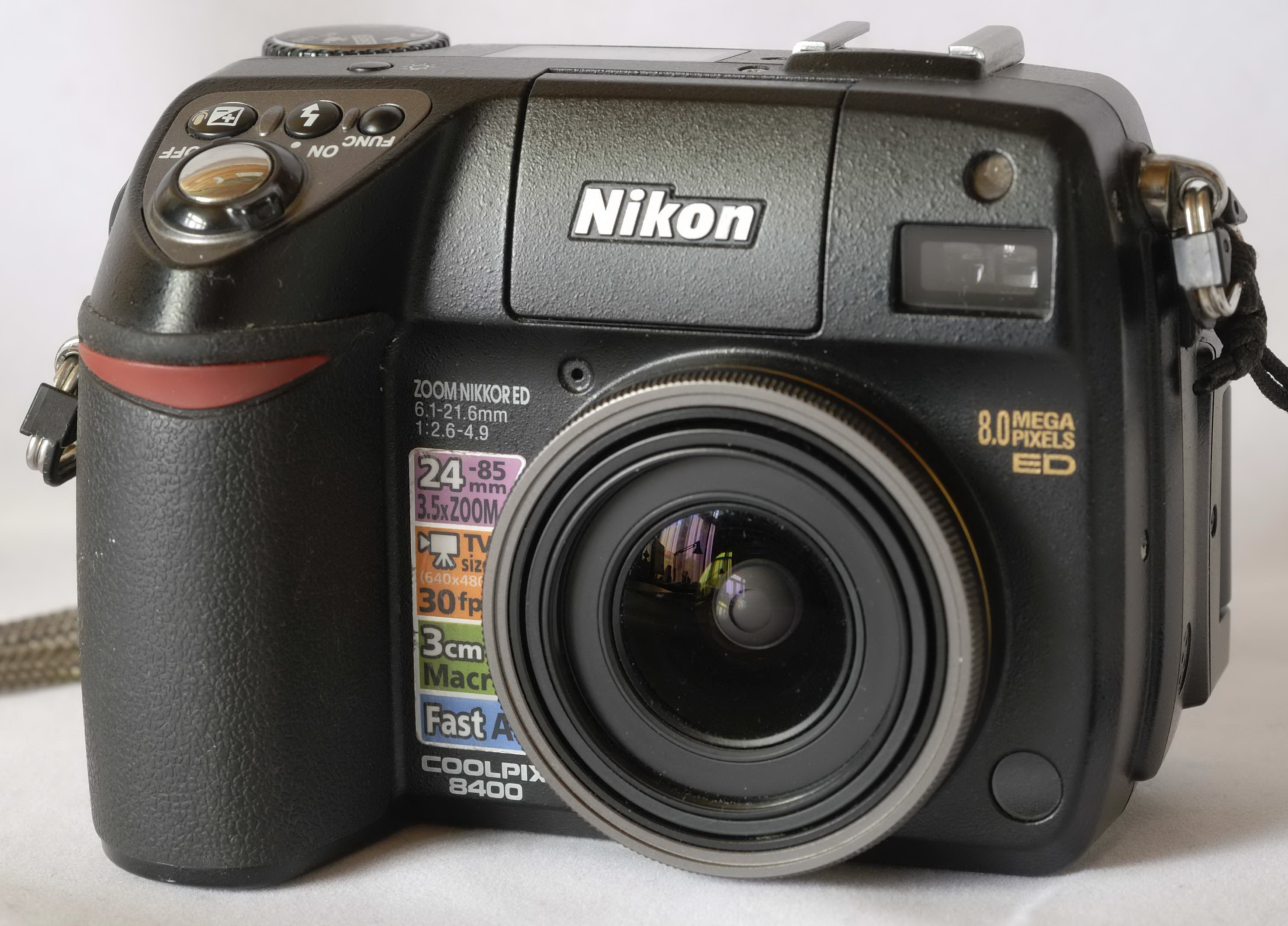 A very special camera with a very special design. It is bigger than common Coolpix cameras, it has a 8 Mp.-sensor and - for the first time - a zoom lens (with Vibration Reduction) capable to cover 24mm. wide-angle up to 85mm. and an ISO-setting that starts at ISO 50 up to 400! Of course packed with various programs, but also leaving all settings (incl. manual focusing) to the photographer. The camera has a built-in microphone and speaker; voice memos can be added to pictures, not to movies. It features also a selector of 15 different scenes (incl. panorama) with special exposure settings (white balance, shutter speed, aperture etc.); you may shoot movies with (mono) sound and time-lapse up to 60 sec. Images can be safed on a CF memory card in NEF, TIFF or JPG. Introduced in 2004 nowadays a rare camera.
Important note: this is the first Coolpix camera that can read CF memory cards that are/were formatted both under FAT 16 and FAT 32!! So one can use cards larger than 2 Gb.!!
Coolpix 8700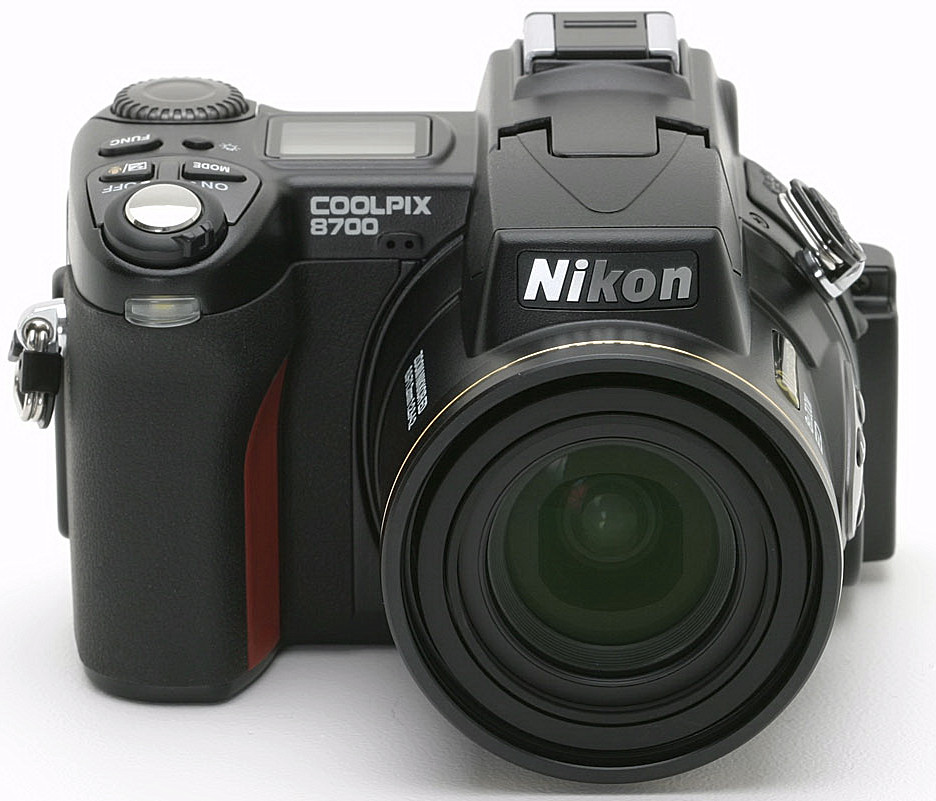 A look-a-like of the Coolpix 5700, but fitted with an 8 Mp-sensor. It shares the same lens and many other features.
Coolpix 8800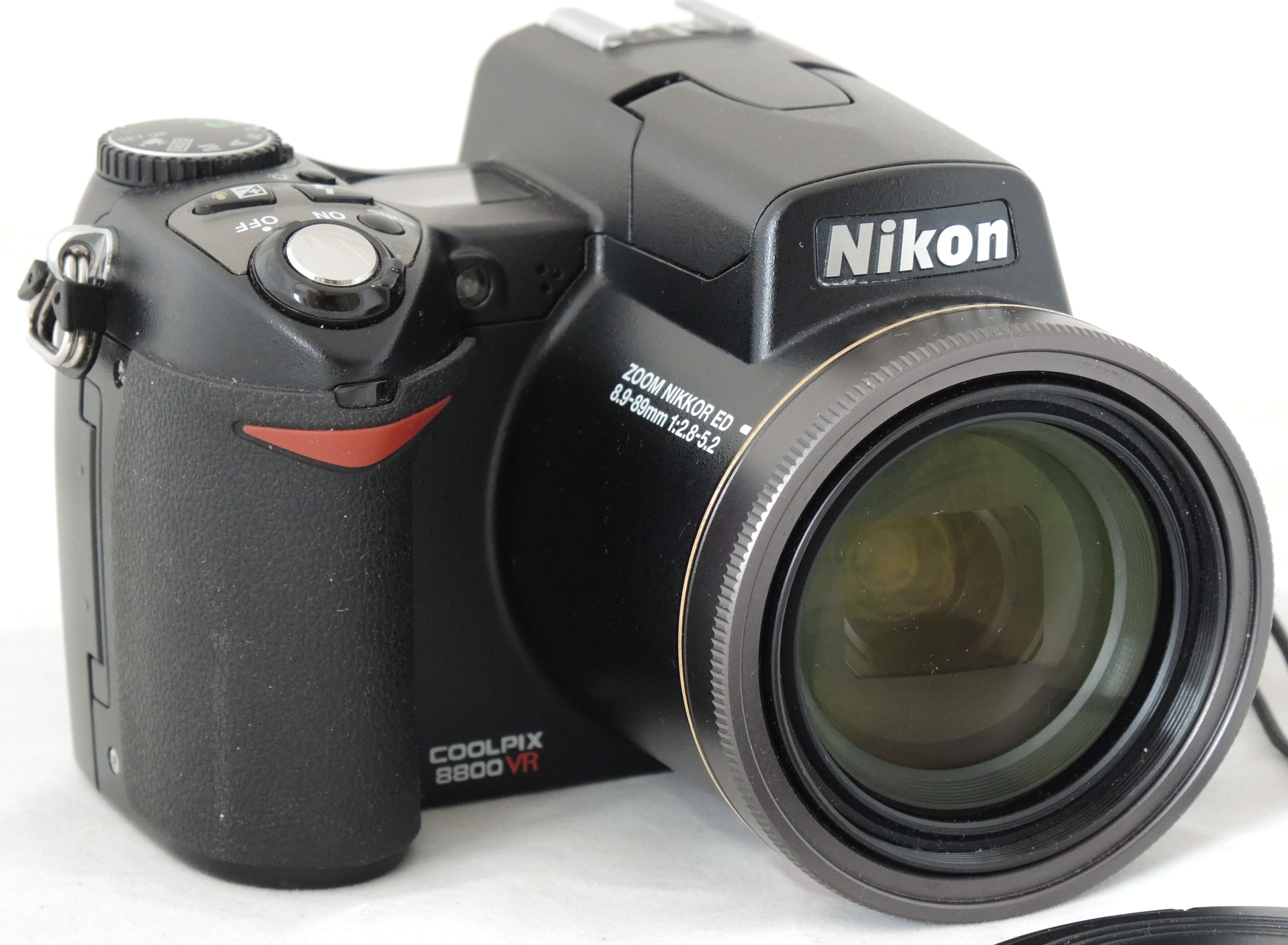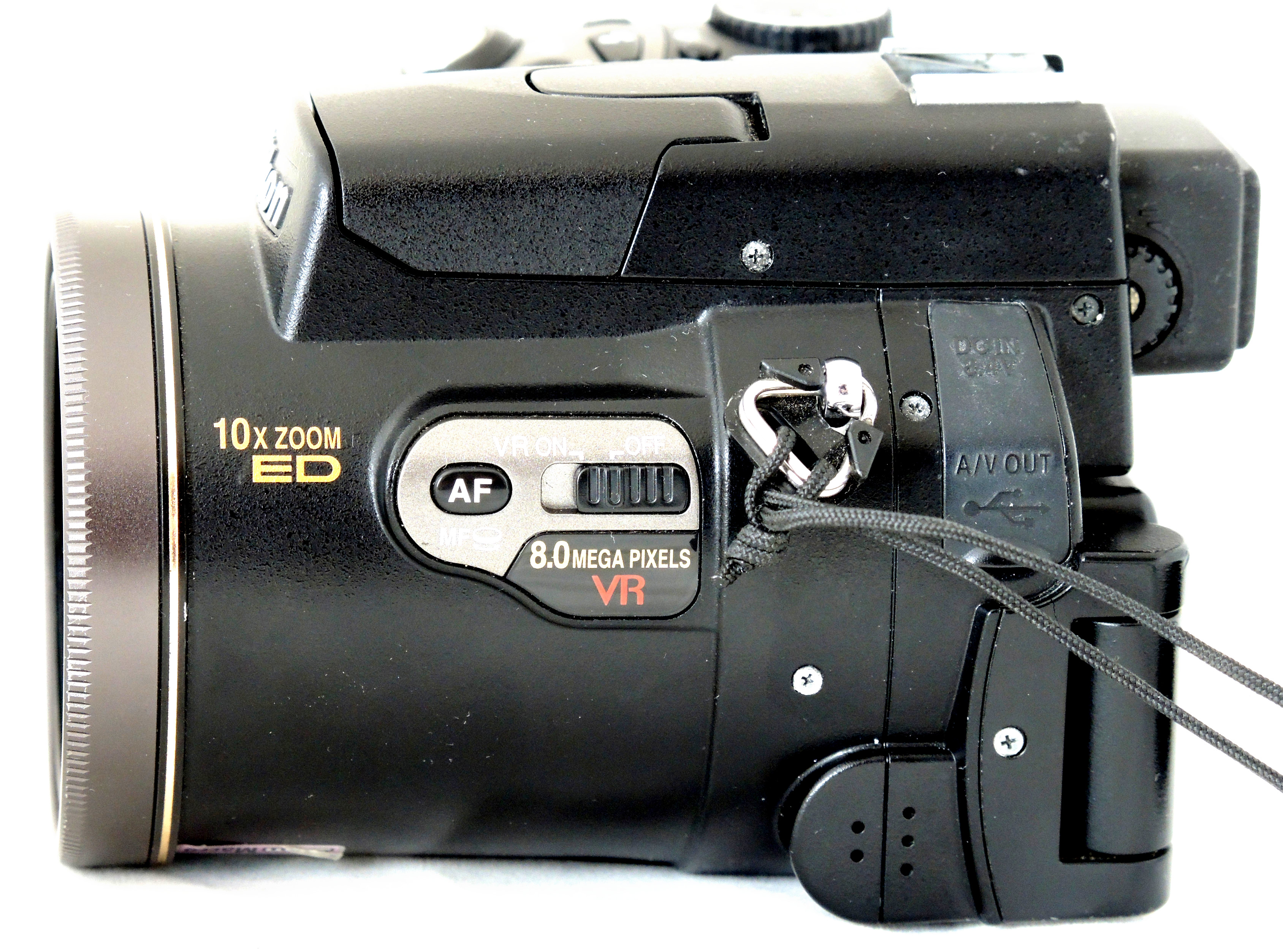 Another bridge camera with an 8 Mp.-sensor and a huge zoom range from 35 - 350 mm., introduced in 2004. This is the first bridge camera with vibration reduction. Because of its high price (when new) today a rare camera. In fact an upgrade of the Coolpix 8700.
Coolpix SQ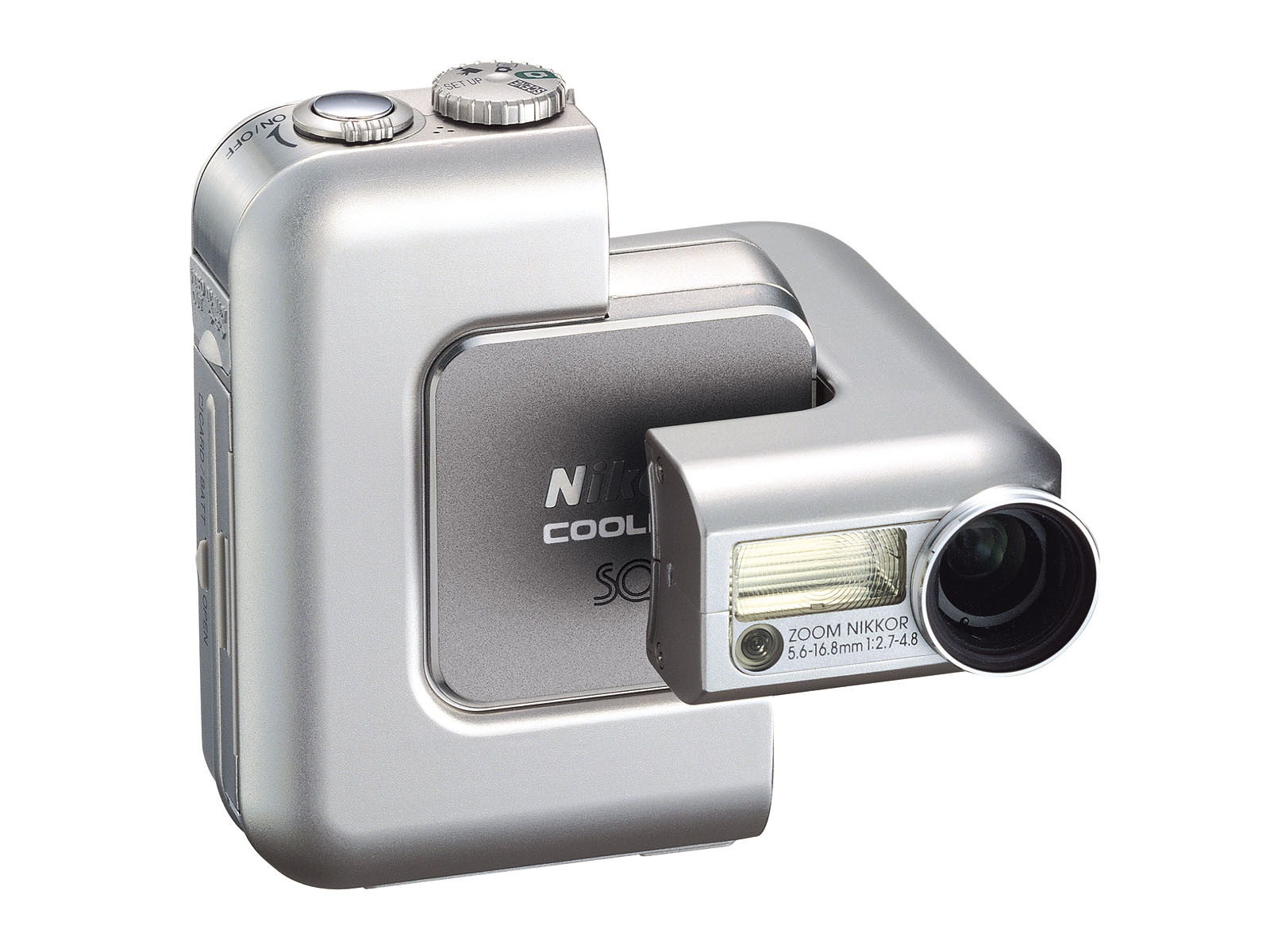 A very nice and new design of the swivel models, introduced in 2003. Its metal body is packed with a 3 Mp.-sensor and 15 motiv-programs for various photo- and movie options. The lens has a zoom range from 37 - 111 mm.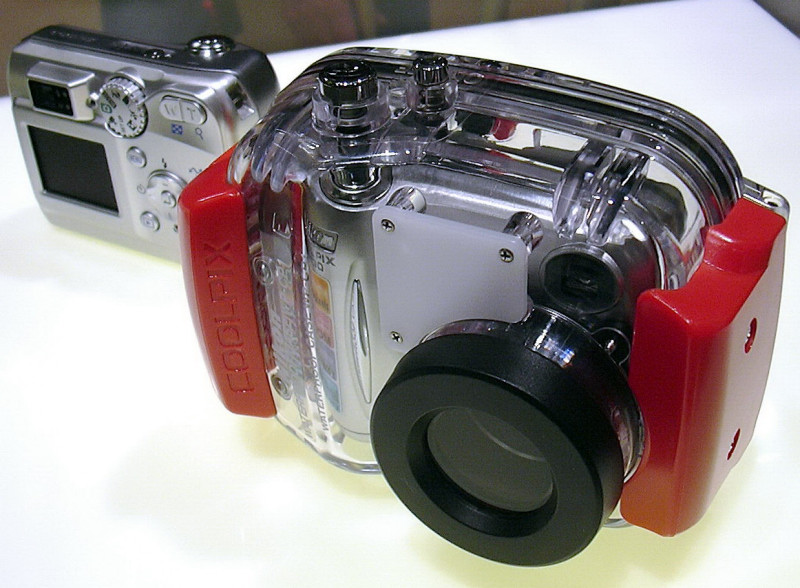 For some Coolpix models Nikon offered underwater bodies. Due to their price - when new - they are now rather rare. For more info see this chapter.
A matrix of all Coolpix cameras mentioned so far can be found here!
---
Coolpix accessories
For nearly all Coolpix cameras various accessories have been offered, from lens attachments to remote shutter release equipment. It is impossible to give all details of those accessories. Ask your dealer or Nikon representative for more details. Many cameras are modestly priced. Many accessories aren't! Spare batteries may cost one-fourth of the camera's list price! So try to find a Coolpix camera that take/use normal AA-, or AAA-batteries. These batteries can be found/bought anywhere on our globe. Other batteries, like the CR123A, may be quite expensive.
Coolpix collectibles
Collecting Coolpix cameras may not have become a serious hobby for many collectors yet. Though some models have become rare already. Certain models representing a 'milestone' in digital photography, like the first camera with vibration reduction, or the first Coolpix with a lens with a focal length equaling a 24mm. or 28mm.-lens (in 35 mm equiv.), or.....at the other end 280mm. etc. Most digital compact cameras have a zoom lens starting its focal length around 35mm. In terms of design many cameras share the same or slightly modified body and lens. Nearly all Coolpix cameras are made in an one-off (non-recurring) production run; ordering older models will not be possible. Sold out = sold out!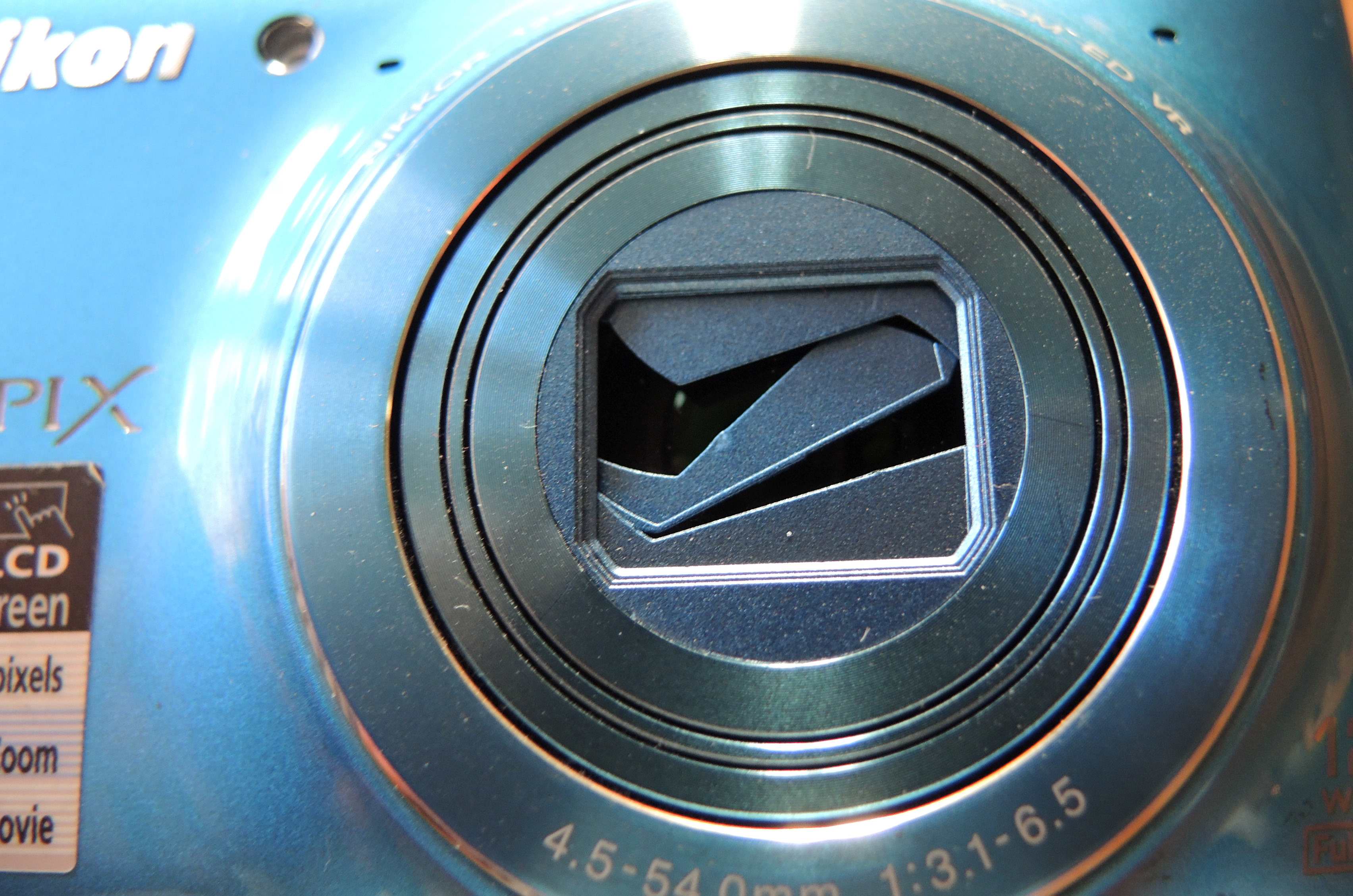 Many Coolpix cameras have above shown problem. To repair this the entire lens section has to be replaced!
Secondhand Coolpix cameras are offered at relatively low prices. Be careful in buying scrap. Make some test pictures to see if the sensor is OK and the lens is not obstructed, because of a drop. Moisture can kill a digital camera, so check the (plastic) body for cracks. As said above: if you want to buy a second hand Coolpix, see if it takes normal batteries, as the original batteries (and chargers) may be hard to get.